OnePlus Teases New Folding Phone To Give The Samsung Galaxy Z Fold Some Competition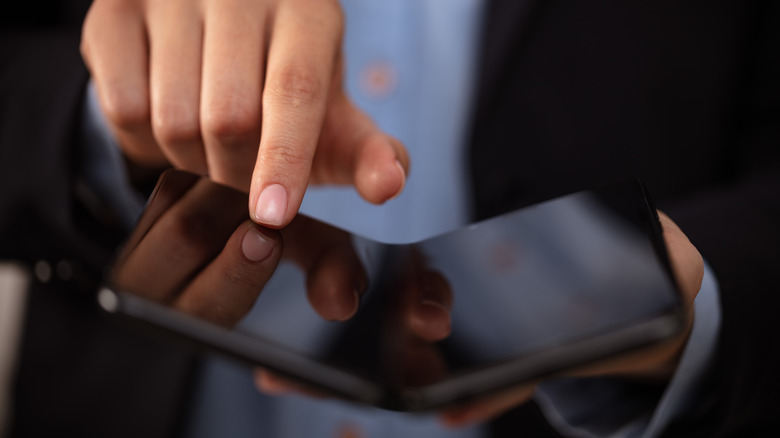 ra2 studio/Shutterstock
While foldable smartphones have been around for a while, this product segment is currently dominated by a single company — Samsung. Internationally, the only company offering some semblance of competition to Samsung in the foldable space is Motorola which markets its foldable phones under the Razr sub-brand. However, Motorola has been unable to update the Razr foldable lineup as frequently as Samsung — and despite these devices being well received by reviewers and consumers, they have not achieved mass market success.
Interestingly, several Chinese smartphone brands, including the likes of Huawei, Honor, OPPO, Vivo, and Xiaomi, have all come up with their own foldable devices. However, most foldable phones from these brands have largely been restricted to the Chinese domestic market, limiting their international availability. As Chinese brands continue to perfect the foldable game and eventually increase the global availability of their foldable phones, Samsung is likely to face serious competition.
One of the more notable foldable phone launches of recent times came from OPPO, which launched the Find N2 and the Find N2 Flip in select international markets. These devices have been well received across the board but do not pose much of a threat to Samsung owing to their limited availability. However, OPPO's more popular sub-brand OnePlus is trying to change this status quo. At the recent launch event announcing its 2023 product lineup, the company officially confirmed its ambition to enter the world of foldable smartphones.
OnePlus' grand foldable ambitions
We have had unconfirmed reports about OnePlus' foldable plans for a while now. Earlier this year, folks at 9To5Mac located trademark listings connected to future OnePlus devices. They were following up on a lead provided by noted smartphone leaker Mukul Sharma who claimed that OnePlus had finalized the names for the two foldable phones the company intends to launch in 2023. According to Mukul, the devices would go by the "OnePlus V Flip" and the "OnePlus V Fold."
While OnePlus did not confirm the names of the upcoming foldables at the recent launch event, the company showcased a teaser image showing a close-up of one of the phones. The teaser image has been shot carefully not to reveal too many design aspects of the device. What is evident from the image is that the device shown in the photo is, indeed, a foldable phone.
Given OnePlus' close ties with OPPO, the first foldables from OnePlus will likely borrow a lot of features from OPPO's existing foldable lineup that includes the Find N2 and the Find N2 Flip. Both these devices feature powerful, flagship-grade hardware and are even ahead of Samsung's current offerings in certain aspects. If OnePlus prices these devices right and offers a great software experience, Samsung is in for some stiff competition in the foldable space. OnePlus has already hinted that they are looking at a Q3 2023 launch for its foldable phones. That is around the same time Samsung also refreshes its foldable lineup and would launch the rumored Galaxy Z Fold 5 and Galaxy Z Flip 5 foldable phones.