OnePlus Buds Pro 2 Review: The Juice Is Worth The Squeeze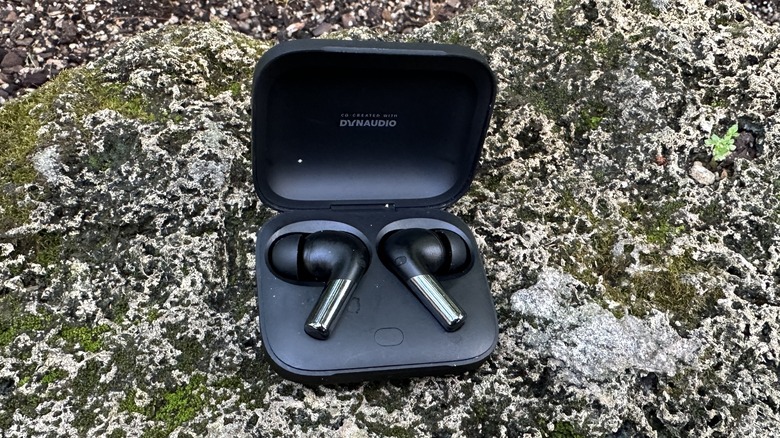 Along with very capable flagship-killing phones, OnePlus is also getting quite good at the flagship-killing earbud game and that tradition continues with the OnePlus Buds Pro 2. OnePlus is positioning these buds as premium entertainment earbuds including media consumption and gaming earbuds. When paired with the OnePlus 11, which also launched today, these make a compelling argument.
They're not perfect, and there are three main sticking points for me as an audio consumer which I will get to in the review. But if you're a OnePlus fan, and you have a OnePlus phone, these are a mighty fine set of earbuds for audio, despite a few shortcomings. But these shortcomings will be familiar to those of you who are used to the brand. None of them are necessarily deal-breakers, but they might be enough to give you pause before pulling the trigger. I've been using the OnePlus Buds Pro 2, provided by OnePlus for three weeks along with a OnePlus 11 and a couple of other devices, and this is my full review.
AirPod Pro clones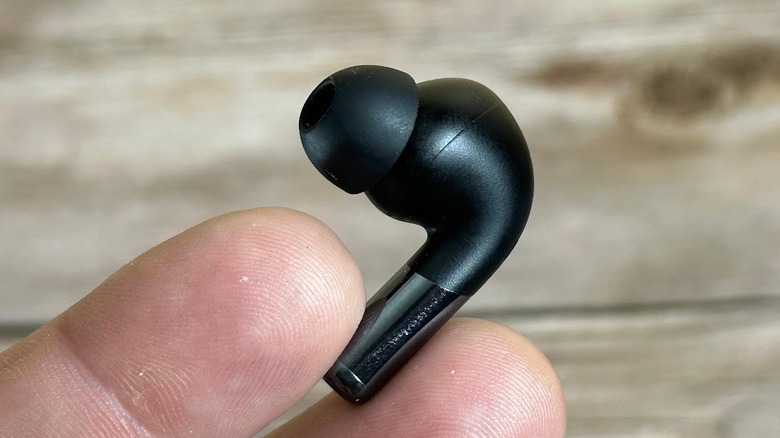 The first thing you'll notice about the OnePlus Buds Pro 2 is that they look a lot like a lot of other earbuds on the market. They have the familiar look of the AirPods Pro with the in-ear and stem design that a lot of other buds rely on. OnePlus goes a step further with the AirPods cloning by also mimicking the control mechanism on the AirPods, utilizing a squeeze gesture instead of a tap gesture like you'll find on a lot of other buds. We'll talk more about the control gestures in another section.
Last year's OnePlus Buds Pro came in a silver colorway that was literally hard to hold on to – think of a wet bar of soap, and I am not exaggerating. This year, OnePlus went with a matte texture and that is much more welcome. The OnePlus Buds Pro 2 magnetically settle into the flip-top case and lock in easily. LED lights on the front give you an idea of the charge level, and a pairing button on the inside of the case allows you to initiate the pairing procedure if it doesn't start by itself.
Main squeeze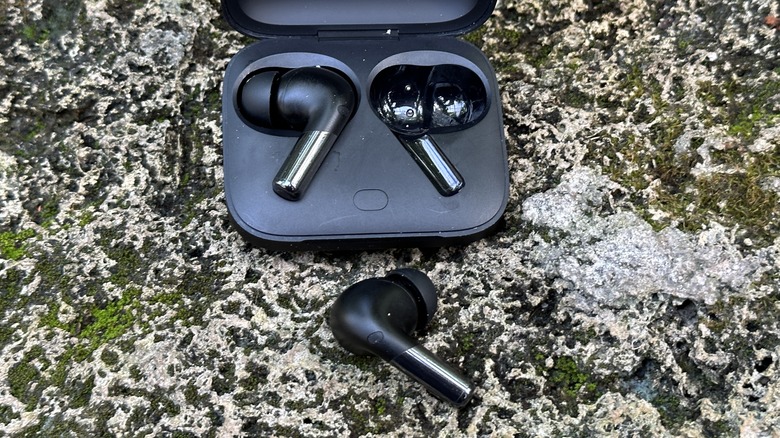 Getting back to the squeeze gestures that control the buds, I'm not a fan. If it's not done very deliberately, squeezing the stem can actually pull the earbud out of your ear a little bit. This was a major problem that I had with the OnePlus Buds pro from last year – it seemed like every time I tried to adjust the controls, I accidentally stopped whatever I was listening to. This generation is definitely better in that regard. I never accidentally paused my audio, but I'm still not convinced that gesture is the correct one of use.
Given a choice, I much prefer the tap gesture on the Soundcore Liberty 4 earbuds and very much prefer the capacitive controls on the Nothing ear (1). Using the stems to start and stop audio, with an intuitive swipe up or down to raise and lower volume is a much better way to make buds work. That being said, OnePlus has made progress on the squeeze gesture, so I guess that's just how we're controlling these buds, for better or for worse.
Adjusting the controls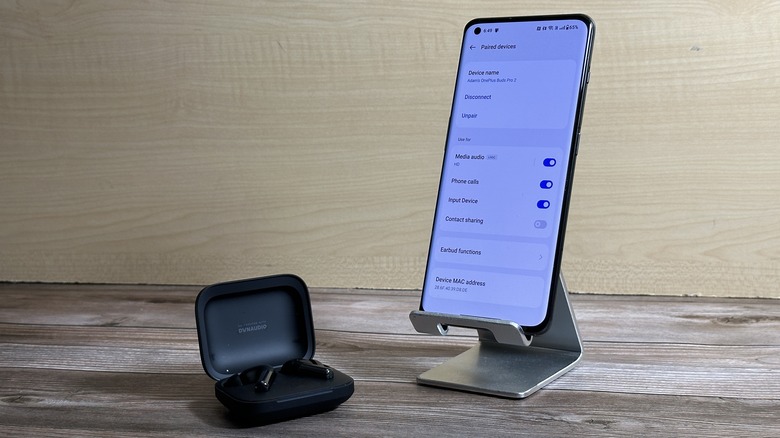 What's also missing is a good way to adjust the volume. The controls simply aren't there. You can use a single, double, or triple squeeze along with a long squeeze, but there is no option to adjust the volume in any of those controls. You can play/pause, skip tracks, access your voice assistant, or start game mode, oddly enough, but you can't control the volume.
What's more, those single, double, and triple squeezes have limited options you can pick from. For example, a single squeeze can only play or pause your audio. There's no real reason for it, and it's likely that 95% of the earbud-using population will be perfectly fine with what, but it doesn't answer the question.
This is a case where I'd rather just set up my earbuds the way I want to set them up and OnePlus can keep its nose out of it. If I want to single-squeeze the right earbuds to go back a track and triple-squeeze the left to go forward, well that's just how I want to do it. But I can't.
Baked in software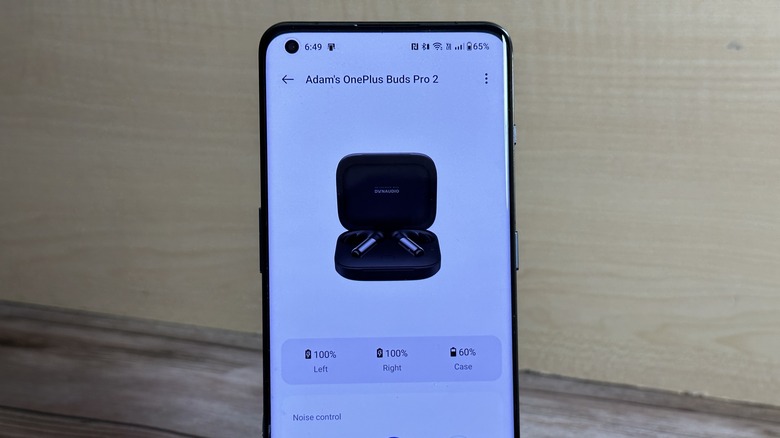 One other aspect of the controls that on the outside seems pretty cool, but is actually not all that awesome, is the fact that the OnePlus Buds Pro 2 controls (as well as all OnePlus Buds controls) are baked into the operating system itself – if you have a OnePlus phone. In my case, if I wanted to adjust anything having to do with the earbuds, I had to go into Settings, then Bluetooth, then tap on the More Info button for the OnePlus Buds Pro 2, and only then do I get to adjust settings.
On the face of it, this is pretty cool. This is integration! But if you use any other set of Bluetooth buds, or if you use these earbuds on a non-OnePlus phone, you need a separate app. Add to that, you don't even need a OnePlus app. OnePlus instead uses an app called HeyMelody to control buds on a non-OnePlus phone. HeyMelody is a generic Bluetooth earbud controller app that a number of manufacturers use. But there is little documentation out there that tells you to download this app if you're using a non-OnePlus phone.
Honestly, OnePlus should just make an app of its own and put it out on the app stores. We can't pretend that OnePlus is a plucky little startup with limited resources anymore. Think of it as a marketing expense – every time a customer wants to adjust their earbuds, they are tapping on a OnePlus logo. Software is supposed to be in OnePlus's DNA, so let's take advantage of that. Or at least have Oppo whip one up for you.
Personalized sound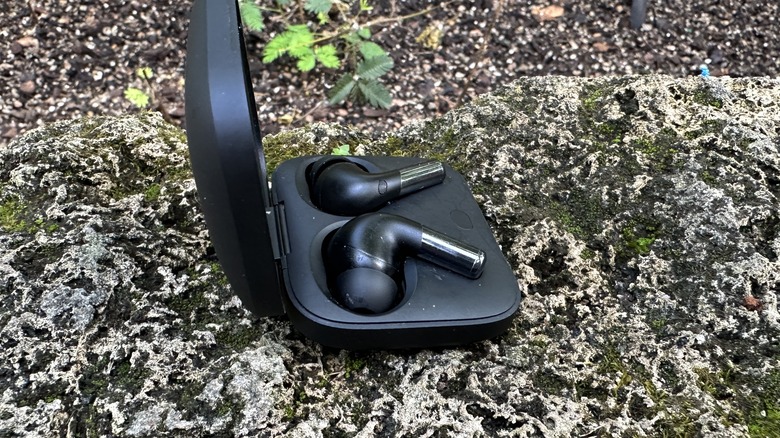 OnePlus has a couple of nifty features designed to tailor your earbuds to your unique ears. The first is called Golden Sound. Put simply, Golden Sound is a special equalizer setting that adapts the sound to your hearing profile. Basically, you adjust a slider to tell the app when you stop hearing certain tones and based on that info, The software gives you a listening profile that should help fill out the gaps in your hearing. I can report it works pretty well, but my damaged ears have seen many, many better days, so there was only so much OnePlus could do for me.
The second option is personalized noise cancellation which basically detects the shape of your ear canal and the fit of each earbud and adjusts the algorithm for noise cancellation appropriately. Personally, I couldn't tell much of a difference between personalized noise cancellation and not, but your mileage may vary.
Spatial audio and overall sound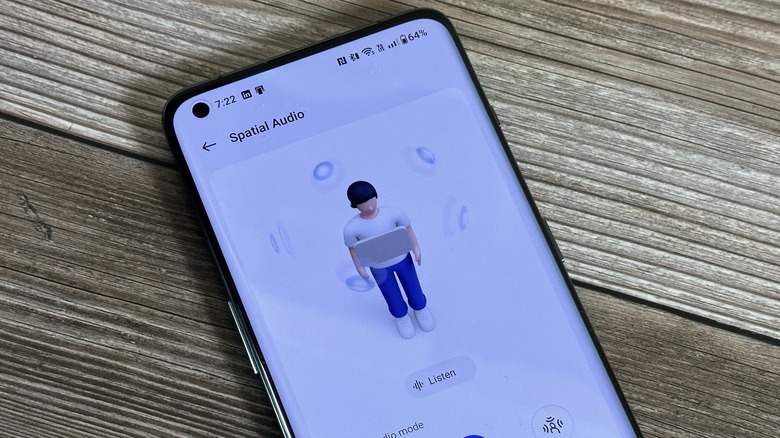 Additionally, these earbuds support spatial audio, which is supposed to give you a sort of surround sound effect when using the buds in supported apps and media. I tried a few different scenarios including gaming, music, and videos, and I couldn't really tell if spatial audio was working or not. As I mentioned before, my ears are damaged from my college days of too-loud music, so any kind of specialized sound is hard for me to discern. I absolutely love that these buds support it, even if I don't particularly benefit from it.
But overall, the sound is really good in these buds. It's on par with the best earbuds I have tested of late which include buds from Samsung, Master and Dynamic, Soundcore, and Audio-Technica. You get a full range of sounds from the bassy thump of dubstep to the high-pitched wail of a Metallica solo. My sound consumption tends to lean much more podcast/spoken-word heavy, and these buds are great for that, especially considering the noise cancellation which I will tackle in the next section.
Noice cancellation and Pass through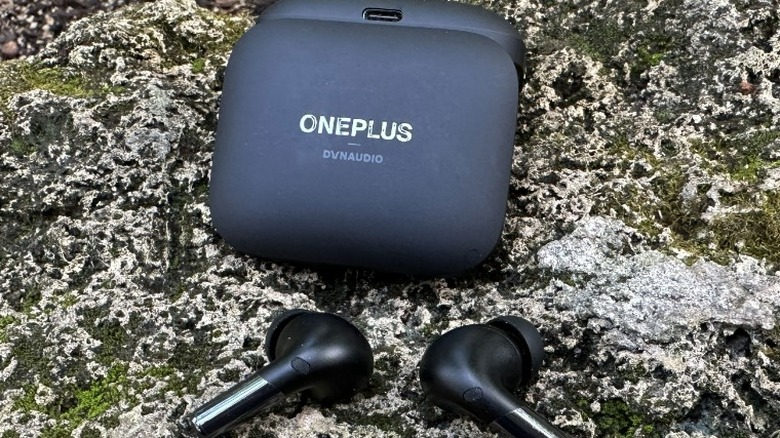 When you rely on earbuds to listen to anything, one of the most important aspects you need for long-term ear health is isolation and noise cancellation. Those both allow you to listen to your media at a minimal volume to preserve your hearing long-term. I'm pleased to report that the noise cancellation on these earbuds is very solid and great at eliminating drones like fans or engine noise of a car. They don't have the absolute best ANC I've ever heard, but they're definitely in the top five.
Further, passthrough is a delight to use on these buds. Passthrough or what OnePlus called "transparency" is when you allow outside noise to come in while you have a conversation with someone or just generally want to hear what's going on around you. Many sets of earbuds over-amplify those sounds (especially background noise) which makes for a terrible experience. The OnePlus Buds Pro 2 are comfortable to wear during a conversation and have just the right noise levels for transparency. It's arguably my favorite part of the earbuds in general.
Other test notes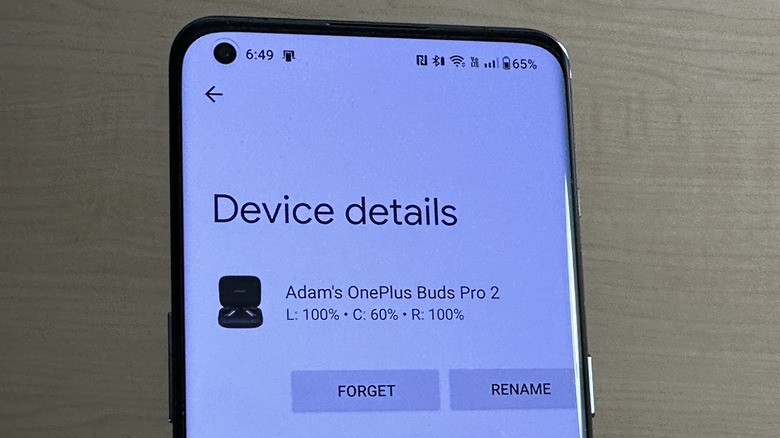 The OnePlus Buds Pro 2 have pretty good battery life, getting around nice hours of music on a single charge, with an additional 25 hours in the case. OnePlus further says that 10 minutes of charging will get you an additional three hours of listening.
The Buds Pro 2 will also have a feature called head and cervical spine detection with activity and posture reminders from built-in sensors. That function wasn't available as of when I tested these buds, so I can't speak to it, but generally, I can say "no thank you."
OnePlus claims 54ms latency which makes these buds good for gaming. I played a few games with the buds in and I experienced very little lag, which is always a good test for low latency. If you're a gamer, these should do a pretty good job for you.
Like the OnePlus 11, the earbuds come in black or green. My review units were black and had a matte finish making the case for the earbuds easy to hold. I can't speak for the green colorway, but from what I understand the green phone is more slippery than the black phone, and the black phone is really slippery, so maybe keep that in mind if you're thinking about picking up the green iteration.
Wrapping it up
Overall, these are a very good set of earbuds that have a number of really solid features. If they existed in a vacuum, they're easy to recommend. However, at a price point north of $150, there are a lot of great options you can consider that are less expensive, but they probably won't have the same complete feature set.
If all you're looking for is a solid sound profile, with great ANC and transparency, you can find cheaper options – the Nothing Ear (1) earbuds come to mind. However, the OnePlus Buds Pro 2 also comes with spatial audio support, a personalized listening profile, a personalized ANC profile, and health alerts, along with that great sound and ANC. So, if all of those are worth it for you, then these are a solid buy in their price range. You'll certainly find more expensive earbuds with slightly different feature sets, but these offer a nice general range of features that you might be interested in.
The OnePlus Buds Pro 2 can be pre-ordered at Amazon, Best Buy, or OnePlus.com on February 7 and go on sale officially on February 16. They'll be priced at $179 USD or $269 CAD and they'll be available in Obsidian Black and Arbor Green.