Porsche 911 Dakar First Drive: Dune Diving In A Sports Car Like No Other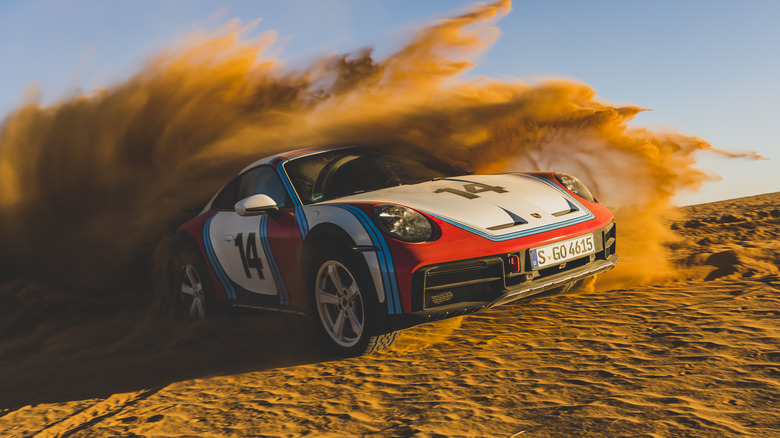 Porsche
The price may be about what you expect from a modern Porsche, but the car itself certainly isn't. At $223,450 (including $1,450 for destination), the 2023 Porsche 911 Dakar costs about as much as the hardcore-to-the-max 911 GT3 RS. That might seem a little absurd, but then again, what other 911 can run up a dune or slide across gravel with the same wackadoo attitude as the new 911 Dakar? Yeah, it's expensive, but holy smokes, have you seen it in action?
Kicking up a massive plume of desert sand is normally a task reserved for trucks and SUVs. Think Ford's beastly F-150 Raptor R and its siblings, or the Jeep Wrangler 392. Even Porsche's own Cayenne would probably be an off-roader's first port of call at the dealership. A Porsche 911 sports car, in contrast, looks hilariously out of place screaming across an orange dune. But that absurdity is exactly what this car is all about — and it's damn good at it, too.
Solid foundation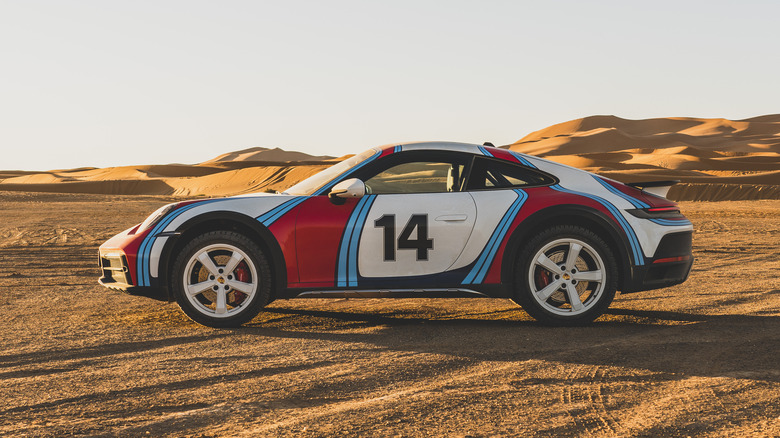 Porsche
The 911 Dakar builds off the decidedly road focused all-wheel-drive 911 Carrera 4 GTS. Power comes from a familiar twin-turbocharged 3.0-liter flat-6 engine, paired exclusively with an 8-speed dual-clutch automatic transmission. The result is a total of 473 horsepower and 420 lb-ft of torque, which are more than enough to keep you powering through your dirtiest antics. Accelerating to 60 mph takes a scant 3.2 seconds –- the same as a rear-wheel-drive Carrera GTS –- and flat out, the 911 Dakar will hit 149 mph, limited solely by its tires.
Those meaty rubbers are Pirelli Scorpion All-Terrain Plus tires, custom developed for Porsche and this car specifically, and fitted in a staggered 245/45ZR19 front and 295/40ZR20 rear setup. They wrap 19- and 20-inch wheels, respectively: smaller than on the donor car, to leave space under the arch extensions. The all-terrain tires have 9 millimeters of tread depth, allowing them to claw through dirt and sand, and — when properly aired down for off-roading — the strong rubber compound helps them stand up to hard use on rocky roads.
Taller and tougher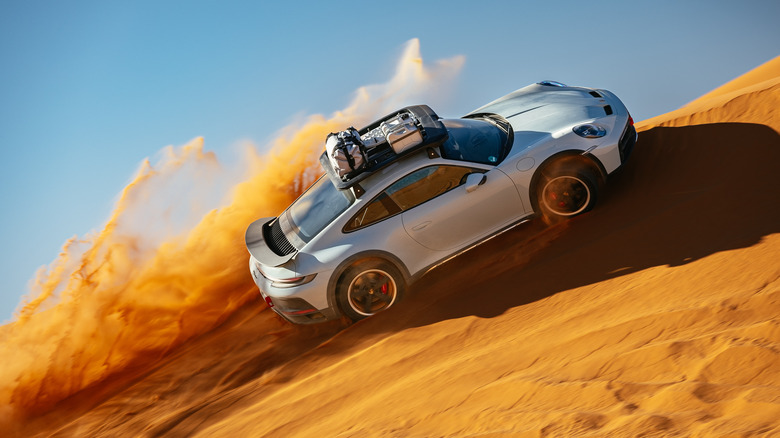 Porsche
Beyond the purposeful tires, the Dakar benefits from a 2-inch lifted ride height, longer-travel suspension for better wheel articulation, and resculpted front and rear fascias to improve off-road geometry. Porsche says the Dakar has maximum approach, departure and breakover angles of 14.2, 16.4 and 16.2 degrees, respectively. No, those aren't super impressive numbers compared to trucks and SUVs, but find me another sports car that can go where the Dakar does. Also, how hilarious is it to talk about the off-road specs of a Porsche 911?
Other enhancements include stainless steel skid plates under the front and rear bumpers, as well as the side sills, which protect valuable bits of hardware when the going gets tough. The carbon fiber roof and spoiler reduce body weight, as does the lightweight hood shared with the 911 GT3. Porsche even beefed up the 911's cooling and air filtration systems for Dakar duty, borrowing fans from the 911 Turbo. After all, this car will no doubt need to contend with more extreme weather conditions. If you use it properly, anyway, and Porsche invited us out to the desert to do just that.
Boldly going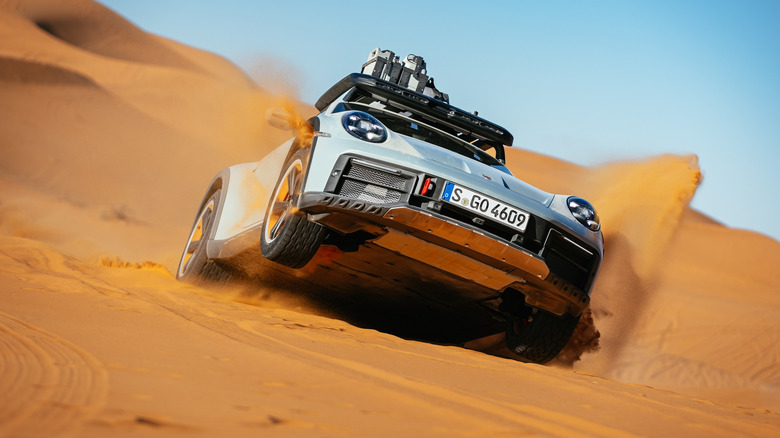 Porsche
Put the 911 Dakar in its Offroad mode and the suspension raises by 1.2 inches at each end. This doesn't happen through the use of an air suspension, by the way: Porsche took the hydraulic nose lift from other 911 models, flipped it around, and mounted it to the rear axle. In order to accomplish this, Porsche had to permanently remove the Dakar's back seats, so no, they can't be added back in. But hey, jettisoning the back seats saves weight. All told, at 3,552 pounds, the 911 Dakar is only 16 pounds heavier than an equivalent Carrera 4 GTS.
Offroad mode locks the variable all-wheel-drive system into an even 50/50 front rear torque split, which is exactly what you want for shooting your way up tall dunes and maintaining stability in deep sand. You also want to turn off the traction control, which you can do by holding the PSM button on the dash for a few seconds, allowing the wheels to spin freely rather than cutting power when slip is detected. 
The 911 Dakar comes standard with a torque-vectoring rear axle, constantly sending power side to side between the back wheels. You can totally coax this coupe into a slide in the sand, hence the major sandbox playtime out in the desert. Add in the sound of a flat-six engine wailing behind you, a transmission that holds gears in the heart of the rev range, and flickable, tossable dynamics, and the whole thing is a whale of a time.
Rally(e) dreams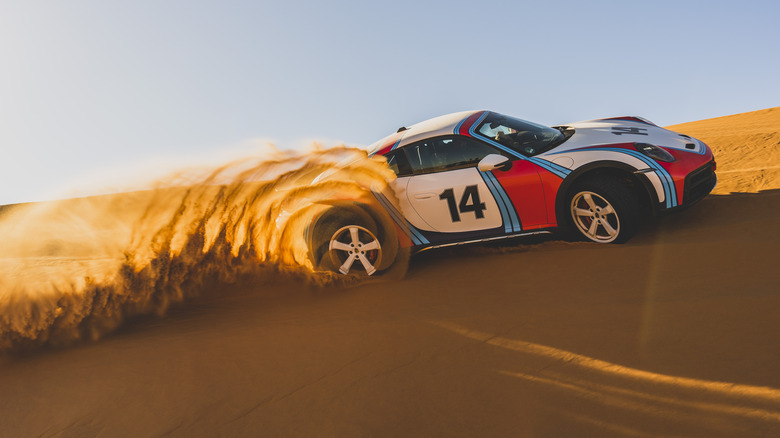 Porsche
When you don't need the full-on Offroad mode but are still looking to get your kicks, that's where the 911 Dakar's Rallye setting comes in. Rather than a central 50/50 lock, the front/rear torque distribution remains variable, but has a super strong rear bias. This is how you can live out those scenes of drifting across gravel roads or sliding around muddy corners.
Good as the 911 Dakar is in the dunes, Rallye mode is where the car is most in its element. Speeding across packed gravel trails in the Moroccan desert, the 911 Dakar feels unstoppable. Hit a bump and you can lift all four wheels off the ground; throw the wheel to the left and you'll put the car into a perfectly controllable drift. In these low-grip situations, the 911 Dakar is as entertaining as you'd expect a Porsche sports car to be, with quick steering and an immediately responsive throttle letting you dictate the whole experience.
Familiar on-road vibe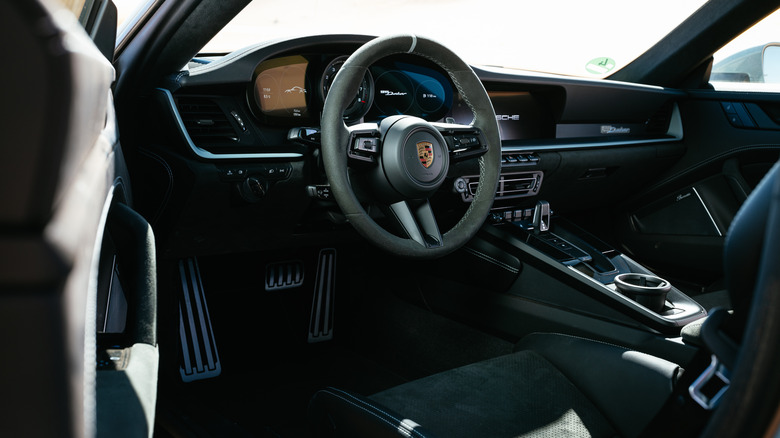 Porsche
The truth is, despite its off-road intentions, most 911 Dakar owners won't use this car to its full potential. At the very least, don't wash it before you show up at Cars & Coffee. But for them, the Dakar still fulfills all the quintessential 911 rhythms. It's quick, sharp, and enjoyable to drive on paved roads, with only minor bits of body movements due to the increased suspension. The all-terrain tires are a lot louder, too.
If you wish, Porsche offers a set of summer tires as a no-cost option, which surely improves grip on tarmac, but sort of feels like a silly add-on for such an off-road focused car. The only comfort-focused option I'd ever consider snagging is the set of 18-way power-adjustable seats, only because the full carbon-fiber buckets can get a little uncomfortable after long stints behind the wheel. They don't look as cool, though. OK, on second thought, maybe I'll skip these.
Expensive dress-up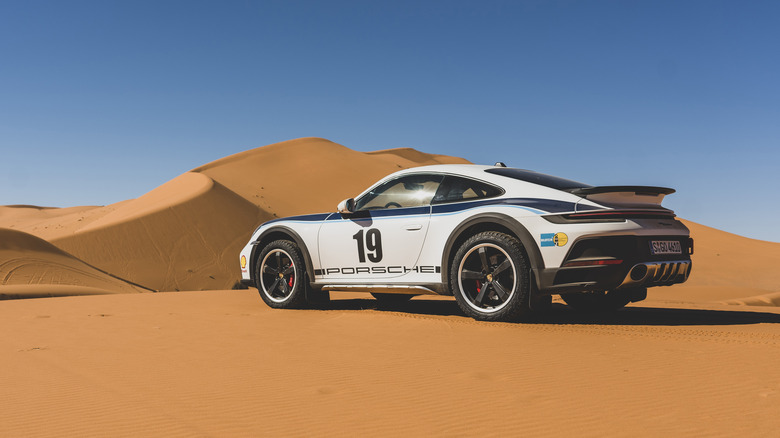 Porsche
The $25,480 Rallye Design Package is an expensive way to get your 911 Dakar to look like a proper race car, with a livery modeled after the iconic 1984 Rothmans get-up. Less expensive Martini and East African Safari decal sets can be had for anywhere from $5,260 to $7,510, or you can go wild with Porsche's paint-to-sample program, for an also-not-cheap entry price of $12,830.
No matter how you spec your 911, standard equipment includes a full suite of Porsche Communication Management infotainment technology, as well as a special numbered placard on the dashboard and a fancy aluminum shift knob. Annoyingly, however, none of the 911's driver-assistance technologies appear to be available, save for a surround-view camera system. I know you're not going to want adaptive cruise control out on the trails, but come on, you're still going to have to take a freeway to get there.
Like nothing else out there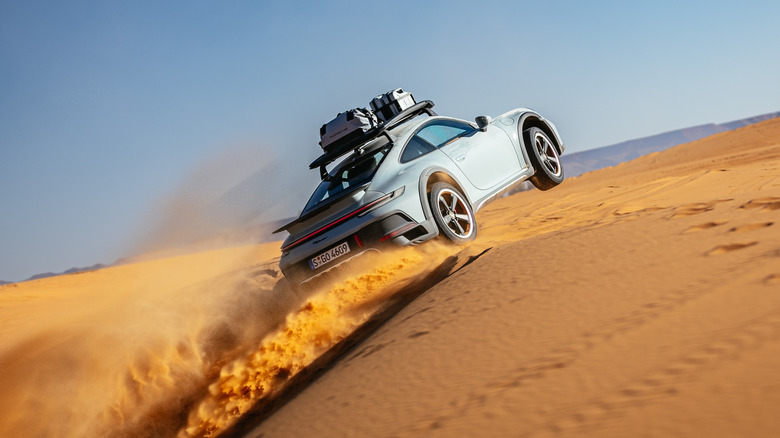 Porsche
Porsche will only sell 2,500 examples of the 911 Dakar globally. Production starts this year and will actually run into the 2024 model year, though there won't be any differences from the 2023s. Porsche has yet to confirm exactly how many are destined for the United States, or if — as seems highly likely — they're all already spoken for. The company has also hinted that the Dakar treatment could be more than a one-and-done offering, and that Porsche executives can envision a small lineup of off-road sports cars. I'm all for it, and I bet Porsche's customer base is, too.
As it stands, right now, the Porsche 911 Dakar exists in a class of one — that is, until the Lamborghini Huracan Sterrato arrives for one hell of a battle. Its nearly $225,000 cost of entry is certainly prohibitive by the terms of us mere mortals, but no other Porsche — and no other sports car — can do what the 911 Dakar does. The price may be steep, but so are the dunes the Dakar was born to climb.