The Porsche 911 Dakar Is $222,000 Coupe With Real Off-Road Talent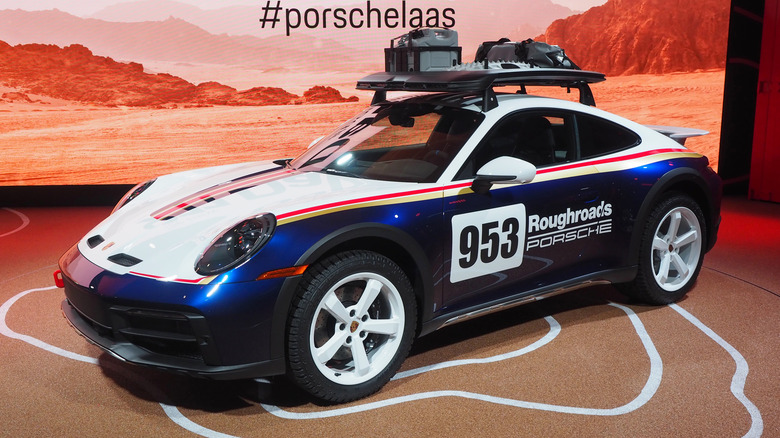 Chris Davies/SlashGear
The 2023 Porsche 911 Dakar is not your normal special edition car. Think beyond custom colors and subtle body kits: this is the 911 you want if your driving ambitions don't stop where the road ends. A 911 intended to channel the spirit of a classic rally car, but with a thoroughly modern engine, cabin, and even some creature comforts. A true 911 off-roader, and yours for a mere $222,000.
Porsche has SUVs already, of course, and mighty successful ones at that. The 911 Dakar isn't going to supplant a Cayenne or Macan on the school run, and it probably won't be quite as comfortable on your daily commute, but then again that's not what Porsche has designed it for. Instead, it's the car that keeps going when asphalt turns into dirt or worse.
That's an intentional nod — as is the name — to the 1984 Paris-Dakar Rally, where the automaker took first place with its first all-wheel drive 911. Only this time around, a select few will be able to buy one themselves.
A look like no other 911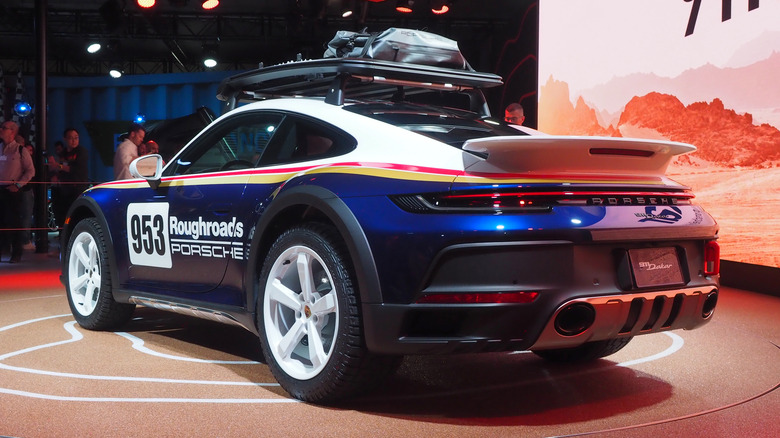 Chris Davies/SlashGear
It certainly looks like no other modern 911. The hood is CFRP (carbon fiber reinforced plastic) and borrowed from the 911 GT3, complete with large, functional vents for extracting air. A fixed rear spoiler is also standard.
Then, Porsche adds red front and rear tow hooks — made of forged aluminum — as well as flared fender arches and rocker panels. Stainless-steel body elements are added to the front and rear fascia and side skirts, and the new front fascia gets matching stainless-steel grilles to stop rock damage to the side air intakes. Extra carbon fiber kevlar (CFK) underfloor plates are optional. 
A Shade Green exterior color is unique to the 911 Dakar, while the interior gets Race-Tex upholstery with matching stitching. Full Bucket Seats are standard, as is the rear seat delete; you can have Porsche's comfort seats as an option. An optional Rallye Design Package throws on two-tone White and Gentian Blue Metallic paint, and an optional start number on the side between 1 and 999.
A familiar engine for unfamiliar roads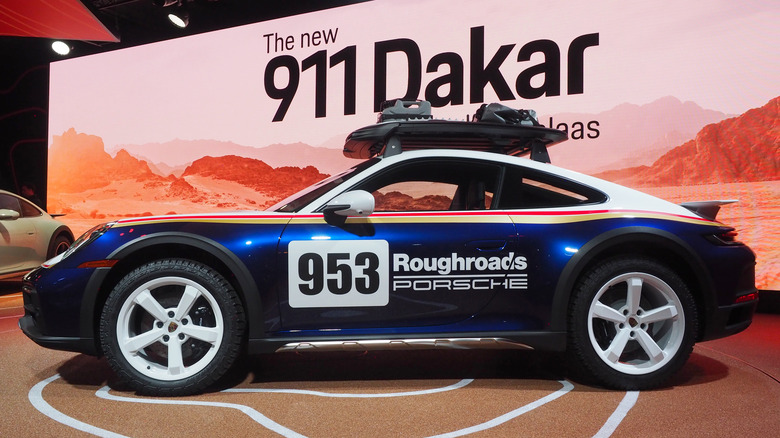 Chris Davies/SlashGear
The engine is the same 3.0-liter twin-turbo boxer we've seen Porsche use before, notably in the barnstorming 911 GTS, here with 473 horsepower and 420 lb-ft of torque. It'll take the 911 Dakar from 0-60 mph in 3.2 seconds. Top speed is limited to "just" 150 mph — versus the 191 mph of the Carrera 4 911 GTS — meanwhile, a compromise because of the off-road rubber.
Porsche's eight-speed PDK transmission is standard, along with Porsche Traction Management (PTM) all-wheel drive. The 911 GT3 donates its engine mount tech, while rear-axle steering and Porsche Dynamic Chassis Control (PDCC) are all standard.
Despite the body additions, chunky wheels, and other extras, Porsche has kept the curb weight down to 3,552 pounds. That's only 16 pounds more than a 911 Carrera 4 GTS with PDK. Even with the limited top speed and the beefy tires, the automaker claims the 911 Dakar is about as quick around the legendary Nürburgring as a 996 GT3 was.
Dune monster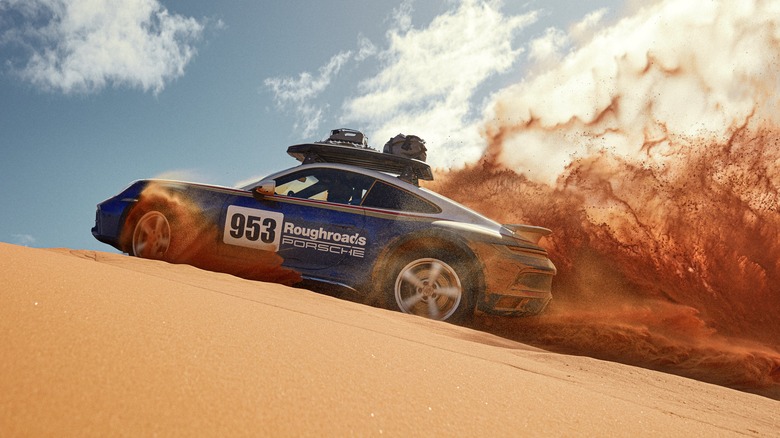 Porsche
Two new drive modes have been added, Rallye Mode and Off-Road Mode, both accessed using the familiar dial on the steering wheel. The former favors the rear axle, and is intended for loose, uneven surfaces like gravel. Off-Road Mode, meanwhile, pushes the 911 Dakar to its maximum ride height, and is centered around sand and other rough, unpredictable terrain.
Either way, there's a Rallye Launch Control mode that's exclusive to the 911 Dakar. That allows for wheel spin of up to 20%, Porsche says, to deliver the best acceleration on loose surfaces.
The car itself isn't the only custom work Porsche has done. There's also a matching roof basket, an optional extra that hooks up to a 12-volt socket on the roof to power its extra headlights. It can handle up to 92 pounds of equipment, whether extra gasoline tanks, tools, or whatever else you might need for an off-grid adventure. There's also a roof tent option.
The tallest 911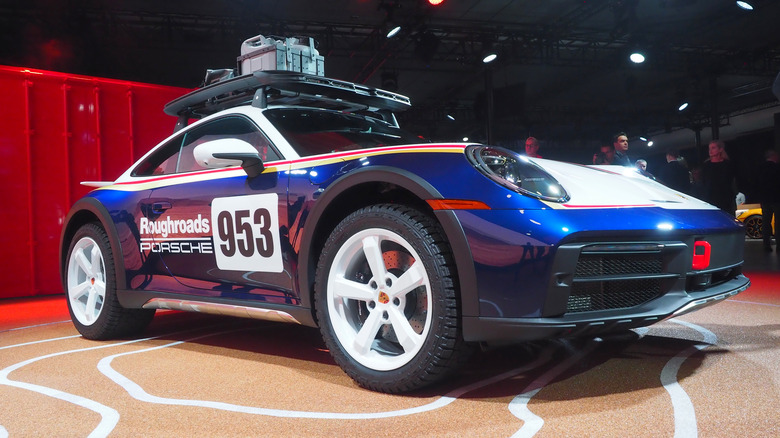 Chris Davies/SlashGear
An off-road car needs height, which is not something you'd usually associate with a sports coupe. For the 911 Dakar, Porsche cranked the ride up by 50 millimeters (1.97 inches) compared to the 911 Carrera. A standard lift system isn't here to help crest parking lot curbs but to add a further 30mm (1.18 inches) to the front and rear. Its larger pump is where the rear seats would normally be found in a regular 911.
That, Porsche says, gives the 911 Dakar the sort of ride height and ramp-over angles you'd usually expect from a conventional SUV. Unlike the parking lot helpers, meanwhile, it'll also stay active for much longer. The High Level will stay active at vehicle speeds of up to 105 mph, at which point the coupe will return to its standard ride height.
The wheels, meanwhile, are Pirelli Scorpion All Terrain Plus as standard, with Porsche fitting 245/45 ZR 19 at the front and 295/40 ZR 20 at the rear. They're designed for off-road use, with a 9mm tread pattern depth, reinforced sidewalls, and dual carcass tread. There'll be the option of P Zero summer performance tires and snow tires, also with dual carcass layers. Behind them is the brake system from the Carrera S.
Now for the downside: Porsche is only committing to making 2,500 units, with the 911 Dakar set to arrive in the U.S. in spring 2023. Pricing kicks off at $222,000 (plus $1,450 destination).