These Mercedes Cars Are One Big Step Closer To Self-Driving: Here's What They Can (And Can't) Do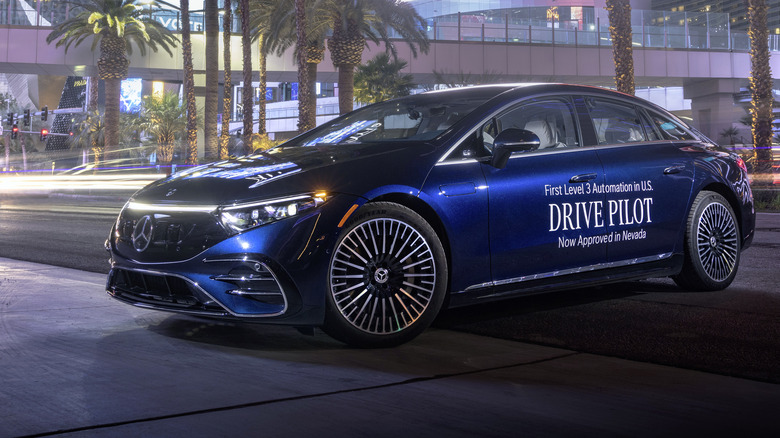 Mercedes-Benz
Mercedes-Benz's Level 3 autonomous driving system, DRIVE PILOT, will arrive on U.S. roads before the end of the year, though only a select number of vehicles will actually be liberating drivers from some of their duties. DRIVE PILOT is a "conditionally automated driving" system which aims to alleviate stress in congested highway traffic, but it's how it distinguishes itself from other commercially-available driver-assist tech that makes it special.
Currently, all such technology — including Tesla Autopilot, GM Super Cruise, and Ford BlueCruise — are so-called Level 2 systems according to the generally-accepted SAE standards. That means, even if the driver is permitted to take their hands off the wheel during operation, they still have to pay attention to the road ahead. In other words, they must be poised and ready to retake control at any point.
Mercedes' system, however, steps up to the — somewhat controversial — Level 3. While still far from a "true" autonomous vehicle, capable of independently completing a full trip from start to finish, it can handle a certain subset of conditions without the human driver from being constantly attentive. In this case, it's highway congestion.
The U.S. cars that get Mercedes DRIVE PILOT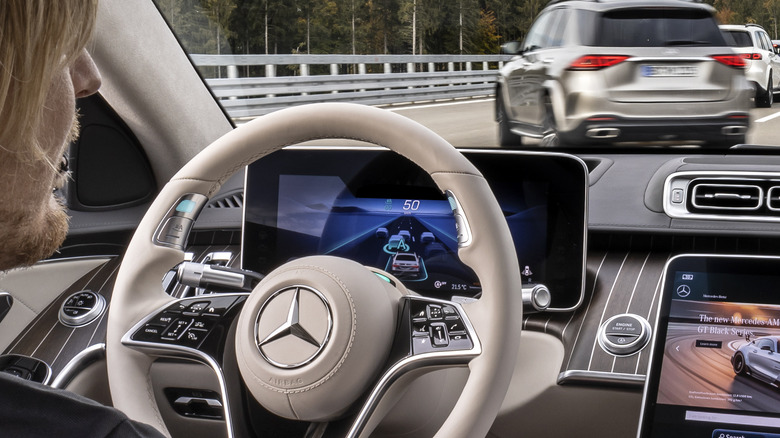 Mercedes-Benz
When it launched in Germany last year, DRIVE PILOT could keep pace with traffic, hold its position in lane, and even accommodate things like passing emergency vehicles, at speeds up to around 37 mph. In those conditions, the human driver was free to watch a movie, check their emails, or eat a sandwich. However, they couldn't opt out of the process completely, such as by falling asleep, as at some point the system expected to hand control back over.
Mercedes announced at CES 2023 earlier in the month that it would be bringing the system to the U.S. on a state-by-state basis, with Nevada having given it the green light and an application pending in California. That launch will take place on U.S. model year 2024 S-Class and EQS Sedan models — notably its most luxurious — with the first cars expected to be delivered to buyers in the second half of 2023. Mercedes is yet to confirm how much the optional DRIVE PILOT package will cost in the U.S., with details coming closer to launch, though in Germany it adds the equivalent of around $5-8k depending on vehicle configuration.
Existing cars, however — like the current AMG EQS Sedan — won't support DRIVE PILOT. That's because the system adds extra sensors, among other changes, including LIDAR, a road wetness sensor in the wheel well, and even microphones to listen out for emergency vehicle sirens. There's also redundant steering and braking actuators, and a reductant onboard electric system, in case of a serious vehicle failure. 
Carefully constrained
Despite all those precautions, DRIVE PILOT in the U.S. will still be a fairly constrained system in how and where it can operate. It'll only be supported on select freeway sections, tracked with a high-precision GPS sensor and HD maps, and at speeds up to 40 mph at times of high traffic density. As in Germany, it'll only work in daylight, too. Should that sort of traffic jam present itself, the new buttons on the steering wheel will illuminate confirming that DRIVE PILOT can be activated.
During that time, some of the features that the MBUX infotainment system supports, but which would ordinarily be locked out for safety reasons, are available to the driver. That's expected to include streaming video, among other things, though exactly what is and isn't permitted will likely depend on each U.S. state.
Should road conditions change and speeds increase, the car leave a state where DRIVE PILOT is supported, or the system need human intervention, there'll be a system of escalating visual and audible prompts. If the driver doesn't resume control, the car will pull to a controlled halt, put on the hazard warning lights, and summon emergency responders.
The arguments about Level 3 continue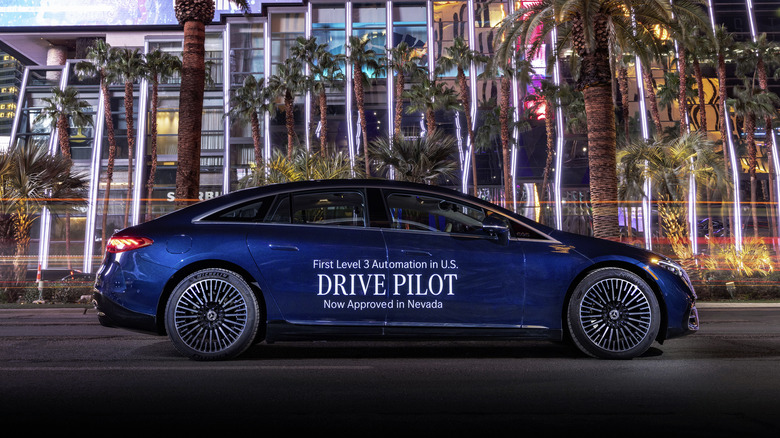 Mercedes-Benz
Clearly, this is still some way from a "true" autonomous vehicle as so many automakers, tech companies, and startups have promised over the past decade. It also drops Mercedes into an interesting argument about road safety and responsibility.
Level 3 as a step to self-driving has been criticized in some quarters for the potential confusion as to just how attentive human drivers need to be. Lingering misconceptions about current Level 2 systems being "full autonomy" certainly haven't helped there. Mercedes itself is clear about just what DRIVE PILOT can, and cannot, do; it may fall to dealers to actually explain those capabilities — and limitations — to S-Class and EQS Sedan owners themselves.
At the same time, the system will undoubtedly evolve as laws do. In Germany, for example, Mercedes plans to increase the speed limit for DRIVE PILOT to around 74 mph, after recent updates to the conditional autonomy regulations there.
The biggest question, however, we may need to wait until something goes wrong to have answered. Mercedes execs are coy about acknowledging "liability" for DRIVE PILOT, preferring to say that the automaker takes "responsibility" when the system is active. While the company has set aside a fund to cover potential costs should that responsibility be tested in practice, Chief Technology Officer Markus Schäfer told SlashGear earlier this year that exactly who ends up footing the bill — should a Mercedes with the driver-assistance activated be involved in a crash — may not be decided until such an incident actually happens.