Mercedes' Self-Driving Roadmap Is Fascinating, But Reckless Driving Could Hold It Back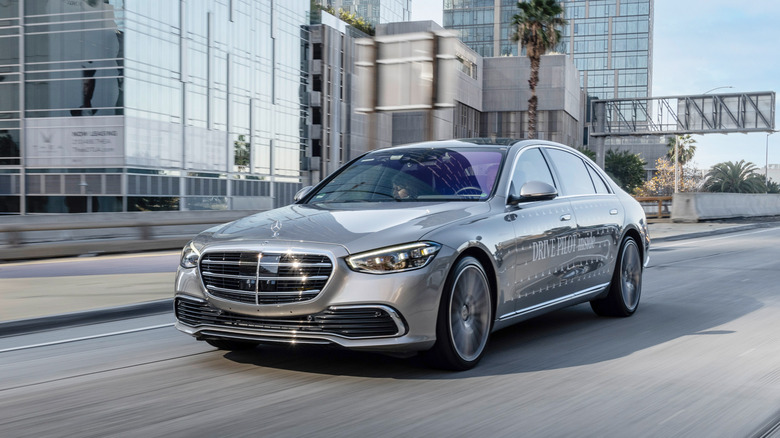 Mercedes-Benz
Mercedes may be celebrating the imminent approval for its Level 3 autonomous driving system in Nevada, but upgrades to the tech are already in the pipeline, according to company executives. Speaking at CES 2023, where DRIVE PILOT's submission for roll-out in Nevada and California was revealed, Chief Technology Officer Markus Schäfer helped clear up questions of just who's on the hook should an accident take place, as well as detailing technical upgrades that should make the system usable in more situations.
DRIVE PILOT is designed to work on stretches of divided highway, with the car capable of maintaining pace with traffic and holding its position in the lane. As a Level 3 system, though, what distinguishes it from other driver-assistance offerings — including Mercedes' own previous systems — is that, while DRIVE PILOT is active, the car is responsible. The human behind the wheel doesn't need to pay attention to the road ahead, and is free to watch a movie or play a game on their phone.
The system went live in Germany early in 2022, though Mercedes hasn't stated exactly how many people are actually using the system so far. Currently, it's offered as an option on the automaker's most expensive cars, the S-Class and EQS sedans. They come equipped with a far more comprehensive sensor suite, even including exterior microphones that can listen out for approaching emergency vehicles.
A 40 mph limit to begin with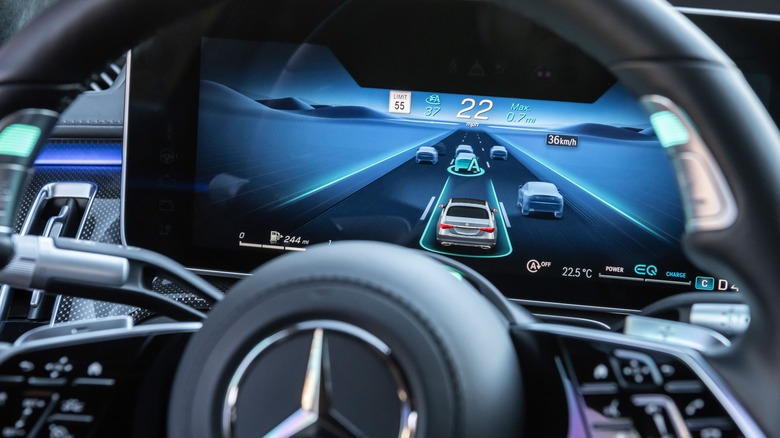 Mercedes-Benz
When we tested out DRIVE PILOT ourselves last year, there was no roadmap for a U.S. debut. Now, though, it turns out that'll happen sooner rather than later. Mercedes submitted the paperwork to the DMVs in Nevada and California at the end of November, 2022, and received word in early January 2023 from Nevada that it was to be approved. A decision in California is expected in a few weeks time, Schäfer said during a CES roundtable that Mercedes invited SlashGear to the annual tech show to attend.
Unsurprisingly, the reception to the technology has been cautious. "The authorities are very careful, as you might understand," Schäfer says. "Extremely careful, and sensitive to these kinds of experiences here."
Nonetheless, the two states — selected because they're high-sales markets for Mercedes — have proved to be receptive. Initially, DRIVE PILOT will support speeds of up to 40 mph. Anything beyond that, the responsibility will be transitioned back over to the human driver. If they don't reclaim it, and they ignore the escalating attention-grabbing alerts including sound, lights, and vibrations, the car can bring itself to a halt.
In Europe, DRIVE PILOT accelerates to meet regulations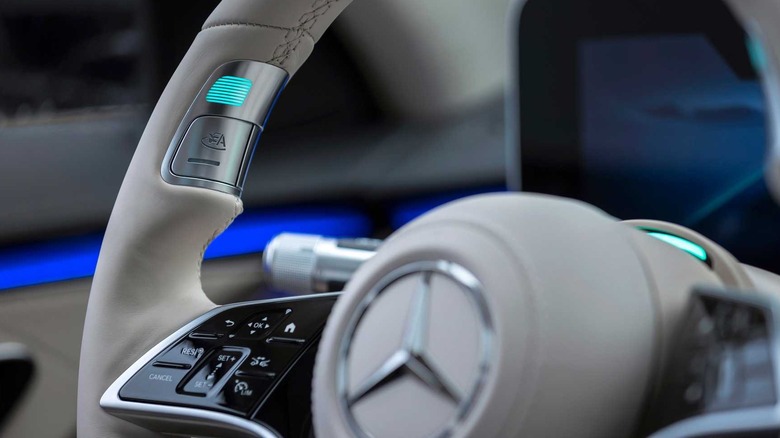 Mercedes-Benz
Things have evolved, both on a technological and regulatory basis, since SlashGear allowed an EQS to take the reins in July of last year. Originally, the German version of the system was limited to 60 kph — or around 37 mph (that maximum was imposed by the laws in the country at the time).
Since then, Schäfer explains, the rules have softened considerably. In fact, speeds up to 120 kph — or around 74 mph — are permitted, and Mercedes is in the process of increasing the speed at which DRIVE PILOT will operate in Germany.
The legal environment in the U.S. is a little more complex, not least because each state is responsible for its own laws around autonomous driving. Mercedes is beginning with a 40 mph limit, but is exploring increasing that in time, too. If you roam outside of a state where DRIVE PILOT is permitted, meanwhile, the system will deactivate automatically.
Responsibility, not liability
No system, of course, is perfect. The responsibilities involved in Level 2 driver-assistance — whether hands-on, like Mercedes' existing tech, or hands-off like Super Cruise — is clear: it's the human behind the wheel who is liable should something go awry. Level 3, by definition, confuses that somewhat.
Mercedes execs are being exceedingly careful in how they refer to the technology, and in the ways that cars supporting DRIVE PILOT have responsibility when the system is active, though not liability. A big part of the discussions the automaker has had with DMVs in different U.S. states so far, according to Schäfer, is how drivers are educated about times when the car is responsible, and times when they are.
Still, even if Mercedes isn't avoiding the "liability" word, that's not to say they're unprepared for being on the hook should a crash occur that's blamed on DRIVE PILOT. "Liability is another discussion we're going to have," Schäfer agrees. "But yes, we take higher risk, definitely. We as a company do take a higher risk. So that's something we take into consideration as a business."
Mercedes has deep pockets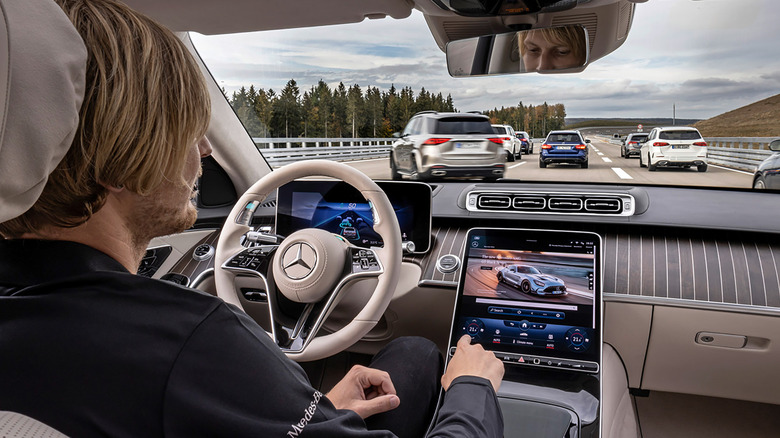 Mercedes-Benz
In short, when it comes to deciding who's on the hook if DRIVE PILOT screws up, Mercedes is ready to take the hit. In fact, Schäfer confirms, there's already a fund set aside to cover the subsequent costs. "If it's that the system failed," he explains, "it's not going to be you."
Don't, however, assume that you can turn DRIVE PILOT on and then completely opt out of what's happening around you. "You cannot be reckless," the CTO points out. "You cannot just leave the driver's seat and jump in the back. And you cannot sleep, so there's a camera in the car that monitors your eyes. The system will hand over back to you if you close your eyes for too long."
It's fair to say that Mercedes-Benz is taking a far more cautious approach to autonomous tech than some of its industry rivals. It's also perhaps no great surprise that it's the chosen strategy: after all, the automaker has a more conservative reputation than, say, Tesla does. Nonetheless, while it may be taking one U.S. state at a time for DRIVE PILOT's deployment, there's every sign that — just as it was in Europe — so too will Mercedes have the first production Level 3 system operational in North America. Just remember to bring your Netflix login, not your pillow.