Here's What It Will Take To Run Hogwarts Legacy On PC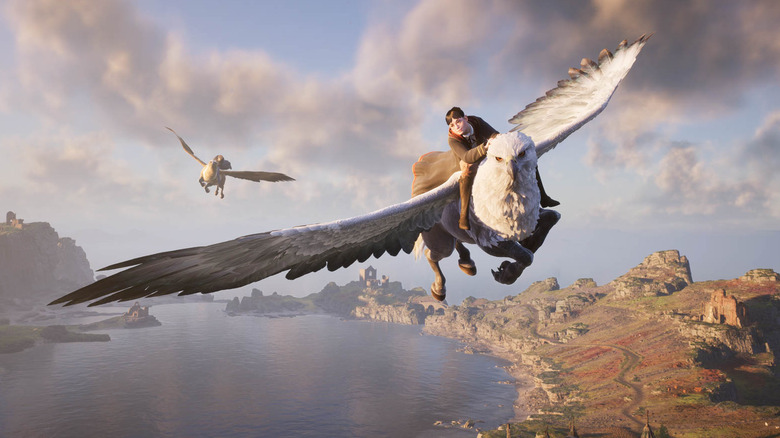 Avalanche Software/Warner Bros. Entertainment
Avalanche Software has officially revealed the system requirements for its upcoming open-world title "Hogwarts Legacy." Eyeing a PC release on February 10 following an unfortunate delay, the role-playing game set in the wizarding world of Harry Potter will also be making its way to the PlayStation, Xbox, and Nintendo ecosystems. For folks rocking a Steam Deck, publisher Warner Bros has confirmed on Twitter that "Hogwarts Legacy" will be verified for the handheld gaming console at launch.
On the Windows side of things, you will need at least an Intel Core i5-6600 or an AMD Ryzen 5-1400 processor to run the game at the lowest graphics setting. Your modest gaming rig must also have at least 16 GB of RAM, 85 GB of storage, and an Nvidia GeForce GTX 960 or AMD Radeon RX 470 graphics engine. The visual experience will max out at 720p 30 fps, however, if you only meet the minimum specs.
For folks looking forward to enjoying the game at the Recommended or High quality presets, the processor baseline has been set at an Intel Core i7-87000 or AMD Ryzen 5-3600 chip. The GPU requirement, on the other hand, goes up to an Nvidia GeForce 1080 Ti, AMD Radeon RX 5700 XT, or Intel's new Arc A770 graphics engine. This setup will be enough to enjoy the game at 1080p resolution with a smooth 60 fps frame rate.
Ultra magic will come at a steep price
"Hogwarts Legacy," which is set in JK Rowling's wizarding universe of the 1800s era, will need some beefy hardware to crank up the settings in the Ultra territory. For the standard Ultra preset that promises gaming at 60 fps and 1440p resolution, you will need an Intel Core i7-10700K or AMD's beastly Ryzen 7-5800X processor. The amount of RAM required also goes up to 32 GB, while the minimum GPU requirement is Nvidia GeForce RTX 2080 Ti or AMD's Radeon RX 6800 XT. 
If you have purchased a 4K panel for your battlestation and want to enjoy the game's realm in all its 2160p glory, the 4K Ultra preset will offer you just that. However, you will need at least Nvidia's last-gen flagship, the GeForce RTX 3090 Ti. For folks loyal to Team Red, your PC should at least pack the freshly-baked AMD Radeon RX 7900 XT graphics card. 
Given the current state of the GPU market and the ever-rising price of desktop processors, playing Hogwarts at its peak visual glory won't exactly come cheap. Plus, Intel's Arc graphics cards aren't beefy enough to handle the game's Ultra demands. Just in case you were wondering, broom flight will indeed be a part of the game, and you can even ride magical beasts, but unfortunately, there won't be any Quidditch action.