Intel Reveals Arc GPU Pricing As It Goes Head-To-Head With Nvidia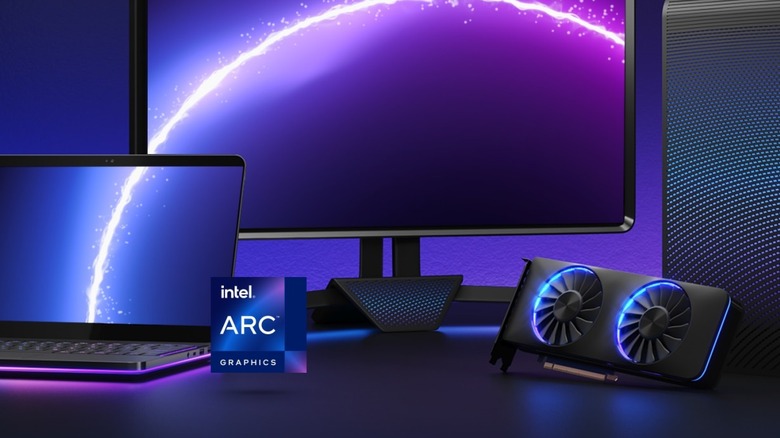 Intel
Intel wants to take over the GPU game with the Arc series, and it very clearly wants to take aim at NVIDIA as its primary target. We've been patiently waiting for this series to drop for all of 2022, and though Intel will handily overshoot its September target at this point, we can now count on a solid release date for the Arc A770 Limited Edition flagship.
According to an announcement made at the Intel Innovation conference (via Twitter), we'll see the GPU hit store shelves in a number of configurations starting October 12, which suspiciously falls on the same day that NVIDIA will launch its top-line 40-series RTX cards. Like NVIDIA, Intel will offer a limited edition factory run of the card, and we're likely to see OEMs piggyback with versions of their own. While those configurations will vary in price based on the specific features they have, we can at least count on a $329 base price, putting it just under the RTX 3060 in terms of the target market.
1440p gaming on the cheap
At $329, the Intel Arc A770 doesn't directly compete with the RTX 3070, but it's vying for a spot among the affordable cards that can competently push a smooth 1440p gaming experience — to what effect is anyone's guess right now. Early benchmarks suggest it should be able to manage under a decent load in most games. In fact, it's expected to outpace even the 3060 Ti with enough optimization time, and may even come close to the 3070's potential by the end of its lifecycle, all with less power draw.
Right now, the Arc A770 is the most powerful chip in Intel's lineup, with equal amounts of both Ray-Tracing and Xe cores for a total of 32 each. It comes in 8GB and 16GB configurations with a 2.1GHz base clock and up to 560MB/s bus speed. Intel suggests it offers a 2x improvement there. We're not sure which competing GPU it targeted to tout that figure, but we do know it handily beats the RTX 3060, at least according to Intel.
There's also XeSS, Intel's highly efficient supersampling technology that should offer sharper graphics and improved antialiasing without major performance hits. We're said to be seeing up to a 65% performance improvement in that area, but we're not sure which exact card Intel is judging against. There is a decent list of titles ready to support it at launch, and surely Intel is buttering the palms of its partners to attract more as time rolls on.
Not just for gaming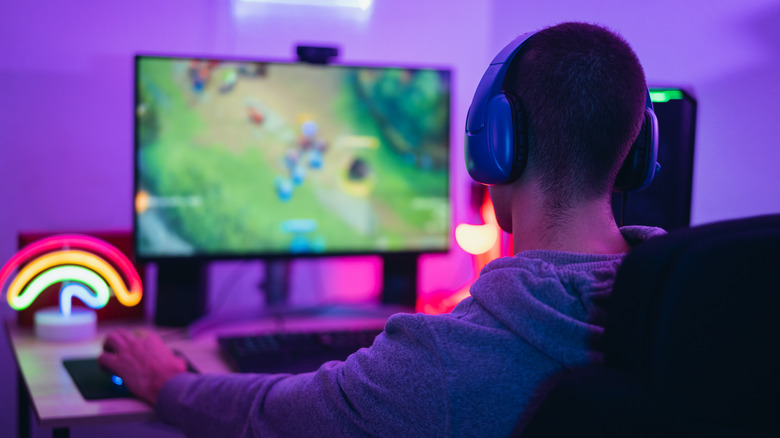 AlessandroBiascioli/Shutterstock
Also in tow is the new AV1 hardware encoder for video, giving content creators a major boost to their performance when streaming games, editing videos, or anything else that has to do with upstream video rendering. Theoretically, this will give Twitch streamers, YouTubers, and the like enough headroom to broadcast and record their gameplay on the same machine they're playing on.
Similar tech is available in NVIDIA's latest cards, so this isn't revolutionary tech — both are members of the Alliance for Open Media that's pushing the open source standard, after all. Still, it's nice to see Intel is serious about incorporating the features that have kept many sided with either Team Green or Team Red for so long. Intel might even have the leg up here, with early reports (via EposVox) suggesting it beats NVIDIA's famed NVENC encoder in every way, nary a surprise given the company is also favoring AV1 lately.
Perhaps it's time, now, for Team Blue to step in and break up the long-standing duopoly, especially after the wallet-hurting horror show that saw GPU prices spike to astronomical levels thanks to the events of 2020 and beyond. We simultaneously suffered crypto miners, chip shortages, and supply chain constraints, not to mention all those sick hoarders and scalpers drying up the global inventory within mere seconds of new product being seeded into the market. Even if Intel can't compete at the high end right now, more options and more competition are always welcome.