Hogwarts Legacy State Of Play Promises First Look At Gameplay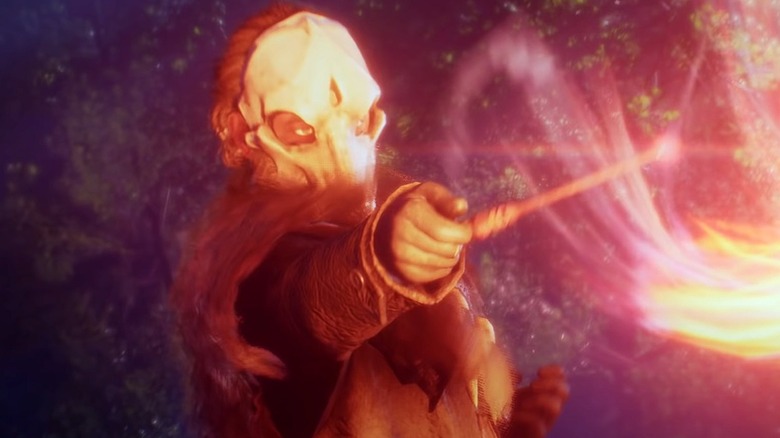 Portkey Games/WB Games
It looks like we're going from one PlayStation State of Play right into the next. Following last week's State of Play (early March, 2022) that was focused mostly on upcoming games from Sony's Japanese publishing partners, we're getting another one this week. This time around, the focus will be quite a bit different, as the next State of Play will focus entirely on one game: "Hogwarts Legacy." It's been quite some time since we last heard from the upcoming "Harry Potter" games, and fans of the franchise will definitely want to catch this particular presentation event.
That's because this State of Play promises the very first look at "Hogwarts Legacy" gameplay. The media surrounding this game has been very limited so far — in fact, outside of the announcement trailer that was published way back in September 2020, we haven't seen much of anything from "Hogwarts Legacy" yet. The streaming event that'll take place this week aims to change that, and since "Hogwarts Legacy" is going to be a multiplatform title, Xbox and PC gamers — not just those who own a PS4 or PS5 — will want to make sure to tune in.
Hogwarts Legacy State of Play: When to tune in
As announced on the PlayStation Blog today, the "Hogwarts Legacy" State of Play will premiere on Thursday, March 17, 2022 at 2 PM PT/5 PM ET. Chandler Wood, who serves as the community manager for WB Games Avalanche, the studio developing "Hogwarts Legacy," says that the whole presentation will last for around 20 minutes, so expect to be a rather short and breezy affair.
Wood also says that around 14 minutes of the presentation will show off gameplay from "Hogwarts Legacy," as captured on PS5. Going from a cinematic announcement trailer (which we've embedded above) to a presentation featuring 14 minutes of gameplay is a pretty big leap, but then again, we have waited a year-and-a-half for a presentation of this game (in any way, shape, or form,) to arrive.
As with most State of Play presentations, this one will be broadcast on both Twitch and YouTube. Originally slated to release at some point in 2021, the game was delayed to this year, but no official release date beyond a broad "2022" window has been revealed. Perhaps that'll be one of the topics covered during Thursday's State of Play? We'll let you know if that turns out to be the case, but for now, we should probably just look forward to our first official look at gameplay without expecting a release date to go along with it.