The Most Expensive Car In Lindsay Fox's Collection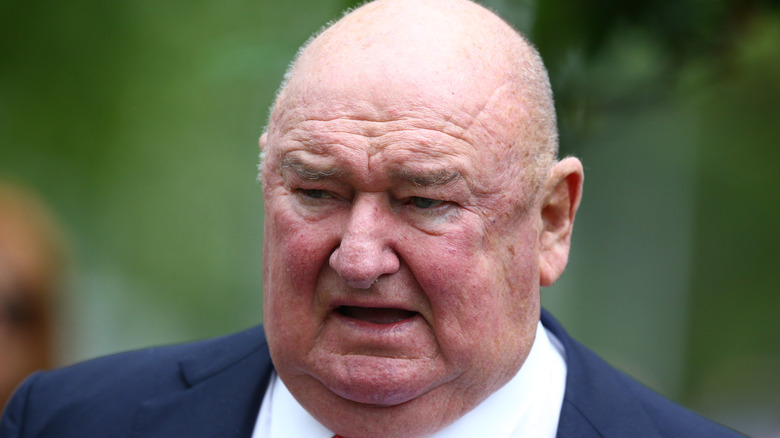 Michael Dodge/Getty Images
Australian logistics magnate and businessman Lindsay Fox left school at 16 in search of greener pastures. Inspired by his old man (a truck driver by profession), the young Fox bought his first truck, a 1957 Ford F500, at 19 years old to kickstart Linfox, Australia's leading transport, supply chain, and logistics provider (per Linfox). Today, Linfox operates in 10 countries and has amassed an impressive fleet of 5,000 delivery trucks in the Asia-Pacific region. The company also boasts an impressive property portfolio consisting of two airports (Avalon and Essendon airports) and half-shares in a business park (per Forbes), enabling Lindsay Fox to accumulate a $2 billion net worth.
But as it turns out, Fox is a huge car nut and has spent immeasurable cash building an unbelievable car collection. Just when we thought Jay Leno, Danny Koker, and Ralph Lauren were the biggest gearheads on this planet, Lindsay Fox has proven that the folks from down under have a distinguished taste for exotic, four-wheeled machinery.
Lindsay Fox has a museum of cars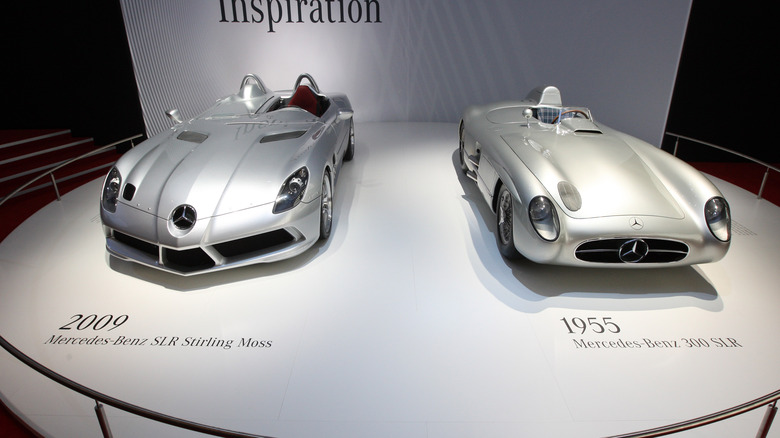 Bloomberg/Getty Images
That's right. Like former F1 world champion Fernando Alonso, Lindsay Fox has a museum of the costliest and rarest cars on display. Fox donated over 50 of his iconic cars to the Fox Collection Classic Car Museum for everyone to see. As expected, the list of vehicles will bring tears of joy to die-hard enthusiasts, and some are as rare as a hen's tooth and costlier than a British estate. Lindsay Fox owns a 2006 Mercedes-Benz A38 AMG Twin Engine, a souped-up A-Class hatchback with two 1.9-liter four-cylinder engines mounted in the front and back. Mercedes only built four units of the quirky A38 AMG, and you'll need to part with a six-figure sum to add one to your garage.
Lindsay Fox's auto collection includes the usual suspects like a Ferrari F40, a Jaguar XJ220, a Ferrari Enzo, and a Mercedes-Benz SLR McLaren Stirling Moss Edition, each costing millions of dollars. The museum also hosts the ultra-rare Sapphire Blue Porsche Collection, consisting of a Porsche 918 Spyder, three Porsche 935's, a 911 R, a 911 GT3, and a 911 Targe 4 GTS, among many others. The YouTube video above by Motor Magazine takes a deeper dive into what to expect from the Fox Collection Classic Car Museum, including the brilliant collection of Sapphire Blue Porsches.
What is Lindsay Fox's most expensive car?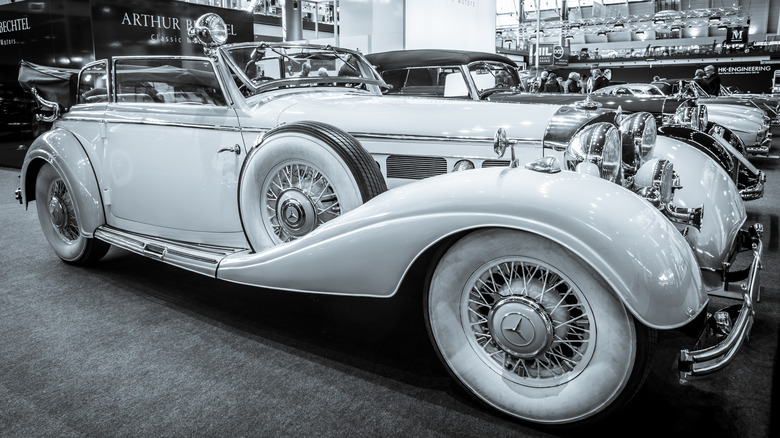 Sergey Kohl/Shutterstock
The most expensive car in Lindsay Fox's garage is a 1937 Mercedes-Benz 540K Cabriolet. According to Classic, the average price for this vintage Mercedes is around $2.5 million, but a particular 540K roadster sold at an Arizona auction for $9.9 million (per Autoblog). However, Fox's old Benz could be worth more. According to the video above by host Andy Enright, Hermann Göring and Adolf Hitler rode Fox's 540K Cabriolet during WWII. Wow.
Other noteworthy and costly cars from the Lindsay Fox museum include a pristine 1953 Mercedes-Benz 300 SL Gullwing ($6.85 million), a 1953 Porsche 550 RS Spyder ($5.3 million), and a $2-million Ferrari 288 GTO. Fox is also the proud owner of a Lexus LFA, undoubtedly one of the best-sounding cars ever made. The LFA cost a cool $400,000 when bought new in 2011, and the lucky owners won't part with their LFAs for less than a million bucks (per Classic).