The Most Expensive Car In Fernando Alonso's Collection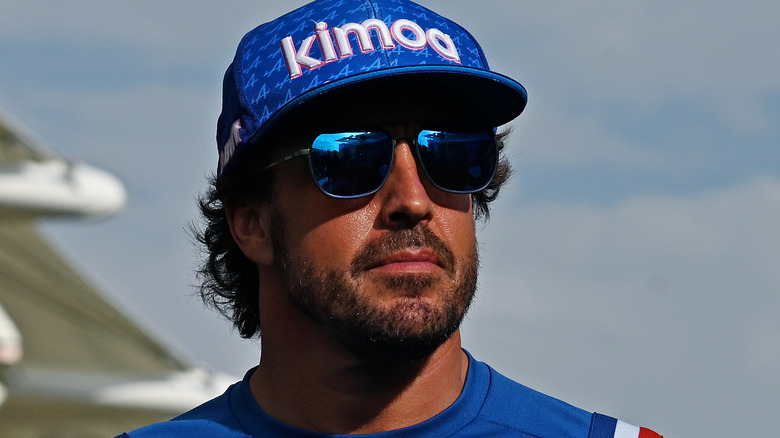 Eurasia Sport Images/Getty Images
Spanish professional racing driver and two-time Formula One world champion Fernando Alonso might have the most lavish, desirable, and expensive car collection among his peers. Lewis Hamilton and Max Verstappen also have incredible collections among the F1 paddock, but Alonso's collection is massive.
The Fernando Alonso Sports Complex in Asturias, Spain, pays homage to the racing great and has over 1,500 cars on display, including most of the race cars that Alonso competed in since the beginning of his racing career. Out of the 1,500 cars in the museum, 300 reportedly belong to Alonso's car collection (per Hot Cars).
Born Fernando Alonso Diaz on July 29, 1981, Alonso started karting at three years old, won the Spanish karting championship at age 12, and won the Junior World Championship at 15 (per Race Fans). He entered the F1 world in 2001 with Minardi, and joined Renault in 2022. Alonso is the youngest driver to win pole position, the youngest to win an F1 race, the youngest F1 champion, and Formula One's youngest double world champion (per F1).
Alonso's crazy car collection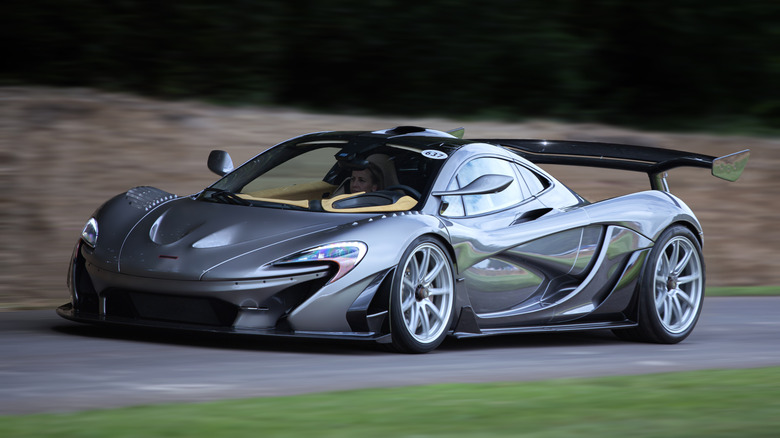 Martyn Lucy/Getty Images
It's hard not to call Alonso's auto collection "loco." With a net worth of about $240 million (per The Sports Rush), Alonso is among the wealthiest F1 drivers, and has the moolah to splurge on uber-expensive cars. Naming every automobile in his collection could be an exercise of futility with the sheer variety of big names like Ferrari, Lamborghini, McLaren, etc. Putting aside the racing cars, the most expensive road-legal supercar in Alonso's garage would have to be the McLaren P1 (per Hot Cars). Part of the "Holy Trinity" of hybrid supercars (including the Ferrari LaFerrari and Porsche 918 Spyder) that kickstarted the electrified hypercar race, the McLaren P1 has a whopping $1.1 million base price.
Having driven for the Scuderia Ferrari racing team from 2010 to 2014, Alonso also owns a Ferrari California (around $232,000) and a Ferrari 458 Italia ($230,000), according to Sportskeeda. In addition, Alonso is the proud owner of a limited-edition Ferrari 599 GTB Fernando Alonso Edition. Only 40 units exist today, and they auction for $300,000 to $350,000 (per Sportskeeda). Other noteworthy (and expensive) cars in Alonso's collection include a Godzilla Nissan GT-R ($99,900) and a Maserati GranCabrio ($355,000).
Fernando Alonso agreed to a multi-year deal with Aston Martin in August, 2022, after returning to F1 in 2021 with the Alpine racing team. Commemorating Alonso's time with Alpine is the extremely limited-edition A110 R. It's a lighter and quicker version of the already-brilliant Alpine A110 S, that will boast 300-horsepower 1.8-liter turbocharged four-cylinder engine (via Alpine Cars). Alpine is producing only 32 units of the A110 R (commemorating Alonso's 32 F1 wins) at around $153,000 each before taxes, and you can be confident that Alonso has one.