The Most Expensive Car In Lewis Hamilton's Collection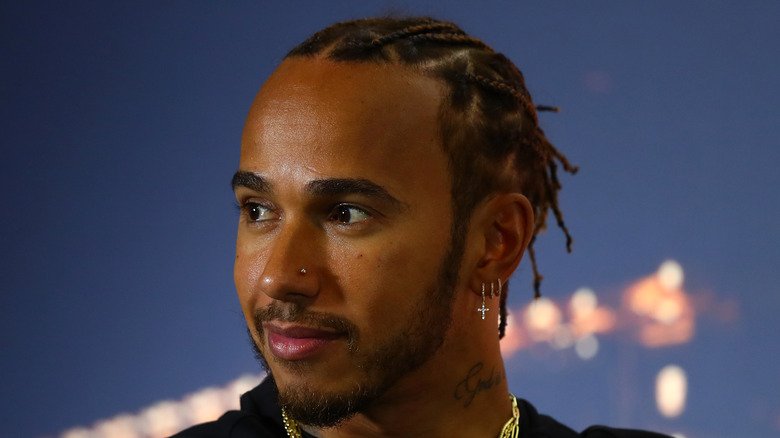 sbonsi/Shutterstock
Lewis Hamilton's car collection is worth millions of dollars, but one car stands out as his pièce de résistance when it comes to its sheer value and significance. The record-holding Formula One Champion has amassed quite an eclectic array of exotic vehicles, including many one-off unique models that are worth massive amounts of cash. As Hamilton told The Sunday Times, his collection includes masterpieces such as a rare '66 Shelby Cobra 427 vetted by the late Carroll Shelby himself.
Other valuable models include two Ferrari LaFerraris, a Pagani Zonda 760 LH, and a Mercedes-AMG One. He's also owned (and might still own, depending on if sales rumors are true), a Lewis Hamilton edition Pagani Zonda 760. This unique custom job was rumored to be priced at around $2.6 million (via Motor1) when he first purchased the vehicle. Despite being Hamilton's "best-sounding car," he admitted at one point in an interview that, of all of his cars, "handling-wise it's the worst." Likely due in part to the less-than-optimal handling, the seven-time F1 winner was rumored to have sold this custom Zonda for an eye-watering $11.3 million, according to Motor Authority. 
If Hamilton did indeed sell his custom Zonda, then which car in Hamilton's collection is currently considered "most expensive?"
The Ferrari LaFerrari Aperta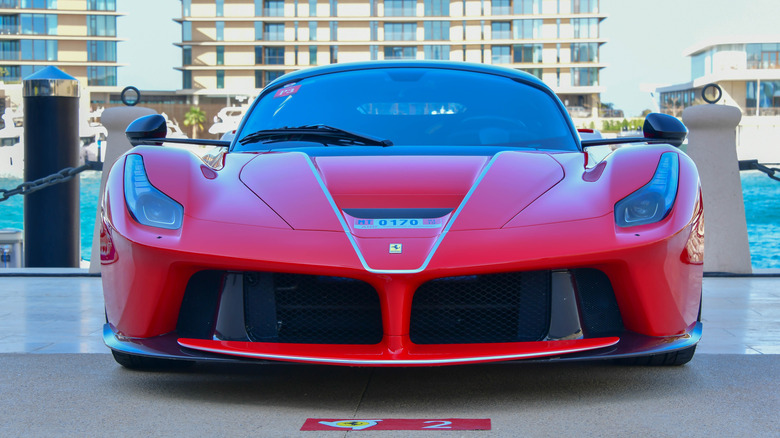 pracha hariraksapita/Shutterstock
The next most expensive car in Hamilton's collection is one of his two Ferrari LaFerraris, which is a white "Aperta" open-top variant. According to Ferrari Lake Forest, LaFerrari Apertas are so rare and expensive that the final unit — out of the only 210 ever made — was sold for as much as $10 million. The rare variant holds the title for the most valuable car sold at a public auction, with a low-mileage example of it being the most expensive car ever sold online, at a whopping price of $5.3 million.
In order to become among the original owners of a LaFerrari Aperta, one would have to be handpicked by Ferrari first. Hamilton said in the interview he could probably get "way more" than what he paid if he sold his LaFerraris. However, Team Mercedes' racing ace decided against it saying he "worked so hard" to get his LaFerraris, even calling them his "babies" and "art pieces." While Hamilton's LaFerrari Aperta is likely among the most expensive car in his collection, he might very well be getting a vehicle that's even pricier.
The new golden child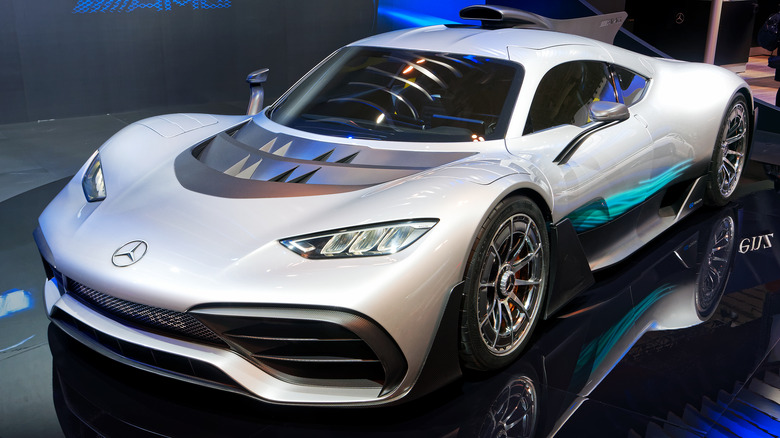 Zoran Karapancev/Shutterstock
Hamilton is no stranger to being involved in the process of manufacturing and customizing vehicles. In fact, Hamilton is closely involved in the test-driving and production of Mercedes-AMG's hybrid hypercar Project One, a vehicle that aims to bring F1 performance to the road. Each unit comes with a $2.7 million price tag, and the first run is sold out (via Motor1). Buyers of this first run of vehicles must sign a contract prohibiting any secondary sale for an agreed-upon length of time after their initial purchase, forcing their value to grow much higher over time.
While Mercedes-AMG's One is still in development, only 275 will be made, and one of the first few examples will be heading to Hamilton's car collection. Furthermore, the British racer even revealed plans to collaborate with Mercedes-AMG to build a "special LH Edition" of its already expensive One hypercar (via Top Gear). 
It's basically a road car that best represents Hamilton's career, as it comes with the same engine as his F1 track racer. "I've won the championship in that engine," said Hamilton, speaking with Top Gear. "The driveability, the power output, and where the power comes in... all those kinds of things are what I helped steer."
Hamilton's hoping to make his LH Edition variant look sharper, louder, and more powerful than the base version. If the Mercedes-AMG One LH Edition ever makes it through production, Hamilton will likely be getting one tailor-made just for him. Only time will tell just how high the price of Hamilton's AMG One will reach in the future, but one thing's for sure, it will certainly have a personal significance to the F1 Champ.