The Reason Why Porsche Discontinued The Legendary 918 Spyder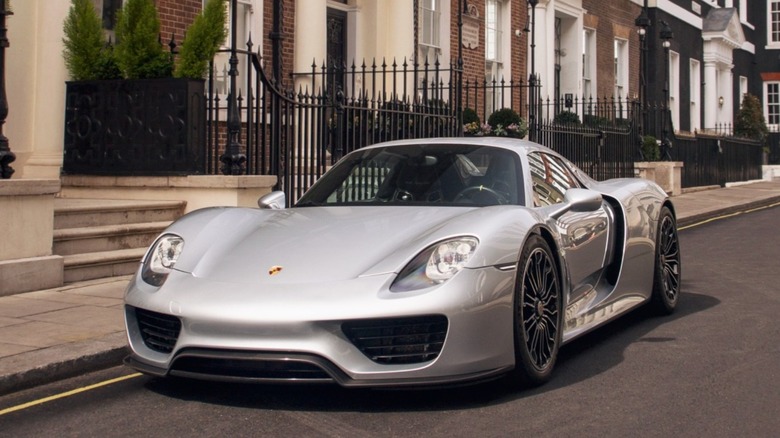 dimcars/Shutterstock
The Porsche 918 Spyder was something of a special vehicle when it was announced. Not only is it one of very few Porsche hypercars, but as a plug-in hybrid, it was also Porsche's first foray into the world of electrification (via Stuttcars). Released in 2014, the Porsche 918 Spyder produced an astonishing 887 horsepower and could reach 62 mph in only 2.6 seconds, while the top speed of 214 mph challenges legends like the Bugatti Veyron. The impressive performance of the 918 Spyder hybrid was thanks to the combination of a 4.6-liter V8 and two 105-kW electric motors. 
At launch, Porsche priced the 918 Spyder at $845,000, and since the vehicle ceased production in 2015, the price has skyrocketed to close to $2 million, according to listings on the duPont Registry. The 918 Spyder was a special car for Porsche and the motoring world at large. Not only does it still make it onto lists of the fastest production vehicles around — proving to the world that hybrid supercars were just as good as, if not better than, their ICE counterparts — but it had a profound impact on Porsche's lineup and development strategy. 
A hypercar to push the production line into the future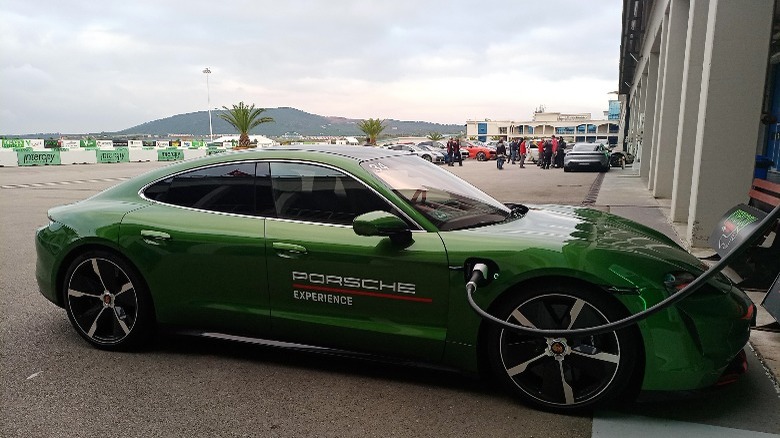 Gti861/Shutterstock
The 918 Spyder's days were always numbered — as a special-edition hypercar, the 918 Spyder was always intended to be a limited run, with each production unit even labeled with its production number to mark it. According to Porsche, only 918 units of the 918 Spyder were produced, with production coming to its planned conclusion in December 2015. It was undoubtedly an expensive vehicle to develop and produce, considering it took Porsche 21 months to churn out only 918 of them, according to Porsche Colorado Springs. 
Porsche calls the 918 Spyder "a blueprint for the future," claiming that it will use technologies developed during the production of the 918 Spyder to drive the rest of its lineup into an electric future. One of the most notable technological leaps it mentions is the plug-in hybrid drivetrain and control algorithms. The regenerative braking technology from the Spyder was also carried forward and developed for the all-electric Taycan, which can regenerate range at up to 290 kW. Compare that to Tesla's regenerative braking, which Elektrek claims can recover energy at up to 60 kW, and you can see how development and technology from an $845,000 hypercar enhance the $86,000 production sportscar.