15 Fastest Production Cars In The World, Ranked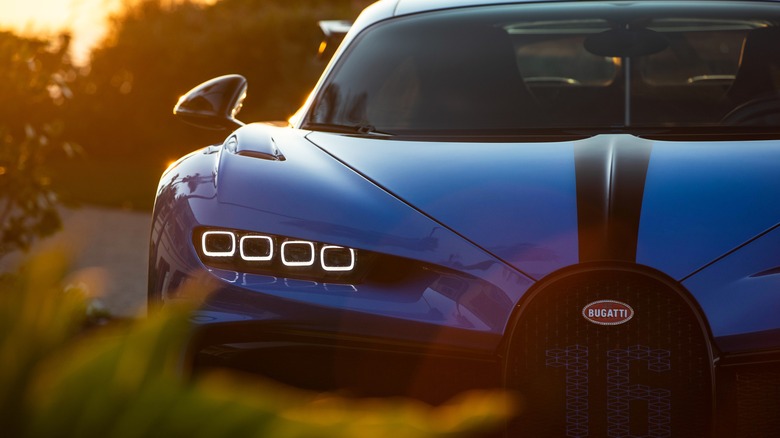 classic topcar/Shutterstock
Every sports car manufacturer aims to win the title of the world's fastest production vehicle. As a result, the new generation of sports cars — ones that use cutting-edge technology to extract every ounce of performance from their engines, no matter the price — is born and the rivalry among them to be the best is quite a battle. In recent years, the development of the most prestigious hypercars has been fueled by a race to reach 300 mph. Once upon a time, this kind of speed was unthinkable for a road vehicle, but now it's just a stepping stone for supercars. 
Since 2019, renowned hypercar manufacturers such as Bugatti, Koenigsegg, and Hennessey have been competing each other to hit the ultimate 300 mph barrier. While a superfast rendition of Chiron achieved the feat later that year (per CNBC), the competition is still on with new contenders such as the SSC Tuatara joining the industry with promising claims. Stay with us as we compile a list of the world's 15 fastest-ever-built production vehicles.
Dodge Challenger SRT Demon, 211 mph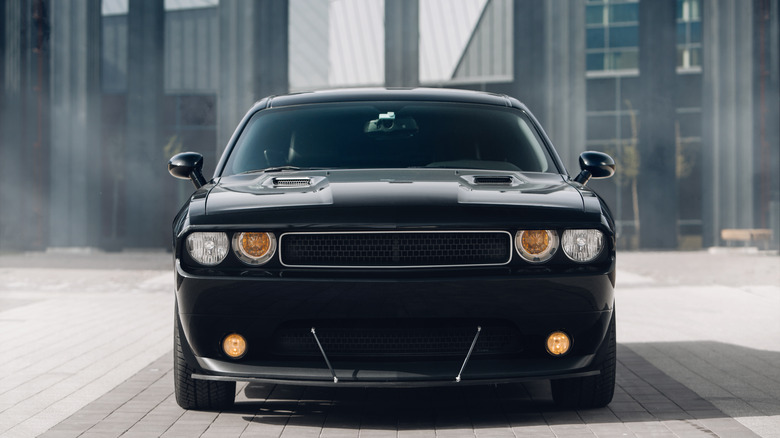 BoJack/Shutterstock
The Dodge Challenger SRT Demon's projected top speed was 168 mph (270 km/h) when it debuted in 2018. Since then, a number of people have attempted to go beyond. Last time we heard about the Demon's highest speed, it had been measured at the Johnny Bohmer Proving Grounds in Florida at more than 203 mph. The 6.2-liter Hemi V-8 with 808 horses is at the heart of this monstrous Challenger. If you recall, we already stated that it had 840 horses. But only if you use high-octane race fuel and add the $1 Demon Crate kit, which includes an exclusive engine controller that helps release the engine's maximum power,  you can make this claim with confidence. Following extensive weight-cutting measures, Dodge says that the Demon can sprint the quarter-mile in 9.65 seconds at 140 mph. 
To all those high-end hypercars tearing up drag strips and high-speed runs across the world, the Challenger SRT Demon was the United States' response. An 808 horsepower supercharged 6.2-liter V8 was the result of bolting the world's largest production supercharger on it (via Stellantis). That value rises to 840 horsepower with the power control module installed and 100-octane fuel.
With its 2.7-mile-long Johnny Bohmer Proving Grounds runway set up, the Dodge Challenger SRT Demon took to the starting line. Because of this, the factory set a speed limit of 168 mph on all of these cars in order to achieve the goal of being the fastest quarter-mile vehicle ever built.
Ferrari SF90 Stradale, 211 mph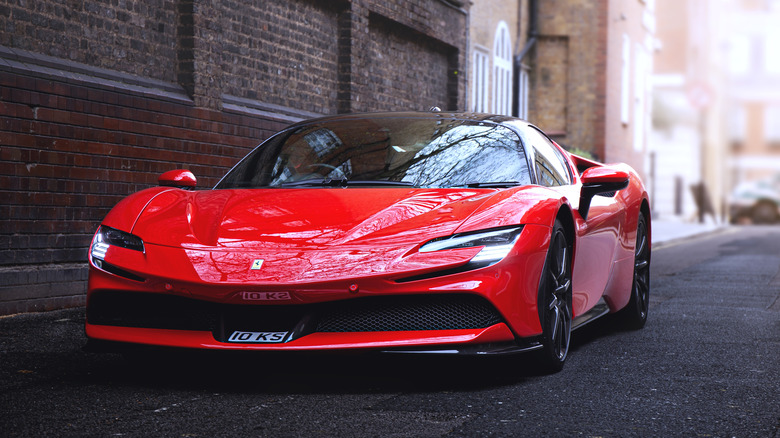 Martyn Lucy/Getty Images
In the wake of LaFerrari's pioneering use of hybrid technology for both environmental and performance reasons, Ferrari has been hard at work working out how it might best imitate Benjamin Franklin and harness electricity for the benefit of the supercar business. Ferrari's SF90 Stradale is a flash in the pan, ushering in a whole new phase for the performance brand that everyone else envies. Three electric engines add 217 horsepower to the 769 horsepower mid-mounted twin-turbo, 4.0-liter V8 engine, making the SF90 the most powerful Ferrari ever produced in series production. Ever. In 2.5 seconds, the car reaches 62 mph, has a top speed of more than 215 mph, and has an available electric range that can be driven in full silence.
"Hybrid" still conjures up images of sluggish, fuel-conscious vehicles that can only be used for short trips. If you're looking for speed, you can't go wrong with electric motors. It is powered by a 769 horsepower 4.0-liter twin-turbo 90-degree V8 linked to a trio of electric motors in the hybrid system of the Ferrari SF90 (generating 217 horsepower). When the dual turbo V8 and three electric motors work together, the result is a record-breaking 986 horsepower or 1,000 horsepower per liter of engine displacement. A third electric motor is positioned between the engine and transmission and two are on the front axle.
McLaren Senna GTR LM, 211 mph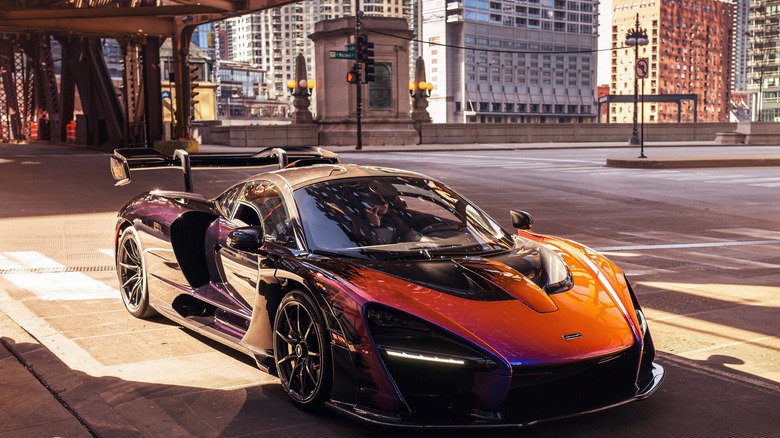 Jarlat Maletych/Shutterstock
For the 25th anniversary of McLaren's 1995 24 Hours of Le Mans victory with the original F1 GTR race vehicle, just five of the hardcore track special McLaren Senna GTR LM have been produced, one for each of the five F1 GTRs that finished the race. The Senna GTR LM edition has custom paint schemes that pay homage to the Le Mans race-winning F1 GTR livery on each one. Known as the Ueno Clinic car, the black car sports the same color scheme as the number 59 car driven by JJ Lehto, Yannick Dalmas, and Masanori Sekiya that won the race that day.
V8 twin-turbocharged V8 engine sits at the core of the McLaren Senna (via Hypercar), making it the most powerful McLaren road vehicle motor to date. With a flat-plane crankshaft, light connecting rods, and pistons, the Senna uses a dry-sump oil pan and other lightweight components to save weight and maximize performance. The final product is a 789 horsepower and 590 lb-ft of torque vehicle. Because of the low inertia twin-scroll turbos, there is virtually no turbo lag, and the car performs brilliantly from start to finish, delivering a steady stream of torque with each shift of the seven-speed dual-clutch transmission. The Senna's top speed is 208 mph, and the zero to sixty sprint is achieved in under three seconds. In addition to 814 horsepower, the LM has a top speed of 211 mph thanks to fine-tuning and hand-finishing the cylinder heads.
Porsche 918 Spider, 211 mph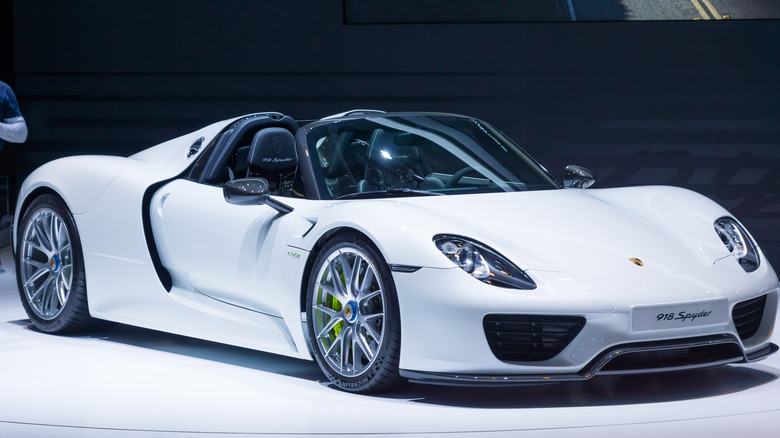 Ostranitsa Stanislav/Shutterstock
The 918 Spyder, a plug-in hybrid, has already proven to be Porsche's most ingenious invention yet. With the help of three progressive motors, this supercar is in a league of its own. The 918 Spyder's front and rear electric motors are so efficient that they leave even some of the most renowned sports vehicles trailing in their wake. They couldn't be more excited about this roaring convertible, which has been meticulously designed for speed and luxury.
Two-door Porsche 918 Spyders have 4.6L V8 gas engines that can generate 608 horsepower and 398 lb-ft of torque on their own. With that said, the 918 Spyder is far from finished. Fueled by a 6.8-kWh lithium-ion battery, the engine generates 129 horsepower in the front and 156 horsepower in the back. This small powerhouse has 887 horsepower and 944 lb-ft of torque stored in its cylinders. In 2.5 seconds, you can go from zero to 60 miles per hour. To emphasize the car's concentration on the driver, the 918 Spyder's interior features carbon-fiber seats with soft leather covering and drive choose knobs positioned on the steering wheel.
Even at a stop, the Porsche 918 Spyder seems like it's in motion thanks to its angular shape and strong rear shoulders. Downforce is maximized and the ride is responsive in any driving style thanks to the Porsche Active Aerodynamic system. Automatic LED headlights are standard, as are 20-inch front wheels and 21-inch rear wheels for a more muscular appearance and improved steering precision. 
Lamborghini Veneno, 221 mph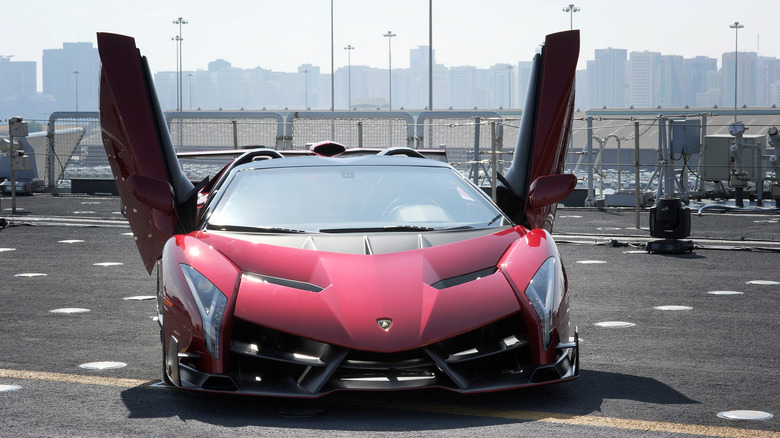 Claudio Villa./Getty Images
Lamborghini presented the Veneno Roadster in Abu Dhabi, on the Italian aircraft carrier Cavour, in December of 2014. Even Lamborghini made the Roadster an extremely limited edition model. Only nine vehicles were on the road at the time. The Italian giant asserts that the performance of the roadster and coupe are identical. Both models have a 750-horsepower output. However, the 0 to 62 mph sprint time for the convertible is one-tenth of a second longer (2.9 seconds). The Lamborghini Veneno Roadster's naturally aspirated 6.5-liter V-12 produces 750 horsepower and has a top speed of 221 mph. The automobile has 20-inch front wheels and 21-inch rear wheels.
With its matte black appearance, this Veneno Roadster is sure to draw attention. There are lime green and black leather seats to match the car's exterior color scheme. The car's distinctive design was much debated in the automobile industry as soon as it was presented. Both the Roadster and Coupe versions of the Lamborghini Veneno were a little too much for some collectors. Even though the Aventador was the original model, the design was based solely on extreme aerodynamics. There were some who were deeply impressed by the work that the Italian vehicle company put into building this super sport, and I count myself among them. 
Pagani Huayra R, 238 mph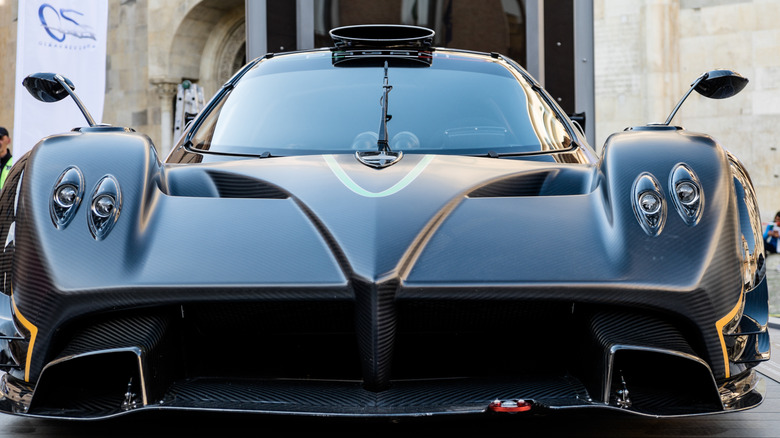 Fed Photography/Shutterstock
The Huayra that is currently in production will be the last of its kind. Pagani has a history of allowing private collectors to request one-off or limited-edition models, so that could change. Only 30 Huayras will be built, making it a one-of-a-kind vehicle that is both unique and stunning. The heart of the car is a twin-turbocharged V-12. This engine, which comes from Mercedes-AMG, has 838 horsepower (via Car and Driver). The rear wheels are powered by a single-clutch automatic transmission with seven gears. Single-clutch transmissions are generally more lightweight than dual-clutch transmissions.
The Huayra's angular fenders and wide rear wing give the impression that it was made to race. It's designed to be as light as possible, just like a race car. For example, it's built of carbon-titanium HP62, which is both lighter and stronger than normal carbon fiber. The Huayra weighs in at a trim 2,755 pounds, making it a lightweight contender. In light of the engine's power, the 3.3-second sprint to 60 mph on our test track was no surprise to us. In terms of lateral acceleration, Pagani claims that the roadster can generate up to 1.89 Gs of continuous lateral acceleration, with peaks of 2.22 Gs. To instantly stop this hypercar, Brembo's carbon-ceramic brakes are on hand (via Pagani).
McLaren F1, 241 mph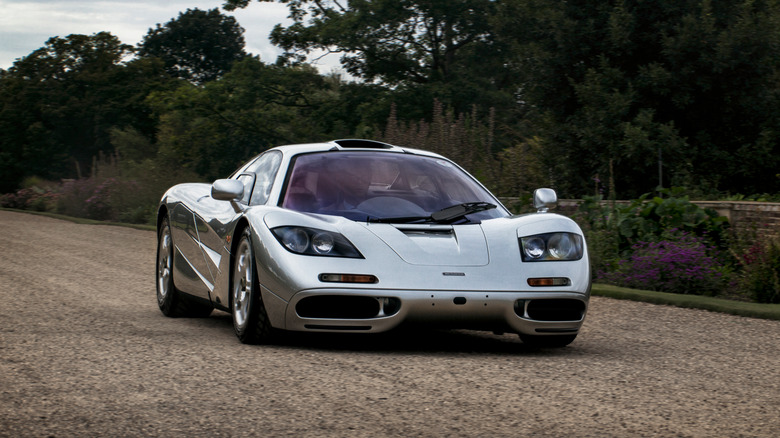 dimcars/Shutterstock
The McLaren F1 is a British sports car that was created and built by McLaren Cars and powered by the BMW S70/2 V12. Gordon Murray came up with the initial idea. Convinced by Murray, Ron Dennis agreed to fund the initiative. For the external and interior design, Peter Stevens was hired. For greater dependability and driver control, Gordon Murray insisted on using a naturally aspirated engine in this vehicle. As a result, the complexity of turbo and supercharger systems increases, as well as the risk of decreased reliability and the loss of feedback. Thus, the driver's ability to maintain full control of the engine is weakened.
This power plant had to be adapted from the Formula One engine plant of the then-dominant McLaren/Honda cars, and it was originally requested by Murray for a 410-kW (550-hp; 557-pound-feet) block length of 600 mm (23.6 inches) and a total weight of 250 kg (551 pounds). When Honda rejected, Isuzu was testing a Lotus chassis with a 3.5-liter V12 engine in order to get into Formula One. The corporation wanted the engine installed in the F1 because it was of great interest to them. Engines having a proven track record and racing heritage were preferred by the designers (via Motor Dynasty).
Aston Martin Valkyrie, 250 mph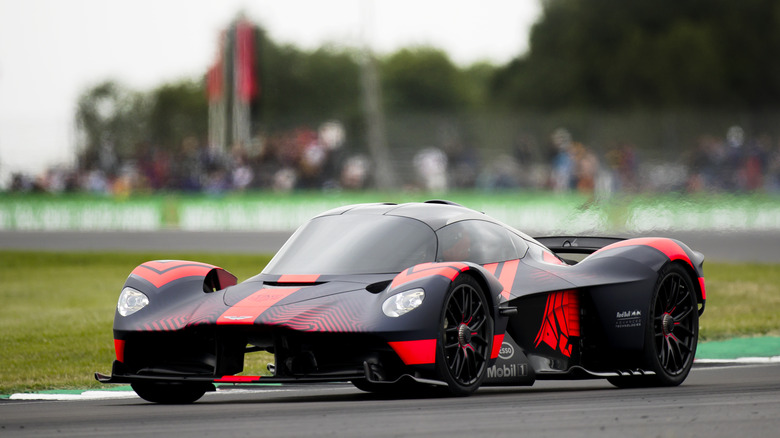 Dan Istitene/Getty Images
When Aston Martin launched the Valkyrie, an aerodynamic and performance-focused speed demon, the company's initial effort into the hypercar conflict. Aston's cars are distinguished by an attractive, if restrained, aesthetic, but the Valkyrie forges new ground with its garish appearance. This is the kind of vehicle that would look right at home on a futuristic racetrack or in the next Transformers movie.
The 6.5-liter V-12 and electric motor that power the Valkyrie's hybrid drivetrain are naturally aspirated. The rear wheels are powered by a seven-speed automatic transmission. An integrated battery-electric system developed by Rimac and Integral Powertrain adds an additional 160 horsepower to the V-12 engine (via Auto Blog).
A total of 1160 hp and 663 lb-ft of torque are generated by combining the two power sources. The V-12 of the Aston Martin Valkyrie AMR Pro has been calibrated to provide more power. The AMR Pro has a lower curb weight than the road car, and Aston boasts that it can generate more downforce than its own weight. Two people can fit in the Aston Martin Valkyrie. It has a teardrop-shaped cockpit where passengers are seated with their feet elevated. Modern Formula 1 race vehicles use a similar driving posture. You can choose between a 4- or 6-point harness, depending on how much time you want to spend at the track. The car's entire switchgear is mounted on the steering wheel, and critical indications are shown on a single OLED display screen to decrease driver distraction.
SSC Tuatara, 256 mph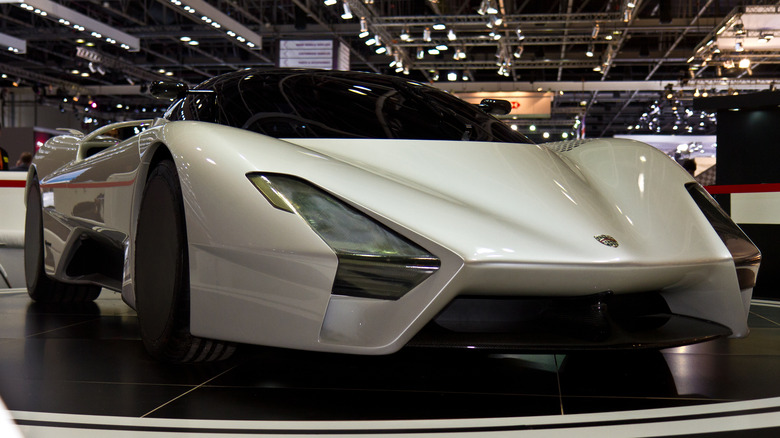 Sam Moores/Shutterstock
Designed by Jerod Shelby,  the SSC Tuatara is the production version of a high-performance supercar that the company has been developing since 2000. With an aim to rival the legendary Bugatti Chiron, Hennessey Venom F5, and Koenigsegg Jesko, the final production model was launched in 2020 after the concept version and pre-production model were launched in 2011 and 2018 respectively. 
Jason Castriota and SSC worked together to design this automobile, which is the SSC Ultimate Aero's successor. As a result, the engine's capacity was reduced from 6.9 L (360.8 cu in) to 5.9 L (360.8 cu in) in order to increase the engine's maximum rpm of 8,800 rpm. According to SSC, it would have a top speed of at least 300mph (483km/h), with either 1,350 hp or 1,750 hp on E85 fuel.
With Nelson Racing Engines building the engine, Linder Power Systems fabricating engine subassemblies, and Automac building the 7-speed automatic manual transmission, SSC has a team of experts working together. CIMA's 7-speed automatic manual transmission was eventually found to be the transmission. There are three modes of driving on this vehicle: Sport, Track, or Lift. The ride height in Sport mode is four inches (102 mm) at the front and 4.5 inches at the back (per The Awares). Ride height drops to 2.74 inches at the front and 3.25 inches at the rear in Track mode (via Motor1). When driving over speed bumps or driveways, the Lift mode is designed to protect the car's underneath from being scratched.
Rimac Nevera, 258 mph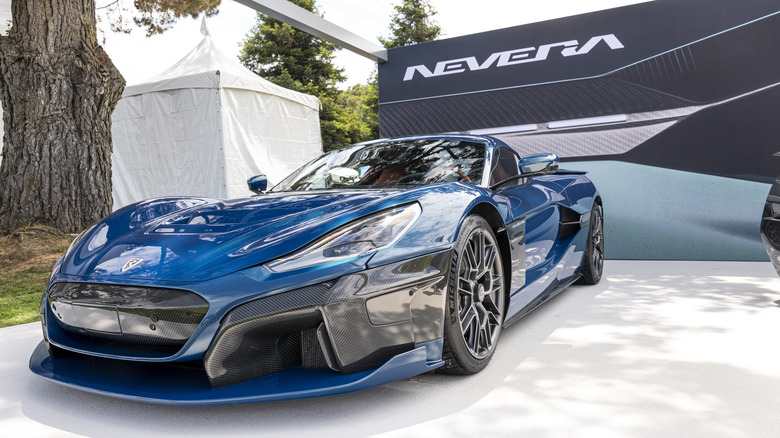 Bloomberg/Getty Images
The Rimac Nevera is an exhilarating vehicle to take on the open road. Rimac claims it can accelerate from a standstill to 60 mph in less than two seconds, thanks to its astounding output of 1914 horsepower and 2300 lb-ft of torque. According to Rimac, this is the world's fastest-accelerating production car. While its 120kWh battery and four electric motors may be impressive, the Rimac Nevera retains the elegant, low-slung styling that we've come to expect from high-performance exotics like this one. Scoops, vents, and intakes abound on its muscular front end, and carbon fiber can be found just about everywhere. In terms of wheel size, the 20-inch alloys may not be quite as massive as you'd think, but they look great and sit in front of some powerful carbon-ceramic brakes.
The rear of the car features even more carbon fiber (the entire body is comprised of the stuff), as well as a big spoiler that lifts and lowers depending on how swiftly you're traveling. All of this is meant to keep Nevera on the road at high speed. But it's not only a blast when you're going straight. In order to allow you to behave like a complete madman and perform massive, easily controllable powerslides on the track, Rimac included a drift mode in the engine (via Car Buzz). It's nimble and grippy on twisty roads thanks to the car's four motors, one at each wheel. This allows it to deliver its massive power with pinpoint accuracy.
Bugatti Veyron SS, 268 mph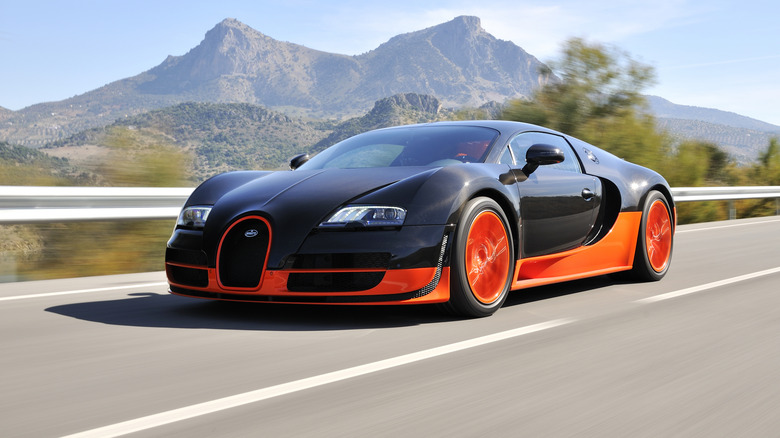 Max Earey/Shutterstock
The Bugatti Veyron has been overtaken by a slew of lesser-known supercars, each claiming to be faster than the other. Bugatti's Super Sport, a five-year evolution of the original Veyron, held the title of "World's Fastest" for seven years, with an upgrade to 1,184 horsepower and 1,106 lb-ft of torque courtesy of four increased turbochargers and larger intercoolers. It doesn't go faster from 0 to 62 miles per hour, but it does become faster from 0 to 125 miles per hour, and it also gets faster from 0 to 186 miles per hour, with a top speed of 268 miles per hour. To be fair, Bugatti could have gotten away with 254 mph for the ordinary Veyron, but they didn't want to risk damaging its expensive tires.
In addition, there are a number of other adjustments. Larger brake cooling ducts, a new bumper with additional downforce, and more powerful LED headlamps are all part of the revised nose. At 112 mph instead of 137 mph, the rear wing raises and then drops again at 75 mph. New features include a lower ground clearance of 80/95mm in handling mode, more progressive spring and damper rates, and thicker diameter anti-roll bars. Even though the new lightweight wheels account for the majority of the weight savings, there is still more than enough, so don't be fooled. Fuel-saving measures include an ultra-lightweight free-flow exhaust and a stronger monocoque, as well as integrated NACA air intakes (via Bugatti).
Hennessey Venom GT, 270 mph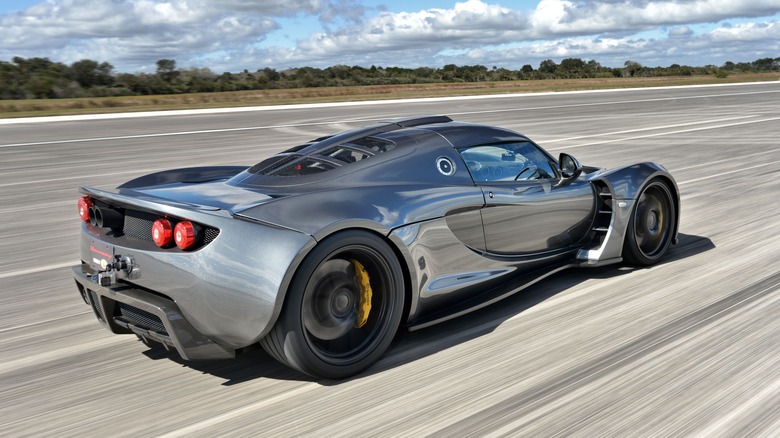 Agia/Shutterstock
Created on the canvas of the well-established Lotus Elise, Hennessey Venom GT is a high-performance supercar developed by the US-based automobile company Hennessey Performance Engineering. Essentially, the car uses a number of modified chassis components including the floorplan, cockpit, roof, doors, and windows. The HVAC system is also sourced from Lotus Exige. Interestingly, the car is registered under the name of a modified Lotus vehicle for road use. In order to reduce the overall body weight, lots of lightweight material including carbon fiber has been added to the exterior design, including the wheels. This has helped the engineers to reduce the curb weight of the supercar to 2,743 lb. 
Under the hood of the Venom GT lies a monstrous 7.0-liter twin-turbocharged  GM LS7 V8 engine. In conjunction with precision ball-bearing turbochargers and reinforced internal components, the engine architecture produces 1,244 horsepower along with 1,155 lb-ft of peak torque output. Moreover, drivers can toggle between 3 levels of power output according to the need: first at 800 horsepower, second at 1,000 horsepower, and finally at 1,244 horsepower with the engine redlining at 7,000 rpm (via Auto Evolution). The engine is further paired with a 6-speed manual transmission system from Ricardo which sends all the power and torque to the rear wheels. 
In 2013, the Venom GT set a Guinness World for the fastest road-legal car to hit the top speed of 186 mph from a standstill, with the acceleration time being 13.63 seconds. 
Koenigsegg Agera RS, 277 mph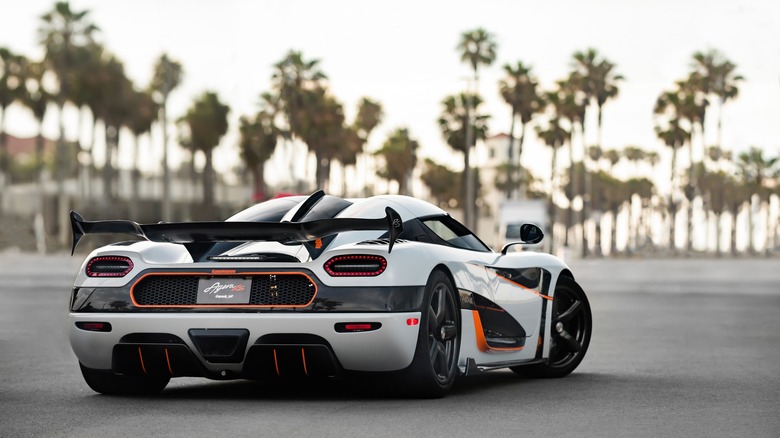 Jarlat Maletych/Shutterstock
For the past 23 years, Koenigsegg has been building top-level sports cars, keeping production volumes low, and each model is custom-tailored to meet the exacting needs of each customer. No two are identical. The Agera RS is the latest evolution of the original Agera, which was unveiled in 2010. It has undergone extensive testing and development to become one of the world's fastest production car.
The Agera RS is powered by a 5.0-liter twin-turbo V8 that generates 1176 horsepower and 738 lb-ft of torque in stock condition (via Zeper FS). Increased horsepower and torque by 1,000 lb-ft with the 1MW upgrade. The Agera RS can go from 0 to 60 mph in only 2.9 seconds and from 0 to 124 mph in just 7 seconds with the upgrade installed. All of this is made possible by the standard 7-speed paddle shift transmission, even when the rear wheels are limited in their ability to grip.
Aside from the 277.9 mph peak speed, the RS boasts a variety of other records for performance as well, making it the one of the most powerful road cars ever manufactured. If you live in a market where E85 ethanol is legal, you can use it to get the maximum performance on offer. 
Koenigsegg Jesko Absolute, 300 mph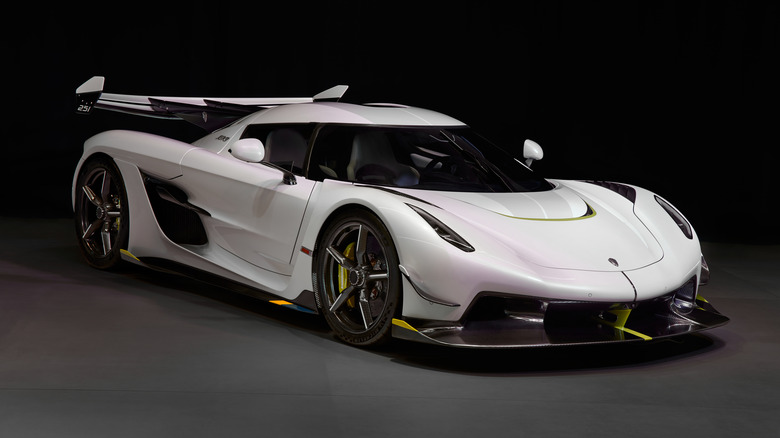 Artur_Nyk/Shutterstock
Unveiled in 2020, Jesko Absolute is the high-speed version of the current limited-run flagship model Koenigsseg Jesko. It was set to premiere at the Geneva Auto Show but the global coronavirus pandemic forced the Swedish manufacturer to roll out the car in an online event, which was kind of disappointing since this is not any regular hypercar but the fastest Koenigsseg production car ever built with an insane top speed of 300 mph.
Jesko Absolute has a state-of-the-art engine architecture that provides unfathomable power and one-of-a-kind performance. It equips a mighty 5.0-liter twin-turbo V8 engine which features four valves per cylinder and a 180-degree flat-plane crankshaft unit that not only reduced the gross weight of the unit by 11 lb but also boosts the redline to 8,500 rpm. The V8 engine pumps out 1,281 horsepower along with 738 lb-ft of peak torque output on normal gasoline. When topped up with performance grade fuel such as E85 biofuel, power output exceeds up to 1,603 horsepower along with 1,106 lb-ft of insane torque (via Car Buzz).
Jesko Absolute's mighty engine is further mated with an in-house built multi-clutch transmission system that manages the terrific power output from the engine effortlessly. Known as the 'Light Speed Transmission, the 9-speed gearbox features front gear combinations with 6 fixed gears and 4 clutched gears that are directly linked to the input and output shafts of the transmission system, allowing it to effortlessly shift gears without losing any power in between.
Buggati Chiron SuperSport 300+, 304 mph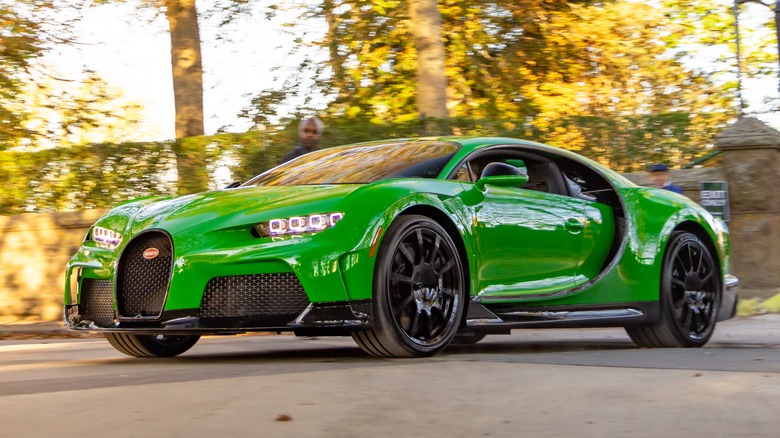 Ethan Yetman/Shutterstock
The Bugatti Chiron Super Sport 300+ may look like a Chiron, but its bodywork has undergone extensive modifications to enable it to do something it was never intended to: break the speed barrier of 300 mph (483 km/h). From the get-go, it's impossible not to notice the car's whole body is covered in exposed, jet-black carbon fiber. Under the hood, Bugatti has packed the famous 8.0-liter W16 engine that delivers an astonishing output of nearly 1,600 horsepower, 100 more horses than the regular Chiron (via Motor1). This is the first car in the world to officially surpass the 300 mph barrier and hit a record top speed of 304.773 mph.
However, there are additional factors to consider than just the engine architecture when it comes to the beast's performance. Bugatti calls these "Air Curtains" on the car's front corners. As a result, they are designed to divert any surplus air pressure from the front air inlets onto the car's side. Wheel arch air outlets and those behind the front wheels then draw additional air pressure from these wheel arches.
 According to Bugatti's claims, the Chiron Super Sport's negative lift at the front helps cut drag and gives it an advantage in high-speed air battles (via Top Speed). The final exhaust pipes and the fearsome rear diffuser have undergone significant revisions.