2015 Porsche 918 Spyder: A sports-hybrid you have to take seriously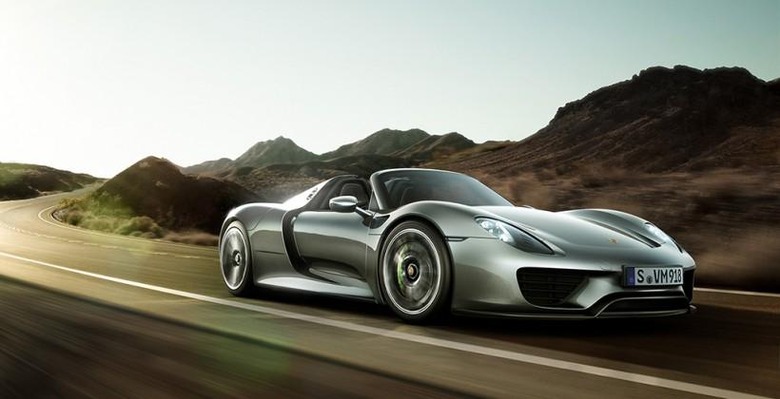 Porsche's latest sportscar, the 918 Spyder, has broken cover officially, but unlike most of the company's hard-driving twin seaters, this one relies in part on battery power for its blistering 0-60mph time. The 918 Spyder is actually a hybrid, pairing a 4.6-liter V8 mid-mounted gas engine good for 608HP with a 154HP hybrid module on the rear axle, and a 127HP electric motor on the front axel. That's a total of 887HP with all three working together, good for more than 211mph and a 0-62mph dash of 2.8s.
Porsche offers a variety of driving modes, which can be toggled between using a switch on the steering wheel. They range from purely electric, which has a range of approximately 18 miles and a 7s 0-62mph time (plus a top speed of 93mph), through to hybrid mode, and then with the V8 kicking in. The hybrid motor running the rear axel can be used on its own, or just the V8, or both together for all-wheel drive.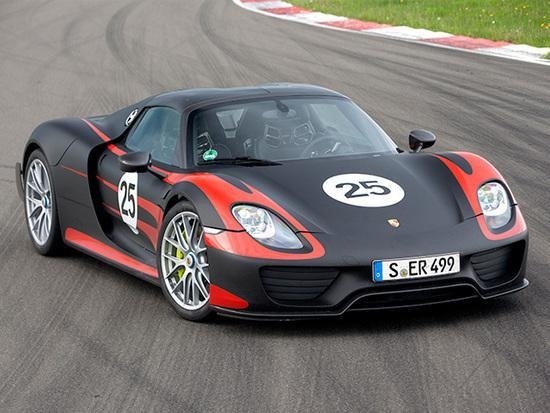 Keeping the electric motors running is a 7kWh liquid-cooled li-ion battery made up of 312 cells and charging in under 7hrs from a 110V (10A) socket or trimming that to under 2hrs from a 240V (30A) socket. Install Porsche's industrial-strength Speed Charging Station, and your 918 Spyder will be rejuiced in 25 minutes.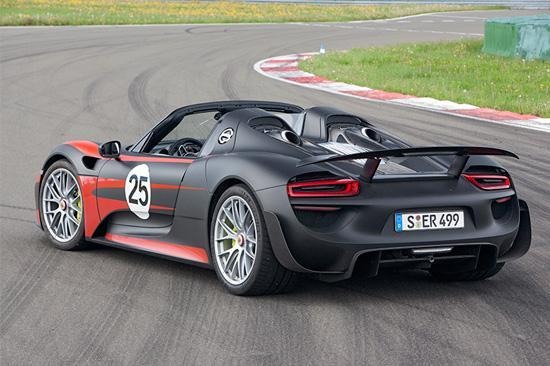 Porsche is particularly keen to stress how usable every day the 918 Spyder can be, and so in regular Hybrid mode it switches between gas and electric motors to maximize fuel economy. Sport Hybrid sees the eco-halo drop somewhat, with both engine and electrics working continuously, but still with an eye on economic driving. Then there's Race Hybrid, which relies primarily on the gas engine and kicks the electric motors in for short boosts, with the Porsche topping up the batteries from spare power from the V8 when it's not being used to full capacity.
Finally, there's Hot Lap mode, which works only in Race Hybrid mode and gushes all the available battery power out to drive the electric motors to their limits. It's only good for a couple of laps, however.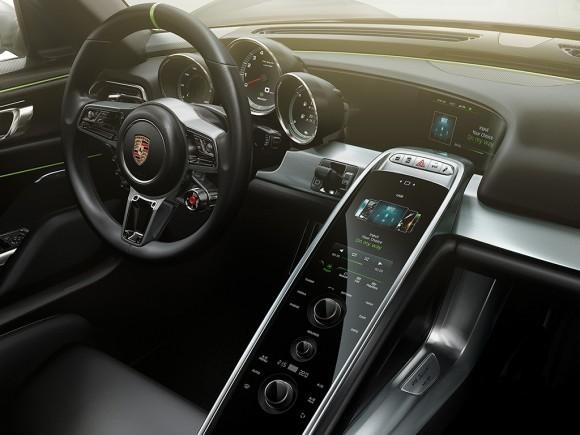 Inside, there's one cluster of controls for the core driving data, which are wrapped around the wheel, while the multitouch-touchscreen infotainment stack is in the middle and used to manage the climate control, comms, Burmester sound system, and lighting. Alcantara clads the seats, and other areas of the interior, and there's less sound insulation and more exposed carbon-fiber. One option is having more of the exterior left unpainted, exposing the carbon sections.
Perhaps the biggest question remaining is how economical it actually is; unfortunately, final fuel consumption figures aren't available yet. What we do know is that speed and efficiency don't come cheap: the standard car will be around $845,000 in the US when deliveries begin in Q1 2014. Then, of course, it'll have to face off challengers like Honda's 2015 NSX.