Here's How Long A Lucid Air Battery Will Probably Last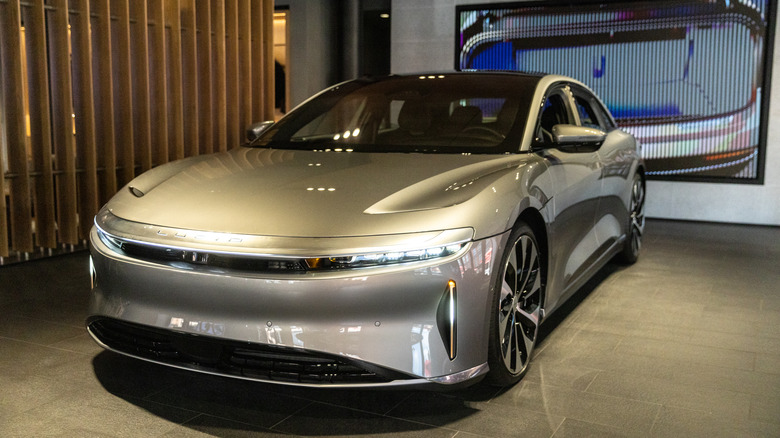 Bloomberg/Getty Images
After working for Tesla to develop the Tesla Model S, Peter Rawlinson left the company and became the founder of Lucid Air. He told the New York Times he resigned from Tesla because he felt Elon Musk was mistreating him, and he had to look after his sick mother. As fate would have it, he assembled a team that went on to develop a 1000-hp Lucid Air that could compete with Tesla. Beyond that, Lucid Air is setting itself apart as the luxury brand of electric vehicles. We took the Lucid Air Grand Touring for a test drive and we were impressed by the space and the interior quality that can stand up to German luxury cars.
But the Lucid Air is not just known for its incredible performance and luxurious comfort — it offers an unmatched battery range. Before Lucid Air was born, the company behind it designed battery packs for the Formula E (via Car and Driver). In other words, Lucid Motors has a lot of experience in developing EV batteries, and that could be the reason why even Tesla is yet to catch up on its electric range.
Nevertheless, the battery of a Lucid Air degrades over time — like all batteries. How long is the Lucid Air battery expected to last? Let's find out.
The Lucid Air holds the record for the longest EV battery range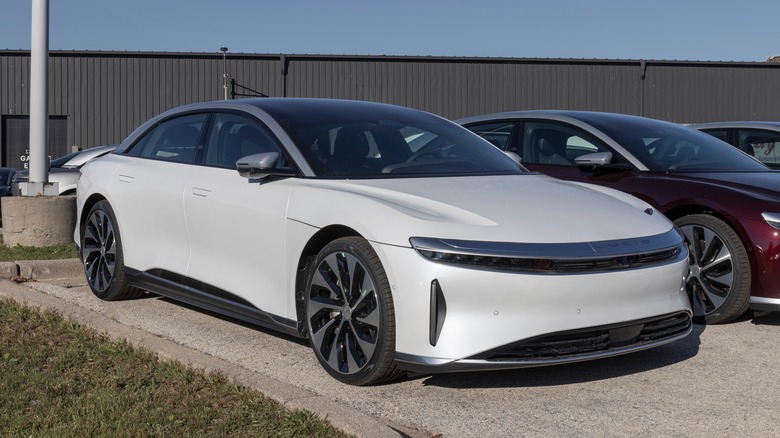 Jonathan Weiss/Shutterstock
With an EPA-rated range of 520 miles, the Lucid Air Dream Edition holds the record for the longest EV battery range — if we're not counting electric trucks like the Tesla Semi. The Lucid Air Grand Touring also comes with a range of 516 miles.
Even the cheapest trim, the Lucid Air Pure offers a battery range of 410 miles which is still better than most electric vehicles. For instance, the Tesla Model X offers a battery range of up to 348 miles with a starting price of over $110,000, while the Lucid Air Pure is cheaper at $87,000. Similarly, the Lucid Air Touring trim that is in the same price range as the Tesla Model X has an EPA-rated range of 425 miles.
According to Lucid Air, its record-breaking range is a result of "ultra-high efficiency" that makes it possible to cover "more miles from less battery energy."
Lucid Air battery could last over 200k miles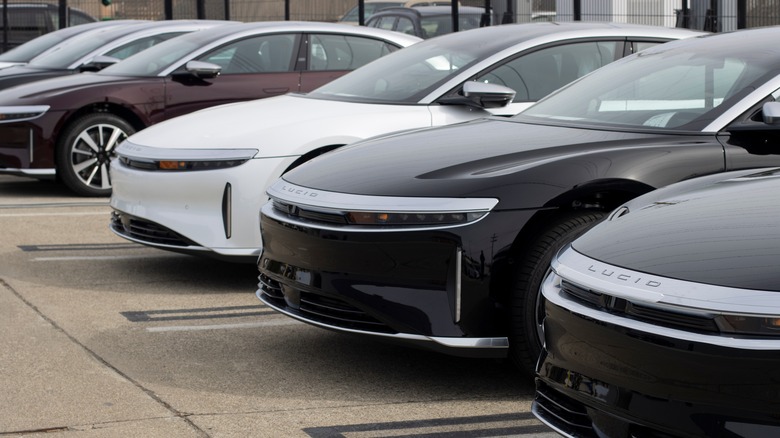 Tada Images/Shutterstock
Since Lucid Air was first introduced in late 2021, we're yet to come across Lucid Air EVs that have recorded high mileage without changing the battery pack. However, every Lucid Air model comes with a battery warranty of 100,000 miles, or eight years. In addition to that, if the battery of your Lucid Air degrades more than 30% before eight years or 100,000 miles, it can be replaced under warranty.
Based on the fact that Lucid Air doesn't expect the battery to retain less than 70% of its capacity before 100,000 miles or 8 years, it's likely that the battery could last up to over 200,000 miles without depleting more than 50%. Besides that, Lucid Air EVs use the same type of 2170 Lithium-ion battery cells that are used in Tesla and Rivian vehicles — as reported by Green Car Reports. Taking that into consideration, it's probable the original Lucid Air battery pack could exceed 300k miles, just like a Tesla.