This is Lucid Air: a 1,000 HP electric Tesla-killer with 400 mile range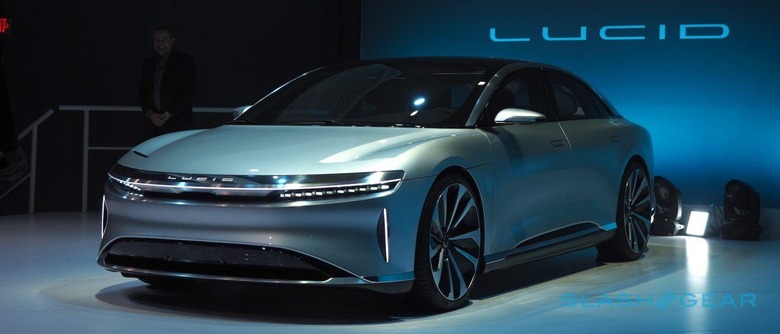 "The new era of luxury mobility starts here," says Lucid Motors, and this eye-catching Tesla rival is the part of that promise. Revealed today at Lucid's prototype shop in Fremont, CA, the handiwork of the automaker formerly known as Atieva is the Lucid Air. As well as being a luxury sedan, Lucid claims the Air will also be be the perfect commuter vehicle, while offering the power of a sports car at 1,000 HP.
Unsurprisingly for a modern car start-up, there's not a whiff of gasoline anywhere near Lucid. Instead the automaker uses a fully-electric powertrain, wrapped up in bodywork by VP of design Derek Jenkins. He was poached from Mazda, where he penned the latest MX-5 Miata, among others.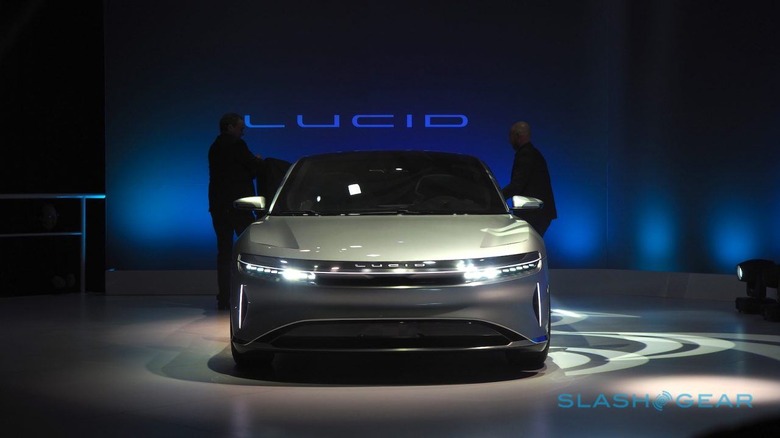 Lucid says that it's been built on a completely different strategy from the mainstays of the auto industry. That, they argue, is hamstrung by its dozens of different variations on a theme. As well as being complex to manage and produce, Lucid also argues that this means its rivals can't really afford to introduce a game-changer model, lest it undermine everything else in the line-up.
When your competition isn't just the traditional automakers but EV heavyweight Tesla, coming later to the market is both a challenge and an opportunity. On the one hand, Lucid gets to learn from Tesla's mistakes of the past few years. That's including some lessons straight from the former Model S chief engineer, Peter Rawlinson, who is now Lucid's chief technology officer.
All the same, it's potentially going to be hard to build momentum when Tesla already has the Model S out the way, its luxury Model X SUV on the road (and with, for the most part, the lingering rough edges ironed out), and its mass-market car in the pipeline. The Tesla Model 3 won't be a direct competitor to Lucid's first car, but it'll spread the Tesla brand far and wide.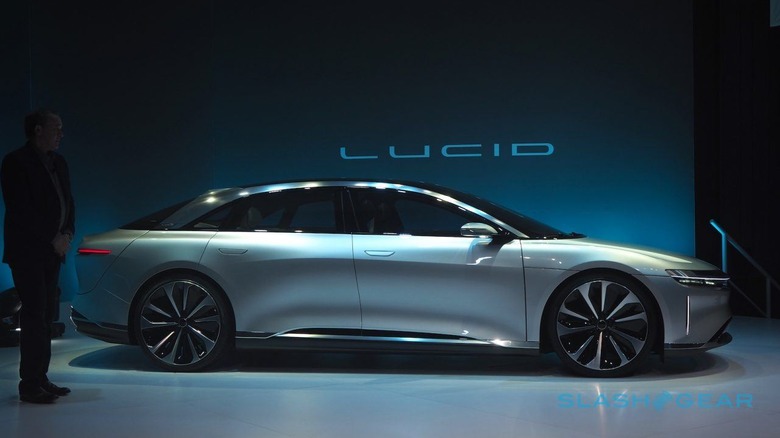 On the one hand, Lucid's first car will be a sports car, intended "for those who truly enjoy driving" according to Jenkins. "Electric drive so powerful, so seamless, that it makes traditional engines feel antiquated." However, it will also have interior space similar to that of a Mercedes-Benz S-Class. Blending "sublime luxury" with modernist design, "above all else, there would be room," Jenkins says, "to relax, spread out, and enjoy the line. In short, it's a new space in the luxury vehicle market."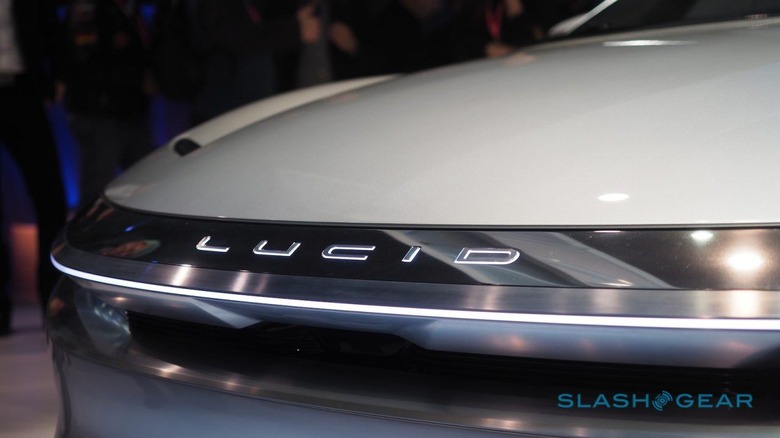 Finally, there's the promise of "an amazing commuter vehicle," according to Jenkins. That means the right size on the outside for urban conditions and small city garages – roughly the same size of a Mercedes E-Class – along with plenty of connected technology and autonomous features. Most importantly, though, it promises the range commuters demand.
The key is Lucid's homegrown electric motor, a tiny chunk of hardware that musters 600 HP. It leaves plenty of space for a traditional, Tesla-style battery slung between the wheelbase, but instead the automaker biases its battery packs to the front, bring them up to the front suspension. Lucid calls it "condensed system integration" and it also allows the engineers to put the HVAC blowers ahead of the bulkhead, reducing cabin noise.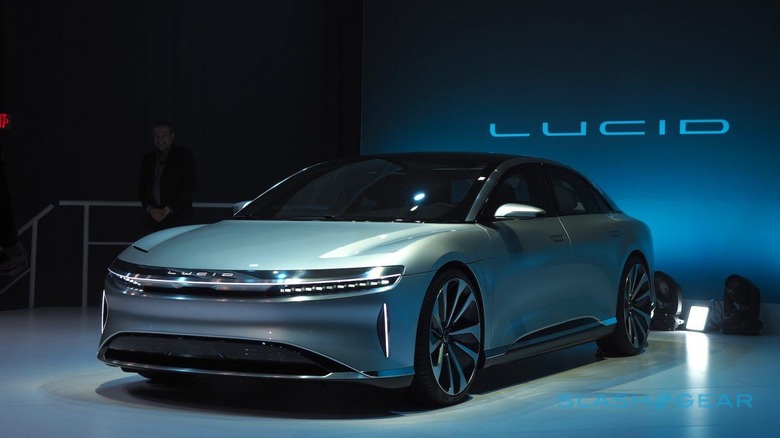 Meanwhile, there's a second power bundle at the rear, with multi-link rear suspension and switchable volume inverted air-springs, along with active damping. It's Lucid's solution for increasing cabin space while reducing external dimensions – it calls it "inter-systems spatial optimization" – and even allows for things like executive jet-style reclining rear seats. That's not something you could normally fit into the footprint of a car this size.
As for range, Lucid will launch initially with a 100 kilowatt hour battery pack. That'll be good for up to 300 miles of driving, Peter Rawlinson says. Later down the line, meanwhile, there'll be a 130 kilowatt hour option, which will be good for up to 400 miles. It'll charge through a port on the nose.
Lucid is paving the way for the car to drive itself, too. While that won't necessarily be enabled at the start, there'll be a whole range of sensors built-in as standard that the company can light up later on.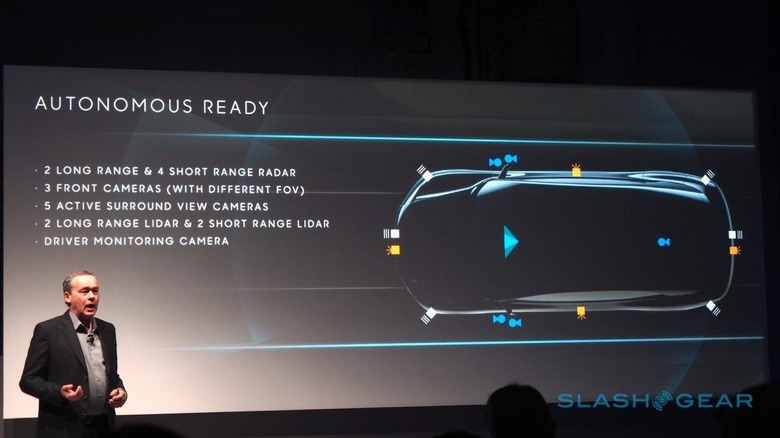 Then there's performance. With Tesla increasingly squeezing more and more power out of its cars, all eyes were on Lucid to deliver the same sort of grunt. The results don't disappoint, with a total 1,000 horsepower good for a 2.5 second 0-60 mph time.
In the cabin, there'll be a 29-speaker audio system with 12 beam-forming microphones. The dashboard has multiple displays, all touch-friendly, with the center display pulling up to reveal more storage space. Lucid has an Alexa-style voice controlled assistant, too, and the car will automatically adjust its settings according to who it identifies as inside and at the wheel.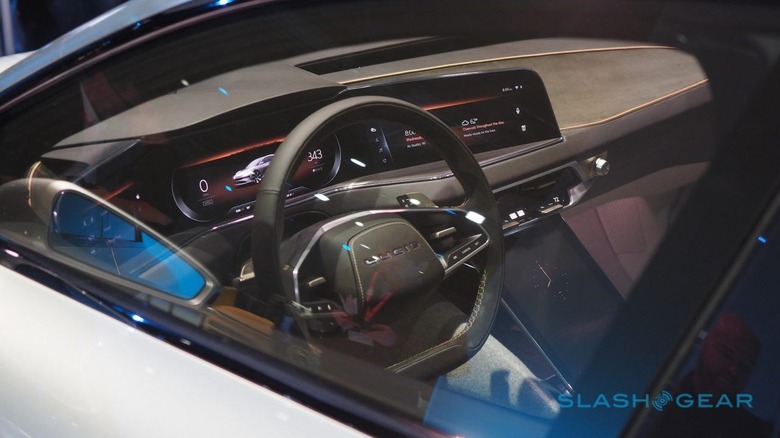 Some of the magic is in the detailing. Lucid's headlights use high-intensity LEDs, for instance, with 9740 micro-lens array lenses per headlight. Each can be dynamically angled.
Production is expected to kick off in Casa Grande, Arizona from late 2018, at a brand new $700m manufacturing plant that was announced late in November. It's expected to employ as many as 2,000 people by 2020, and eventually produce up to 130,000 cars each year.
And price? "Well-optioned" models will be over $100,00, Lucid says, though future versions will be around $65,000. How long before that will happen is unclear.
Lucid Motors Air prototype test-drive: