The First Tesla Semi Has Been Delivered After Lengthy Delays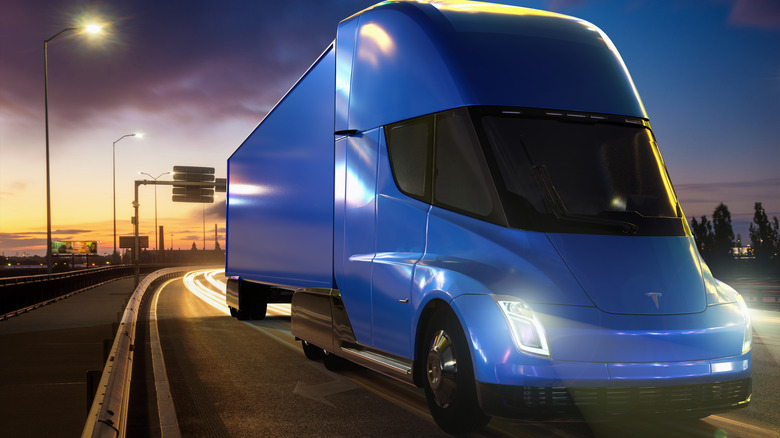 Mike Mareen/Shutterstock
One of Tesla's customers has finally taken delivery of a Tesla Semi. Elon Musk's electric vehicle company announced it was building an electric semi truck that would revolutionize how goods are transported way back in 2017. Some of the specifications that followed the announcement were groundbreaking. Anyone who has been stuck behind two semis trying to overtake each other on a highway knows, the vehicles aren't exactly nippy.
The Tesla Semi aims to change this, and is capable of accelerating at supercar speeds. It can allegedly go from zero to 60 in just over five seconds when unladen. Load it up to its full 80,000 pound capacity, and it slows down a little but can still hit 60 miles per hour in just 20 seconds. Its range is also extreme with a fully laden truck capable of traveling 500 miles on a single charge. That range extends to over 600 when the vehicle is traveling unloaded. The range is made possible by the incredible amount of battery cells packed into the vehicle. It has 4680 cells, which is close to double what a regular Tesla has. It's also far easier to drive than a standard truck. A regular truck has anywhere between ten and 18 gears a driver has to work through while dealing with various gradients, accelerating, and decelerating. As it's electric, a Tesla truck has none. The truck is also aimed at commercial clients, with private sales currently not an option.
Production on the Tesla Semi was set to begin in 2019, but global supply chain issues and a battery shortage made that impossible. Production was eventually shifted to 2022, and now one of Tesla's customers is finally going to take delivery of the first Tesla Semi.
Pepsi officially receives the first Tesla Semis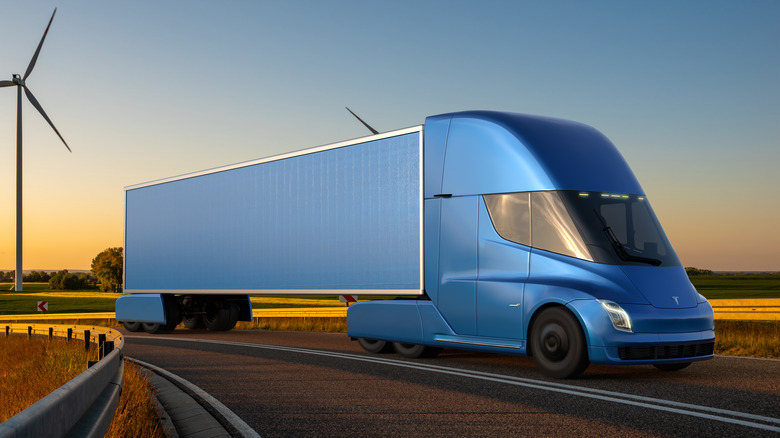 There had long been suggestion Pepsi would be one of Tesla's biggest customers — with a subsidiary spotted installing charging stations at one of its plants and test driving the trucks earlier this year. Tesla also placed an order for 100 of the high tech trucks shortly after they were announced in 2017. In October, Musk confirmed the company's first truck was almost ready for delivery, and it would be going to the soft drink manufacturer.
Today, Tesla finally made it official and delivered its first production semis to Pepsi. Speaking at the handover, which took place at a Tesla Gigafactory in Nevada, Musk described his motivation for designing the truck. The Tesla CEO claims that trucks make up less than 1% of vehicles in the United States, but are responsible for a large chunk of emissions. Musk said it will both help the environment and improve the health of individuals living near highways. At the end of the presentation, Musk thanked Pepsico and described them as a "great partner." 
The trucks' keycards were then handed over to Pepsi's representatives, followed by several high fives. The trucks' first cargo run involved "an enormous amount of Frito Lays" which were handed out to people in attendance. Pepsi's Kirk Tanner then took the mic and said: "I want to thank the people who have spent countless hours to make this a reality." before thanking Elon Musk and the other Tesla representatives. Other companies are also interested in Tesla's electric semi. Budweiser, Walmart, and UPS are amongst those who have placed pre-orders — with Budweiser ordering at least 40 of the large electric vehicles.
Other Tesla models have faced delays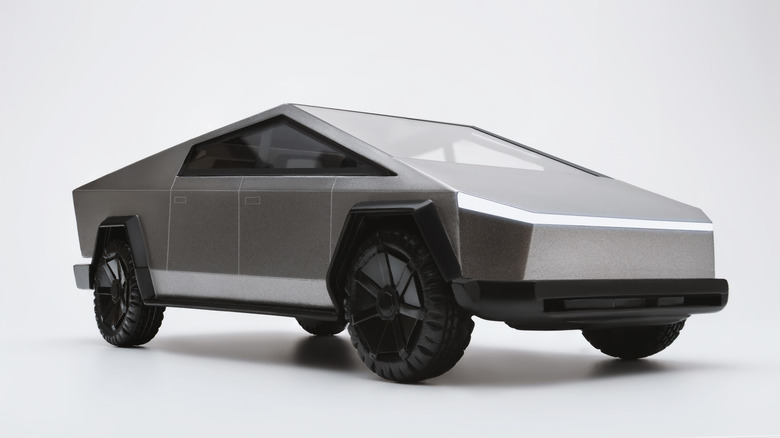 arda savasciogullari/Shutterstock
The Tesla Semi isn't the only high profile vehicle the company has been promised for a while. Another standout Tesla that hasn't turned up yet is its heavily hyped "Cybertruck." The unique looking vehicle has hit the headlines numerous times over the past few years. Some headlines were positive, like the ones referring to the time it outmuscled a Ford F150. Others were pretty negative, like the stories that followed two of the truck's supposedly bulletproof windows shattering during a live demonstration. And some claims about the Cybertruck, such as the suggestion you can use it as a boat, are just downright strange.
However, since it's initial announcement, most news involving the Cybertruck has contained the word "delayed" somewhere. The truck's production and release has been pushed back several times for several reasons. The truck was initially unveiled in 2019, with production scheduled to start some time in 2021. Tesla fans jumped on board with it, and pre-orders piled in. When the production date approached, rumors began to spread that the Cybertrucks wouldn't be built until Model Y production began at the manufacturer's new Texas facility. That seemed to suggest there would be no Cybertrucks being assembled until late 2021 at the earliest. A note was placed on the company's website stating that deliveries would happen in 2022.
In a company call, Musk confirmed production had been delayed until late 2022, meaning those who pre-ordered the trucks were unlikely to start getting them until 2023. It's currently about as late into 2022 as you can get, and Tesla's production lines are not currently packed with Cybertrucks. Last month, we received more news. It was announced the Cybertruck would finally be entering mass production... at the end of next year.