Tesla Cybertruck Reportedly Entering Mass Production At End Of 2023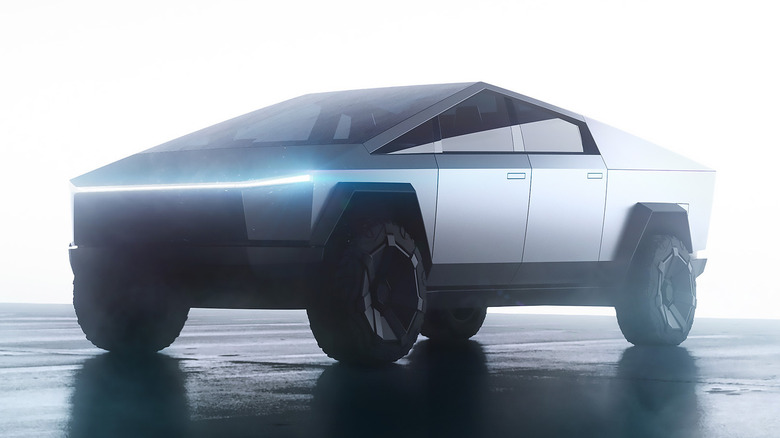 Tesla
When Elon Musk revealed the Tesla Cybertruck in 2019, it was a pickup design we hadn't seen before. Besides its futuristic aesthetic that looks like a NASA lunar rover and a truck from "Blade Runner," Tesla's electric pickup features impressive specifications. According to the Tesla website, the model will be capable of clocking 0 to 60 miles per hour in less than three seconds, for example, and will offer a range of up to 500 miles on a single charge. If it delivers, the Tesla Cybertruck will have a longer range than the Ford F-150 Lightning, Chevrolet Silverado EV, and Rivian R1T.
To show the incredible torque of the Cybertruck, Tesla put it in a tug-of-war against the Ford F-150 — the Cybertruck won, although some people think the test wasn't fair. Even so, Tesla promises that the Cybertruck triple-motor AWD will tow up to 14,000 pounds — this is more than the 10,000 pounds tow rating you get on the Ford F-150 Lightning Extended Range trim. Elon Musk also tweeted that the Tesla Cybertruck "can cross rivers, lakes, and seas that aren't too choppy." Though a lot of promises have been given about Tesla's first electric truck, it's yet to be mass-produced. When exactly can we expect the production to kick off?
Tesla Cybertruck could be produced at end of 2023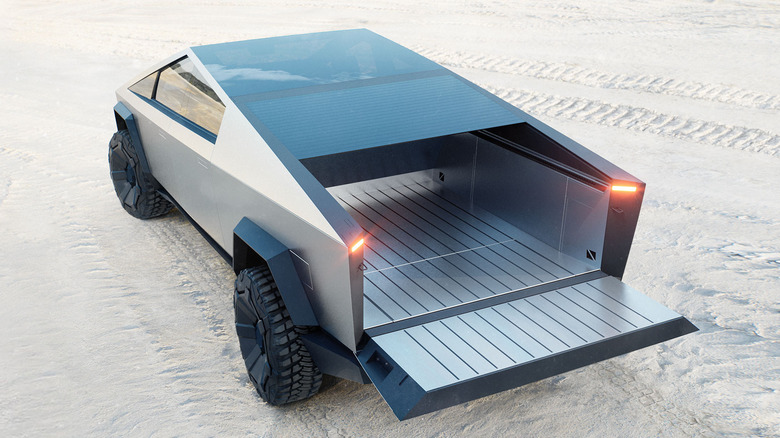 Tesla
When the Tesla Cybertruck was unveiled, Tesla announced that it was to be produced in 2021, which was later postponed to late 2022. We're now in the last quarter of 2022, and the EV automaker has shifted the production schedule twice this year — from early 2023 to mid-2023. However, two company insiders have claimed to Reuters that Tesla plans to kick off the production of its first electric pickup truck at the end of 2023. This means that customers who had pre-ordered can expect delivery of the Tesla Cybertruck in early 2024.
Of course, the global microchip shortage has slowed down Tesla's production capacity – because of that, Elon Musk said the Cybertruck's production delay into 2023 was inevitable. While speaking to Tesla shareholders earlier this year, Elon Musk said that the company wouldn't produce any new vehicle models in 2022, according to The Washington Post, because "it would not make any sense ... we will still be parts constrained." 
However, Musk recently announced that the Tesla Semi's production started and it will be delivered to Pepsi this December. Beyond that, Tesla's electric pickup will likely cost more than it was initially announced at in 2019 due to inflation and production hiccups, and the company is trying to figure out the economies of scale.