Tesla Cybertruck revealed: A pickup like no other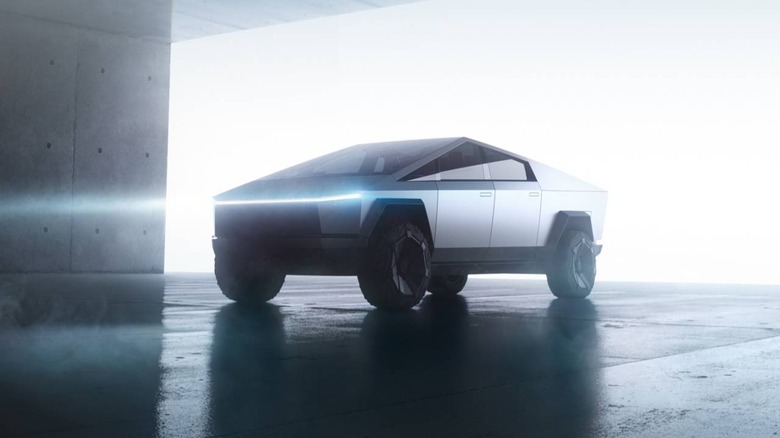 Elon Musk has revealed the Tesla Cybertruck, the California automaker's latest all-electric vehicle, and it's likely to polarize truck fans and Tesla aficionados alike. The long-anticipated EV pickup made its debut in Los Angeles on Thursday evening, and the design is intentionally controversial.
"Trucks have been the same for a very long time, like a hundred years," Musk said, "we want to try something different." Even then, we weren't quite expecting what rolled out from behind the screen.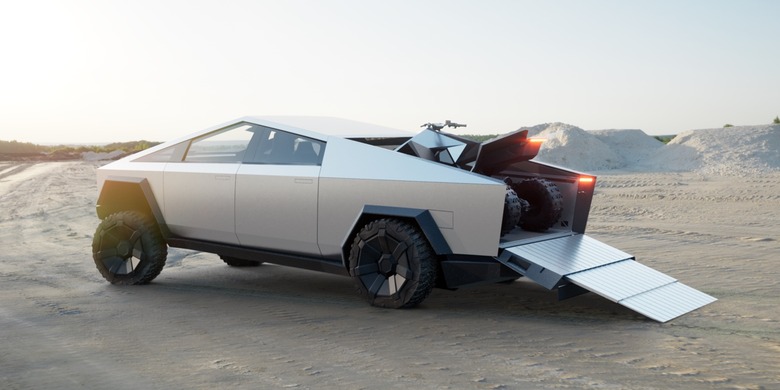 "Doesn't look like anything else," Musk deadpanned, as the angular, wedge-like silver truck pulled onto the stage. The Cybertruck is 231.7 inches long, 79.8 inches wide, and 75 inches tall. It has six seats inside, and a 6.5 foot bed. It's made of 30x cold-rolled stainless steel, and Musk went so far as to say it was bulletproof.
Underneath there'll be adaptive air suspension as standard, with adjustable ride-height and dampening. It can support up to 3,500 pounds of payload, and can tow 14,000 pounds.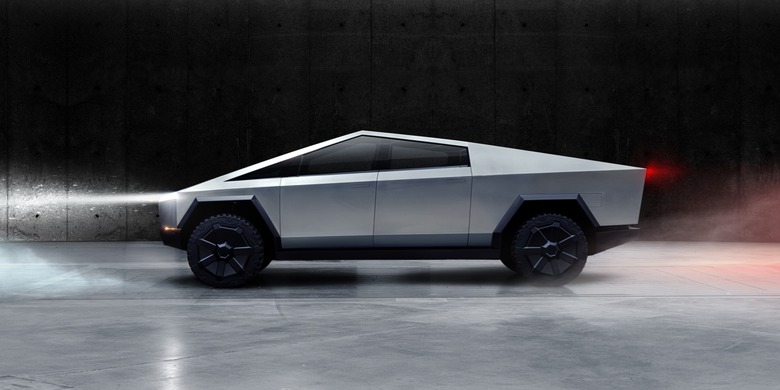 The Cybertruck has been some time coming. Elon Musk first started talking about his hopes of making a truck back in 2012, but since then we've seen not only the Model X but the Model 3, and the Model Y. That's before you consider the Tesla Roadster 2.0 and the Tesla Semi.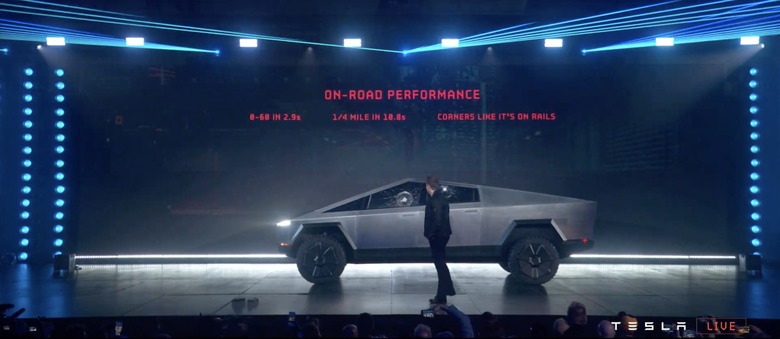 Arguably, though, the Cybertruck is Tesla's most challenging product to-date. Whether it's the demands of a professional work-site, or the particular requirements of consumer pickup buyers, the utility segment is a fiercely competitive one. It can be conservative, too: see, for example, the difficulty Ford faced when it opted to switch the 2015 F-150 to aluminum, and its huge PR campaign to convince skeptics that it would, indeed, be as tough as the old, steel model.
Tesla, then, needs some headline-worthy features to put the Cybertruck's best foot forward, and there electrification does have its advantages. As expected, there's an all-wheel drive option, using the automaker's dual motor configuration. That puts one electric motor on the front axle, and a second on the rear.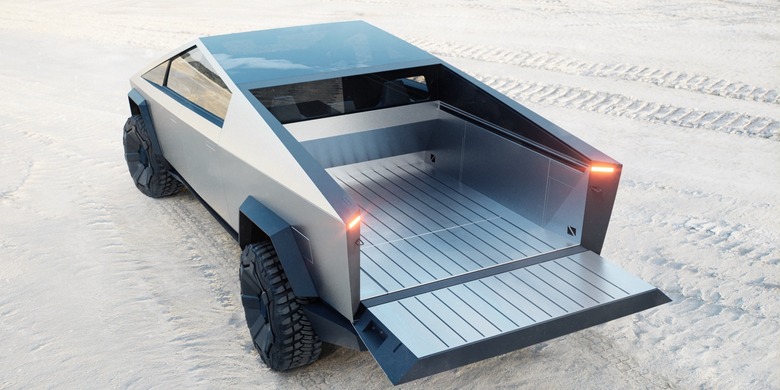 The Tesla Truck will do 0-60 mph in 2.9 seconds, and a 10.8 second quarter mile. As for range, there'll be three versions: a single-motor RWD with 250+ miles, a 300+ mile version with dual-motor AWD, and a 500+ mile model with tri-motor AWD.
For charging, there's 250+ kW support and of course access to the Supercharger network. Onboard there's both 110V and 220V outlets to run work tools and more from. Plus, there's an on-board air compressor.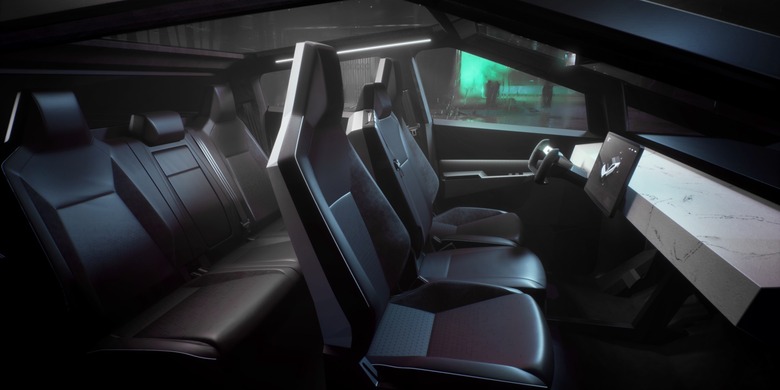 As you'd expect from a Tesla, a significant part of the story is technology. There's Autopilot, of course, allowing the Cybertruck to take over some of the driving responsibilities on highways, and as usual there's the promise that Tesla's ADAS will gradually improve over time with new features pushed out through over-the-air updates.
Tesla even made an accessory: an ATV bike designed to fit into the rear of the Cybertruck. It also charges up while it's parked in there, the pickup automatically dropping down to allow it easier access.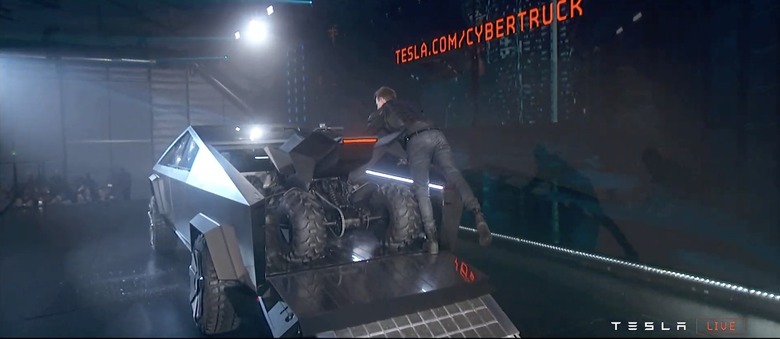 The electric pickup category may be small right now, but Tesla won't have it all to itself. Rivals big and small are circling with competition of their own. Ford is working on both a hybrid F-150 and an all-electric F-150, while GM has confirmed that it, too, has a fully-electric pickup in the pipeline. Startup Rivian, which is backed by Amazon among others and has inked a deal with Ford, is also working on its own EV truck.
In Tesla's favor – among other things – is the near-fanatical devotion some of its user-base brings to bear. That has helped the automaker through some financial rough patches in the past, not least by opening its collective wallet and putting down reservations for upcoming models. Model Y and Tesla Roadster 2.0 reservations have been underway for some time at this point.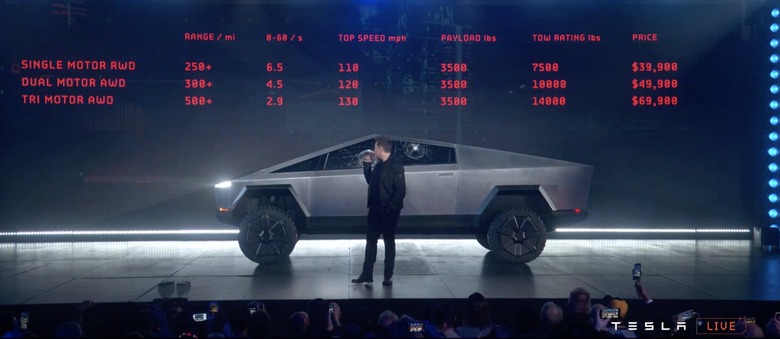 Now it's the turn of the Cybertruck to coax open those wallets. It'll start at $39,900 for the 250 mile version, rising to $49,900 for the mid-range, and then $69,900 for the toro-sped model. That's before any incentives; the Full-Self Driving package will be $7,000. The reservation books are open now, with full orders expected to be taken "as production nears in late 2021" Tesla says. Tri-motor AWD versions should begin production in late 2022.