Here's How Long A Tesla Cybertruck Battery Will Likely Last
In 2019, Elon Musk unveiled the Tesla Cybertruck prototype to the world — his first electric pickup truck. It doesn't look like a conventional pickup, and the body is made of stainless steel. As it turns out, Elon Musk was inspired by a James Bond movie to design the Tesla Cybertruck. No wonder it looks like a futuristic combat vehicle, and it's equipped with a bulletproof body and glass ... although the window didn't hold up during the presentation.
Even if you're not into the looks or the bulletproof exterior, the Tesla Cybertruck's specifications are worth some attention. Musk promised that it can accelerate from zero to 60 mph in 2.9 seconds. If Tesla delivers on that promise, it will be the fastest electric pickup. In addition, it's designed with a 6.5-foot bed that's big enough to fit an ATV bike and haul 3500 pounds of cargo. If you need to tow, it can pull up to 14,000 pounds.
However, one of the most important features is the battery range. Moreover, how long will the Tesla Cybertruck battery last?
The Tesla Cybertruck is expected to have a battery range of 500 miles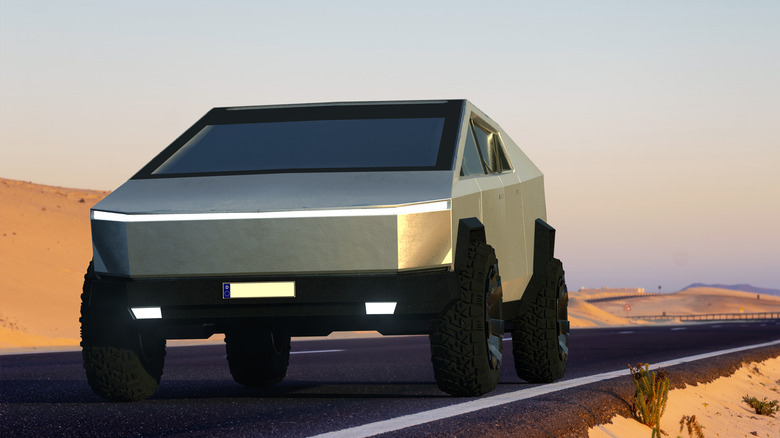 Mike Mareen/Shutterstock
According to Tesla, the Cybertruck will have a battery range of up to 500 miles. This means that the Tesla Cybertruck will have the longest battery range in an electric pickup. It's not even close considering that its competitors, the Rivian R1T and Chevrolet Silverado EV are both expected to have a battery range of up to 400 miles. Even the Ford F-150 Lightning, which is currently the best-selling electric pickup, comes with a maximum battery range of 320 miles.
Tesla will likely use 4680 battery cells to get more battery range out of the Cybertruck while reducing the price to give it a competitive advantage. However, Tesla is presenting a challenge to mass produce 4680 battery cells (via Drive). Because of that, Musk clarified during Tesla Q3 2022 earnings calls that the Cybertruck's production won't be slowed down by 4680 output challenges, according to Electrek.
But it's only the tri-motor AWD trim that will have a battery range of up to 500 miles. It will also be the most expensive trim considering that when it was announced in 2019, Tesla said the price will start at $69,900. Three years later, Elon Musk said it could be more expensive due to inflation and market dynamics. The mid-range trim with dual motor AWD will have a battery range of a little over 300 miles, and the cheapest option with single motor RWD will cover up to 250 miles.
Of course, we can't know the exact battery range of the Tesla Cybertruck until it's produced and delivered.
The Cybertruck battery could last over 300k miles
Current Tesla vehicles have batteries that can last between 300k to 500k miles before needing a replacement. They also come with a battery warranty that covers 150,000 miles or 8 years, whichever comes first. We expect the Tesla Cybertruck to have the same warranty terms and conditions as other Tesla vehicles and a battery pack that can last over 300k miles.
If the Tesla Cybertruck uses 4680 battery cells, it's possible they could last longer than current models. According to Reuters, Tesla acquired this battery cell technology in 2019. It's too early to tell if they would last longer than the 2170 battery cells that are used in current Tesla vehicles. However, the 4680 battery cells are more efficient than the 2170 battery cells.
Beyond that, Contemporary Amperex Technology Co. Ltd. (CATL), a battery supplier for Tesla, claims it has invented an EV battery that could last over 1 million miles. Then again, it's unlikely that Tesla will use the million-mile battery on the Cybertruck since it's more expensive — and Tesla wants to keep the price of the Cybertruck as low as possible.
The Tesla Cybertruck is scheduled to come out of the factory line in 2023.