Ford's 2023 F-150 Lightning Is Getting More Electric Range - And More Expensive
In May 2022, Ford delivered the 2022 Ford F-150 Lightning, and we took it for an impressive test drive. An all-electric pick-up with the latest technology and more torque than any internal combustion F-150 model, perhaps unsurprisingly demand for the 2022 Ford F-150 went through the roof with almost 200,000 reservations when the books opened in mid-2021. The automaker hasn't been shy to admit that the demand for the Ford F-150 Lightning exceeds the production capacity, responding by closing reservation orders. In the meantime, it was working to solve that problem.
Most recently, that included signing a contract with giant battery manufacturers based in China, South Korea, and Poland so it could meet its target to produce 600k EVs by 2023. If Ford achieves its goal, 40% of all the new vehicles it sells in the U.S. by 2030 will be an electric model. That's going to mean more — likely high-demand — EVs such as the Ford F-150 Lightning rolling out each year, each bringing with them more upgrades. To keep its promise, Ford has announced today it's re-opening reservations for the 2023 Ford F-150 Lightning. 
It will have 240 miles of electric range
The 2023 Ford F-150 Lightning will have a standard range of 240 miles, an improvement of 10 miles compared to the 230 miles of EPA range the 2022 version of the truck was rated for with the standard battery. Ford is yet to reveal the electric range of the extended battery trims, but we expect them to at least meet the 300 to 320 miles range offered on the high-end 2022 Ford F-150 Lightning configurations.
Beyond that, Ford hasn't revealed any new changes to the upcoming Ford F-150 Lightning except "Pro Trailer Hitch Assist" and "two new colors." The new hitch assist system will be capable of hitching trailers while automating the pickup's steering, throttle, and brakes. As for the new colors, customers will have two extra options of Azure Gray and Avalanche Gray. However, Smoked Quartz Metallic, Atlas Blue, and Ice Blue Silver color options will not be offered on the 2023 Ford F-150 Lightning.
Ford's electric pickup for the police will also be available for reservations. 
It will be more expensive than the current models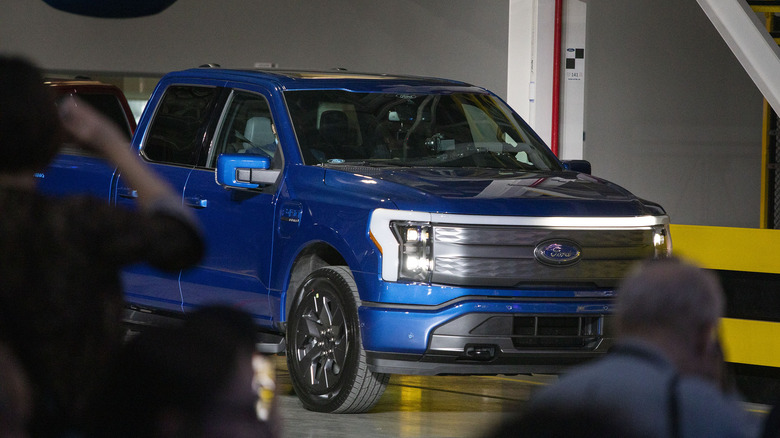 Bill Pugliano/Getty Images
Now, for the bad news. The 2023 Ford F-150 Lightning Pro will start at $46,974 before destination –- this is $7,000 more expensive than the 2022 F-150 Lightning Pro which had a starting price of $39,974. Ford also confirms that the XLT and Lariat trims with standard batteries will have a price hike of $7,000, similar to the Pro trim. At the high-end, the most expensive trim — the Platinum Extended Range — will be sold at $96,874, around $6,400 more expensive than the 2022 version of the electric truck. In short, if you want to buy any trim of the 2023 Ford F-150 Lightning, you will need to pay around $6,000 to $7,000 more than you would if you were buying the 2022 equivalent.
According to Ford, it has adjusted the price "due to significant material cost increases and other factors." At the same time, the automaker is slowly getting up to speed with deliveries: it has sold 4,400 units to date this year, barely scratching the backlog of its almost 200,000 reservations. Even with its new battery strategy, Ford says that it's limited to producing 150,000 Lightning models by late 2023.
Marin Gjaja, chief customer officer of Ford, highlights that "current order holders awaiting delivery are not impacted by these price adjustments," so if you already have an actual order in place you shouldn't see the sticker price increase. If you want to make a reservation for the 2023 F-150 Lightning, meanwhile, you can stake a place in line with a $100 deposit starting from Thursday, August 11, with the first deliveries of the MY23 truck expected to begin this fall.