Ford Targets 600k EVs Per Year Thanks To New Battery Strategy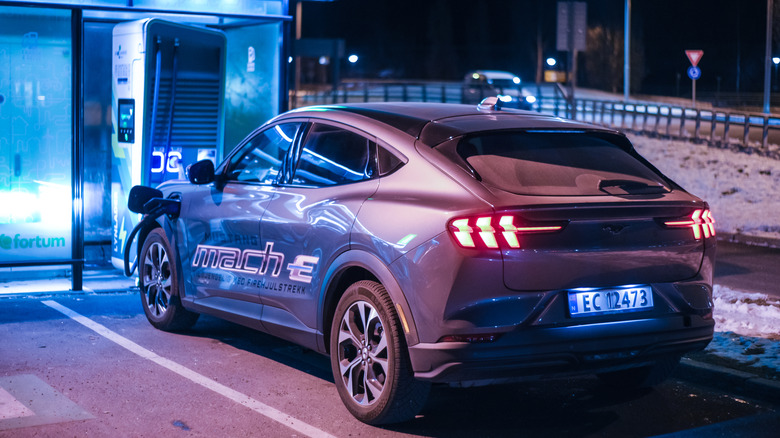 ginger_polina_bublik/Shutterstock
It's no secret that Ford has major EV ambitions, and it looks like it's on a solid path to achieving its goals. In September 2021, the automaker announced an $11.4 billion mega campus called BlueOval City that will play a key role in building its EVs. Around the same time, Ford had also announced that it tapped Redwood Materials for battery recycling, which remains a key aspect of the overall electric vehicle pipeline. The mega campus will include a Redwood Materials facility, and the automaker has said the manufacturing destination will focus on overall sustainability, as well.
Ford had said at the time that it anticipates around 40% of its U.S. market base to be comprised of EVs by 2030, which would cover approximately 1.5 million vehicles — and the percentage may prove even higher in other markets around the world. In a major step toward embracing that future, Ford has announced major new battery-related contracts that'll bolster its annual EV run rate substantially by the end of next year.
Ford's EV efforts are growing rapidly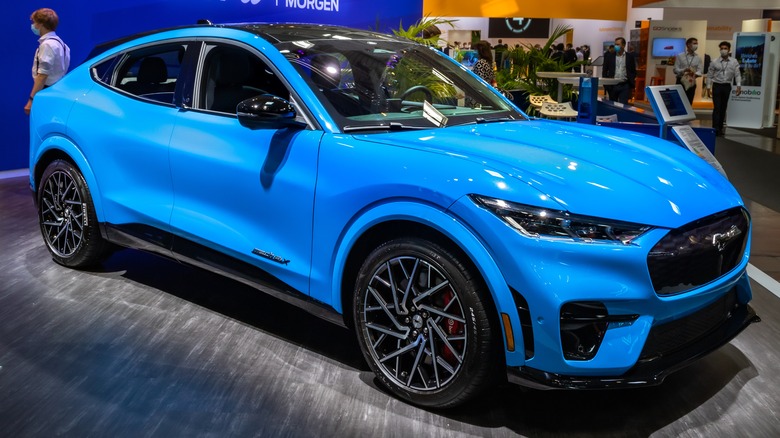 VanderWolf Images/Shutterstock
Ford has announced plans to hit an annual production run rate of 600,000 electric vehicles by late 2023. The automaker says the overall production number will be split between 270,000 Mustang Mach-E units, 150,000 F-150 Lightning units, 150,000 Transit EVs, and 30,000 mid-size SUVs, which adds up to a total of 600,000 EVs. The Ford F-150 Lightning vehicles will be sold in North America, while the Mustang Mach-E will be delivered in North America, Europe, and China. In addition to that, the Transit EVs will be available in North America and Europe, while the new mid-size SUVs will be sold in Europe.
The complex auto manufacturing plants that Ford is building will start operations in 2025, but the automaker has come up with a new battery strategy to meet its 600,000 EVs production capacity by late 2023, the company said on July 21. "Ford and CATL (Contemporary Amperex Technology Co., Ltd.) – the world's largest battery producer – have signed a separate non-binding MOU to explore a cooperation for supplying batteries in Ford's markets across China, Europe, and North America", the company said in its press release. Ford also confirmed that the Chinese battery manufacturer (CATL) will deliver battery cells for the Mustang Mach-E models in 2023 and F-150 Lightning units in 2024.
In addition to batteries from China, Ford also expects deliveries from LG Energy Solution's (LGES) battery manufacturing plant based in Wroclaw, Poland. Its other strategic partner — Korean battery manufacturer SK On — will deliver EV batteries to Ford from its facilities in Atlanta and Hungary. In context, those three battery manufacturers (CATL, LGES, and SK On) will dispatch 60-gigawatt hours (GWh) of battery cells to Ford so that it can achieve its objective to produce 600,000 electric vehicles by late 2023.
Lithium iron phosphate batteries join the lineup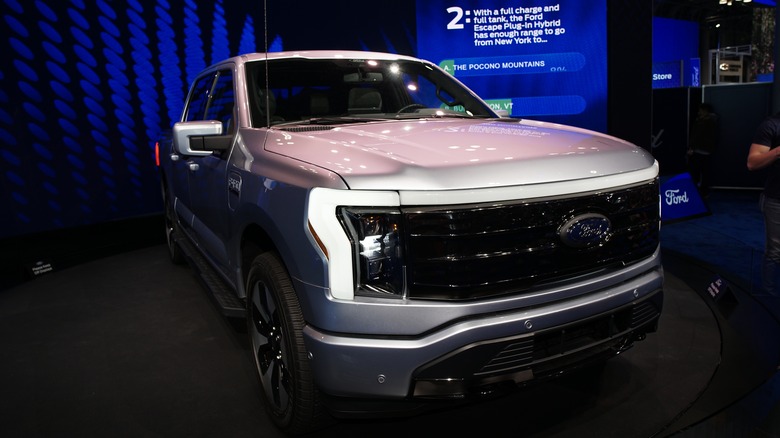 quiggyt4/Shutterstock
Despite its investment to build battery manufacturing facilities in the United States, Ford will import 100% of its battery cell capacity to produce 600k electric vehicles by 2023. "There is not enough battery cell capacity to meet the demand. So what we're doing is importing some battery cell capacity to help meet that demand," Lisa Drake, the vice president of Ford's EV industrialization told Bloomberg.
In its press release, Ford also disclosed that it will use lithium iron phosphate (LFP) batteries to meet its production capacity for the 600k EVs. The LFP batteries will be used in Mustang Mach-E units that will be produced next year and F-150 Lightning units that will be released in North America in early 2024. According to Ford, lithium iron phosphate battery cells are less scarce compared to the nickel cobalt manganese (NCM) batteries that it uses in its current EV models. LFP batteries are also cheaper and Ford says that it will save 10% to 15% of battery costs.
However, LFPs packs don't provide a longer range than nickel cobalt manganese batteries. As with Tesla, Ford will use LFP batteries in standard range models and save NCM batteries for high-end models. After Ford hits its 600k EVs run rate goal in late 2023, it plans to ramp up its production to sell over 2 million EVs annually by 2026. This will be made possible after its mega manufacturing plants in Kentucky and Tennessee are operational by 2025.