Elon Musk Offers Long-Awaited Update On Production Of Tesla's Cybertruck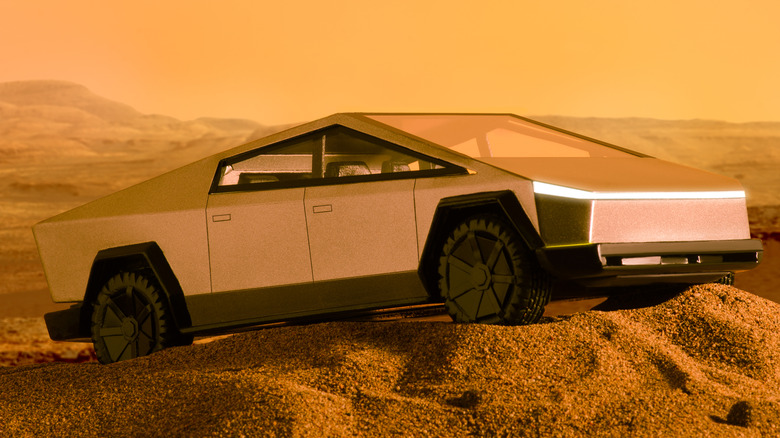 arda savasciogullari/Shutterstock
Tesla chief Elon Musk has announced that the long-delayed Cybertruck will finally enter production next year. However, he didn't confirm if the updated production timeline also means buyers on the pre-order list will get their hands on the angular electric vehicle in 2023. Taking the stage at Tesla's Cyber Rodeo opening party for the Giga Texas factory, Musk also revealed some hardware updates for the Cybertruck. The door handles are gone, which might sound like a worrying omission, but Musk promises that the car will know when users are around, apparently using the same camera-powered environmental awareness tech that is already available on Tesla cars with features like Sentry mode.
However, Tesla's boxy electric truck still doesn't look production-ready. The prototype up for exhibit at the event had airbags missing from the yoke, panels were misaligned with a visible gap, and the position of side-view cameras also appears to have been changed. Tesla plans to build the Cybertruck at the Giga Texas factory, which now serves as the brand's headquarters too. "We can't wait to build this here. Sorry for the delay. But you're going to have this next year, and it's really going to be great." Musk also joked about smashing the window on the updated Cybertruck prototype, bringing back memories of the on-stage fail for the supposedly unbreakable window that lost a battle with a hammer in 2019.
Tesla anticipates a busy few years
First showcased in 2019, Tesla initially targeted 2021 as the production window for Cybertruck. The window soon slipped into 2022, even though Tesla set new shipment records for its smaller EVs last year. Earlier this year in January, Musk revealed during an earnings call that Tesla won't be rolling out any new cars out of its production lines in 2022, which more or less confirmed that the Cybertruck was in for at least another year's worth of delay. At the Cyber Rodeo event, Musk stressed that 2022 will be all about scaling up for Tesla and achieving production levels far beyond any other automobile brand on the planet. 
Tesla's Cybertruck was supposed to kickstart a whole new segment of electric vehicles, but the delays have allowed the competition to leave its mark. The Rivian R1T has already won rave reviews. The highly-anticipated Ford F-150 Lightning, which is going to start at roughly $40,000, will also be hitting the road later this year. But not all is doom and gloom for Tesla and its Cybertruck, which is also going to sell in the same price bracket as its Ford rival. Despite the delay, the Cybertruck still has a solid base of potential buyers ready to fork their cash on a car loaded with Tesla's advanced tech, some big performance claims, and of course, unparalleled looks. Musk also announced that the delayed Tesla Roadster and its Tesla Semi will also enter production in 2023.