Onyx Boox Note Air 2 Plus Review: Outshining Kindle Scribe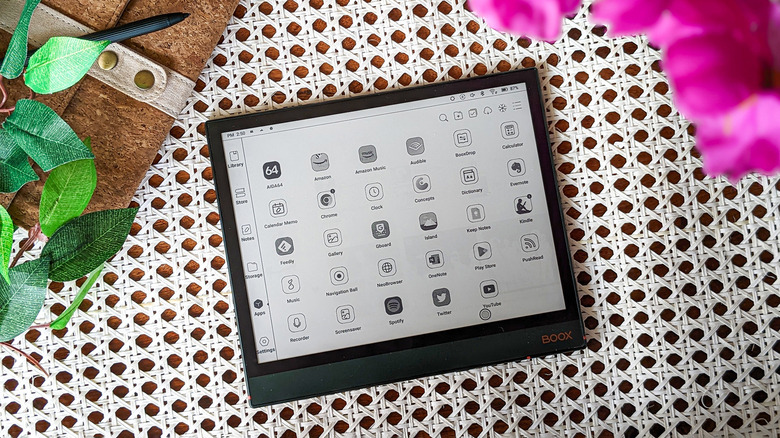 Tushar Mehta/SlashGear
EDITORS' RATING: 8/10
The phrases "Android tablet" and "E-Ink display" are usually not part of the same sentence — or even the same series of thoughts. So what happens when the two worlds collide? You get the unusual and peculiar device called the Onyx Boox, a family of Android tablets featuring a monochrome E-Ink display. We've been taking a look at one of the flagship models — the Onyx Boox Note Air 2 Plus — to see how it stacks against other vibrant-faced Android tablets.
We usually associate E-Ink displays with e-readers such as the Amazon Kindle series or other primitive gadgets such as digital watches that do not require the screen's contents to refresh very frequently. In contrast, Android tablets are usually premeditated for weighty workloads such as entertainment, gaming, replacing your laptop, and in certain cases, note-taking and sketching. This makes the Boox Note Air 2 Plus stand out in a segment of e-readers that is lop-sided in favor of the Amazon Kindle.
The E-Ink Display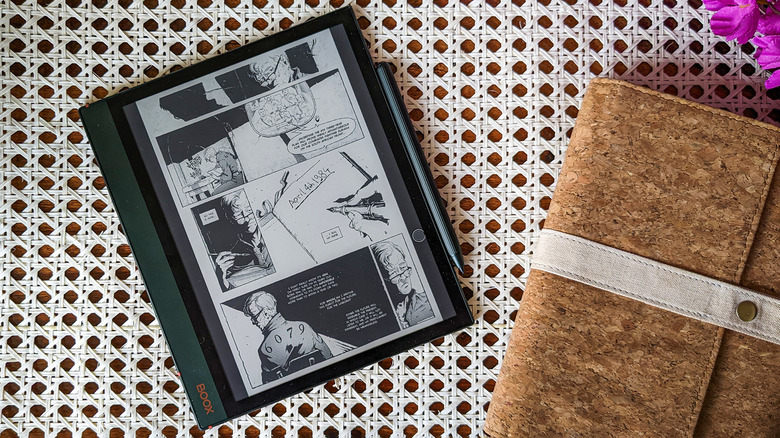 Tushar Mehta/SlashGear
The Boox Note Air 2 Plus appears to be a novel concept but Onyx is not the only company making electronic paper displays (e-paper or EPD) tablets with Android. It is, however, the leading brand with the largest catalog of devices to compete in the segment. In fact, Onyx's entire product lineup has prodigies with e-paper displays.
The only other tablet that displays both traits is Huawei's MatePad Paper. However, Huawei's much wider product portfolio results in the tablet not getting the same attention as Onyx's products.
The Boox Note Air 2 Plus boasts a 10.3-inch E-Ink Carta display with a 1404x1872 resolution. The display has a 4:3 aspect ratio and is narrower than most regular Android tablets. It is plenty sharp for its size and offers great readability as long as the lighting is reasonable.
In terms of colors, this E-Ink display only shows contents in shades of gray. The backlight, however, is available in white (cool) and yellow (warm) to set the display's temperature per what suits your eyes at any given time. Unfortunately, the tablet lacks appropriate sensors to adjust the display backlight's brightness or the display's colors. But on the positive side, the display is plenty readable when you're outside or under a strong light source, even without being backlit, giving it true paper-like visibility.
Like other E-Ink displays, the contents on the screen load up much slower than an LCD or OLED display. This display has a refresh rate of 40Hz — i.e., it can refresh up to 40 times every second, but in principle, the refreshing happens much less, depending on the different modes.
Refresh modes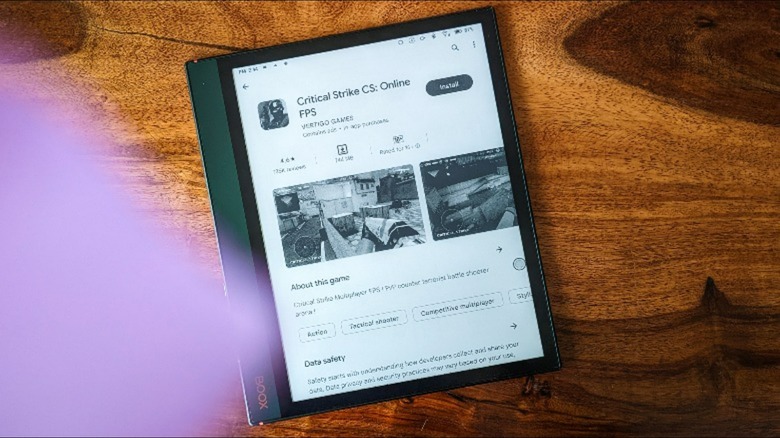 There are five inbuilt modes to manipulate the refresh rate — and suit the display to different kinds of content. Normal offers the best readability and graphics quality but refreshes the slowest. Regal is suitable for scrolling through text or ebooks with minimal loss in visual quality. Speed compromises readability to accommodate smoother scrolling, especially while browsing the internet. A2 reduces readability to iron out scrolling even further. The mode called "X" works with the lowest visual quality and faster refreshing — this mode is ideal for playing videos and navigating dynamic websites or heavy apps. You can also play simpler games with this display mode.
Besides these five modes — which can be set differently for each app — you can also change the intensity of light and dark colors to optimize visibility for any particular type of content.
On top of the display is a thick matted screen protector that gives it the same texture as touch. Dragging the included stylus on this textured protector gives the same feeling as scribbling with a pencil. Although you have the option to remove it too, the glass underneath is highly glossy, and I wouldn't recommend taking it off as it is vital for the soul of the display.
This is an always-on display, and you can customize the wallpaper and the content of the lock screen, which remains unchanged except for updating the time every few minutes.
A wieldy design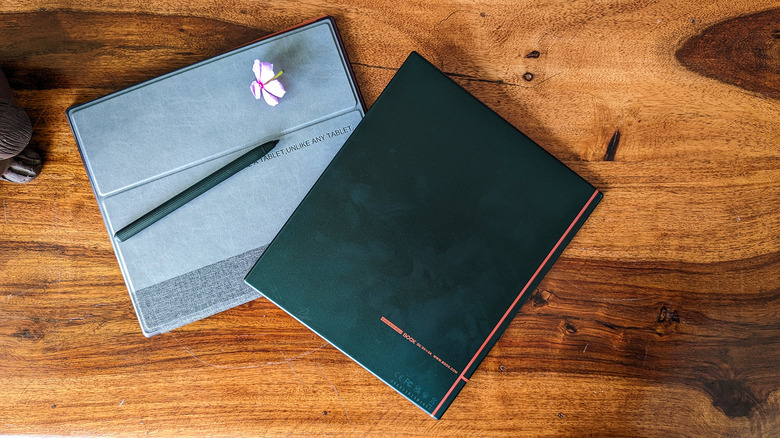 Tushar Mehta/SlashGear
Apart from the display, the Boox Note Air 2 Plus is quite similar in size and shape to most other common tablets. It is very handy with one of the four bezels thicker than the rest so that you can hold the tablet with a single hand, like a book or a magazine. The tablet measures only 5.8 mm in thickness and weighs around 450 grams, making it not so difficult to wield with a single hand. 
The Boox Note Air 2 Plus comes in a dark forest green color with orange stripes to resemble the binding of a book. They may, however, also be network antenna lines for the Wi-Fi modem. Notably, there is no support for 4G, even though it would have been highly appreciated. 
You can purchase an official PU Leather Smart folio case with the Boox Note Air 2 Plus. This folio case helps the tablet rest on a flat surface in standing or tent mode. The covering side of the folio has feet made of soft, silicone-like material to help the flap stick firmly to the front of the tablet. Once you flip the cover open, the screen unlocks automatically. 
The folio has to be bought separately for $45.99. Onyx sent me this case with the tablet. It also sells another case with a triple-folding flap and a magnetic lock at the front to keep the stylus secure, especially in transit. This one costs $50.99.
The lower edge of the tablet features a microphone, a USB Type-C port for charging and data transfer, a power button, and a single speaker. The positioning of the button, port, and speaker feels inappropriate because they all face toward the bottom when using the tablet in landscape mode. If you place the tablet upside down so that the USB port and the button face upward, it is hindered by the area reserved for the stylus.
On the opposite edge, an Onyx stylus can attach magnetically. This $45.99 pen, called the "Boox Pen Plus stylus," is included in the package. You can also buy an upgraded version, called the "Boox Pen 2 Pro," for $79.99. The only visible difference between the two styluses is the eraser at the rear end of the more expensive variant. I have the standard variant and quite enjoy its input. 
The passive stylus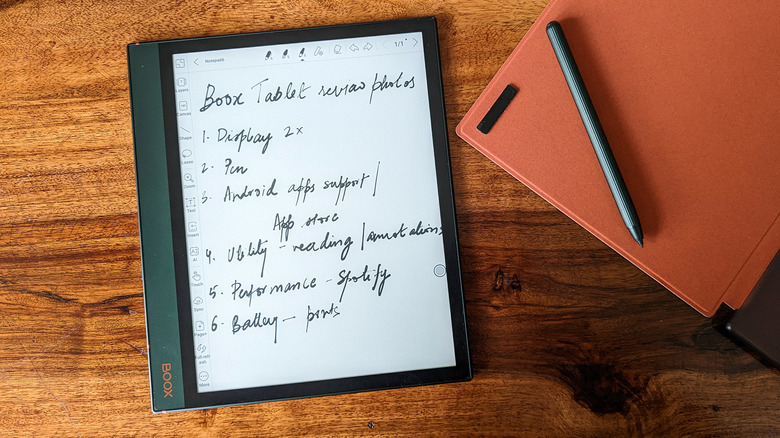 Tushar Mehta/SlashGear
The stylus is a crucial part of the Boox tablet experience which is why it has been bundled in the box. Circular and ridged in design, the stylus has a flat shaft for a part of its circumference, allowing hold it more conveniently.
Unlike the display, which is slow on purpose, the stylus quickly responds and works with little latency. You can improve the response by choosing a display mode that improves the display refresh rate. This is a pressure-sensitive stylus with 4096 pressure points on the display for more life-like strokes.
One — and perhaps the only — gripe I have with the stylus is that you don't see a dot or crosshairs when you hover it slightly above the display. That can cause errors while writing or sketching, especially if you want things to look neat. The lack of an active pointer can be attributed to the fact that the stylus is passive and does not require Bluetooth connectivity or power. Again, it would be inappropriate to expect an Apple Pencil-level accuracy from this stylus, but an active stylus would have meant a higher precision.
Despite the shortcoming, both the writing experience and the palm rejection on the tablet are excellent. One aspect to note, however, is that because third-party sketching apps on Android are not optimized for E-Ink displays, you will witness a significant lag when using some apps such as Concepts, Google Keep, or Autodesk Sketchbook. This means expectations around sticking to a particular app can result in disappointment.
Thankfully, the issue does not exist on the stock Notes app, and Onyx has also optimized input for Microsoft OneNote and Evernote.
Android app support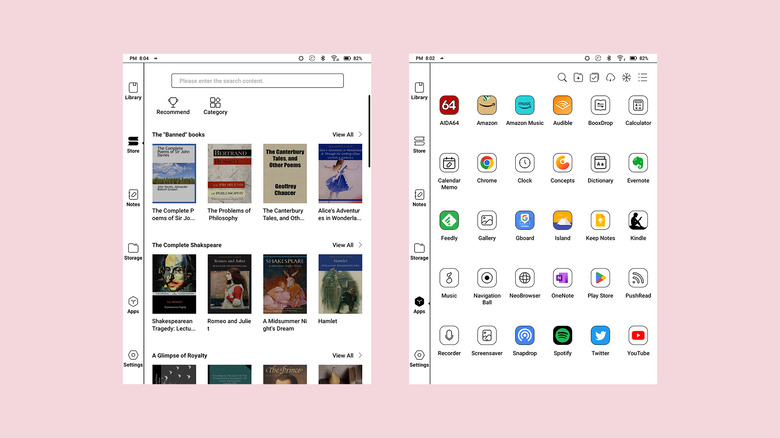 Tushar Mehta/SlashGear
Although the Onyx Boox Note Air 2 Plus runs on Android 11, the user experience significantly varies from Android. The tablet runs a custom interface focused on reading and taking notes. The home interface is segmented into sections, including Library, Store, Notes, Storage, Apps, and Settings.
The Library tab contains all the books you download from Onyx's online store. In the Store, you can download books for free. With Notes, you can jot down your thoughts using the stylus. The Storage tab leads to a basic file browser. When you tap on Apps, you'll find all the apps installed on the tablet, as you would with any Android tablet. You can create folders on this page and pile up similar apps inside them to tidy up the space.
There's a tab called Settings which is unlike the standard Settings app in Android. It lets you change input options, power-related features, and network settings, calibrate the stylus for accurate pointing, and display settings, and update the firmware. You can also find the user manual here or send your feedback to Onyx using the inbuilt app for this purpose.
For navigating through the interface, the Boox tablet supports gestures such as swiping upward from the bottom edge. Swiping up from the left brings up the E-Ink refresh mode settings, swiping up from the right takes you a step back, while swiping up from the center takes you home. Unfortunately, there's no option to add traditional Android navigation controls. You can, however, use the Assistive ball that brings up a host of buttons for controls ranging from navigation to multitasking, screenshot, screen refresh, RAM optimization, and much more.
You can also swipe up or down along the left edge to increase or decrease the volume. This is handy because the tablet lacks a physical volume button. Likewise, swiping up or down along the tablet's right edge will increase or decrease the display's brightness.
Support for apps makes the Onyx tablet superior to any conventional e-reader. It comes pre-installed with the Google Play Store and supports other Google services. Thankfully, it does not come preloaded with any Google bloatware and allows you to choose apps at your convenience.
The Google Play Store's availability means that Google Play Protect will inform you if any installed apps have potential viruses or malware. It routinely scans not just apps downloaded from the Play Store but also those sideloaded from APKs or app bundles.
You can technically install any Android app on this tablet, but they will work within the limitations of the display and the internal hardware, which is intended for reading books and on the internet.
A far better utility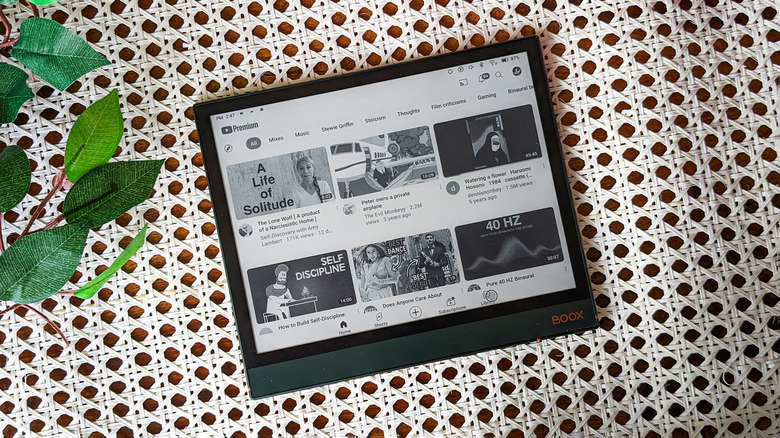 Tushar Mehta/SlashGear
While reading and taking notes is the most glaring use case for the Boox Note Air 2 Plus, it has proven to be an excellent gadget for nighttime usage. I have heavily relied on it to cut my smartphone or tablet usage at night. Instead of spending my time in bed doomscrolling on social media before I fall asleep, I've been able to increase my time reading. On days I don't want to limit myself to ebooks or web pages, I find myself listening to podcasts, audiobooks, or some soothing music without stressing my eyes.
But it's not just at night that the tablet comes in handy. You can hook up a keyboard and a mouse — either using Bluetooth or a USB Type-C hub — and use the setup for basic office work like drafting emails, noting down or typing ideas, or even signing documents using the pen.
I also tried to type articles on the tab but couldn't spend much time doing so because letters would show up slower than my fingers were typing, slowing down my thinking process. But if you want to take it up a notch and use it for real work, the tablet allows you to cast the screen onto another display or TV wirelessly.
I could, however, write using the stylus and handwriting-to-text conversion feature from the Notes app. This feature is amazing, and you can share the text directly with other apps or edit it in a larger editor. You can also upload documents to Onyx's cloud service or share them directly to your phone or PC through an app installed. But to be able to use these services, you would be required to create a Boox account.
Lastly, you are not prevented from actually checking social media on the tablet. So just in case, you would like to witness Twitter collapse — or save your Duolingo streak from breaking — the Onyx Boox Note Air 2 Plus will be your aide, minus the glittery colors that hack your brain into scrolling endlessly.
How does it perform?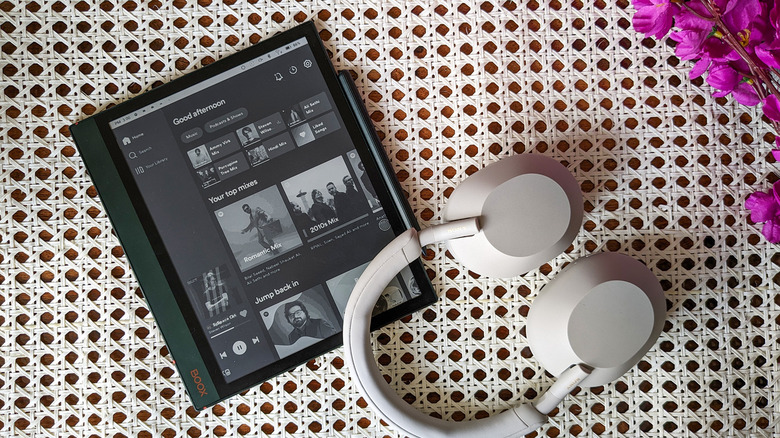 Tushar Mehta/SlashGear
The Boox Note Air 2 Plus is powered by a Qualcomm Snapdragon 662 chipset, which is a few years old and, at best, suited for a mid-range Android device. But when the critical requirement of processing and rendering frames for a color display is taken out of the equation, the chipset feels sufficient. You would never experience any lag while performing activities that the tablet is capable of. Of course, expecting it to be used to play games or watch videos is unrealistic.
Additionally, to make sure apps run smoothly and don't go back to sleep when in the background, the tablet features 4GB of RAM. In case that feels paltry — as Android's requirements increase, you can put some apps to auto-freeze to save processing power. Onboard, you get 64GB of storage which is big enough to store thousands of ebooks and other media.
When it comes to audio playback, the single speaker on the Boox tablet suffices for audiobook recitals, voice messages, or alarms. While you can also listen to music through the speaker, the quality may feel very dissatisfying, especially if you're seeking a rich sound profile. Thankfully, you can connect headphones via Bluetooth to remedy this flaw.
As there is there's no camera on the front or the back, you can't use the tablet for video calls. You can use it to attend seminars or virtual meetings where you don't have to show your face, but you can get a much better experience using your smartphone.
Battery and Charging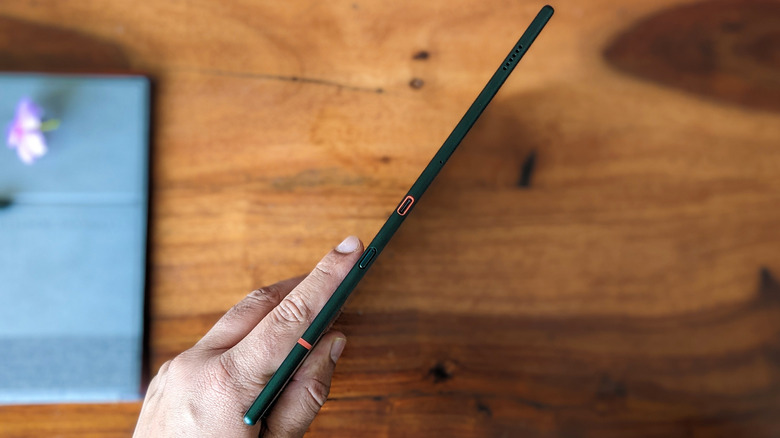 Tushar Mehta/SlashGear
So how much power does the tablet consume while doing all this? The surprising answer is — very little! With a 3700mAh battery inside, the tablet easily lasts three to four days of extensive usage, not just limited to reading ebooks or taking notes. As you would expect, this is because of the lower power requirements of the E-Ink display. Even if you are glued to the title you are reading, you can get over 24 hours of screen usage.
Because I read at smaller stretches of an hour or so, I have only had to charge the tablet only a couple of times in the last 15 days, which is commendable compared to an Android tablet with matching hardware and a much bigger battery. When not in use, the Boox Note Air 2 Plus has a claimed standby time of five weeks.
Charging the Boox Note Air 2 Plus also takes a short time compared to a regular tablet. Although the charging rate maxes out at 15W, the small battery takes only about 90 minutes to charge fully — and then it is set for a few more days of usage.
You only get a USB Type-C charging cable in the package but no charging brick. Although Snapdragon 662 supports Qualcomm's Quick Charge protocol for faster charging, the company does not specify the appropriate standard for the fastest charging speeds. I'm using a USB-PD-compliant charger, which gives me fast enough charging speed to not fret about it.
Conclusion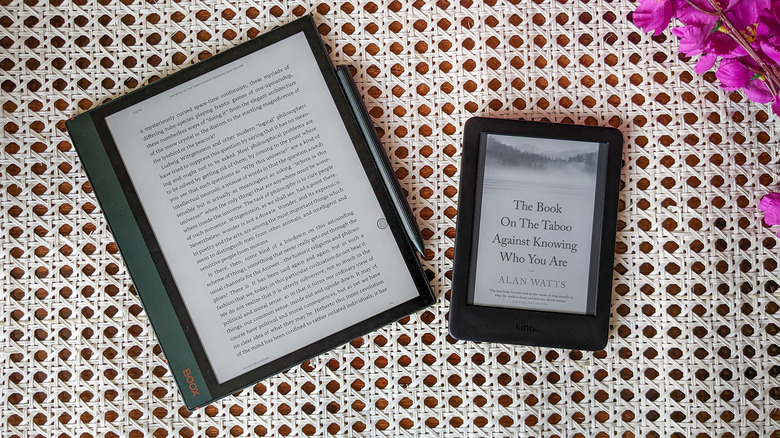 Tushar Mehta/SlashGear
The Onyx Boox Note Air 2 Plus is a convincing package for anyone who wants a tablet mainly for reading and taking notes. The added benefit of Android has the same effect on the utility of this tablet as Red Bull on people's forelimbs.
In comparison, a Kindle is limited in utility and does not let you install apps at your own will. It restrains you in the Amazon walled garden, where you can buy ebooks only from Amazon or transfer ePUB titles you already own. Web browsing on a Kindle is also fairly limited.
The only advantage a Kindle — specifically the Kindle Scribe with a stylus — has over the Boox tablet is that you can take notes on books directly in the Kindle app. But the Boox Note Air 2 Plus also offers a workaround for this problem by letting you open two apps — say Chrome and Notes — in split screen view to take down your pointers.
Another contender in the segment is the Remarkable tablet, but you will not have the convenience of using Android apps and the free flow of content between devices.
These merits make the Onyx Boox Note Air 2 Plus a much better value for money than the Kindle Scribe and the Remarkable 2. For $479.99, the company also offers a free folio case and extra stylus tips with the Boox Note Air 2 Plus. You also have the option to buy the other magnetic case or stylus at a discounted price if you buy everything together.