Huawei MatePad Paper Is An E Ink Tablet To Eclipse Kindle
If you've ever wanted a notebook that can magically erase your notes or transform your scribbles into a proper email, you're in luck — Huawei has got just the thing for you. The company has announced the upcoming release of the Huawei MatePad Paper, an E Ink tablet that combines the capabilities of an Amazon Kindle with a good old-fashioned notebook — with a lot of extras. Although the tablet, being an E Ink device, can only display content in black and white, it seems to pack a bunch of features to make up for the lack of color.
On the outside, the Huawei MatePad Paper looks much like any other tablet. It's a 10.3-inch device with a 86% screen-to-body ratio. Huawei doesn't reveal the resolution of the tablet, but it's shown to be large enough to offer a comfortable split-screen experience. This should make it easy to, for example, read something and simultaneously take notes using the stylus bundled with the tablet.
Huawei is marketing the MatePad Paper as a device for both reading e-books and productivity, but it definitely emphasizes the lifelike experience of using the Huawei M-Pencil stylus on the MatePad Paper. The device comes with 4,096 levels of pressure sensitivity and offers low latency (just 26ms), making it easy to replicate real-time handwriting. Huawei also offers audio recording that works seamlessly with taking notes, allowing users to leave marks on the audio to remember the most important parts. Those clips can be re-played by simply tapping the mark.
Battery life beyond ordinary tablets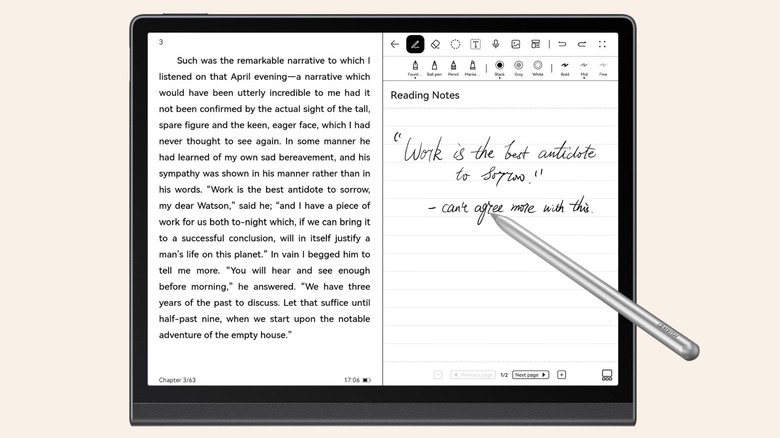 Huawei
Handwritten notes can be converted to text and shared, and judging by Huawei's preview, your notes will be translated accurately even if you don't have the neatest handwriting. As the device comes with a fingerprint reader, confidential notes can be locked and encrypted. Such notes will only be unlocked when you tap the fingerprint sensor. The Huawei MatePad Paper also offers an innovative, perhaps handy feature — your documents can be translated from another language directly by the device. Of course, we don't know how accurate such translations are going to be, and your mileage may vary.
Speaking of mileage, Huawei promises that the tablet will have a fantastic battery life, lasting up to 4 weeks in standby mode on a single charge. This translates to about 6 days of reading before needing to recharge. The screen has an anti-glare solution and the device offers 32 levels of brightness, so you can most probably read in full sunlight as well as at night. Huawei MatePad Paper supports Wi-Fi 6+ and can be paired with other devices to seamlessly transfer files.
Bridging the gap between tablets and ereaders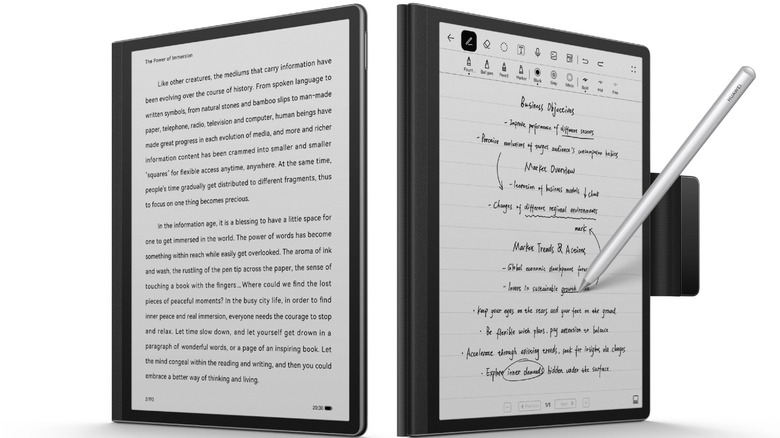 Huawei
Equipped with 4GB RAM and 64GB of storage, the MatePad Paper remains a mystery in terms of other specifications. We do know it's going to be very easy to carry, weighing just around 0.8lbs, and that it will feature Huawei's own operating system — HarmonyOS. Huawei is no longer able to use Android, so it had to come up with its own alternative, and HarmonyOS is the result. Of course, this means you won't be able to use Google Play apps on the new MatePad Paper. We're not sure how this might affect user access to various e-book libraries, but Huawei promises a robust selection of books to read including over 2 million titles in the Huawei Books app.
The company hasn't announced the exact availability or release date of this device just yet. However, we know that it will be priced at 499 euros in Europe. That makes it much pricier than the Amazon Kindle, however, it does come with a host of features that help it stand out from the crowd. For those in need of a lightweight tablet for productivity and reading, the Huawei MatePad Pro might just be the most appealing E Ink tablet we've seen in a while.