Next-Gen Performance Cars Are Taking Fun Beyond The Pavement And Into The Mainstream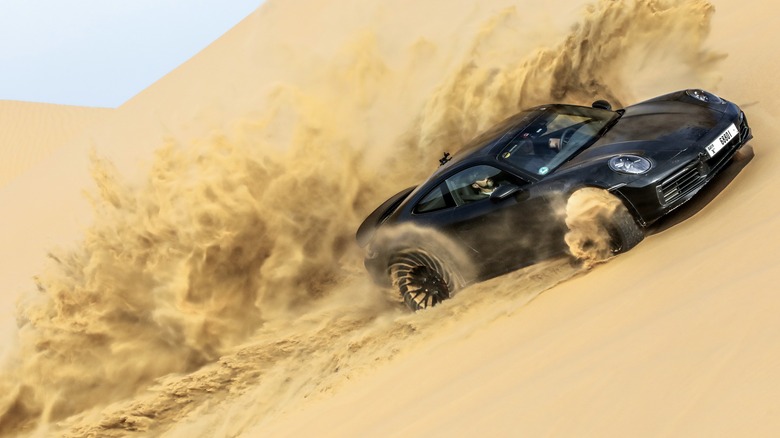 Porsche
The recent unveiling of Porsche's 911 Dakar and the announcement of the Lamborghini Huracán Sterrato have been reminders of how appealing an off-road vehicle can be, especially when it's something outside of the normal fare. We can understand why someone would want a properly outfitted Jeep to take them on an extreme adventure, as well as appreciate the absurd way a truck like the Raptor R can turn the wilderness into a playground. 
That's without mentioning the very reasonable desire for a daily driver that provides peace of mind during inclement weather. Whatever the reason, we like the idea of vehicles that can keep on rolling even when the road ahead becomes challenging, or just go clean off it, unbound by the grid.
Sports cars are... not like that. They are delicate, sensitive, high maintenance vehicles that can accomplish some outstanding things, just so long as the conditions are optimal. But what if they weren't? This is the question answered by the multiple so-called "Safari" builds of cars that only "off-road" when they're lined up on a Concourse lawn. It's an appeal that goes way back, and these factory builds are hints that it's stronger than ever.
Too cool for school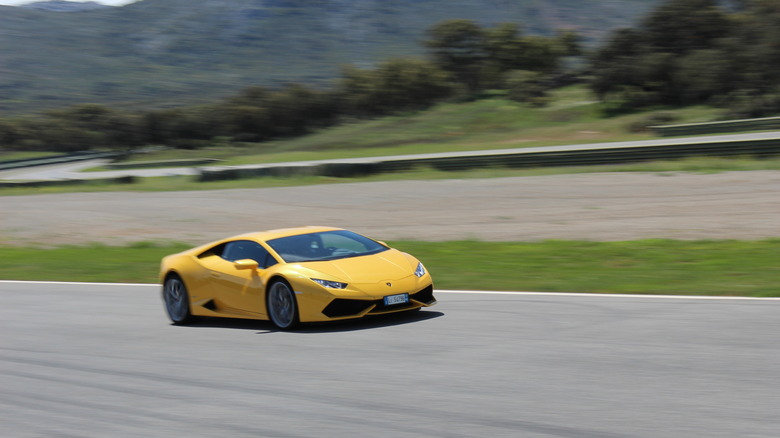 Alex Kalogiannis/SlashGear
Performance cars are funny in that, no matter how cool they are, they lose it the moment they're faced with sub-optimal conditions. It's happened to me plenty of times during my years on the job, even if I exclude all "tumbling out into the street from under a gullwing door" moments. One outstanding example was during the first drive of the Lamborghini Huracán in 2014. Lambo had brought the car to the Ascari track in Spain, an idyllic circuit in a private resort nestled in the hills of Málaga. We were there recently for our first drive of the McLaren Artura. It's purposefully tucked away from any major towns or cities, so returning to our hotel would take a couple of hours, a perfect amount of time for a road test.
Conditions couldn't have been more fantastic: Sleek, brand-new Lamborghini, sun-baked highways of Spain, and an endless number of travelers and locals cheering the car as we passed them by. A literal dream come true, until a road closure on our route sent our Huracán on a scenic detour. You might think that a little backroad deviation would be welcome, and it had its moments, but our nav sent us through increasingly rural areas connected by paths not often traveled, certainly not by a car like our Lambo.
The pavement eventually ended, replaced by uneven pebbly roads that pelted the pristine sports car as we trundled along. This and the unpredictable dips that slammed the car's wheel well down onto the rolling rubber thanks to a tight sport suspension meant we couldn't travel more than 18 or so mph. It was agony, wincing as the car took its lumps and awash with further shame as a ragged Suzuki Jimny became impatient and overtook us. Yes, the Lamborghini was too slow.
What I wouldn't have given for the Sterrato in that moment, or heck, even the Urus.
SUV or GTFO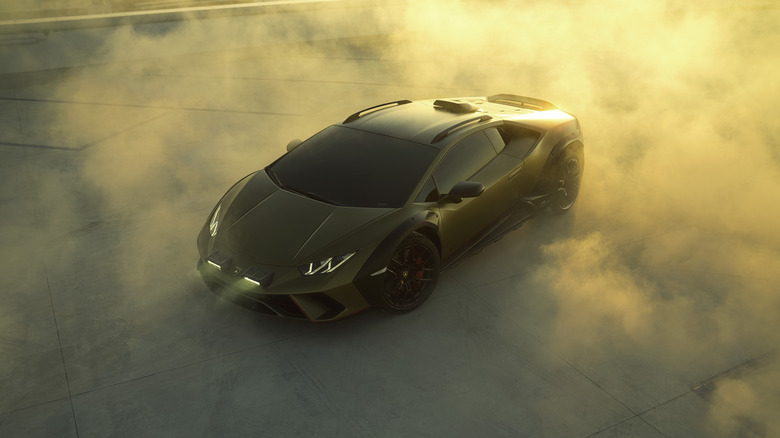 Lamborghini
That overlong story is an extreme version of what supercar owners "struggle" with on a frequent basis, be it lousy weather, a steep speed bump or driveway, or an unkempt parking lot. At best, a nose-lift function provides them some solace, which is why the performance SUV has become an option to have things both ways.
Look, we can't deny the love affair the driving world has with the SUV. It's a catch-all solution for many drivers who need the utility and desire the sportiness, and they're proven money-printers for automakers across the globe. With that said, the glut is tiresome for most who would rather have a coupe or sedan, regardless of how much easier an SUV might make things. In that regard, the increased interest in Safari builds — what has become a catch-all term for off-road conversions of street cars — can't help but feel like a defiant response to the SUV's dominance. The thrill there is having a sports car built for utility, not from making a utility car sporty.
Though we're leaning heavily on the sportier side of things, the pull away from the SUV has been a practical one, too. You can see this exemplified by the existence of vehicles like the Volvo V60 and V90 Cross Country, lifted versions of the automaker's wagon that provide utility without crossing over into full SUV territory. These models also carry on the torch lit by the limited-run S60 Cross Country, a sedan similarly outfitted for more rugged parts of the road. What it may have lacked in utility, its now unicorn status further highlighted the desire consumers have for car shaped cars with a smidge more capability.
Here the whole time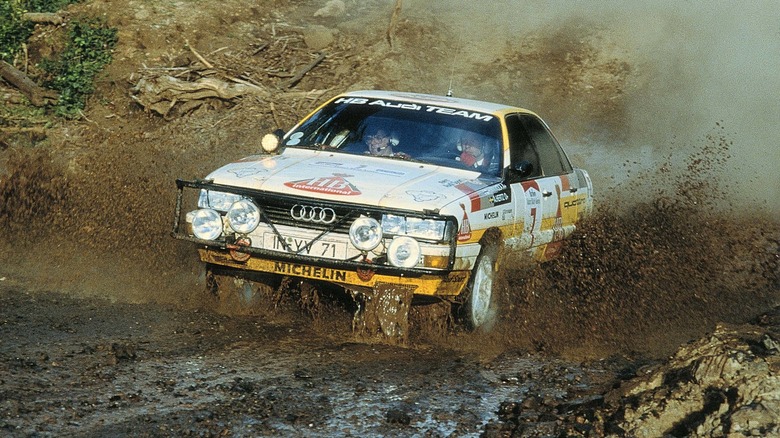 Audi
What's interesting to keep in mind is how this is essentially old news. We've always had a desire to take performance cars out into the world and it's why we have Rally racing. Often overshadowed by more prestigious forms of motorsport like Formula 1 and endurance racing, Rally or off-road/cross-country rally to be specific has existed for as long as there have been cars and indeed longer than there have been what we would now consider a standard road.
This is a broad chapter in motorsport history but even narrowing it down to just the existence of the World Rally Championship reveals its importance to the automotive world. For decades, manufacturers from across the world, from Audi to Peugeot Subaru have built their foundational ethos on their participation in the sport. It could be argued that WRC could be considered more of a proving ground of a car's capability than most existing top-tier motorsport series, based on how much more the vehicles must endure while also retaining a close parity to the cars they sell to the public.
The call of the wild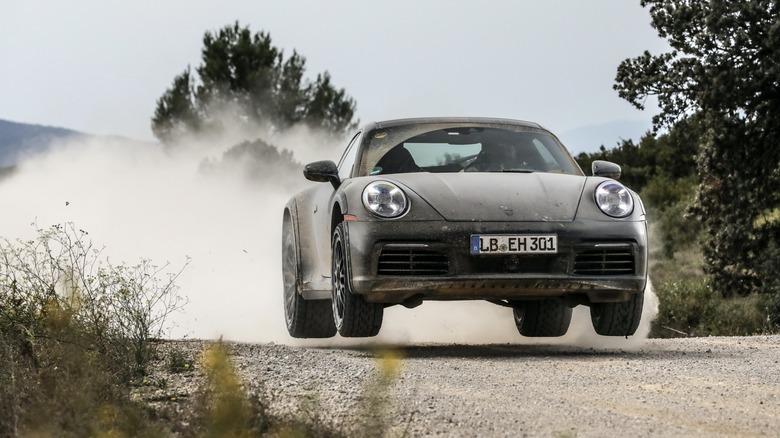 Porsche
It feels like Safari builds are a call back to an era where this type of motorsport was more celebrated: when events weren't limited to grand venues or cities, but explored the parts in-between major population hubs. This in turn made it more inclusive for people who love cars but live outside of places where traditional sports cars make sense. Underneath it all, these builds, factory-made or otherwise, speak to the part of us that craves adventure.
Amazing events like the Rebelle Rally exist because there is a desire see what drivers and cars can accomplish when they break free from the confines of the transit grid. So much of the world remains, as of now, unpaved and this trend of performance off-roaders is another way of expressing our desire to explore it. The fact that companies like Porsche and Lamborghini are embracing it is an indicator that this is a growing trend, otherwise, they wouldn't have bothered. It might be that car buyers are opening up to the fact that an SUV might not be the ultimate solution for their automotive needs and desires, and automakers are preparing for that.
It's worth mentioning too that the increased participation from manufacturers means also means the increase in reliability and support for such vehicles, something that third-party tuners can't match, resource-wise and far safer than DIY builds. Wouldn't it be nice to have a Safari build with a factory warranty?
Whatever the reason, our little automotive world continues to grow in fascinating ways, and it will be exciting to see what comes next, now that we're once again realizing that there are even fewer boundaries to what cars are capable of.