How The Rebelle Rally Became Automakers' Favorite Proving Grounds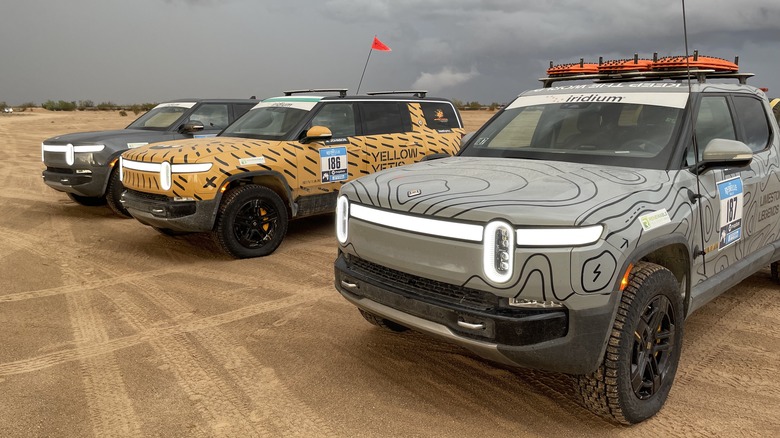 Derek Powell/SlashGear
The Rebelle Rally, an all-female off-road competition that takes place annually in the mountains and deserts of America's southwest, is arguably one of the most eagerly anticipated events of the year in certain circles. It inspires friendly competition, sisterhood, adventure, excitement, terror, lust.
I experienced all of these emotions, and more, when I covered the rally in 2018. To be fair, my first day on the course happened to be the one-month anniversary of my father's death, so I was a hot mess, to put it mildly, full of loneliness and regrets and vague determination, counting the hours until I could open a bottle of wine at that night's basecamp. Then I was strapped in the back of a Jeep Wrangler while two women — one a former Olympic ski jumper, the other a diving trainer for Navy SEALs — took turns at the wheel, gleefully and fearlessly bounding over rocks, kicking up dust, and catching the sides of tires on the edges of steep switchbacks with what I imagined to be just a couple inches of traction keeping us upright and, well, alive. My helmet bashed relentlessly against the Wrangler's roll bars. I'm tougher for it, or so I like to think.
All this to say, the Rebelle Rally changes people. Even though I didn't drive, merely observed. I'm hardly the first, or the best, to say this. In the years since I attended, it's increasingly become an annual rendezvous for female auto journalists, usually on a team sponsored by an auto manufacturer, and, interestingly, a tough group of women employed by automakers. Talk about a dream job. And it's a job that keeps this important event thriving.
The Rebelle's roots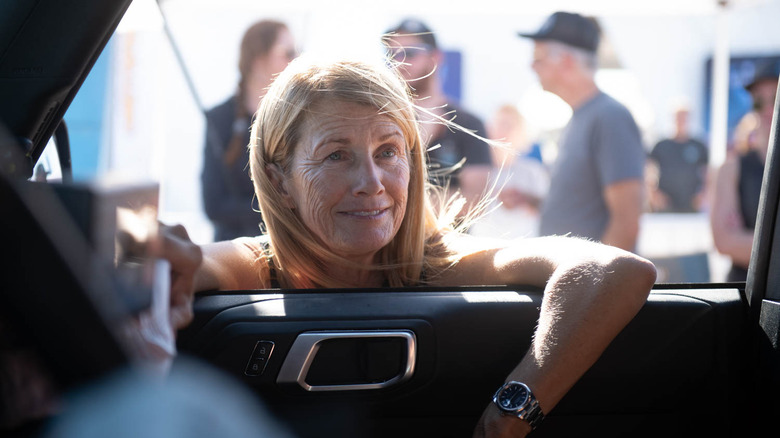 Rebelle Rally Photos
As competitors and even lucky bystanders grow and change, so does the Rebelle, with a different course every year. Near the end of my trip four years ago, I spent a day riding shotgun and chatting with Rebelle Rally founder and formidable international rally competitor Emily Miller. Talk about fearless.
Back then, Emily shared some of her secrets such as her thoughts planning each year's course, an incredibly complex process that takes the full year leading up to the Rally. An insider tip to future competitors: take a moment at each checkpoint, as many of these spots are special, and Emily sent you there for a reason.
A quick explanation of Rally scoring: it's not a race; it's about skill and strategy. Three types of checkpoints are planted along the route, some with large flags, some with small markers, and some invisible, with the latter being by far the most valuable as they're located only through precise navigation and driving. The goal, in a nutshell, is to use navigation and precision driving to find as many checkpoints as possible, as efficiently as possible.
That's why the teams are rightfully the stars of the show, while the vehicles are means to an end. Yet another key part of the Rebelle's evolution is its growing reputation as a proving grounds for auto manufacturers. The manufacturers, of course, have their own test tracks and facilities, favorite remote areas for putting new models through the wringer, and specialized procedures, but the tough conditions of the Rebelle have proven valuable for an increasing number of automakers — and have even resulted in some real-world changes to actual vehicles currently on sale. The Rebelle Rally changes people for the better, and it changes cars for the better, too.
The case for electric vehicles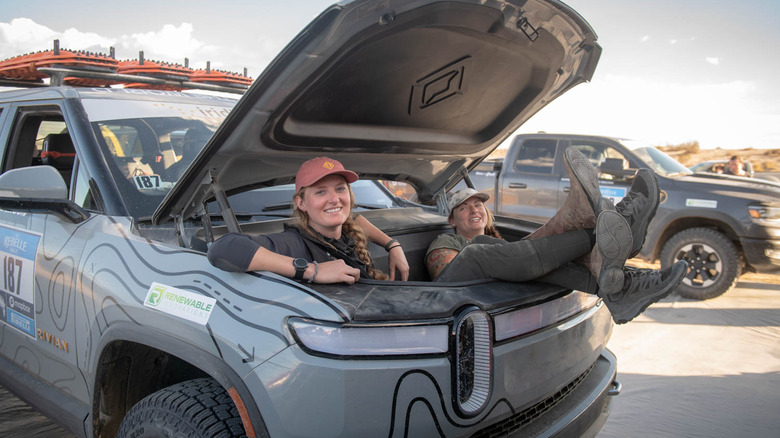 Rebelle Rally Photos
Rivian is a particularly interesting case, since it was Rivian's Director of Corporate Communications, Amy Mast, who reached out to Emily and the Rebelle Rally several years ago to discuss competing in the then-prototype R1T. That is, back when people were only just hearing about the EV startup. 
"We were proven enough by that point that we got to come out and run the rally and actually began the EV class that year," said Lilly Macaruso, Senior Special Vehicle Engineer at Rivian.
"Our first prototype we ever made was at the Rebelle two years ago," added Rosanna Nuch, Senior Service Lab Technician at Rivian. "That shows a lot about Rebelle being a proving ground."
Lilly and Rosanna were joined by their colleagues Alex Anderson, Senior Mechanical Engineer, and Nicole Johnson, Director, Design HMI Architecture, on this year's two Rivian teams. All were Rebelle rookies, though Nicole, Rosanna, and Lilly had done time as mechanics on the Rebelle support crew for Rivian's first two years participating.
The rally to production feature pipeline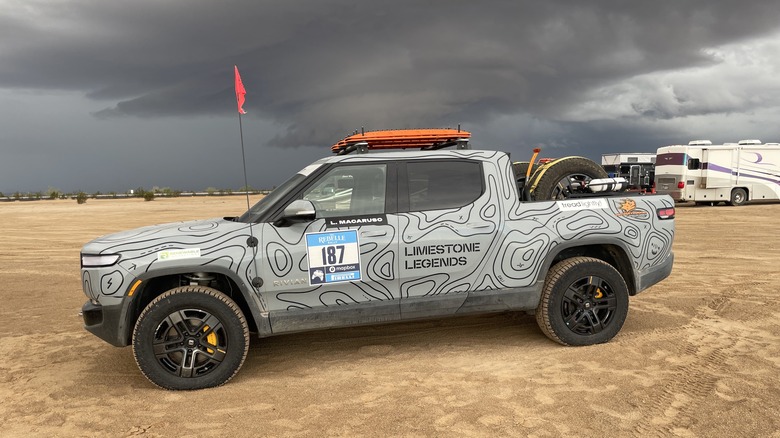 Derek Powell/SlashGear
In other words, over just a few short years, the Rivian team has inspired the Rebelle Rally to create a class specifically for electric vehicles (which brought a new set of challenges for both the Rebelle crew and the competitors, particularly the complexities of charging vehicles out in the middle of nowhere), competed in prototype and preproduction vehicles, and developed and field-tested new features that are now officially available in Rivian trucks.
"I think it's a really cool experience this year to not only have internal employees but also to be able to drive that version of the vehicle that's now, through OTAs and software, almost a different vehicle than it was a year ago, and learning how the vehicle behaves now, with different updates and different features," said Nicole. "My team works on a lot of those features, so it's exciting to be able to drive it and experience it in the most extreme-ish conditions."
More carmakers return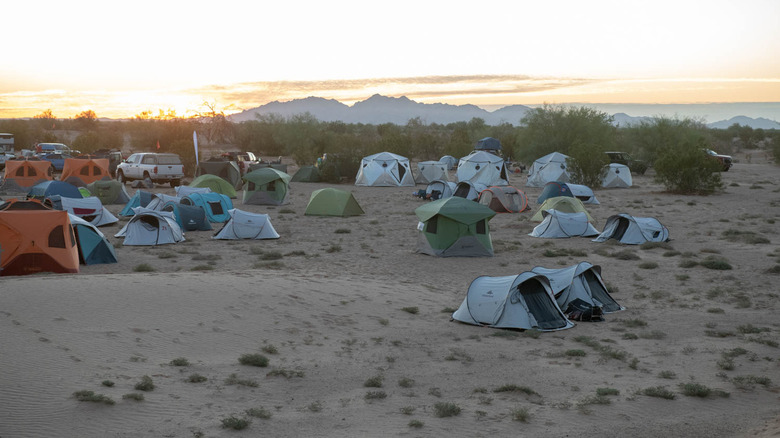 Rebelle Rally Photos
This year, nine other auto manufacturers participated in the Rebelle Rally alongside Rivian, and, more notably, four of those companies sent their engineers to compete. That's "unheard-of in racing," according to Emily Miller.
It was Honda's first year competing in the Bone Stock category, for example, though the company's previous three years have proven valuable in making Honda vehicles more suited for various terrain.
"Since Honda's first time competing in Rebelle during 2018, we have applied in-house fabricated skid plates to all our participating vehicles," said Liz Long, a Honda Chassis Reliability Engineer who competed this year as well as in 2021 and 2019. "These skid plates were designed to reflect early designs for the 2023 Pilot TrailSport. Rebelle Rally has been a great additional proving ground to demonstrate that this design is robust and ready for adventure."
Kia's team, Tana White and Verena Mei, aren't Kia employees, but are in their second year driving and navigating for the brand, this time in the Sportage X-Pro.
"If there's anyone who'd drive a Kia Sportage half as hard as our engineers, it's the Rebelle Rally team," said Kia communications rep Karla Gonzalez. "Kia's team of engineers enjoyed meeting the team and hitting the trail with them, and it's incredibly satisfying for them to witness a vehicle they helped develop being pushed to its fullest potential. The team learned from the engineers as much as the engineers learned from the team."
Everyone's On Board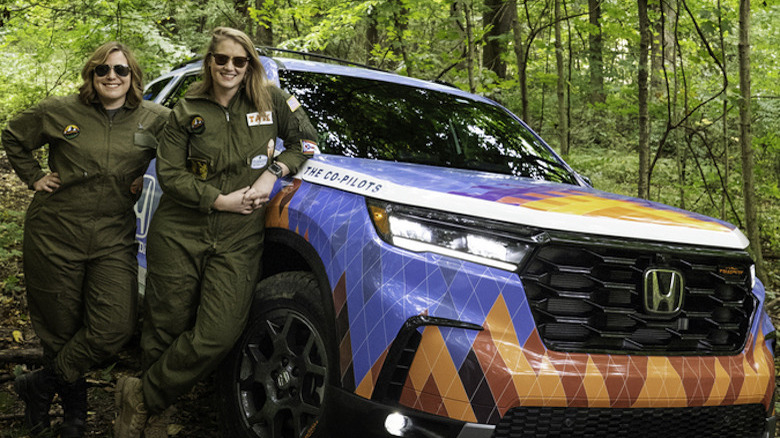 Honda
Sponsoring a Rebelle Rally team is a big commitment that requires support from all levels of an automotive company. About 10 to 15 Kia employees directly contributed to this year's efforts, including members of the communications, engineering, product quality, and design divisions, though the whole company cheered on the team, all the way up to the executive management suite.
It's a similar story at Honda, where employees with backgrounds from manufacturing, facilities, testing, and design helped with the extensive planning and preparation, including training in off-road driving and navigation.
"Not only do motorsports help our engineers transfer learnings into the development and manufacturing of next-generation Honda and Acura vehicles, but it also helps all associates develop leadership and project management skills," said Hillary Tate, Administrator of Design and Construction for Honda Facilities, a Rebelle Rally rookie, and Liz Long's teammate this year.
It might sound like manufacturer teams have an advantage over other competitors, but it doesn't play out that way. Rivian's teams, too, were supported by colleagues across the company during training and prep, but knew from prior experience as mechanics that regardless of what happened on the course, they were on their own once the competition officially started.
Cast and crew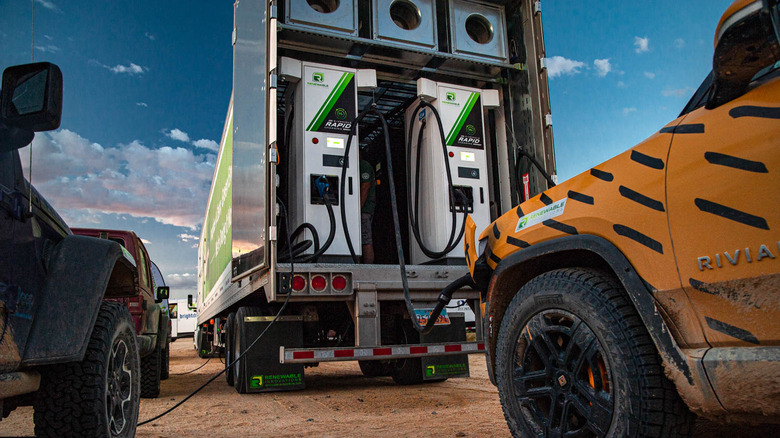 Rebelle Rally Photos
One of the ways the Rebelle Rally has changed since Rivian started participating is that Rivian now sends mechanics to join the Rebelle Rally crew. This ensures there are experts on site who know how to work on the vehicles, and who can help charge all the EVs and plug-in hybrids that now participate (another major logistical challenge for the rally coordinators). That can prove tricky from the mechanics' perspective, since they have to resist the impulse to chat or commiserate with their friends and colleagues.
"That was definitely one of the hard things about being part of the crew last year, especially being in the mechanic's pit," Rivian's Rosanna says, "you can't give any sort of advice, help, in any sort of way, even if it's something like, 'You left your door open,' or whatever,"
Nor do mechanics prioritize their company's vehicles; any repairs during the competition are first come, first serve. "Honestly, once we're there, any [mechanic] staff we bring is embedded with the Rebelle team and they become Rebelle team that just so happen to know about Rivians," added Lilly.
Room for improvement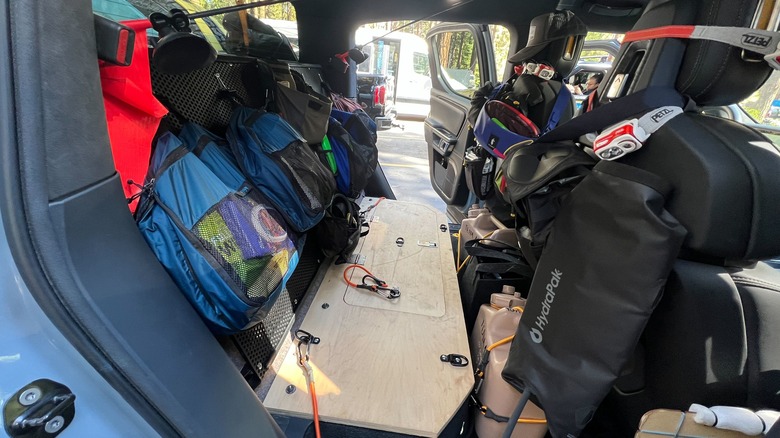 Rivian
Rivian buyers can thank the Rebelle Rally and the Rivian teams for two vehicle features that have since made it to production. "Our truck, every time we went into the sand, we had this preconceived idea that it's too heavy, but it's actually not, it floats so well," explained Lilly. "It's more about the difference in throttle. With regen and with really aggressive friction brakes, which are really great on-road, it plows the sand."
The solution is Soft Sand Mode, a driving mode added earlier this year that helps Rivian vehicles handle sand. It's unlikely most Rivian drivers will be tackling California's toughest dunes with as much precision as the Rebelle competitors, but it's there if they want it.
Another such feature, first fashioned out of a Raspberry Pi computer module and some Home Depot hardware, is a "black box"-type data recorder that lets the driver check on stats such as battery and motor temperatures.
This year's vehicles, the R1T and R1S, are stock except for rear seat deletes and custom storage modifications, most dreamed up, designed, and 3D-printed by Alex. These cargo and storage options might not make it to production, though they've inspired some cargo management upgrades in Rivian's service truck fleet.
Ready to go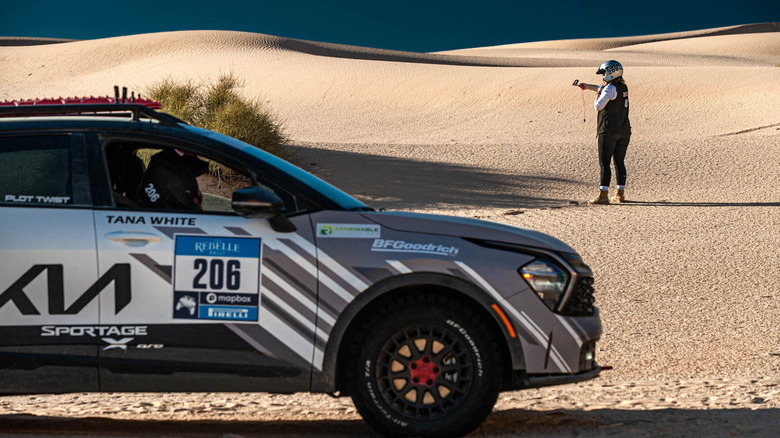 Rebelle Rally Photos
Just a few days before the Rebelle Rally kicked off, the manufacturer team competitors were as ready as they could be.
"We admire everything the Rebelle Rally stands for," said Karla from Kia. "It's truly inspiring to see women from all walks of life compete in this unique challenge, honing skills and techniques that help them not only on the trail, but also in daily life. Their perseverance in getting through the tough spots, the grit they display –- it all aligns with Kia's new mantra, "'Movement that Inspires.'"
"I think we're trying to balance the fact that we know we trained for at least the past year and all our training has led us to this point, and we feel confident in that, but also being humble about the fact that we don't have a clue what we're doing," said Lilly, while her Rivian teammates nodded and laughed.
"We have so much incredible support from all across the company, whether it's people sending well wishes and Slack messages, or everybody from our mechanic team to our UX team who built a feature for us, and software getting it done in time and going out to test it for us just a couple weeks ago, and such, people — pun not intended — rallying around us for this," added Nicole.
The finish line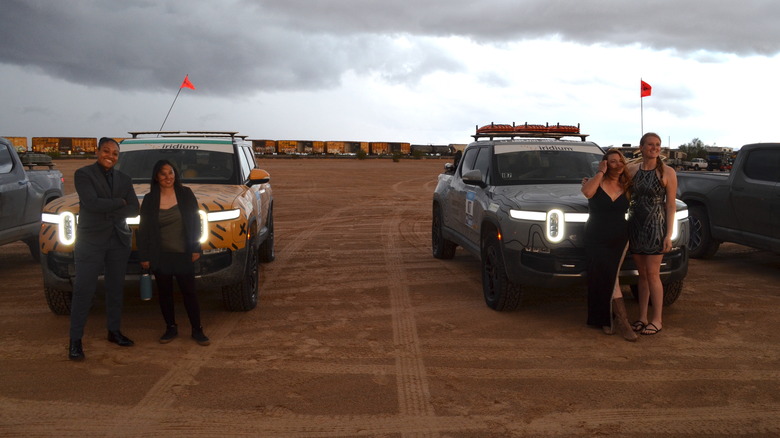 Derek Powell/SlashGear
The final leg of the 2022 Rebelle Rally, Friday, October 14, led the teams to the finish line in the Imperial Sand Dunes in southern California. Dunes are particularly challenging: there are no permanent features to aid navigation, the glare of the sun is disorienting, the entire landscape changes with the wind, and it's really freaking hard to drive on sand, let alone drive with precision.
When the scores were tallied, Team 187, the Rivian R1T piloted by Lilly and Alex, finished in fourth place in the 4x4 class, achieving 85% of the available points. Team 186, Rosanna and Nicole, earned 70% of available points, good for a 20th-place finish (out of 45 teams in the class). In the much smaller X-Cross class (designed to accommodate the growing numbers of crossovers that compete), Tana and Verena of Kia's Team 206 placed fifth, and Liz and Hillary took Honda Team 208 to sixth, with 74% and 71% of points, respectively.
Yet — female empowerment moment ahead — it is rightfully said that every competitor is a winner just by virtue of the experience. And as more auto manufacturers embrace this event, we'll all have more diverse adventure-capable vehicles to watch, admire, and drive, and with that, more women may be encouraged to take a chance on a new challenge.