McLaren Artura First Drive: Don't Fear The Hybrid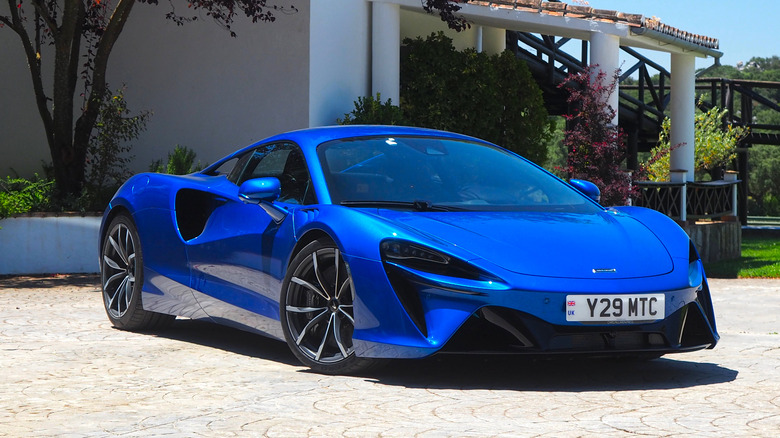 Chris Davies/SlashGear
The Artura isn't McLaren's first hybrid, nor the first gas-electric supercar we've seen. As the British automaker's first series production hybrid, though, it's a sign of faith in the readiness of the technology as much as anything else. That leaves the Artura as a $233,000 statement to McLaren's vision of how its future will embrace electrification, and not just for outright performance.
It's a car of firsts. While McLaren offered its hybrid P1 back in 2013, that was a limited run of 375; the Artura, in contrast, will be part of the company's main range, effectively replacing the 570S as the Super Series is retired. It debuts a new V6 gas engine — smaller and lighter than McLaren's usual V8 — a new e-motor, new 8-speed gearbox, and a new electronic locking differential.
What's carried over is speed and focus. The Artura will do 0-60 mph in 3.0 seconds; it'll keep going to a top speed of 205 mph. Everything — from the design, to the new carbon fiber platform, to the bespoke switchgear and its positioning — is done in the name of maximizing how, well, godly you feel behind the wheel, even if all you're doing is cruising through a dense city center. And to back up all that newness, there's an unusual five-year vehicle warranty, three years of servicing to settle any supercar shopper qualms, and even the option to extend that for subsequent owners. I'm not saying the Artura is a sensible purchase, but fear of the new need be no reason to avoid it.
Styling with purpose
It's fair to say McLaren's aesthetic legacy is a divisive one. Some enjoy the automaker's "functional style" where aerodynamics take the lead; others are blunter in their descriptives. Personally, I think they look futuristic and intentional, but design is of course subjective.
The Artura, though, encapsulates McLaren's ethos better than many of its siblings. It's smaller than you might expect, full of familiar hints — like the sweeping front fascia, the flying buttresses of the roofline, and the lengthy rear deck — but tauter and more determined. The way the rear mesh fits perfectly into the aperture left by the engine cover and fenders, for example, makes for one of my favorite McLaren rumps so far.
Fan-favorite dihedral doors are present and correct, though thanks to swinging up and out at a narrower arc they end up closer to the Artura's body and so demand less width in a parking space. Even absent roof cutouts, the Artura is unexpectedly easy to get in and out of, without losing all grace in the process.
Engineering above all else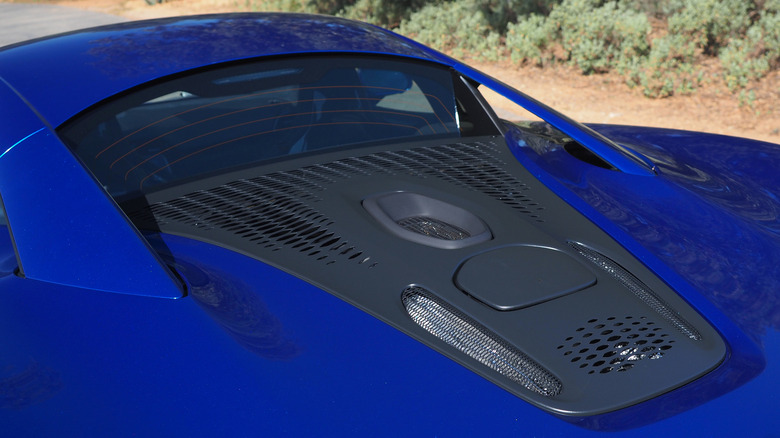 Chris Davies/SlashGear
They also — like so much of the McLaren story — benefit from some engineering explanation. It's easier to appreciate the styling, I think, if you know that the automaker pushed its "superforming" panel construction to new limits, paring the Artura back to just eight major exterior sections. The whole rear clamshell is a single piece, for example, a roughly 10% weight saving; so, too, is the roof and its A-pillars. Not only does it trim back unsightly shutlines, it also assists with aerodynamics.
Those reworked doors, meanwhile, are now single-piece superformed aluminum. At under 49 pounds, they're a third lighter than previous McLaren doors, and they've been designed to integrate perfectly into the side cooling paths.
A new platform fit for a performance hybrid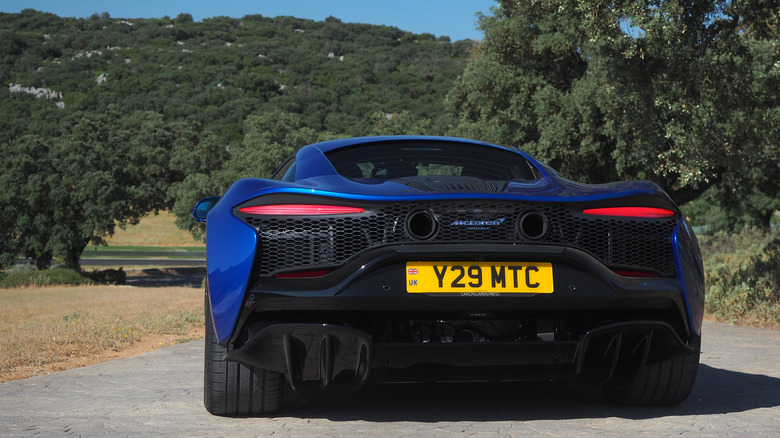 Chris Davies/SlashGear
Underneath is a new platform, the McLaren Carbon Lightweight Architecture (MCLA), using a carbon fiber monocoque assembled from over 500 pieces. It's lighter than the old chassis design, despite being stronger, lower, and stiffer, but also newly integrates things like the B-pillars. To it, McLaren adds aluminum structures and subframe, plus a multi-link rear suspension system.
It's not the only advance you don't necessarily see, but which brings more benefit than you might expect. McLaren's new ethernet-based electrical architecture is faster and more capable than before, but trims the weight of the overall cabling by 10%. It also paves the way for OTA updates via an embedded SIM, allowing McLaren to remotely upgrade everything about the car, bar the safety systems. They'll still require a trip to the dealer.
Connected tires for a smarter supercar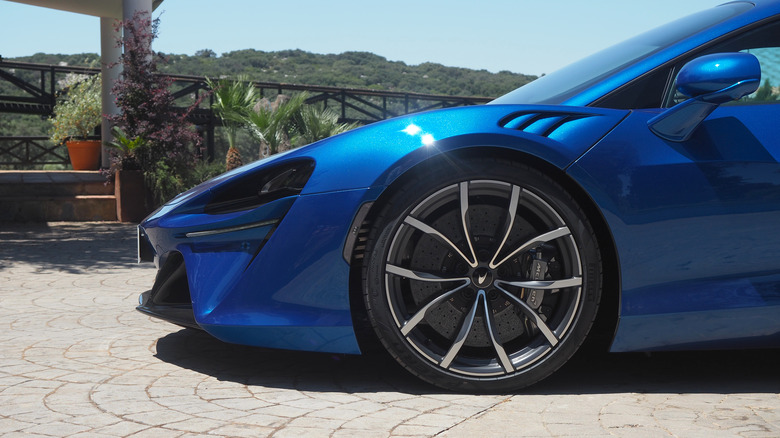 Chris Davies/SlashGear
Taking advantage of the new electronics platform is McLaren's partnership with Pirelli, and the use of Cyber Tyres on the Artura. Rather than the typical valve stem pressure and temperature monitoring, which can be confused by rim conditions among other factors, a sensor blister integrated into the inner tire itself communicates via Bluetooth with software running on the PHEV's own systems.
Not only does the Artura know exactly whether you've fitted Pirelli's P-ZERO, P-ZERO Corsa, or P-ZERO Winter rubber — adjusting pressure and temperature specs and alerts accordingly — you get real tire pressure and temperature readings from the moment the car is started. There's also a track mode, which allows you to dial in your target race specs and not be bothered by alarms if, say, you've tweaked the pressures from road levels. The downside is that, while you can drive on non-Cyber Tyres in a pinch, the Artura won't work with traditional pressure sensors.
A convincing daily-driver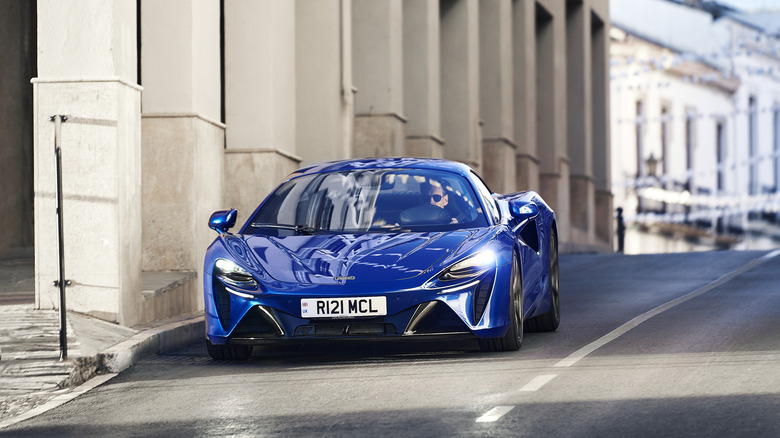 McLaren
You can use a McLaren 720S as a daily-driver, or a 570S. Indeed, that ability to be a track-storming, rip-snorting beast by one turn, and a generally pleasant ride to Costco the next has been a hallmark of McLaren's road cars for pretty much its whole decade of making them. The Artura, however, doubles-down on that.
E-Mode and Comfort modes are the key there. The former locks the Artura to electric drive only; the gas engine won't rouse itself until the 7.4 kWh battery is flat, even if you stomp on the accelerator all the way. You can drive up to 81 mph, and with 94 horsepower and 166 lb-ft of torque from the e-motor alone it's not a slow experience, even if it's not exactly supercar territory either. McLaren expects around 11 miles of range once the EPA has had its say.
Comfort mode, meanwhile, blends both parts of the drivetrain. The V6 wakes at higher engine speeds, as well as during periods of more aggressive driving. Meanwhile the transmission will err on the side of earlier shifts, to maximize smoothness and fuel efficiency.
With more hush, cosseting adaptive damping and proactive damping control, and unexpectedly syrupy auto shifts in Comfort mode thanks to the e-motor delivering torque in-fill, the Artura simply purrs around urban environments. The electric drive isn't quite as quiet as many mainstream EVs, but since the McLaren starts up pretty much silently now it could help make the supercar more neighbor-friendly (if that's something you're concerned about). By default, Comfort mode will aim to keep the battery at around 10-15% charge, tapping engine power to do that.
Genuinely fast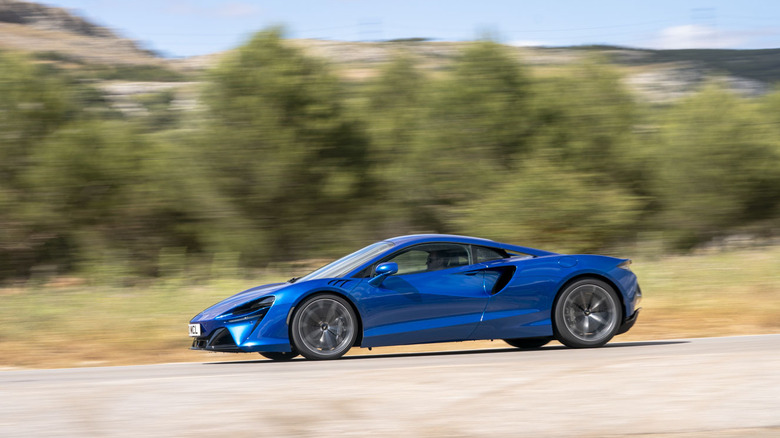 McLaren
With that usability in mind, and a smaller gas engine behind the seats, it'd not be unrealistic to expect McLaren to have dialed back the ferocity of the Artura when you want to push hard. Happily, though not quite as lairy as a Longtail, the PHEV certainly isn't shy of speed.
As in the automaker's other cars, there's Sport and Track settings for both powertrain and handling. Both keep the V6 running constantly, using it primarily for propulsion but also to ensure there's always enough battery charge for you to enjoy maximum power. By default that means 40% in Sport and 100% in Track, though you can override and aim for a full battery through the infotainment system.
The M630 engine is a 3.0-liter twin-turbo V6, and though it may be smaller in capacity and down two cylinders compared to McLaren's usual powertrains, that only makes its performance figures more impressive. It brings 577 horsepower and 431 lb-ft of torque alone, nearing the mind boggling 200-horses-per-liter milestone. The Artura pairs all that with a new 8-speed transmission, cleverly skipping a reverse gear by simply spinning the e-motor it shares a bell-housing with backward.
Gas and electric harmony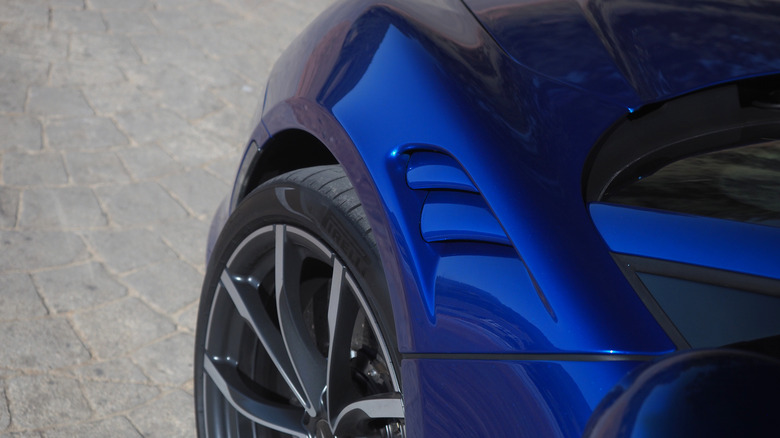 Chris Davies/SlashGear
Total system output is 671 horsepower and 531 lb-ft of torque. Undoubtedly impressive enough on paper, but it's how they're delivered in practice that truly wows. It's not like turbo lag was much of a problem for McLaren before, but it's positively anathema to Artura.
As we know from other EVs, the electric motor brings its torque to bear pretty much instantaneously. That more than smooths out any delay for the gas engine to get into its own 2,250 rpm peak torque powerband. At higher speeds the V6 shoulders more of the overall punch, but that leaves the e-motor to fill in what would otherwise be dips in power during the transmission shifts. 
The result is immediacy like little else. McLaren's 3.0 second 0-60 mph time seems conservatively slow, frankly, given how the Artura screams away. What lingers is the sense of power being smooth and uninterrupted. Even slamming through the gears at the infamous Ascari racetrack in Malaga, Spain, you struggle to spot a moment where the drivetrain isn't just pulling hard.
Cohesive in a way other supercars don't achive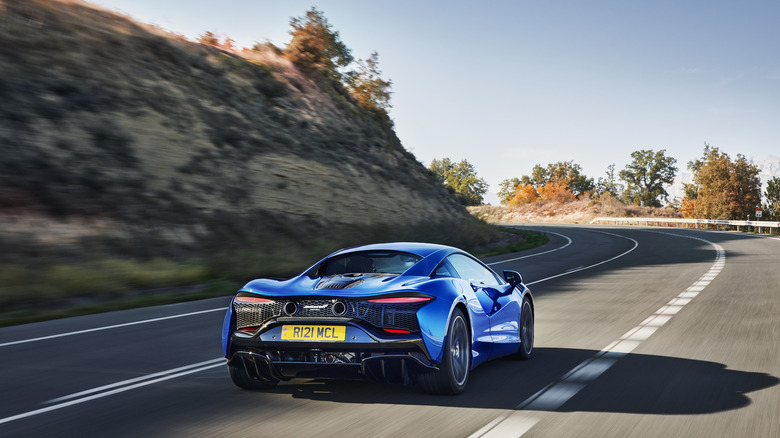 McLaren
It feels cohesive in a way that some other supercars don't quite manage. Harmonious, in a way that flatters average drivers and undoubtedly sharpens the capabilities of those more talented at the wheel. McLaren intentionally skipped all-wheel drive — it would add too much weight and bulk — but did fit the Artura with its first electronic locking differential (E-diff) to move power between the rear wheels.
Torque vectoring is showing up all over the place these days, and with excellent reason. By individually controlling power to the rear wheels, left and right, you can adjust how much each gets when you're going through corners. Deliver more to the outside wheel, and your turn is tighter and sharper.
In Track mode, the Artura's goal there is to help deliver the perfect line with no slack either way. Combined with the beautifully weighted steering, the result is scalpel-level accuracy in tight corners, and a predictable grip that belies the absence of AWD. However, Variable Drift Control also allows you to dial in controlled slip for more manageable playtime; or, you can shut the ESC off altogether.
Any track car requires focus, but the Artura experience is unexpectedly free of tension. It's not that the plentiful tech is noticeably weighing in and adding distance between driver and asphalt; more that it just lacks some of the rougher edges (maybe otherwise known as compromises) that rival supercars can often exhibit.
The cabin is clean and unique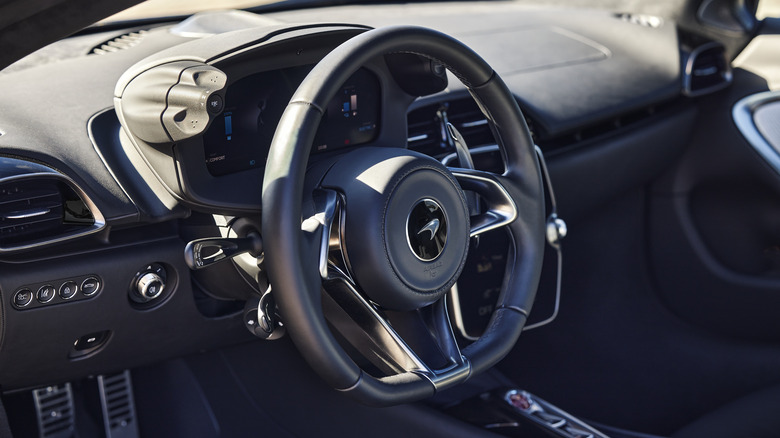 McLaren
The scrupulous focus is carried over to the cabin. With no corporate parent to share a parts bin, McLaren has always made its own switchgear and — with beautifully milled knobs and buttons — its cars have always felt more special for it. The Artura's interior feels thoughtful and refined with it.
Absent is the 720S' eye-catching but complex motorized cluster display: instead, there's a clear, bright 10-inch HD panel for the digital instrumentation. It's now fixed to the steering column, though, sliding with your wheel adjustments, so as to be always at the perfect distance. Flanking the screen are new toggle controls for drivetrain and handling modes, operable now without taking your hands off the wheel.
An 8-inch center touchscreen — using an HD optically-laminated panel — floats in a sturdy metal frame, with a volume and select knob on the side. It uses the latest version of McLaren's Android-based infotainment, upgraded with Apple CarPlay and Android Auto support (wired for now, but wireless later in 2022), and looks and feels far cleaner and more responsive than before. Unlike the Super Series, you can see it even if you're wearing polarized sunglasses; unlike the 720S and its derivatives, it's swift and far less buggy.
The other big interior improvement is the seating. The standard Clubsport buckets gain an adjustable back: though still fixed angle, they now tilt on an arc so as to better suit drivers of different sizes. More cosseting still is a Comfort seat with more familiar power adjustment.
What's missing from the Artura recipe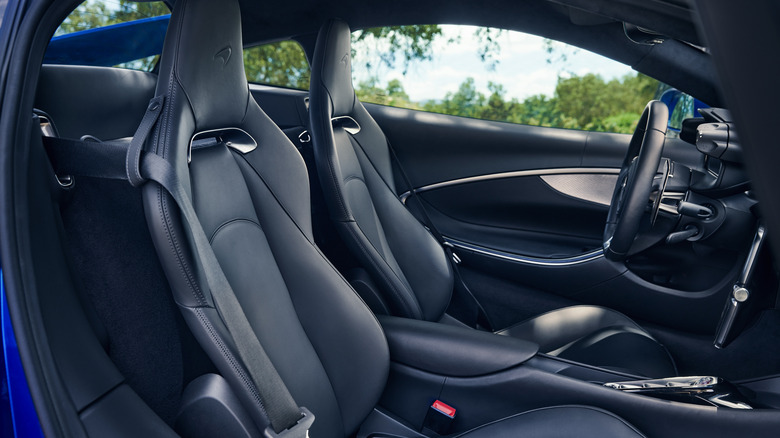 McLaren
There are a couple of omissions in the Artura recipe. The first is engine sound: a few more snaps, crackles, and pops from the V6 wouldn't go amiss. It's not that the McLaren is quiet on the track, but having heard some of the automaker's recent screamers it'd be nice to have a bit more fury when you're properly flogging things.
The other oddity is the absence of regenerative braking. While the Artura will top up its battery using spare gas engine power, or of course you can just plug the PHEV into a charger, there's no recovery of power while you brake. McLaren's argument there is that it makes for a consistent feel, which — like sticking with hydraulic power steering — is of primary importance. It's the same reason the company avoided brake-by-wire.
I get that, but it still feels like a missed opportunity. For a start, using regen to slow has demonstrated itself to be a fiendishly useful thing on performance EVs, not to mention a sold way to recuperate power that would otherwise be squandered. The Artura's brakes do, indeed, feel reassuringly consistent and certainly not lacking in potency, but they're an old-school edge in what otherwise feels like a thoroughly modern supercar. Being able to modulate speed with a single pedal might not be what performance car fans are used to, but that doesn't mean it's bad, and McLaren's excuse feels like an unexpected cop-out.
How driver-friendly is too driver-friendly?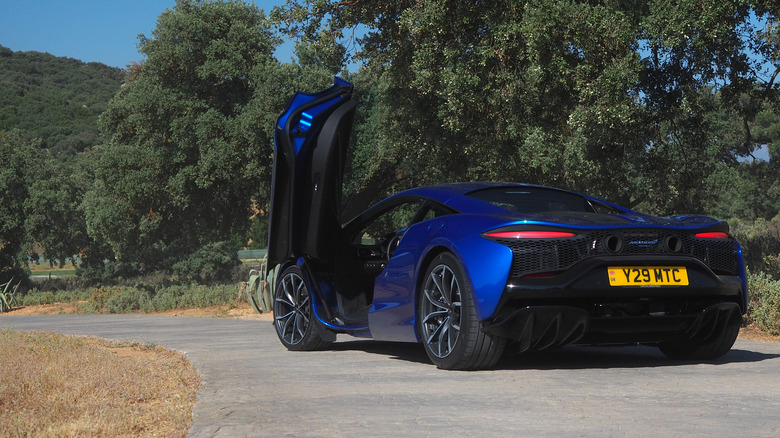 Chris Davies/SlashGear
More broadly, I could see some arguments that the Artura is perhaps too user-friendly. This is definitely the most usable McLaren that the automaker has made, more so than even the GT or the flatteringly flexible 720S. As well as its whispering electric mode, there are mainstream niceties like adaptive cruise control and lane departure warnings.
The reality, McLaren execs tell me, is that while some buyers want rip-roaring, snarling melodrama each of the (typically relatively rare) times they drive their car, others approach ownership more pragmatically. McLaren owners usually drive their cars more than the average supercar, including longer trips and in some cases as their everyday vehicle. While it's easy to play horsepower bingo and treat 0-60 times as the most important metric, the idea of usability being of equal importance is key to understanding the Artura's appeal.
McLaren Artura verdict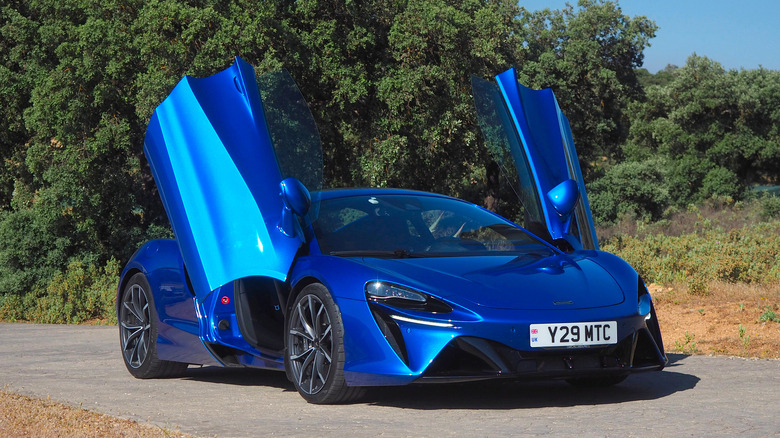 Chris Davies/SlashGear
Make no mistake, either: this is a deeply appealing supercar. Instantly recognizable, in look and feel, as a McLaren, and yet distinctive from everything else we've seen from the automaker until now. Futuristic and hardly afraid of new technology, yet still deeply centered in mechanical precision and a bluntly-honest appreciation of the continuing value of combustion engines.
The age of electrification is undoubtedly upon us, but it's not advancing at the same speed across every segment. Supercars — smaller and lighter than SUVs and sedans — lack the packaging flexibility for the big batteries currently required to go fully electric: the entire Artura weighs not much more than the battery alone from a Hummer EV. This blend of today's electric technology and a cutting-edge gas engine feels like it could be today's answer for electric supercars too.
All the same, only the most obstinate would refuse to see the writing on the wall. McLaren's e-motor packs an outsize punch, more than offsetting the two-cylinder loss, and as battery technology advances it's not difficult to see the electric side of the supercar playing an increasingly large role. Having got a taste of just how well that works in the Artura, far from something to fear, I can say that's absolutely something performance enthusiasts should be embracing.