The Six-Figure Supercar Aaron Carter Got As A Gift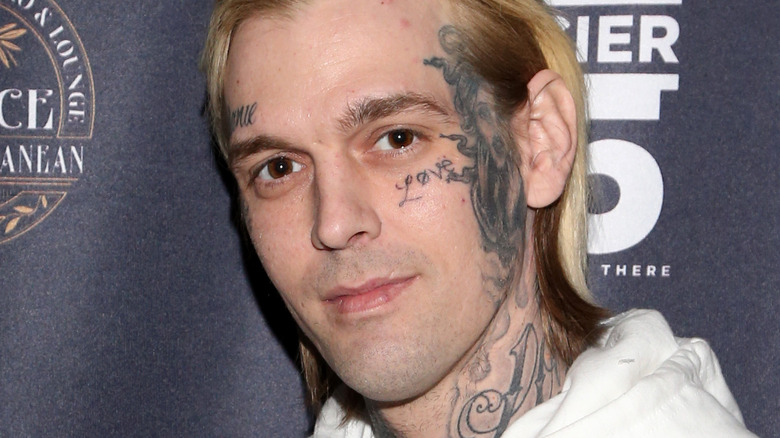 Gabe Ginsberg/Getty Images
Late pop singer Aaron Carter was gifted a shiny supercar in his favorite color just a few months prior to his passing. The younger brother of Backstreet Boys' Nick Carter made a name for himself in the '90s, debuting his self-titled album back in 1997. Aside from his music career, the former actor also starred in a number of films and TV shows, including a celebrity boxing match with basketball star Lamar Odom. On Saturday, November 5th, 2022 however, Carter was found dead in the bathtub of his home in Lancaster, California (via CNN). Authorities did not disclose his cause of death. 
Several weeks before his passing, though, the late pop star revealed the most recent supercar he got as a gift in an Instagram post. The car in question was said to be a 2022 Lamborghini Huracán painted in what Carter remarked was his favorite color — orange. Now, the 2022 Huracán comes in different variants, each having its own set of improvements over previous years' models. In addition, the Italian automaker even unveiled a Huracán variant that's also a dirt monster, intended to let the raging bull off the asphalt without resorting to its Urus SUV cousin. So, just what kind of gift did the late pop icon receive, exactly?
What kind of Huracán did Aaron Carter get?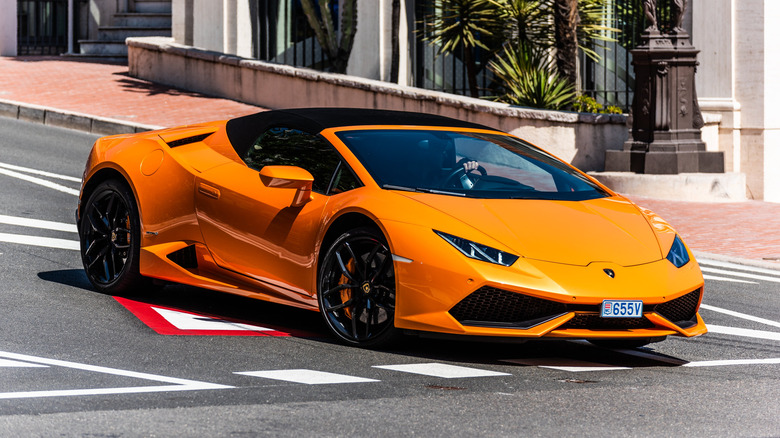 Kaukola Photography/Shutterstock
Despite the Instagram picture caption stating the car was a 2022 model, Carter explained in the caption that it was actually a 2017 model with 4,000 miles on the odometer. It was apparently gifted to him by his manager, allegedly costing a whopping $255,000. The singer's supercar appeared to be a 2017 Huracán Spyder, a soft-top convertible with a cool 602 horsepower courtesy of a naturally-aspirated 5.2-liter V10 engine powering the rear wheels (via Car And Driver). The 2017 Huracán Spyder can go from zero to 62 mph in just 3.6 seconds, achieving a top speed of 198 mph. What makes this version of the Huracán worth getting is the way it conveniently transforms from a race machine to a tame city cruiser, according to Motor1.
For Carter, though, part of the car's appeal was also the color. While the options for most mainstream cars skew toward relatively conservative, safe finishes — and driver demand follows suit – like gray, white, and black, many Lamborghini fans opt for something more eye-searing for their head-turning supercars. Although Lamborghini will happily customize a car in a bespoke paint finish, it already has several different orange options in its regular catalog. They run the gamut from smoldering burnt umber through to love-it-or-hate-it neon orange that wouldn't look out of place in a soda can. 
As for orange that decidedly is not on the official automaker options list, look no further than another of Carter's rides. Back in 2021, the singer posed in front of a particularly ostentatious Cadillac Escalade, itself finished — including the grille — in his favorite color. The Escalade has long been a favorite of musicians, of course, particularly those in the rap scene, though Caddy's most striking hue is the (still fairly restrained) Radiant Red it showed off the latest Escalade-V in.
The end of an era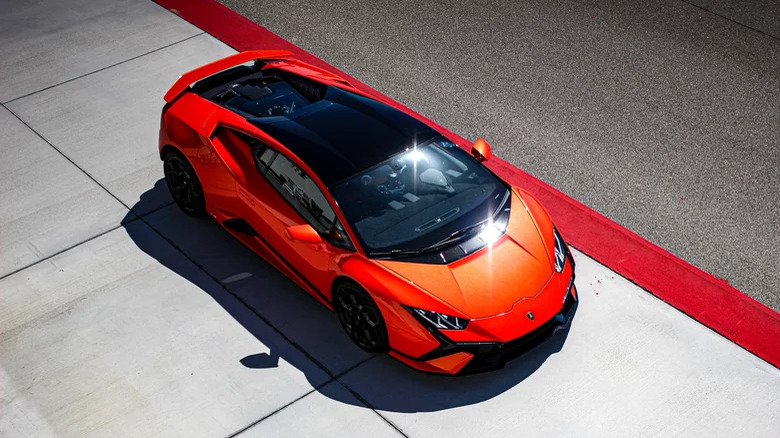 Alex Kalogiannis/SlashGear
The 2017 Huracán Spyder is said to be as "easy to drive around as a Camry," except it can rev all the way to 8,500 rpm and hastily cuts through corners when it needs to. That kind of versatility certainly sounds fitting for celebrities who often need cars that can keep up with their dynamic lifestyle. Although Carter's last car post might have flaunted an already eye-watering six-figure price tag, the Huracán Spyder can cost even higher, with options that can take its price all the way to $280,000. 
Times are changing in the supercar world, however, and even Lamborghini isn't immune to the shifts in the market. The Huracán is facing its final days, its V10 engine being progressively retired as the raging bull looks ahead to the potential of electrification to give performance fans their 0-60 hit. Lamborghini is celebrating that with one final, special edition of the car, the 2023 Huracán Tecnica: it promises to be a culmination of all the V10 lessons so far, for a heady balance of track performance and street capability.
While Lambo's next big act may be electric, Carter's car will now be presumably looking for a new owner. One thing's for sure though, whoever gets behind the wheel of Carter's Huracán Spyder next will certainly feel like a star who's just as big as its opulent price.