2023 Cadillac Escalade-V Is A 682 Horsepower SUV Beast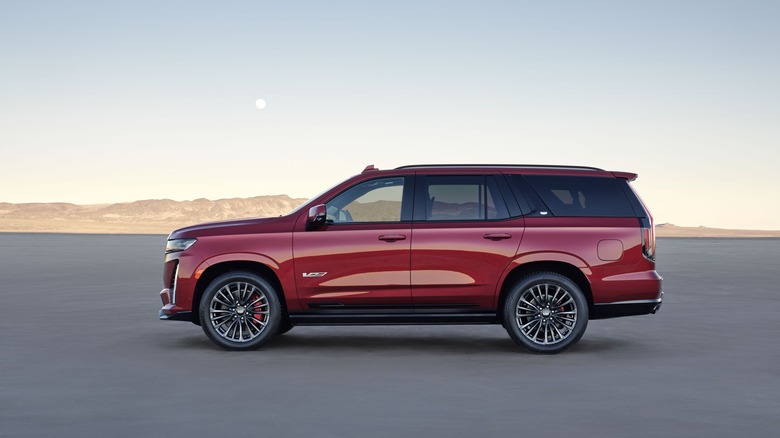 Cadillac
The 2023 Cadillac Escalade-V is the first Cadillac SUV to wear the coveted V-Series badge. The automaker confirmed the arrival of a high-performance V-Series Escalade earlier this year, and rumors immediately began swirling about what could be under the hood of what Cadillac refers to as "the industry's most powerful full-size SUV." We all know the Escalade as a roomy, luxurious V8-powered conveyance. However, the V-Series badge has given Caddy's upscale SUV some bragging rights at the dragstrip.
"We do not deploy the V-Series designation lightly," said Rory Harvey, Global Cadillac Vice President. "The arrival of the 2023 Escalade-V results from a rigorous development program that allows this highly anticipated model to meet the criteria and capability thresholds established by nearly two decades of inspired V-Series performance." 
In addition, the new Escalade-V commemorates Cadillac's 120th anniversary. Henry Leland established the Cadillac brand in 1902 and named the automaker after the founder of Detroit, Antoine de la Mothe Cadillac. The first V-Series Cadillac was the CTS-V unveiled in 2004, and the ultra-high-performance Blackwing variants arrived in 2021 for the CT4-V and CT5-V.
Celebrating 120 years of Detroit muscle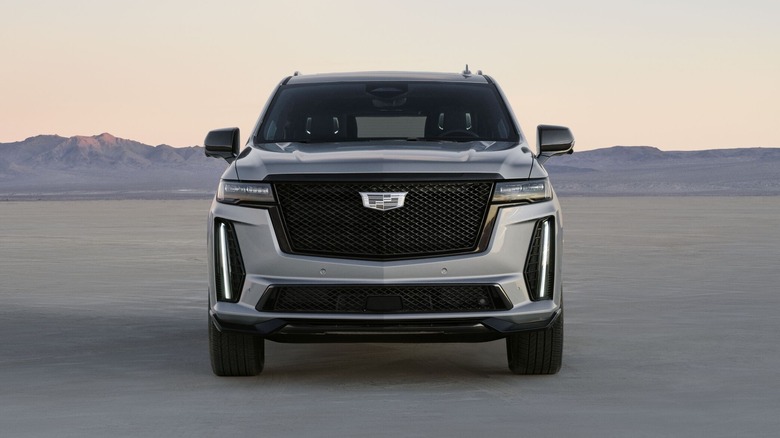 Cadillac
What better way to celebrate 120 years of existence than by crafting the most potent yet opulent full-size SUV money can buy? The 2023 Cadillac Escalade-V has a burly 6.2-liter supercharged V8 like the CT5-V Blackwing. This handbuilt motor features a bigger 2.65-liter R2650 TVS supercharger that spins to 13,500 rpm, pumps out 10 pounds of boost, and has four-lobe rotors to offer exhilarating performance. GM claims the blown mill outputs 682 horsepower and 653 pound-feet of torque, the latter arriving at 4,400 rpm.
"With a power-to-weight ratio among the top in its class and advanced driving technologies to put that power to the pavement, the Escalade-V offers an engaging and energetic driving experience like no other full-size luxury SUV," added Jaclyn McQuaid, executive chief engineer, Cadillac Full-Size Trucks. And when you think about it, the Escalade-V has more power than its peers like the BMW Alpina XB7 (612 hp), Bentley Bentayga Speed (626 hp), Rolls-Royce Cullinan Black Badge (592 hp), and Mercedes-Maybach GLS 600, to mention a few.
How fast is the Cadillac Escalade-V?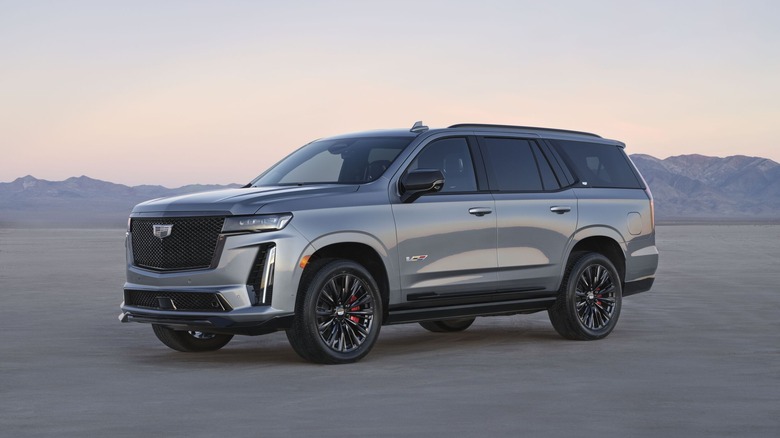 Cadillac
We may be talking about a 6200-pound SUV, but the Escalade-V can accelerate like no other Escalade. Equipped with a full-time active all-wheel drivetrain (with an electronic limited-slip differential), and an updated 10-speed automatic gearbox, the Cadillac Escalade-V can sprint from zero to 60 mph in 4.4 seconds. Furthermore, GM claims a quarter-mile run in 12.74 seconds at 110 mph based on initial testing. The AWD system continuously varies the torque feed between the front and rear wheels to maintain consistent grip.
The Escalade-V has standard Magnetic Ride Control 4.0 with air ride adaptive suspension and bespoke V-suspension hardware to deliver sportier handling without penalizing ride comfort and on-road refinement. A new customizable V driving mode alters the engine and transmission shift points while lowering the ride height by nearly 20 mm (0.8 inches). Additionally, the Escalade-V has launch control for some track-induced driving fun.
Meanwhile, other performance-oriented hardware like six-piston Brembo front brakes (with signature red brake calipers), quad exhaust pipes, and unique 22-inch wheels are standard, too. Despite its performance merits, the Escalade-V can tow a maximum of 7,000 pounds (3,175 kg).
Sophisticated design and hi-tech equipment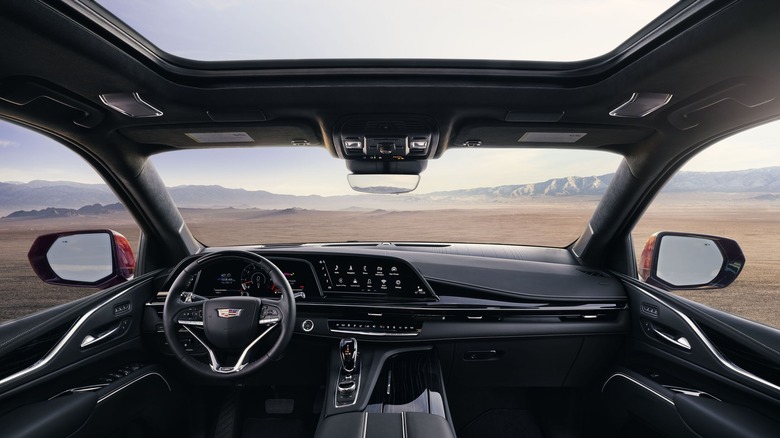 Cadillac
The 2023 Cadillac Escalade-V is a hotbed of groovy styling details and fancy equipment. It has a bespoke sports mesh grille and a distinctive rear fascia. Inside, it has semi-aniline leather upholstery (across all three rows of seats) in Black or Auburn, front massaging seats, a heated steering wheel, and Zebra Wood accents.
Also standard is a 38-inch curved OLED display that boasts twice the pixel density of a 4K television, said Cadillac, and features a 16.9-inch diagonal infotainment touchscreen display with natural voice recognition, wireless Apple CarPlay, and wireless Android Auto connectivity. Meanwhile, there's a 14.2-inch cluster display capable of projecting augmented reality when a navigation route is active. Driving tunes are courtesy of a premium AKG Studio Reference audio system with 36 speakers, 3D surround, and navigation rendering.
Arriving later in the Escalade-V is GM's Super Cruise hands-free driver assistance technology. The system will include automatic lane changing, trailering, and proprietary features like adaptive cruise control and forward-collision warnings. 
The 2023 Cadillac Escalade-V will go on sale this summer 2022 in two trim variants: Escalade-V and Escalade-V ESV. Expect the base prices to start at about $149,990 (including destination fees).