Samsung's Latest Apple Attack Is A Snarky On The Fence Advert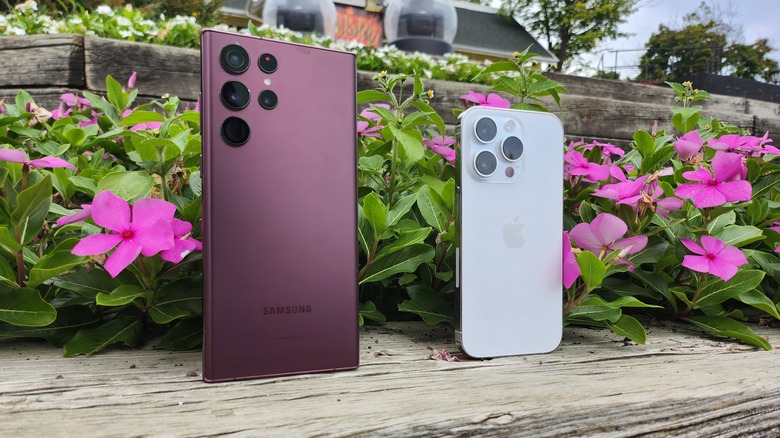 Thanes.Op/Shutterstock
Samsung is back at ribbing Apple, targeting the company's well-known tradition of waiting out innovative smartphone ideas for years before implementing them on iPhones. The latest Samsung ad, titled "On The Fence," doesn't namedrop Apple, but walled garden symbolism and the lure of offering innovations outside the ecosystem in a few years is a dead giveaway that Apple is again on the receiving end of trolling.
The ad shows an Apple fanboy trying to jump over the fence to the other side where there are foldable phones. Of course, it's Samsung's way of flexing that it has made phones less boring, as the company now sells foldable phones like the Samsung Galaxy Z Flip 4 and the Galaxy Z Fold 4. It also helps that with the Galaxy Z Fold and Galaxy Z Flip series, Samsung is the top foldable phone brand globally with at least four product generations worth of experience under its belt.
Apple, on the other hand, has yet to launch a foldable phone and there is no official word as to when that will happen. In January last year, Bloomberg reported that Apple was testing foldable screens, but a fully-functioning foldable iPhone prototype didn't exist back then. The report, however, adds that "a foldable iPhone is likely years away or ultimately may never be introduced." Until then, Samsung will likely keep taking a dig at the iPhones for not being able to fold and flip, unlike Samsung's flagships.
Let's hope Samsung doesn't have to eat its words, again!
Samsung's ad also takes a dig at the lack of high-resolution cameras in Apple's smartphone ecosystem. After years of using a 12-megapixel sensor on iPhones, Apple finally made the jump to an industry-standard 48-megapixel primary camera in the iPhone 14 Pro and iPhone 14 Pro Max. On the other hand, Samsung already offers a 108-megapixel camera on flagships like the Galaxy S22 Ultra. Next year, the company is also gearing up to launch a phone with its own ISOCELL-branded 200-megapixel camera sensor, most likely with the Galaxy S23 Ultra.
The South Korean company is far ahead of Apple in the camera zoom capabilities, too. Apple's latest and greatest can only muster a 3.3x optical zoom range, while the Galaxy S22 Ultra's periscope-style telephoto camera can go all the way up to a 10x optical zoom range. Samsung also beats Apple at the selfie camera game, fitting its flagship with a 40-megapixel snapper, while iPhones are still holding on tightly to a 12-megapixel shooter.
However, Samsung poking fun at Apple hasn't always been the best marketing choice. After mocking Apple for removing the charging brick from a phone's retail package, Samsung did the same a few years later and deleted its own sarcastic tweets. The company also attacked Apple for dropping the 3.5mm headphone jack a few years ago but soon robbed its own Galaxy phones of the convenience.