Samsung Galaxy Z Fold 4 Review: Flexibility Comes At A Price
Chris Davies/SlashGear
EDITORS' RATING: 8/10
We may receive a commission on purchases made from links.
It's fascinating just how normal the Samsung Galaxy Z Fold 4 feels. True, we're now in the fourth generation of Samsung's full-size foldable phone, and the shocking — and not entirely successful — debut of the original smartphone in 2019 was a whole pandemic ago, but nonetheless, the evolution from cellular curio to nearing-mainstream tech has been swift and relentless.
Some of that you can probably blame on smartphone apathy: There is only so large, so slim, so fast, and so fancy that a traditional "glass slab" handset can get, before you bump up against the boredom border. The rest, though, is likely down to Samsung itself, and its own unstinting insistence that foldable phones are indeed the future.
It's tough not to be swept up by that enthusiasm, though it's equally hard not to see where the mass market's attention will fall in foldables. Where the Galaxy Z Flip 4 takes the Galaxy S22 and adds a hinge halfway down, the Fold 4 is an altogether bigger and more expensive sell. As a result, you can't really assess it through the standard gaze of the average smartphone buyer.
Iteration and expense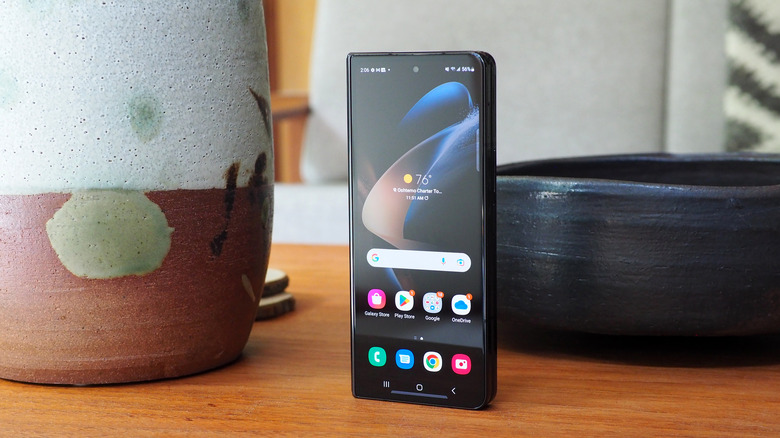 Chris Davies/SlashGear
It was arguably in the third generation that the Fold series felt like it came of age. No surprise, then, that Samsung has taken an iterative approach for 2022: There are improvements, certainly, but they're evolutionary changes rather than wholesale upending of what we've seen before.
It's also $1,800, or more depending on how much storage you want inside. That's still a huge price tag for a smartphone — you could get a Samsung laptop and a Galaxy S22 for the same amount — but frankly I don't really think that's all that big an issue. The reality is that Fold fans are inured to spending top dollar to get their flexible fix.
The question those fans really need to answer, then, is whether switching up from last year's Fold 3 is worthwhile. Samsung's healthy trade-in deals have made that process less painful, but at a time when even enthusiastic geeks are reconsidering big-ticket purchases, can the Fold 4 justify its price right now?
The small improvements add up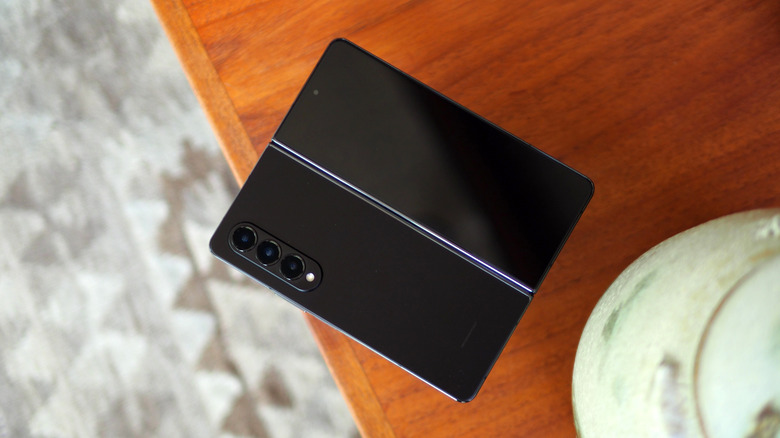 Chris Davies/SlashGear
Side by side, you'd be forgiven for struggling to see the changes. The Z Fold 4 is 263 grams and 15.8mm at its thickest point when closed: a little bit lighter, and a very little bit thinner than the old model. The outer and inner screens are the same size, too, at 6.2-inches and 7.3-inches diagonally, respectively. Indeed you'd be forgiven for thinking that, going by the numbers on paper anyway, the physical experience wouldn't be that much different.
2022's refinements add up, though. On the outside, the bright and colorful HD+ Dynamic AMOLED 2X cover screen is that little bit wider than before, Samsung shaving away at the side bezels. The result is something that feels less tall-and-skinny than on the Fold 3; less like you're viewing your apps through a mailbox slot. Punching out quick replies on the onscreen keyboard is far easier, too, as the 'board is less cramped horizontally.
Crack the Fold 4 open, meanwhile, and the refinements continue. The hinge itself feels smoother — if you're coming from a Galaxy Z Fold 2, the improvements are even more obvious — while the inner display's bezels are slightly slimmer as well. Yes, there's a crease down the middle still, but it's a little less obvious than it was, and frankly, I stopped noticing it after a day or so. I am, to be fair, someone who also quickly overlooks the iPhone's notch, so it could just be that I accommodate pretty easily.
Power and a pen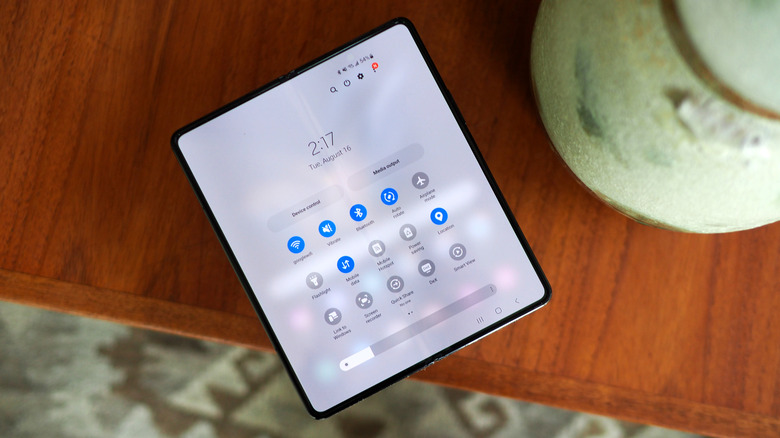 Chris Davies/SlashGear
Behind the scenes, it's Qualcomm's Snapdragon 8 Plus Gen 1 running the show, paired with 12GB of memory. The entry-spec gets 256GB of storage; 512GB and 1TB versions are available. The latter, though, is a heady $2,159.99. You'll probably want to coddle it, too: Though Samsung says the folding screen is sturdier in this generation, it's still not going to be as tough as, say, the Gorilla Glass Victus+ on the front and back. An IPX8 rating means a dunk in freshwater isn't a dealbreaker, but with a mechanical hinge — that still doesn't close flush — dust is definitely to be avoided.
For connectivity, there's the full gamut of 5G (in Sub6 and mmWave flavors), WiFi 6E, Bluetooth 5.2, Ultra Wide Band, NFC, and a USB-C port on the bottom. A fingerprint sensor is on the side, integrated into the power button; I actually prefer it there, readily accessed regardless of whether you're using the Fold 4 open or closed, rather than in-display.
Like last year, the Z Fold 4 will support pen input with Samsung's S Pen stylus. Also like last year, the S Pen is sold separately — normally it's $49, although Samsung's preorder deals will include one — and there's no silo in the foldable itself to store it. Instead, you need to either carry it separately or tuck it into the slot in a compatible cover.
Multitasking for the masses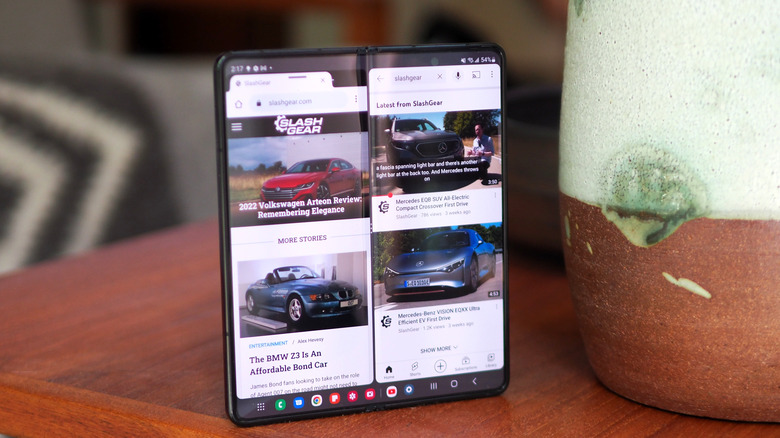 Chris Davies/SlashGear
Interact with the cover screen, and you could be forgiven for mistaking the Fold 4 as a particularly chunky, but otherwise standard Android phone. It'll come as no surprise that, with the latest-and-greatest Snapdragon chipset and lashings of RAM, there's not much out there in the app world which will cause the foldable to slow down. The 120Hz display refresh only adds to that syrupy smooth feel.
Of course, it's when you open the screen up that things get interesting. The Fold 4 runs Android 12L, Google's version of its OS designed with tablets and foldable devices in mind, with some of Samsung's customizations too. The key assumption is that, though 7.6-inches may not sound excessive in a display, it makes for an almost square touchscreen, and so using that more intelligently could mean a big bump to productivity.
Multitasking on most phones usually means jumping between apps. On the Fold 4, it's about fitting multiple apps on-screen simultaneously. You can have up to three sharing that space: one taking up half of the panel, the others split top and bottom in what remains. A fourth app can, in some cases, float above in a tiny thumbnail. A new taskbar at the bottom shows persistent shortcuts and your most recently used apps, making it much easier to drag an app out and enter split-screen mode. It'll also show app pairs — basically two apps set to load simultaneously — which will automatically load with a split-screen layout.
Capabilities worth carrying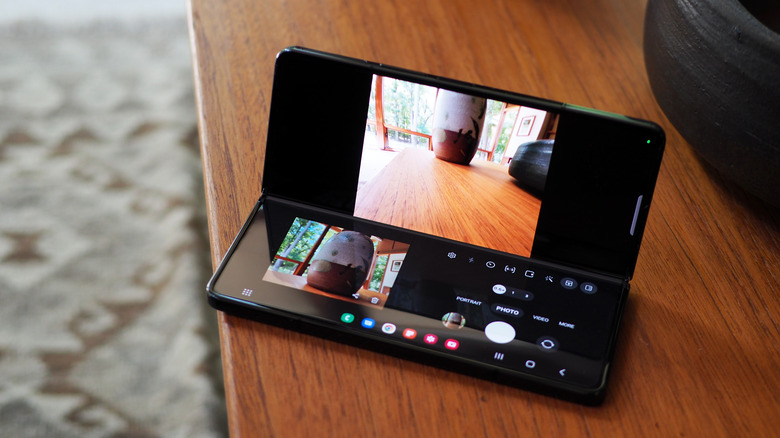 Chris Davies/SlashGear
Power users will find even more options to play with if they dig into some of the more experimental options, but honestly the big improvement here is that Samsung has finally made multitasking feel natural. I don't think I'm alone in often forgetting what arcane collection of swipes and taps are required to access similar split-screen layouts on iPadOS and other Android devices. I know the abilities are there, but actually interacting that way is a chore.
Samsung's streamlined approach makes it much easier, and as such I found myself using it more. Out at Monterey Car Week last week, for instance, I could have the show map and my agenda visible at once. Using the Trello board we rely on for work assignments while also tracking conversations in Slack was also faster. Trying to interact with three apps simultaneously felt like overkill, to me at least, but having two open meant effectively the experience of two smartphones side by side.
A step up in photography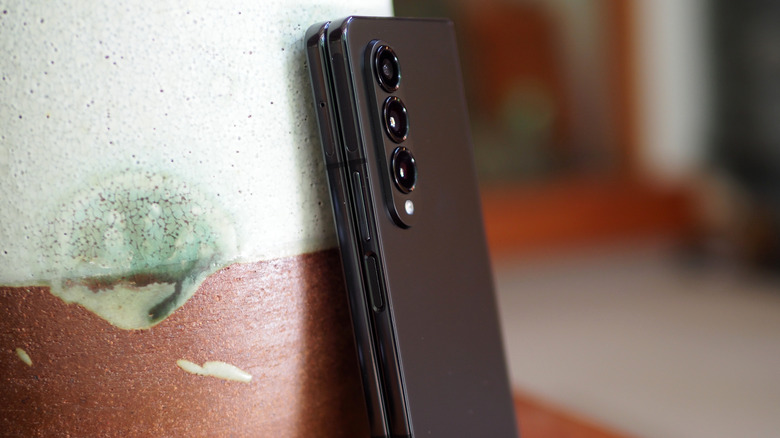 Chris Davies/SlashGear
Given the space demands that high-resolution cameras and decent lenses make, it's perhaps little surprise that previous iterations of the Fold made sacrifices in their photography. Not to the point of being bad, no, but certainly short of what the more traditionally styled Galaxy S Series handset of the same generation could offer.
The Galaxy Z Fold 4 still lags behind the Galaxy S22 family, but the delta has narrowed considerably. There's a set of three sensors on the rear, the primary being a 50-megapixel wide-angle with an f/1.8 lens. Above it is a 12-megapixel ultra-wide with a 123-degree field of view and f/2.2 lens; below it, a 10-megapixel telephoto with a 3x optical zoom.
"Better but not best" seems to encapsulate them well. Samsung promises improvements in low-light performance particularly. Daytime shots tend toward the saturation that Galaxy phones have long been known for, but the Fold 4 seems to handle mixed light/dark scenes better than its predecessor. Portrait mode does well at handling fine details like pet fur — something a lot of phones struggle with — but the default degree of background blur is excessive, and can leave the shot as a whole looking artificial. Happily you can dial that effect down in Samsung's Gallery app.
Some camera caveats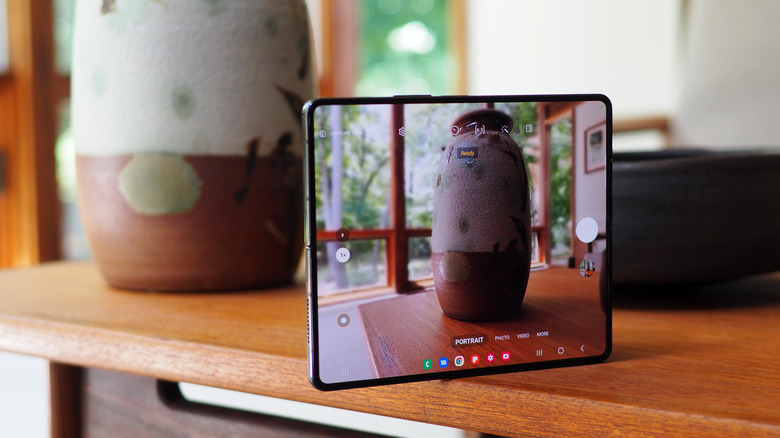 Chris Davies/SlashGear
I'm a fan of telephoto cameras, and generally use them more frequently than ultra-wides. The 3x optical zoom on the Galaxy Z Fold 4 is solid, though pushing into the digital zoom — which goes up to 30x magnification — is unsurprisingly underwhelming.
My primary issue has been some lag in actually capturing a shot, the Fold 4 pausing for a split-second after I tap the button. I've lost a few images with faster-moving subjects (like my cat) because of it. If photography is your primary use for a smartphone, a Pixel 6 Pro or Galaxy S22 Ultra is still going to edge ahead of what the Fold 4 can do.
As for the internal camera, the 4-megapixel under-display sensor is a little better hidden than before, but the patterning in that one circular spot still gives it away. Is it fine for selfies and video calls? Sure, but with better cameras elsewhere — including the 10-megapixel example in the front screen — it feels more like a necessary evil than something that should be anything other than your last choice.
Bothered by the battery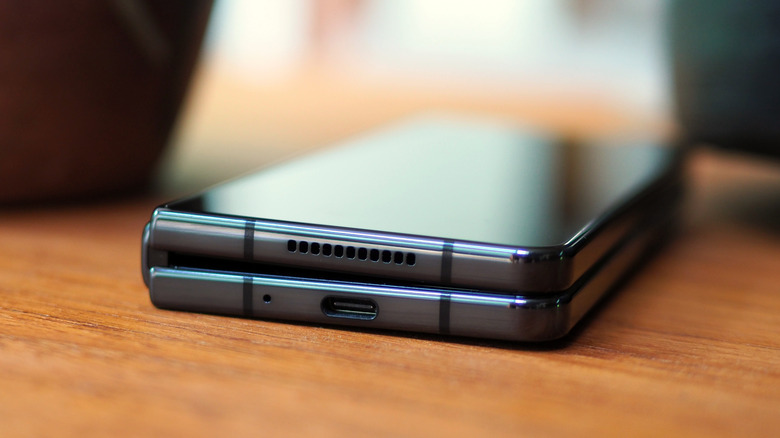 Chris Davies/SlashGear
If there's an area that Samsung seems to have neglected, it's the Fold 4's power. There's 4,400 mAh of total battery capacity squeezed inside, less than you'd get in a Galaxy S22 Plus. The realities of physics and the space inside the folding form-factor are the limit there, yes, but I do wish the battery charged faster.
Instead, you get 25W wired charging and 15W wireless charging, which Samsung brands "fast" but which nonetheless fall well short of what a lot of Android rivals are delivering.
When you're dealing with a big screen as lurks inside the Fold 4, and if you're using it as the laptop and tablet replacement that Samsung is so clearly positioning it as, it wouldn't be unfair to have some concerns. In practice, the foldable made it through my full day, though video is unsurprisingly a power hog. If you're watching a lot of streaming video, or playing games — and given the power and the great screen here, I could well understand it — then it's likely you'll need to top-up before bed.
Bulky but compelling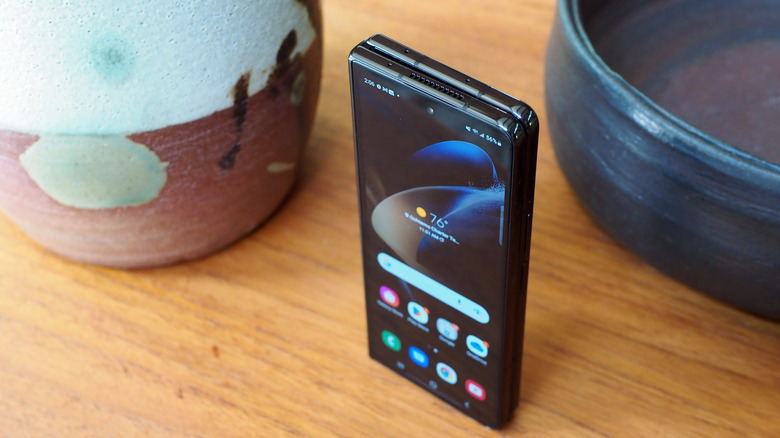 Chris Davies/SlashGear
The Fold 4 — like its predecessors — feels a lot more niche in its appeal than Samsung's other foldables. It's easier to understand an average sized smartphone which, as the Galaxy Z Flip 4 does, then promptly collapses down to half the height. A familiar Android experience when it's open, but a device that, to some, will be more easily slid into a pocket or bag when it's not being used.
It'd be easy to think of the Fold 4, then, as just a larger version of that, but as time has shown it's really not the case. Even with the improvements in this fourth generation, Samsung's bigger foldable still isn't exactly small. It's still thick when closed, still heavier than most other smartphones. There were times when, headed out the door on an errand, I looked at the Fold 4 and wondered if I couldn't just take my regular, regularly-sized phone instead; would I truly miss the ability to unfurl it into a compact tablet, too?
Like with superpowers or abs, though, when you have them you want to flaunt them. Being able to read emails on a bigger screen, or put out fires more effectively on Slack, or actually see the photos I'd just taken on a decent-sized display always made me glad I'd had the Fold 4 on me.
Samsung Galaxy Z Fold 4 Verdict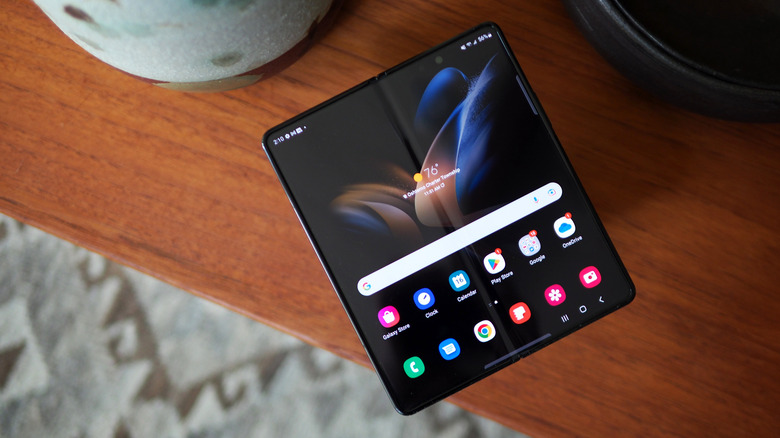 Chris Davies/SlashGear
For existing Galaxy Z Fold 3 owners, of course, the decision has been a tricky one. Samsung's trade-in deals have been ample; the cost of upgrading to this new foldable has been relatively low. At the same time, the company has been coy about confirming which of the software improvements will be added retroactively to the Fold 3.
Even if features like the nifty taskbar do get pushed out as updates, though, the hardware refinements of the Fold 4 do elevate it beyond just the OS changes. It's easy to be dismissive about evolutionary improvements, but tweaks like the slightly wider — and thus more usable — cover display and more capable cameras have an outsized impact on how rewarding this new Galaxy Z is to use day to day.
For the mainstream user, the cheaper Galaxy Z Flip 4 is clearly the way to go. More affordable and more readily understood in concept, it's foldable phone tech at its most approachable. Those who are already onboard, however, will find the Galaxy Z Fold 4 not only brings the convenience of flexibility but unlocks its productivity benefits most compellingly, too.