Here's Why Lewis Hamilton Hates The Pagani Zonda LH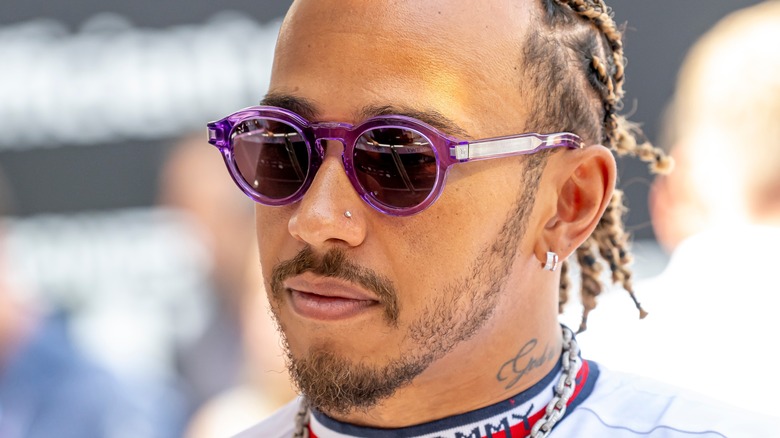 motorsports Photographer/Shutterstock
We could argue that Sir Lewis Hamilton might go down in history as the greatest F1 driver of all time. His legendary rookie performance in 2007 for McLaren saw him finishing second place behind then-F1 champion Kimi Raikkonen. Hamilton is on top of the all-time pole positions list, creeping ahead of the iconic Ayrton Senna and matching German driver Michael Schumacher's record of seven Formula One world titles (per F1).
Lewis Hamilton's tremendous F1 career has made him among the highest-paid athletes (per Forbes). It also gave him the means to gather an impressive car collection that includes exorbitantly-priced exotics like a pair of Ferrari LaFerraris, a Ferrari 599 SA Aperta, a McLaren P1, and a pair of authentic Shelby Cobras. One of the most expensive cars in Hamilton's garage is a one-off Pagani Zonda 760 LH (the LH stands for Lewis Hamilton, in case you're wondering). It reportedly cost €1.4 million before options in 2015 (per talkSport). However, the Zonda 760's astronomical price tag does not guarantee a fun (or safe) drive.
Handling is everything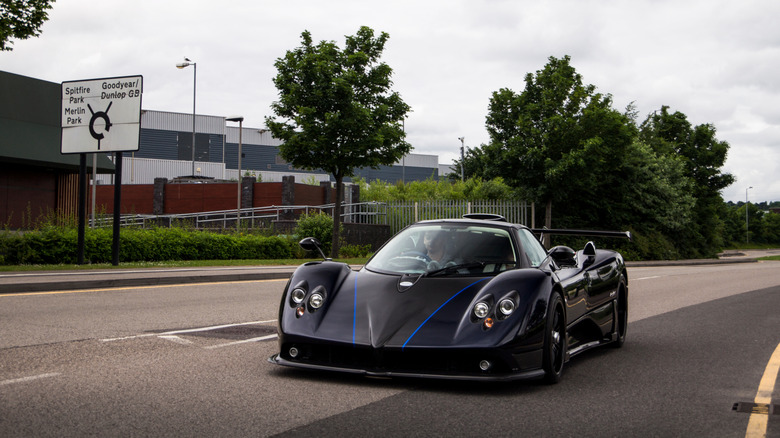 dimcars/Shutterstock
The Pagani Zonda debuted at the 1999 Geneva Auto Show and has spawned a litany of unique one-off variants. The Zonda 760 Series consists of five custom-built Zondas for deep-pocketed clients. Lewis Hamilton is one of the lucky owners of a purple Zonda 760 with a bespoke manual gearbox, and it is the only unit to bear the "LH" name.
The Zonda 760 has a mid-mounted 7.3-liter Mercedes-AMG V12 engine with 750 horsepower and 575 lb-ft of torque. The high-strung V12 sends power exclusively to the rear wheels using a Hamilton-spec six-speed manual gearbox. According to Road and Track, Hamilton kept the car in Monaco after buying it in 2014. However, Hamilton crashed his beloved Pagani in 2015 after a toxic combination of fever, sleep deprivation, and "heavy partying."
Hamilton has since sold his Pagani Zonda 760 LH to a new British owner, and the reasons will surprise you. talkSport mentioned that Hamilton sold the Pagani to increase environmental awareness, the exact reason he sold his $29 million Bombardier Challenger 605 private jet in 2019. But in a 2018 interview with the Sunday Times, Hamilton also claimed his Zonda is "terrible to drive." He added the Zonda 760 was the best-sounding car he has ever owned, but it was the worst-handling car he had ever driven.
Here's the fun part: Lewis Hamilton made a considerable profit from his Zonda. Per a report by planetF1, Hamilton sold his Pagani for around €10 million ($9.9 million), about €8.6 million ($8.5 million) more than he originally paid in 2014. In addition, Hamilton is taking delivery of a limited-edition Mercedes-AMG ONE, which we reckon should handle better than the Pagani with its standard 4MATIC+ fully-variable all-wheel drivetrain.