2024 GMC Sierra EV Denali Electric Pickup Revealed With Big Range And Big Price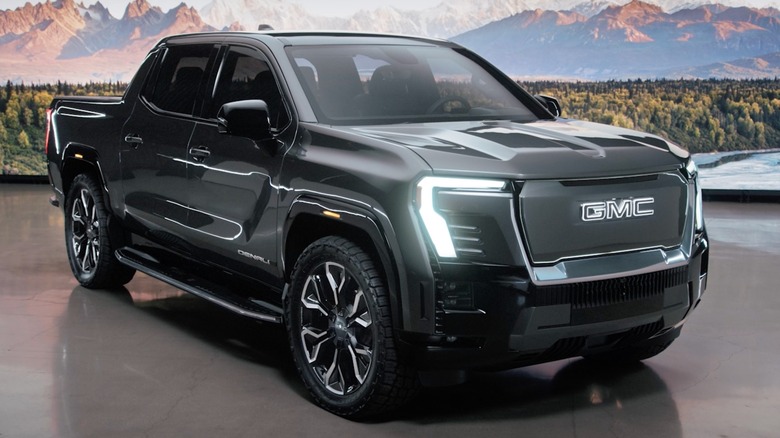 GMC
Electric trucks are shaping up to be big business, but if the Hummer EV is a little too shouty for your tastes, the 2024 GMC Sierra EV Denali Edition 1 might offer a slightly less ostentatious alternative if you can stand to wait. Set to take on Ford's F-150 Lightning, Rivian's R1T, and a host of other EV pickups including — when it finally arrives — Tesla's Cybertruck, the Sierra EV is an electric pitch to GMC's most loyal buyers, and the automaker is starting out targeting those customers with the deepest pockets.
Like the Chevrolet Silverado EV — and, indeed, the GMC Hummer EV and the Hummer EV SUV — the new Sierra EV is based on General Motors' Ultium platform for electric vehicles. Also like those electric trucks, it'll kick off in the most expensive configuration before more affordable trims arrive in showrooms. In fact, the 2024 Sierra EV Denali Edition 1 will be a hefty $107,000 or thereabouts.
With only a limited number — no, GMC isn't saying quite how many — of that Edition 1 trim to reserve, it'll fall to subsequent versions of the pickup to bring pricing down to levels where the mass market might start to consider it. What we do know is that there'll be both Sierra EV AT4 and Sierra EV Elevation trims in the 2025 model year, the latter starting from the low-$50k price point.
A more traditional pickup design than Hummer EV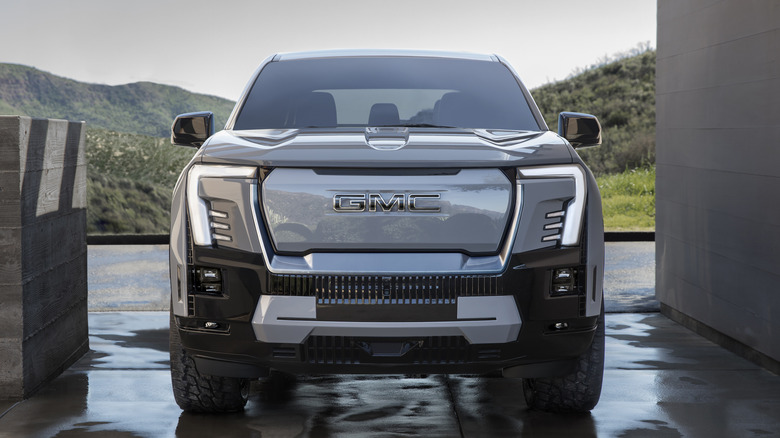 GMC
While the aesthetic may be familiar, the 2024 Sierra EV is all-new. It's a completely reworked design, using Ultium's battery pack as part of the physical structure of the truck, and for that matter, it shares no sheet metal with the Silverado EV. By combining the cabin and the standard 5- foot, 11-inch bed, there are fewer cutlines, while the Denali Edition 1 trim gets beefy 24-inch wheels.
The fascia replaces the traditional grille with a new shield and plenty of animated LED lighting. That also doubles as a battery charge status meter. A sizable Power eTrunk frunk is standard, with two drains, while the bed has a lockable tonneau cover that slides across. GMC is also including its MultiPro tailgate, and the MultiPro Midgate for the first time.
The latter has a 60/40 split into the cabin, and with the rear seats folded down, the bed extends to 9 feet with the tailgate up. Drop it down, meanwhile, and that extends to 10 feet and 10 inches. The rear cabin glass can be removed, too, for taller items.
The cabin leans on luxury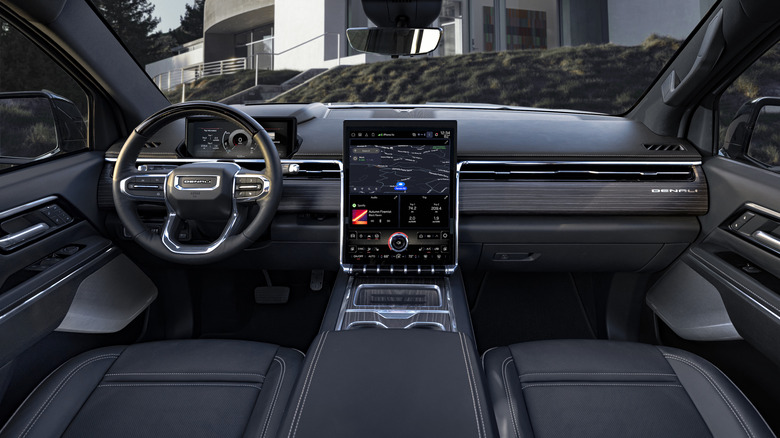 GMC
Inside, like all Denali models, the focus leans more on luxury than something suitable for a messy job site. A 16.8-inch portrait aspect touchscreen dominates the dashboard, with an embedded volume knob and physical climate controls along the bottom edge. The driver gets an 11-inch digital instrument binnacle, and a 14-inch color head-up display (HUD). 
GMC's infotainment supports different layouts, including organizable icons and a three-app split-screen view in the center display, and switchable graphics in the cluster. There's support for up to 14 different camera views from around the truck, and GM will use its Ultifi platform to push out software updates, fixes, and new features. 
A panoramic fixed glass roof with UV and IR coatings is standard on the Denali Edition 1 trim, as is open pore wood along with Galvano smoked chrome, gloss black trim, unique piping and quilting on the leather and other surfaces, and etched stainless steel speaker grilles for the standard Bose audio system. A wireless phone charger — hidden under more wood — is standard.
Up to 400 miles of electric range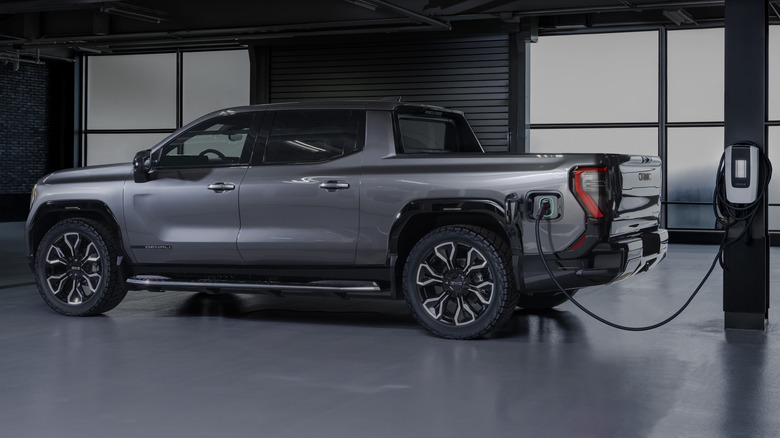 GMC
GMC says the 2024 Sierra EV Denali Edition 1 should have an electric range of up to 400 miles on a full charge, and it'll support up to 350 kW DC fast charging. Find a suitable charging station, then, and you're looking at up to 100 miles of range added after 10 minutes. Unplugged, meanwhile, and you're looking at what the automaker says is the quickest factory Sierra ever.
It'll have 754 horsepower and 785 lb-ft of torque from its standard dual motor, all-wheel drive configuration. In the Max Power drive mode — which is joined by Normal, Tow/Haul, Off-Road, and customizable My Mode settings — it'll do a GMC-estimated 0 to 60 miles per hour run in under 4.5 seconds. Unlike the time-limited Watts to Freedom mode in the Hummer EV, there's no time limit to how long you can have the Sierra EV's Max Power mode active.
Air ride adaptive suspension is standard, as is four-wheel steering for better maneuverability. Crab Walk, which allows the truck to scoot sideways at low speeds, is also supported. There'll be a one-pedal driving mode, which can bring the EV to a full stop without touching the brake pedal, and a Variable Regen on Demand paddle on the steering wheel dynamically adjusts the slowing/charging balance as on the Cadillac Lyriq.
Plenty of driver-assistance and power tech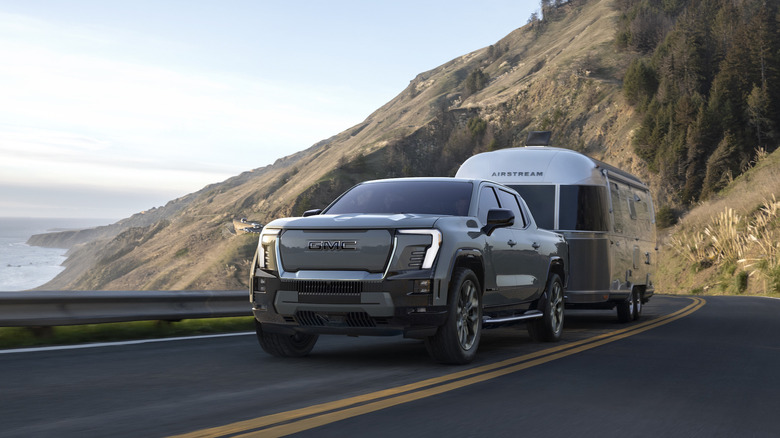 GMC
Also standard on this flagship trim is Super Cruise, GM's hands-free driver assistance tech; it works on over 400,000 miles of highway in North America, and it's the "enhanced" version with automatic lane-changing and support for trailering. The Sierra EV Denali Edition 1 is rated for up to 9,500 pounds of trailering capacity and up to 1,300 pounds of payload, thanks to the standard-fit trailering package.
Power Station Pro will work with the optional Ultium Power Bar, for up to 10.2 kW of off-board power through up to 10 outlets spread around the frunk, cabin, and bed. That includes both 120-volt and 240-volt options, and the potential to charge another electric vehicle from the Sierra EV's battery.
With a bi-directional home charger — provided through GM Energy Ultium Home, though details on which are scant at present — the truck will be able to power the essentials in an outage for up to 21 days, GMC claims, or a whole house for up to 7 days.
Expensive, but more affordable Sierra EV trims to come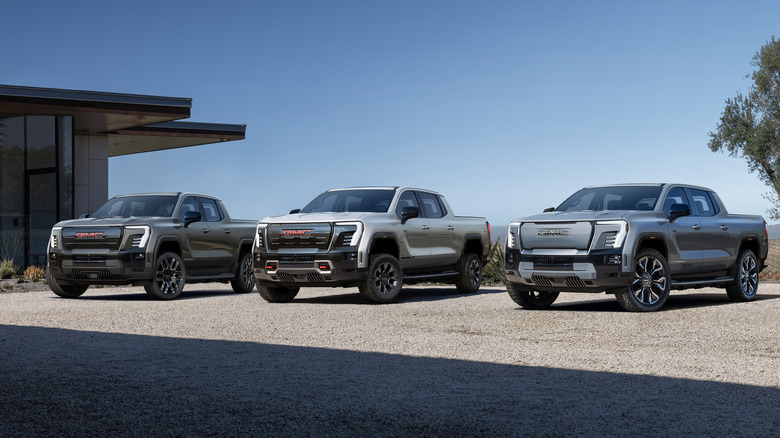 GMC
Unsurprisingly, the 2024 GMC Sierra EV Denali Edition 1 is very expensive, in addition to being in limited supply. Reservations open today, and it's not hard to imagine them being full well before the early 2024 deliveries that GMC estimates. In fact, the automaker is predicting that — despite the spec and pricing overlap — this truck will be more popular than the Hummer EV, even, not to mention appeal to more traditional pickup buyers and those who actually want to use their vehicle as, well, a truck.
For those without six figures to spend, there'll be more accessible trims coming in the 2025 model year. That includes the 2025 Sierra EV AT4, with a 2-inch factory lift, four-wheel steer, and Crab Walk support, building on GMC's popular AT4 off-road package, and the 2025 Sierra EV Elevation entry-level model. The latter will be priced from around $50k, GMC says, though don't expect the cheaper versions of the truck to offer the same range, performance, and capacities as the flagship.