2023 Cadillac Lyriq First Drive: An All-Electric SUV Worth Waiting For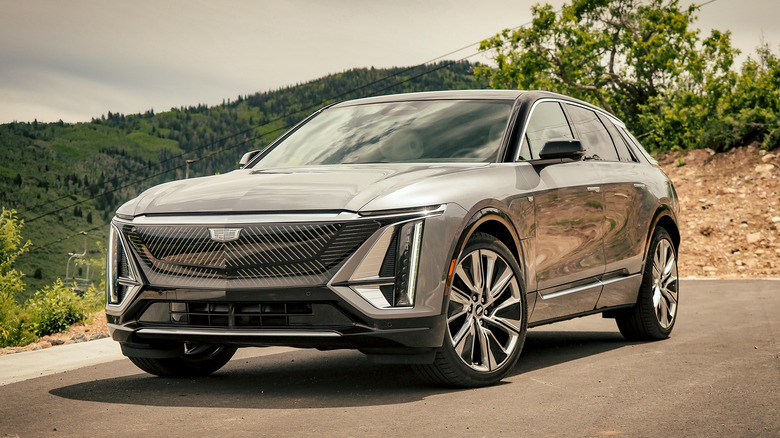 Chris Davies/SlashGear
The Cadillac Lyriq may be the automaker's first all-electric model, but it arrives at a time when reinvention involves more than just ditching gas engines. For a company that sells so many SUVs and crossovers, it's remarkable just how, well, bland the bulk of Cadillac's line-up is. True, there's the Escalade, which at this point is effectively a brand in itself, but that's a huge, thirsty, ostentatious beast of an SUV. Too big and too expensive for most families.
Cadillac's smaller models have been generally fine, but nothing really stands out of the crowd. The XT4, XT5, and XT6 all suffer from bland design, too much of GM's parts bin in the cabin, and altogether a dilute vision of what American luxury could look like. Their cardinal sin is that they're unmemorable, especially when General Motors' stablemates like Buick and GMC are snapping at Caddy's heels with more upscale versions of their own SUVs.
Ultium worth paying attention to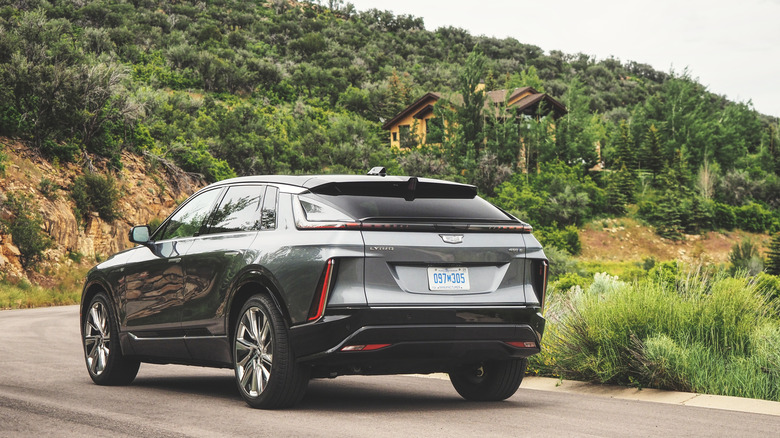 Chris Davies/SlashGear
The Cadillac Lyriq stands out. In fact, it feels like a return to form which many feared Cadillac could never reclaim.
It's the second vehicle to launch on GM's Ultium platform, though arguably the first that ought to be taken entirely seriously. GMC's Hummer EV debuted the all-electric architecture with headline features like triple motors, a 3.0 second 0-60 mph time, and a six-figure price tag. Perfect as a declaration that electric trophy trucks could be just as excessive as their gas-burning equivalents, but far beyond the requirements of most SUV buyers.
The Lyriq, in contrast, started at just shy of $60k (plus $1,195 destination) for the sold-out First Edition, an unspecified number of which were snapped up in about 10 minutes. The 2023 Lyriq RWD starts at $62,990 (plus destination), while the upcoming Lyriq AWD — production of which kicks off in November, for deliveries in early 2023 — carries a $2k premium for the extra drive motor.
312 miles to consider American Luxury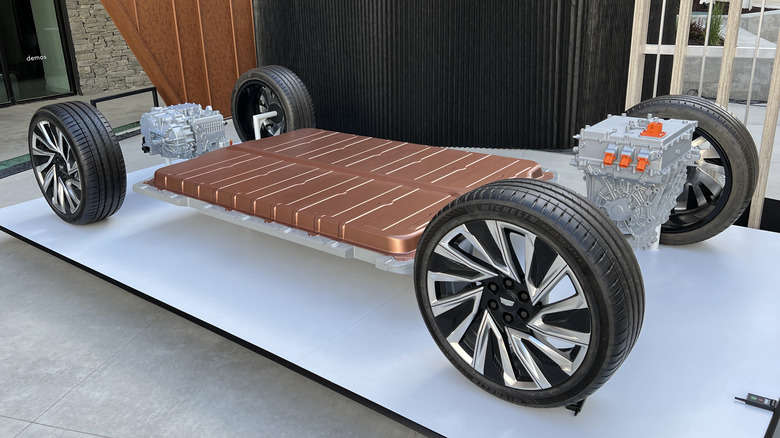 Chris Davies/SlashGear
Both versions come with a 102 kilowatt hour battery pack, consisting of 12 cell module assemblies each made up of 24 individual cells. The modular design allows Cadillac to swap out modules easily, and they're all wirelessly connected too, with one big mesh handling power and temperature management, encrypted over-the-air updates, and lifetime monitoring. Figure on 312 miles of range for the rear-wheel drive Lyriq, with the all-wheel drive version's numbers getting confirmed closer to release. While we'll need to spend more time with the car to see how accurate that EPA number is, over a day's mixed driving the Lyriq's range estimate was within a couple of miles of the distance actually driven. 
Cadillac includes a 7.7 kW Level 1/2 charger with the car, capable of adding up to 21 miles of range in an hour for the RWD, and up to 19 miles for the AWD version. With an 11.5 kW home charger you're looking at 37 miles per hour plugged in; the Lyriq RWD actually supports a more potent 19.2 kW charger, too, for a whopping 52 miles per hour connected.
As for on the road, there's 190 kW DC fast charger support for up to 78 miles per ten minutes plugged in. Cadillac is giving Lyriq owners two years of unlimited EVgo public charger credit, and the infotainment system will happily locate your nearest plug including details of what sort of power you can expect there.
A more memorable SUV design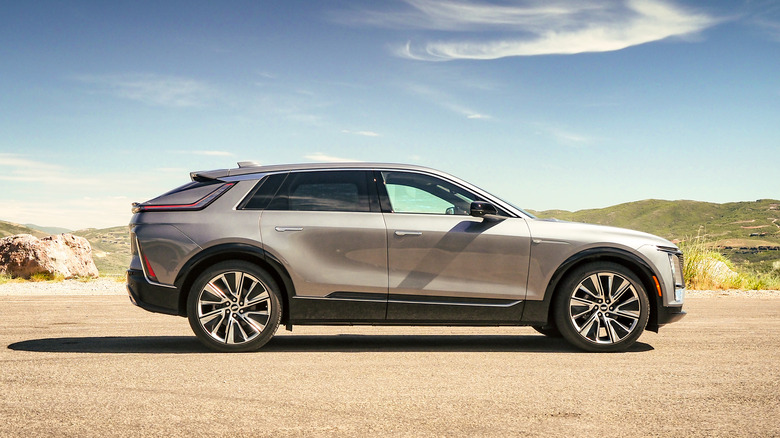 Chris Davies/SlashGear
The EV slots in-between the XT5 and XT6 in terms of length, though is lower and wider than each. In fact I'd say there are hints of jacked-up wagon to it, though given the popularity — or lack of — for wagons in America right now, I'm not sure Cadillac would thank me for that. Better, then, to praise the spacious feel in both the front and rear, and the 28 cu-ft of trunk space (down from the XT5 only because of the steeply-raked tailgate) which expands to 60.8 cu-ft with the 60/40 rear bench folded down.
At the front, the animated LEDs glow through the blacked-out fascia; you still get the distinctive vertical daytime running lights, paired with even narrower headlamps. Cadillac's light show is even more dramatic at the rear: L-shaped LED bars flank the glass, and the way the lower lights glow through the aero work is genuinely interesting to the eye. As you'd expect there are animations galore depending on whether you're locking or unlocking the car.
Elsewhere, there's a sense that some of the Lyriq's detailing is caught in that middle ground between old-school Caddy owners and a new breed of EV aficionados. The door handles look like they pop out, for example, but they're actually just huge buttons; there's a molded hook for you to tug on at the base of the window pillars, once the door has motored open slightly. It's not quite as fiddly as Ford's Mustang Mach-E handles, but it's still a head-scratcher.
The Caddy cabin we've been waiting for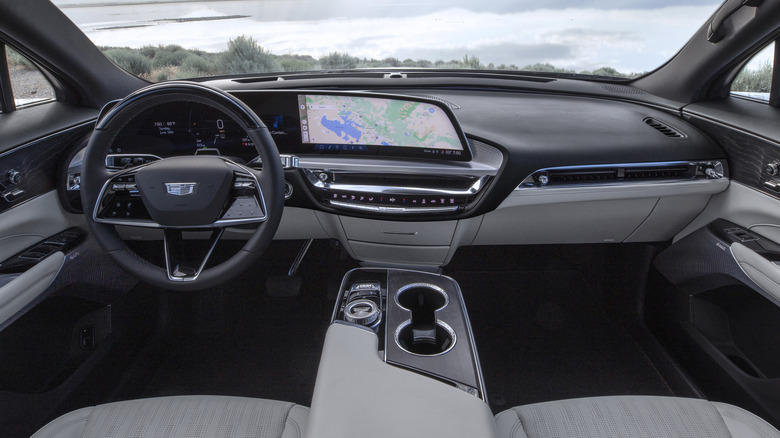 Cadillac
Inside, the Lyriq is a treat to the eyes. Cadillac's boast is that everything is bespoke, the big GM parts bin left untouched in favor of custom designs for switchgear and trim, and it instantly elevates the cabin. It's not so minimalistic as to scare the automaker's old-school clientele — like a Tesla Model Y might — but neither does it feel fussy or dated.
As for the fingers, well, that's when reality starts to come crashing down. What looks like glistening metal is often actual plastic, and it's clear that budget was still a primary constraint around what Cadillac could actually make its bespoke switchgear out of. It doesn't feel bad, it just struggles in places to quite live up to your first impressions.
On balance, I think that's okay. Nothing feels worse than the parts bin switchgear in, say, an XT6 or an Escalade, but it all looks far better. The most important parts — those you fondle most frequently, like the steering wheel and indicators, and the pleasingly soft-action window switches — have the solidity and heft you'd hope for. Cadillac also manages to avoid a lot of the creaks that Model Y owners can be heard complaining about. 
Usable tech, not just big screens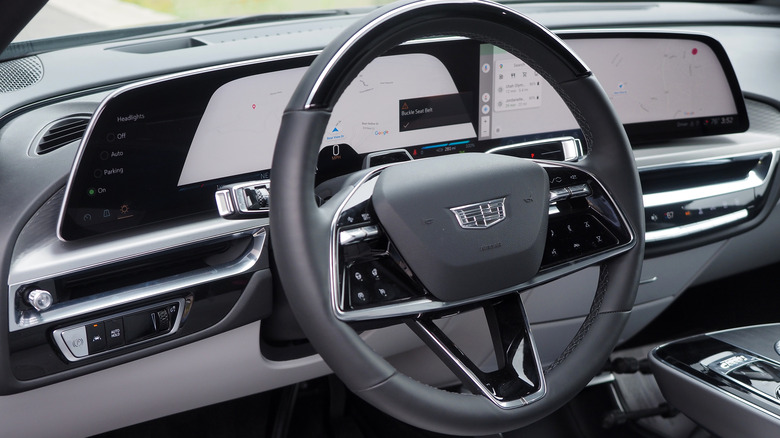 Chris Davies/SlashGear
The same goes for the infotainment, which may look at first glance to be similar to what's on an Escalade, but is actually far, far better. Built new for Lyriq atop Android — though not Android Automotive OS — it means you get Google's navigation and voice control, both a considerable step up over what's in other Cadillac models. It also takes better advantage of the display itself, filling the high-resolution 33-inch curved panel with detail and thoughtful graphics, rather than just blowing all the graphics up comedically large as on the Escalade.
Cadillac hasn't ousted all of the physical controls in favor of virtual ones: there are dedicated switches for the HVAC system, shortcuts for the key infotainment areas, and a gleaming rotary controller in the center console. Most things, though, are accessed through the touchscreen, with a persistent shortcut bar along the bottom to jump between the main sections. You get wireless Apple CarPlay and Android Auto support, too, just as you'd expect.
There are some foibles, most noticeably the fact that Cadillac buries the drive modes in a settings menu rather than giving them a physical switch. Switching between the various brake regen settings is also trickier than it needs to be. The good news is that Cadillac could easily tweak that with an over-the-air (OTA) update, and even has the perfect spot for surfacing the buttons on the shortcut menu to the left of the virtual instrument cluster.
Power and choices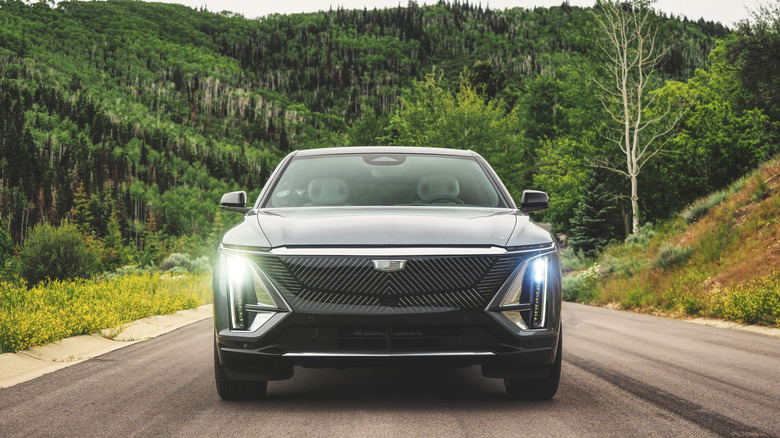 Chris Davies/SlashGear
Those drive modes adjust things like accelerator sensitivity and steering weight, as well as how aggressive the regenerative braking is. There are Tour and Sport modes, along with Snow/Ice and My Mode, with the latter supporting individual customization. There are several levels of regen to choose between, as well as a pressure-sensitive paddle behind the steering wheel: depending on how hard you squeeze that, the Lyriq can muster up to 0.35G of braking force.
The single motor model has 340 horsepower and 325 lb-ft of torque; adding the second motor to the front wheels on the Lyriq AWD bumps total system power to 500 hp. Only the all-wheel drive version will have towing support, however, rated for 3,500 pounds with the optional trailering prep package.
What doesn't change, regardless of drive mode, is the suspension. Cadillac opted for a new, 5-link SLA front suspension system, paired with a 5-link rear system, with passive dampers all-round. No Magnetic Ride Control, no adjustable sport/normal modes, just a single tune aiming to satisfy both laid-back and more eager driving.
From behind the wheel, Cadillac elevated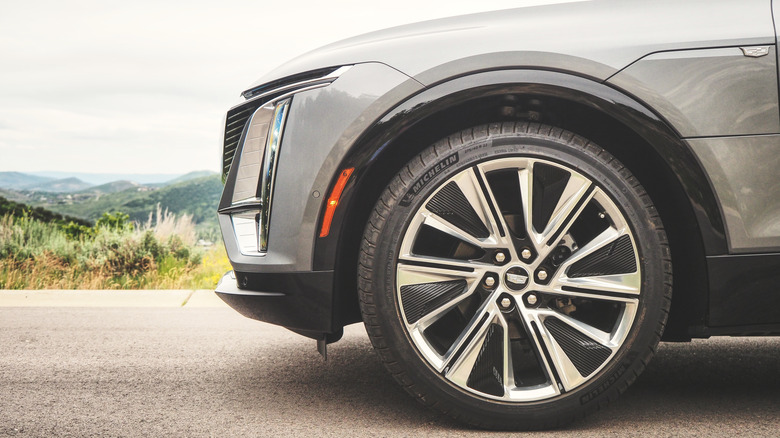 Chris Davies/SlashGear
The result is firm but without losing out on comfort. The Lyriq definitely errs on the cosseting side — this is a Cadillac, after all — and with a mixture of active and passive noise reduction the cabin enjoys an exceptional level of hush, even on the optional 22-inch wheels with their skinny rubber. Throw in Super Cruise, the hardware for which is installed but awaits a software update later in the year, and the Lyriq could make for a perfect road-trip car. I think both long-time and new Caddy drivers are going to love it.
Switch to Sport, and things get more enthusiastic. With about a third of the power, it comes as little surprise that the Lyriq isn't as rapid in a straight line as the Hummer EV — or, for that matter, as a Model Y Performance. It certainly doesn't feel slow, however, and the near-instantaneous torque delivery all electric vehicles enjoy leaves what — at about 5,600 pounds — isn't exactly a lightweight SUV feeling pleasantly nimble from a standing start.
Come the corners, and Cadillac's decisions mean you get a little body roll. Again, no surprise there; the Lyriq feels composed and, given the low center of gravity, stable. I've a feeling the platform could well accommodate more power and a more aggressive tune, too, so forgive me if I'm already thinking about a Lyriq V or — better still — a Lyriq Blackwing. As for slowing, Cadillac brought its friction brake tuning in-house for the first time, so as to better blend that and regenerative braking, and the attention to detail pays off with a near-seamless transition.
Cadillac Lyriq Verdict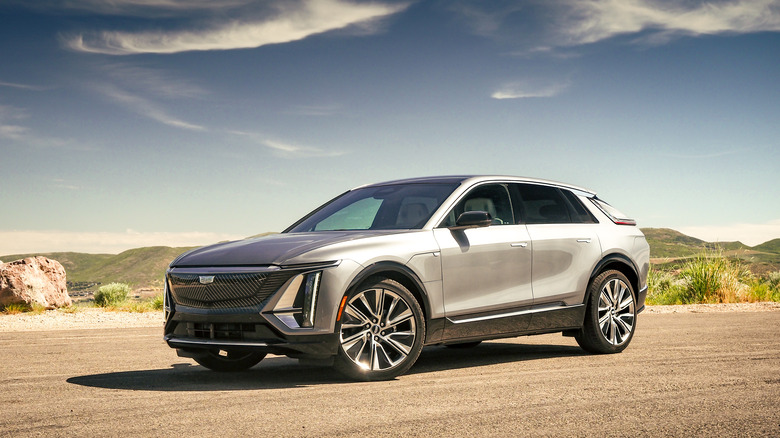 Chris Davies/SlashGear
If there's a downside to the Lyriq, it's the same one that's so frustrating about Ford's F-150 Lightning. As is the case with the electric pickup, Cadillac simply can't make its new SUV fast enough, and demand is well outstripping supply. The entire 2023 model year is sold out — though the automaker won't say, exactly, how many EVs that amounts to — and those currently ordering a 2024 Lyriq can expect an 8-9 month wait at least.
You could argue that's a great problem to have, given it suggests there's a big demand out there for electric vehicles. But, with the global supply chain the way it is, it's also a reminder that the electric transition so many car companies are talking about is dependent on factors beyond just drivers' willingness to ditch their gas engines.
That's all the more frustrating when the Cadillac Lyriq is so good. It has personality to go with its technology; the detailing is not only thoughtful, but unique. The pricing is aggressive, but it doesn't unduly feel like it was built to a budget. In fact what stands out most boldly is that the Lyriq is the Cadillac SUV we've wanted the automaker to build for years. It just so happens to be one that's all-electric.