Windows Phone 8 launch event invites sent for October 29 with Nokia as hero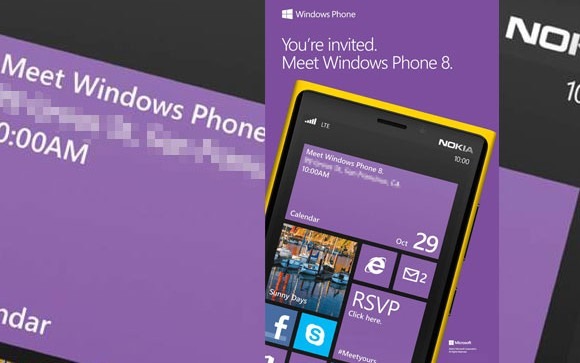 If you're ready for Windows Phone 8, Microsoft hears you – with an event scheduled for the 29th of October and set to show off Nokia as their brand hero right up front and center. If this doesn't calm your mind on how Microsoft will be pushing the mobile OS, nothing will – there's no Surface smartphone in the mix (yet, of course.) What we'll be seeing here is several sizes of tiles, a lovely new set of integrations with Windows 8, and perhaps a few new bits of hardware as well.
This event will play host to Windows Phone 8 and many of its integrated launch-day services including Xbox Music for battle with Spotify and iTunes. We may see the elusive Verizon Nokia Lumia 822 (aka the Atlas. We'll definitely going to see more of that "fundamental shift" that Steve Ballmer was talking about. We'll definitely get a Windows Phone 8 pre-order date if we don't have it by then.
We'll hopefully just be seeing a few HTC devices including the Windows Phone 8X and the 8X as well. The 8X will be one to watch, for sure.
The folks at ZTE MIGHT have a Windows Phone 8 device at the event – though that's unlikely. The devices we'll certainly be seeing are the Nokia Lumia 920 and the Nokia Lumia 820, both of them ready for action right the heck after the event, we should hope. We'll be there with bells on, you can bet -stick around!