Watch Apple's monstrous holiday 2016 advert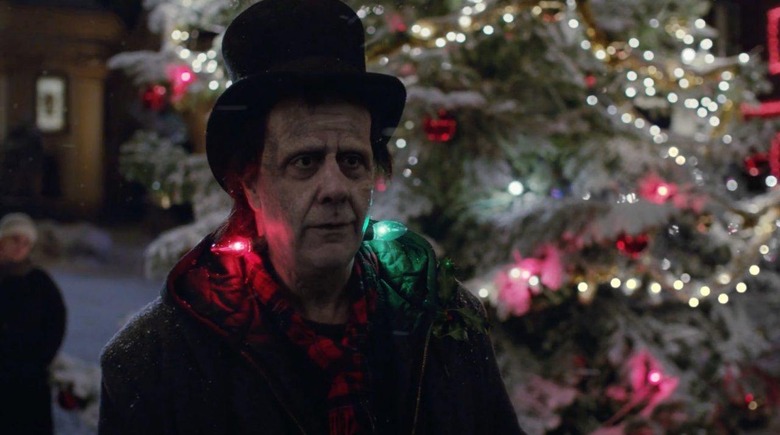 The best holiday ads arguably tug the heart strings until, driven into a consumerism frenzy by "all the feels" and egg-nog, you max out all your credit cards. Apple has revealed its contribution to the festive season with its holiday 2016 commercial, and as you'd expect the iPhone maker carefully combines sentiment with its own shiny product. Less predictably, however, there's also a leftover from Halloween.
The advert – which you can see below – is dubbed "Frankie's Holiday" and stars a Frankenstein's Monster style creation with musical ambitions. His plan to serenade the villagers by their Christmas tree goes awry when his festive bulb accessories don't play ball. Never fear, though: one plucky girl saves the day, everybody sings, Starbucks makes its cups red again not green, and the holidays are saved.
Apple actually takes a fairly light hand when it comes to pitching product in the spot. It's the iPhone 7's time to shine, but all it's demonstrated actually doing is recording the festive song from Frankie's music box. That's played back later, though it's not entirely clear why he didn't just take the music box itself with him.
Still, the holidays don't need to make sense, just persuade us to go out and shop. With that in mind, Apple has been cutting exclusivity deals with a number of products for its stores this season. If you want ROLI's modular musical Blocks, for instance, the Apple Store is the only brick-and-mortar place you'll find them over the next couple of months.
The same is true for Play-Doh's Touch Shape to Life Studio, a playset built around the moldable, reusable clay. Combined with an iPad app, characters created out of Play-Doh can be digitally captured and then taken around various learning adventures. It's a clever use of digital and real toys, and will only be offered at Apple Stores for the time being.
It's all part of the company's attempts to push a broader ecosystem than just its own products, relying on the strengths of third-party manufacturers rather than hoping to fill every niche itself. That can mean the discontinuation of Apple-made devices, like the Thunderbolt Display which was killed off earlier this year. Rather than replace it with a Thunderbolt 3 version itself, Apple opted to work with LG on 5K and 4K monitors that promise to work seamlessly with the new MacBook Pro.
More recently, insiders suggest another of Apple's product lines is facing the axe. The team responsible for the AirPort wireless router and other networking gear has reportedly been reassigned within the Cupertino firm, suggesting no future versions are in the pipeline. Apple bundled those products into its "Other" category in its financial reporting – along with things like Apple TV and Apple Watch – which contributes a relatively small percentage to the firm's overall income. Sales, therefore, aren't broken out individually, and so it's unclear how many AirPort Extreme units it sold compared to more mass-market networking hardware makers like Belkin, D-Link, and Netgear.
If you're still on the fence about the latest Apple smartphone, meanwhile, or whether to pick the iPhone 7 or its larger, twin-camera iPhone 7 Plus sibling, we've got you covered. Our full iPhone 7 review has all the performance, camera samples, and battery testing you need to make up your mind.