Toyota wireless EV charging testing in 2014 as 4th-gen Prius teased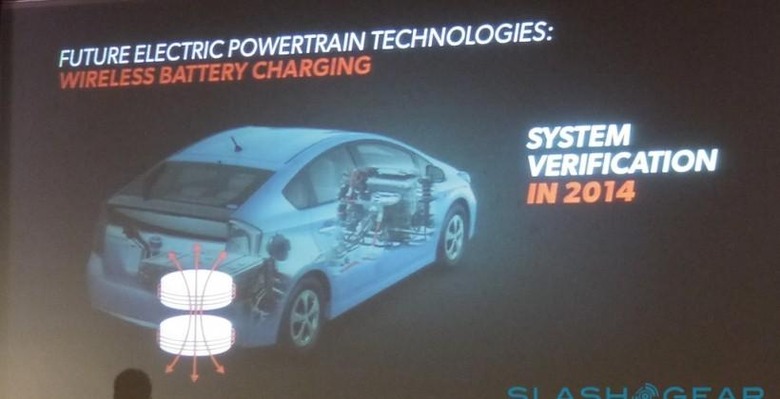 Toyota is working on wireless charging systems for its next-gen Prius, intending to put such connection-free technology into verification testing in 2014 in the US, Japan, and Europe. The inductive charging system will be able to transfer power to a Prius or other Toyota hybrid vehicle without requiring a physical connection, Toyota Managing Officer Satoshi Ogiso says today, similar to Qi charging for smartphones but on a much larger scale.
Toyota currently has three different types of eco-friendly cars, in various stages of development. On the road already are hybrids (pairing gas and electric engines) and plug-ins (which are pure-electric); in the pipeline is a fuel-cell vehicle expected potentially as early as 2014. That fuel-cell car, described as a four-door, will be revealed for the first time at the Tokyo Auto Show later this year, Ogiso confirmed, with its US debut at CES 2014 the following January.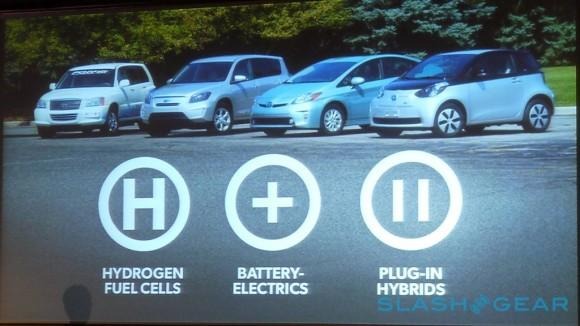 For hybrid and plug-in EVs, however, Toyota is working on new charging options that could potentially be rolled out similar to Tesla's Supercharger network, only without demanding that drivers plug in their cars. Ogiso declined to comment on the specific technical possibilities being considered, but it's not unfeasible to imagine an inductive coil being embedded in a parking space, and which would automatically and wirelessly recharge the next-gen Prius or other Toyota EV parked above.
In parallel, Toyota is working on new motors, exploring induction motors and the potential use of rare earth magnets. The company is also developing batteries with greater power density, not only Li-Ion but more outlandish possibilities such as Li-Ion and the same sort of solid-state capacitors that Toyota has used to good effect in the Prius Endurance Racer. The project to develop an "economic, compact, high-performance battery" will be of particular value "for plug-in hybrids," Ogiso said, though warned that Li-Air and capacitor tech is still likely to be ten years out, and not in the fourth-gen Prius.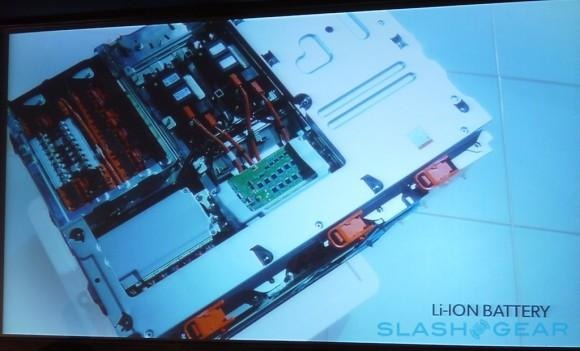 That, the company hopes, might give them an edge in what's proving to be a difficult market to crack: the pure-electric, plug-in segment. As Tom Stricker, VP of technology and regulator affairs at Toyota admitted, while hybrids following in the wheel tracks of the original Prius have already proved themselves, the other technologies are yet to be convincing in the same way. "Much more can be done with hybrids," he said at the Toyota Hybrid World Tour 2013 in Michigan today, "but when it comes to other vehicles, like ZEVs, we're particularly bullish on fuel-cells, but the future of sales of these sort of vehicles remains uncertain for us."
While Tesla may be having some success with its plug-in Model S, cars using similar technology from other manufacturers – Toyota included – are having more trouble meeting their sales targets. Toyota cut the cost of leasing a RAV4 EV earlier this week, in fact, and as Stricker pointed out the car is facing the same sort of issues that impacted the first-gen RAV4 EV Toyota attempted in the 1990s.
"Back in the 90s we leased the RAV4 EV. It's interesting, what we learned is still the same today with EVs. Range, cost, utility" Stricker explained. "The RAV4 is a relatively large vehicle in terms of EV space, it has lots of utility. But what reignited the EV discussion was the hope for li-ion battery technology. That technology actually cost more, at least currently. I'm not sure we've actually solved the issues that led to the challenging issues the first time, the late-90s time we did this."
The initial audience – and one which Tesla, with its premium sedan, has courted well – is a relatively small one, Stricker said. "There's always going to be that group of folks, the early-adopters, who can afford it, who'll gravitate to this market" he said, "but battery cost reductions are one of the key things that everybody in the industry needs to work towards. To get more range, and to make the vehicles more affordable for what you get out of them."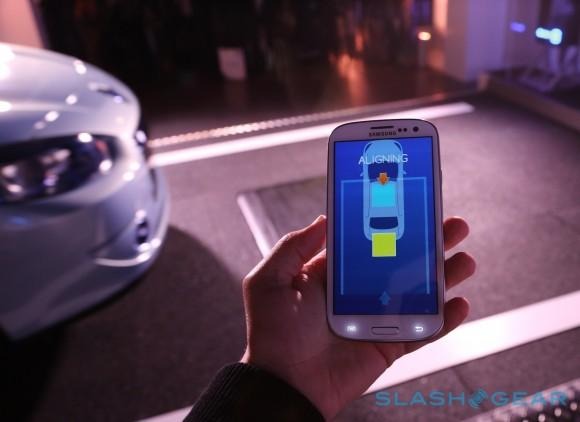 Toyota isn't the only company working on inductive charging systems, of course. Various systems have already been put into public service, albeit generally at low, test-scale implementations. Qualcomm's Halo system, which we tested out last November, will go into a limited trial in London in 2014, though it will be available only to fleet customers such as cab firms.
Meanwhile, Utah State University has begun testing a bus service which relies on inductive charging, with a similar system operating in South Korea. Mitsubishi is developing its own wireless EV technology, though the company has given no indication of when it might see it debut on its vehicles like the i-MiEV.
Toyota's Satoshi Ogiso – who was assistant chief engineer on the first-gen Prius, chief engineer on the second-gen Prius, and then group chief engineer for the third-gen Prius family – wouldn't be drawn on when, exactly, the fourth-generation Prius might reach the market. However, he teased, the first model came in 1997 and the second in 2003, followed by the third in 2009, making for a six year release cycle. That, if Toyota is true to form, could mean the new Prius (and its derivatives) from 2015.