Utah State University Unveils Public Transit Bus With Inductive Charging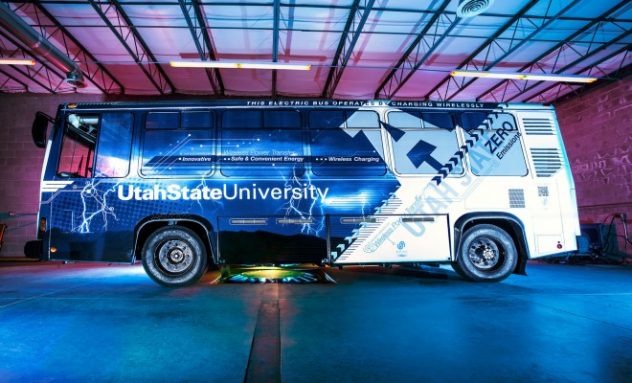 Researchers at Utah State University in Logan, UT have figured out a way to bring inductive charging to public transportation with an electric bus that's capable of recharging itself at each bus stop. Charging plates under the the pavement at each stop charge up the battery inside the bus, and while the plates and the bus have to be lined up somewhat in order to charge, they don't need to be perfectly lined up every time in order to juice up.
A prototype of the bus, called the Aggie Bus (named after the school's nickname) is already on the road being tested as we speak. The folks behind the project plain to have a commercial vehicle on the market soon, but no specific timeline was given. The bus uses the same wireless charging principle as an electric toothbrush or a wireless smartphone charger. The only difference is that it's optimized for a vehicle.
Induction charging, in this specific instance, allows for smaller batteries on the electric bus, which frees up room for more interior space, as well as reduces downtime and allows for lower battery costs. Utah State University will be the first college campus in the US to debut such a bus sometime in 2013.
Of course, this isn't the first time we've heard of wireless charging used in vehicles. Last month, Qualcomm kicked off a new wireless charging trial called "Halo" that's all about testing different ways to bring inductive charging to everyday driving. Unlike current electric vehicles, which have to sit overnight to recharge, Qualcomm's initiative plans to have the highway itself be the charging pad. Of course, we won't see this kind of technology for a few more years, and it'll still be in the slow rollout phase by then.