Qualcomm Halo: Inside the tech of the world's largest wireless car charging trial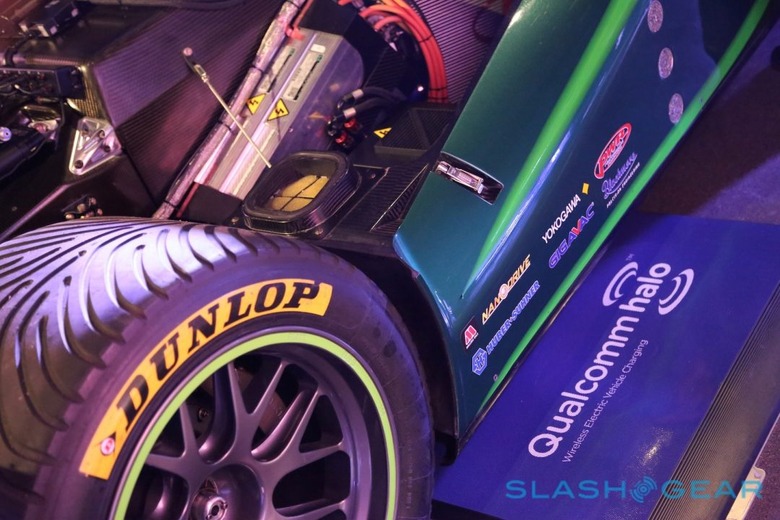 Wireless charging has made headlines in recent weeks, but a new Qualcomm Halo trial kicking off in the UK is targeting the devices that live in your garage rather than in your pocket. Just as Google's Nexus 4 and Nokia's Lumia 920 each support wireless charging, rejuicing via simple desk pads rather than the fumble of slotting in a microUSB cable, so chip and wireless specialist Qualcomm sees the future of electric and hybrid urban mobility being wire-free. There's a big difference, though, between a fifty buck charging plate for your phone and a way of cutting the cord for electric vehicles and potentially opening up the road as a dynamic power highway. SlashGear caught up with Qualcomm and some select partners to find out what makes Halo special, and why it's just as much at home on a 200mph racing car as it is your city runabout.
Qualcomm's trial scheme – in association with Renault and others – kicks off a two year project in London, UK, to see the feasibility and issues around wireless rather than traditional conductive charging. It's based on Qualcomm's Halo technology, which puts special inductive coils in both the road and the chassis underneath your car and, when the two line up, can fire across power with much the same efficiency as a regular cable might deliver.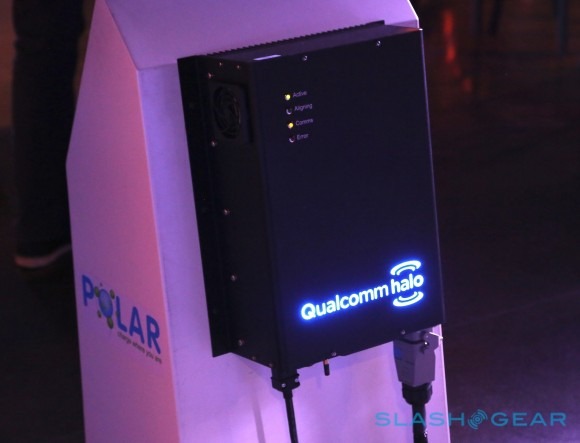 Inductive systems of this sort aren't new – in fact, industrial facilities have been using similar technology, running automated machinery around factory floors fueled by powerline tracks embedded in the concrete, for more than two decades now – but they're yet to spread in any effective way from relatively closed systems.
London's busy and convoluted streets are anything but a closed, controlled system, but that's exactly why the city was selected by the Qualcomm-led project. It offers a mixture of road conditions, weather types, and usage scenarios, and a combination of sedans, taxis, vans, and other vehicles are expected to take part over the two year period.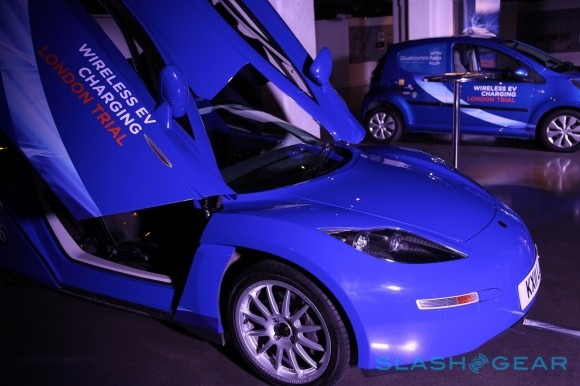 Halo is a big step away from plugging in your EV (electric vehicle) to a mains electric point. Instead, you simply drive up to a power-embedded parking space and – being guided in, either by a dialog on the dashboard display or on your smartphone – roughly line up the coils in order for the electricity to start flowing. Early iterations only supported the sort of power you'd get from a slow, overnight charger – around the 3 KWh point, good for a full charge in around seven hours – but the technology now offers a 3hr charge with 7 KWh versions, and even a 1hr charge with the fastest 20 KWh standard.
Qualcomm Halo and Renault Fluence demo:
Renault is the big partner, or at least the one most likely to be seen on roads, with its specially crafted Fluence EV carrying Halo technology (along with a set of regular charging plugs). Citroen is also taking part, with a compact EV, while the more esoteric Delta E-4 will be a rarer sight though probably more eye-catching thanks to its gullwing doors. The Delta also has the most entertaining dashboard, a Tesla-style full touchscreen for navigating through charging programs and efficiency reports. In contrast, the Renault shifts Halo duties to a smartphone app – which we played with on a Samsung Galaxy S III – which helps position the car over the pad as well as begin, end, and monitor charging. The Citroen has a cutesy pod on the instrument binnacle that shows power status.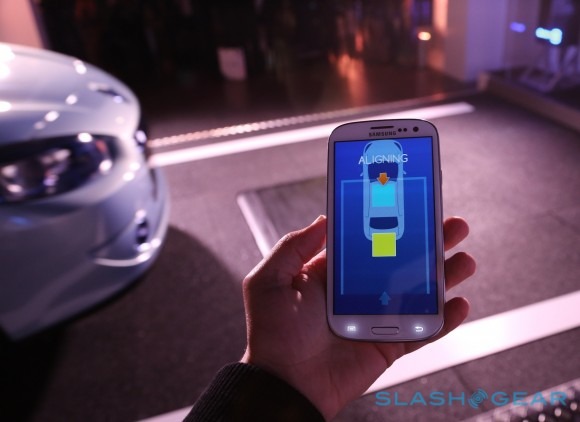 Unfortunately, the general public won't be able to snap up a Halo-enabled car during the trial. Instead, they'll be limited to select fleet users, including cab company Addison Lee, with a further cab deployment planned for sometime in 2014. In fact, the team behind the trial see cabs as being ideal customers for wireless charging, with each waiting period in a taxi rank the ideal opportunity to top up a battery. Initially, though, partner Chargemaster will be adding Halo to six of its London based privately-run "POLAR" EV charging locations, though the goal is to upgrade all 4,000+ points across the UK.
Nor will those with existing EVs be likely to see an upgrade. Qualcomm tells us that the cost of retrofitting Halo – as well as the regulatory and safety hurdles – means the relatively small userbase of current drivers isn't really a target. Instead, the company is aiming for more widespread adoption with OEMs and upcoming models. It'll also need to convince buyers to tick the EV box at the point of ordering; Renault says it is attempting to price its models at roughly the point of the diesel-powered equivalent, but there's infrastructure required for the wireless charging pad if you want one for your garage at home, and you can't simply plug Halo into a regular power socket. That's currently along the line of roughly £2,500-3,000 ($4,000-4,800), not including the background infrastructure, though to be fair that's roughly akin to a wired setup.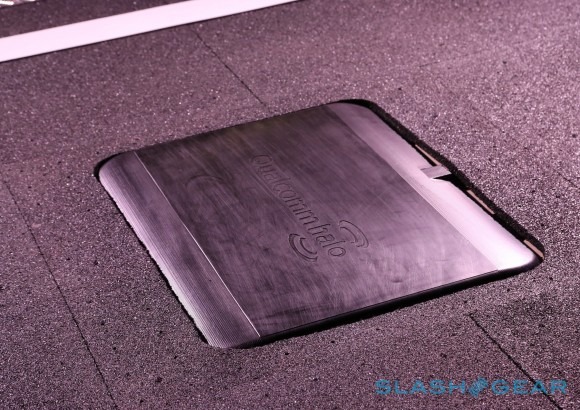 In the future, though, your Halo-equipped car may not even need to stand still in order to be recharged. Right now, fixed charging points make sense, from a cost-of-infrastructure standpoint as well as given that most cars sit unused overnight and for several hours during the day. However, Qualcomm also envisages a time when dynamic charging is used: Halo embedded in continuous strings along the roadway, with EVs constantly being powered as they drive over them.
Qualcomm Halo official video:
It's cost not technology holding back such deployment today. In fact, the current Halo pads support dynamic charging already; right now, though, actually ripping up the road to bury them in place is unfeasible. Qualcomm and others will need to successfully position Halo as a standard, too, in order for the technology to be so broadly adopted that ubiquity makes commercial sense. There are more partners in the trial to be announced, the company told us, and other car manufacturers have been invited to take part, but it's far from an industry standard yet.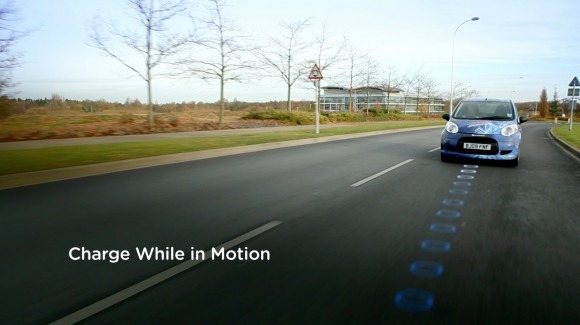 The first evidence of that is likely to be in FIA Formula E, the freshly-announced EV racing cousin to F1. Set to begin in May 2014, it will see new EV racetracks in ten cities across the world, with ten teams pitting their all-electric cars against each other. Right now, the plan is for a relay race setup of sorts – each team would have two cars, driving one for roughly 20 minutes, before leaving it in a pit-stop to recharge while a second car was driven for a further 20 minutes, and then finally returning to the first, "refueled" car for the final 20 minute dash – but the closed environment of a racetrack makes it ideal for dynamic installation.
And don't doubt that EVs can deliver when it comes to high-speed performance. Drayson Racing Technologies showed us its B12/69 EV, a 200mph+ Le Mans style race car equipped with Halo charging and good for a 3.0 second 0-62mph sprint. The racing team used the B12/69 EV as a Halo testbed during the last Goodwood Festival of Speed, setting a new hill climb record back in July and relying solely on the Qualcomm system for recharging during the entire weekend. In fact, the EV version of the car out-performs its predecessor, which hid a 5.5-litre biofuel engine at the rear instead.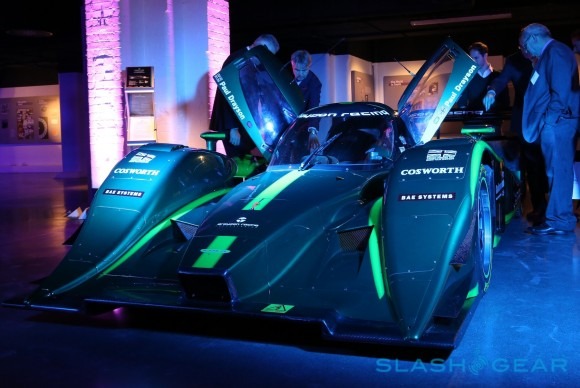 In the end, Halo is a play for a growing market: one where EVs are looked upon more favorably by governments and regulators than traditional gas-guzzlers; where the infrastructure and driver-awareness exists to support them; and where consideration for the environment matches enthusiasm for the independence of having a car. Qualcomm and its partners make a pretty convincing argument for the Halo system specifically, however.
Rather than rely on the sluggish improvement in battery efficiency, or trying to squeeze more batteries into a vehicle to increase range, Halo targets ease of use and ubiquity. By topping up your EV multiple times during the day – without having to fiddle with a power cable or in fact do anything more than park on a certain spot – you can extend your range while also trimming the number of heavy batteries you're carrying. We'll have to wait to see how the data crunches at the end of the trial to know if the reality matches the Halo hyperbole, but just as smartphone users are being told they should simply drop down their handsets to recharge, so one day might we just park-up to top-up our zero emissions car.