Toyota TNGA promises cheaper, faster, better driving cars from 2015 Prius on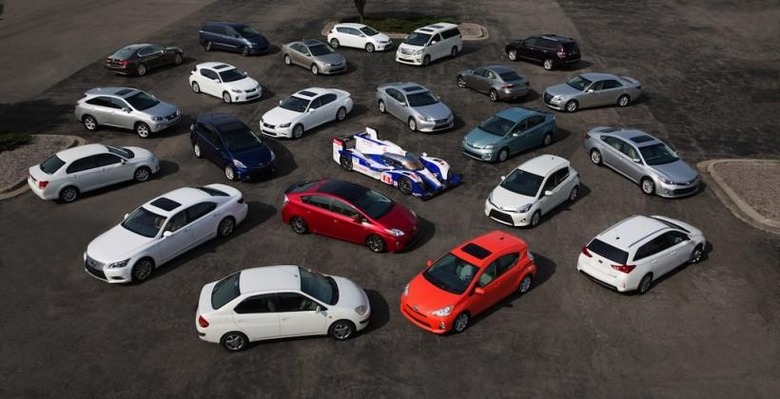 Toyota has taken the wraps off of its next-gen car platform, dubbed the Toyota New Global Architecture (TNGA), which will underpin every new car from the 2015 Prius on and save up to an estimated 30-percent on the cost and duration of development. The new program is expected to help Toyota avoid the costly and embarrassing recalls that have frequently punctuated its car launches over the past ten years, in addition to making production cheaper and, thanks to a Global Open Standard for common parts, trimming the range of components involved, Toyota says.
Toyota is the world's largest auto manufacturer but with that has come some of the most extensive recall programs out of all car companies. In recent months, the firm has been forced to pull in around a quarter of a million hybrids in multiple separate incidents including brake problems and powertrain flaws.
More worryingly, perhaps, have been the regular airbag and other safety feature issues. That saw Toyota yank 1.1m cars at the beginning of the year for airbag problems, more than 300,000 SUVs a few months later for seatbelt problems, and a whopping 7.43 million in late 2012 after concerns the electric window switches could ignite.
It's been a costly process for Toyota, both in terms of repairs and replacements, and government penalties. The Japanese company paid more than $17m to the US NHTSA for failing to report some problems within the permitted timescale, and $1.1bn to settle a lawsuit around an accelerator pedal flaw.
Partially at fault, Toyota board member Mitsuhisa Kato says today, is the rapidly increasing size of the company's range and the impact that has had on the variety of parts involved. The company currently has more than 50 different designs of air bag, he pointed out, to suit different driver seating positions.
That will all change with the Toyota New Global Architecture, which is expected to trim the number down to less than ten airbag designs, not to mention making them cheaper, lighter, easier to construct, and faster to fit. It's only one aspect of the streamlining, however, which will also cover components like alternators; the Global Open Standard for parts will limit the number of designs and connectors, for the first time across all regions.
The TNGA will be based on a "common hip point driver seating position" that, once calculated, can be used to standardize body pressings around the bulkheads and footwells of similar models. Toyota will therefore be able to use those common pressings over multiple cars in the same segments, even though they'll be different in design and in other respects. It'll make production cheaper – "between 15 and 20 percent and maybe further" Kato suggested – and trim bulk and weight, while also allowing components and other underlying mechanical systems to have longer production lives.
For drivers, meanwhile, there'll be the promise of more involving cars as a result. Kato admitted that Toyota cars had fallen behind versus rivals for handling, but says the TNGA will lower the center of gravity and thus make them "ride, turn, and stop" more impressively. Plus, even though the underlying platform may be the same, Toyota will actually be able to customize models more readily for the tastes of different regions, still pushing out variants for North America, China, Europe, and other locations.
The first car to benefit from the TNGA will be the 2015 Prius, Toyota's fourth-generation hybrid. The car is also expected to include wireless charging, at least as an option, as Toyota attempts to drive hybrid demand in the US particularly.
New Toyota cars will also get more intelligent. While the company has no current plans for a fully self-driving commercial model, it will nonetheless be showing off its new automated highway driving assist system next week, which will not only track road markings but communicate between cars in convoy to better prepare for upcoming maneuvers. The company expects it to be fitted to new cars in the mid-2010s.