This set of Pixel 2 images nearly confirms every detail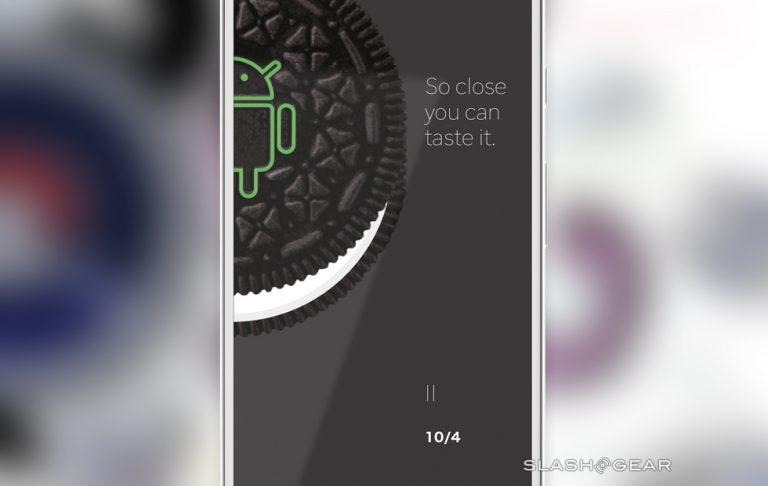 Details about the Google Pixel 2 and Google Pixel XL 2 were revealed thanks to a set of images that preclude a launch in early October. Both devices are quite likely set to be manufactured by their own individual sources, one from HTC, the other from LG. But their innards are extremely similar – much like the first wave of Pixel smartphones, both with the same processor, RAM, and Android build. Today we're nearly on the button.
The images of these phones surfacing this week came with details from their sources. These images look exceedingly similar to models we saw earlier this year, also attached to details about each device. These details and those details match almost exactly. What we're doing today is going over the details that seem to have stayed solid throughout this whole leak process.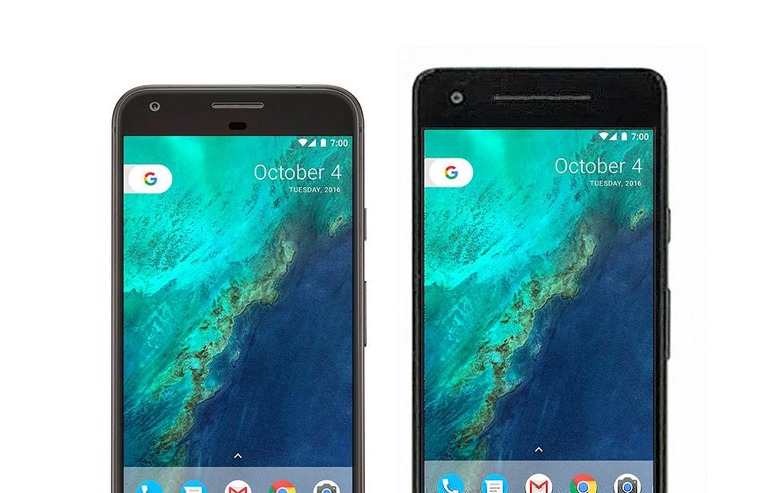 The pair of renders immediately above this paragraph compare part of a Google Pixel to part of a Google Pixel 2. These images were first posted back in August and the leaked Pixel 2 came from VentureBeat.
1. Cameras
Both devices will have frontside cameras as well as backside cameras. The backs of both devices seem to be coming with camera bumps this time around – whereas the Pixel and Pixel XL from 2016 were essentially flush with the backside's glass panel. The backside glass panels seem to have been shortened as well.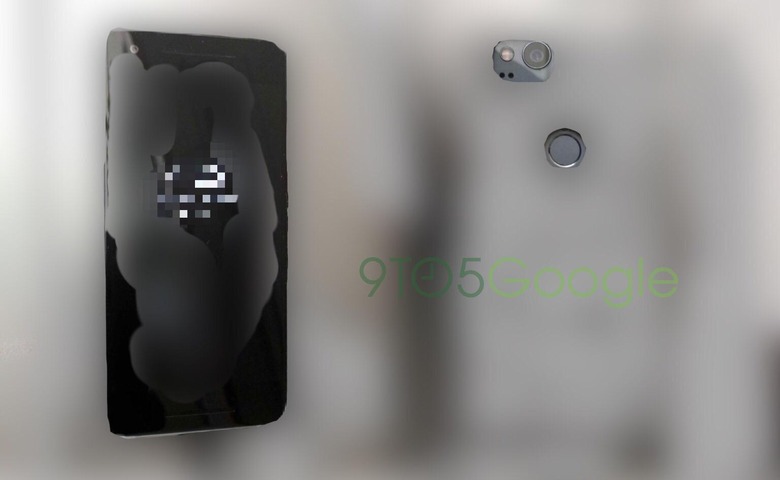 The image above comes from a leak story from earlier this week. This image originally came from 9to5Google and is the most recent leak as of this article's posting.
The back-facing camera on both Pixel 2 devices might just ben the same as last year. Sony revealed only one other IMX sensor near the capabilities of the IMX378 released with the Pixel last year, and it's a lesser sensor. At this point there's no reason why Google should change – especially if they've spend the last year further optimizing the lens system and is taking advantage of new optimizations with Qualcomm's newest processors.
2. Processors
Inside the Pixel 2 and Pixel XL 2 (or perhaps Pixel 2 XL, more likely), we're expecting a Qualcomm Snapdragon 835. When Google release the first Pixel and Pixel XL, the Qualcomm Snapdragon inside was basically identical to the processor in phones released earlier in the year. Devices like the Samsung Galaxy S7 came with the Qualcomm Snapdragon 821, while the Pixel came with Snapdragon 821 Pro.
ABOVE and BELOW: Renders based on CAD plans leaked earlier this year gave us the first full-coverage set of images of these devices. These renders seem to have stood the brief test of time as "real" photos have been leaked in the interim.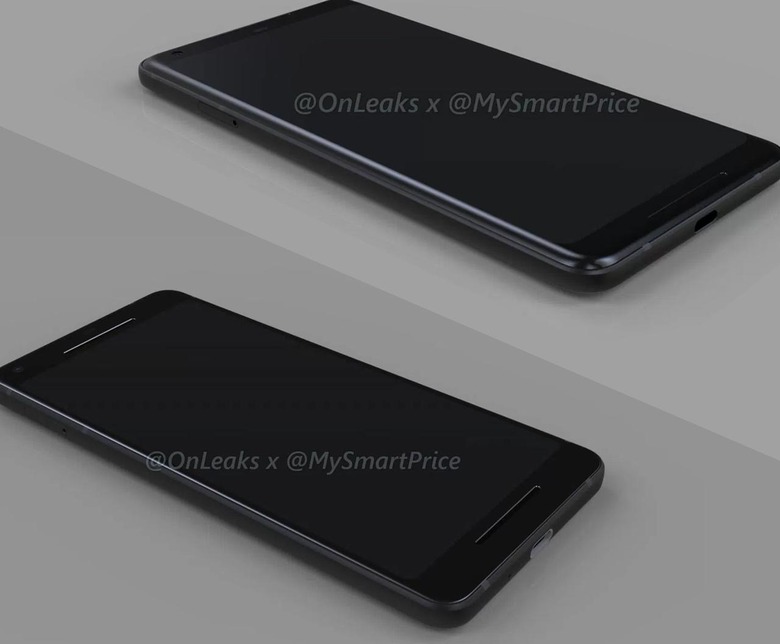 There is no major difference between the Snapdragon 821 and 821 Pro processor – but there is a difference between 821 Pro-AB and 821 Pro-AC, the latter having slightly increase maximum CPU and GPU clock speeds. Negligible differences to the average person, that is to say.
BELOW: A photo leaked quite recently shows the Pixel 2 next to another Pixel 2, both upside-down. This leak confirmed suspicions we had earlier this year. These devices have the markings of radio and/or field testing upon them – they were near their final battles before being given the OK, there.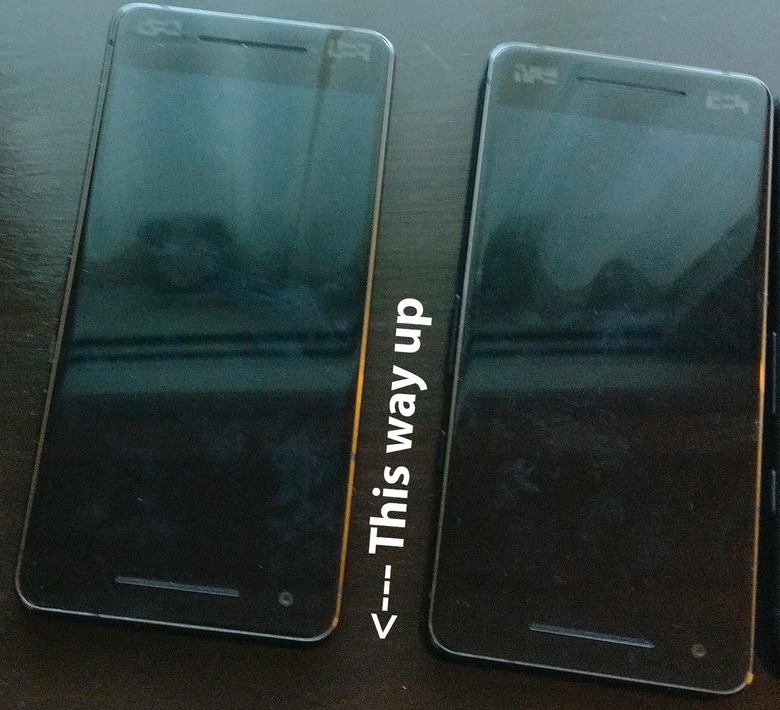 The Google Pixel 2 almost certainly uses a Qualcomm Snapdragon 835, the one and only version of the Snapdragon 835 thus revealed by Qualcomm. This processor is Qualcomm's hero SoC for top-tier smartphones coming to the market in 2017, and is present in such phones as the Samsung Galaxy S8, Note 8, LG V30, Essential Phone PH-1, Nokia 8, and the Motorola Moto Z2 Force.
It's also possible that the Snapdragon in the Pixel 2 and Pixel 2 XL will be given a new name. Instead of "835 Pro", it's been rumored that this SoC will be called the Qualcomm Snapdragon 836. That's also been dismissed, and the 835 remains the most likely candidate for the Pixel 2. Because of the likelihood of the processor, it's also likely the Pixel 2 will come with 4GB of RAM.
3. Displays
The Pixel 2 will quite likely have a 4.97-inch display with 1920 x 1080 pixel resolution. The Pixel 2 XL will quite likely have a 5.99-inch display with 2560 x 1440 pixel resolution. What's slightly less solid is the idea that this will be an OLED panel manufactured by LG – the manufacturer of the display hasn't yet appeared enough times from different leak sources that I'm comfortable saying it's a near-certainty.
4. USB / No Headphone Jack
While we'd held out hope that at least one of the two Pixel devices here in 2017 would roll with a headphone jack, now it's not looking so good. Sources suggest that neither the Pixel 2 nor the Pixel 2 XL will have a headphone jack.
Above you'll find a video made by Google not long after the release of the first Pixel phone. This video pokes fun at Apple for their recent release of the iPhone 7 sans-headphone-jack. This video is less funny now than it was then.
5. Google Goggles
Clues dropped by Google at Google I/O 2017 point toward a smart lens system through Google Now, Google Goggles, whatever you'd like to remember it as. Google reintroduced us to this Google Camera As Search feature as "Google Lens".
Google Lens will be coming to Google Pixel right off the bat – almost certainly. As Google suggested in May, "You'll be able to learn more about things around you, and even take action based on your surroundings, while you're in a conversation with your Assistant. If you see a marquee for your favorite band, you can hold up your Assistant, tap the Lens icon and get information on the band, tickets and more."
6. Reveal Date
All signs point to a very early October reveal date – that lines up rather well with last year's reveal. October 5th has been quoted by several sources at this point, and we have no reason to believe otherwise. If and when the event is revealed, we'll be bringing you the whole set of details and release information as soon as it's gone public!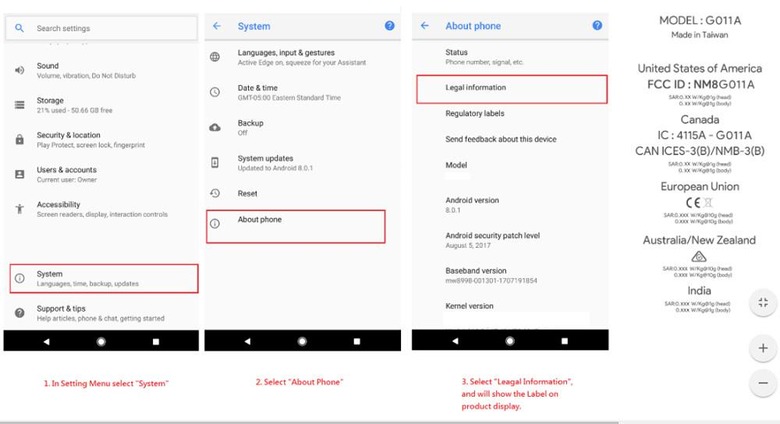 Above is an image taken from an FCC story which basically tipped the oncoming reveal timing of the Pixel 2 and Pixel 2 XL.