The FCC probably just posted the Pixel 2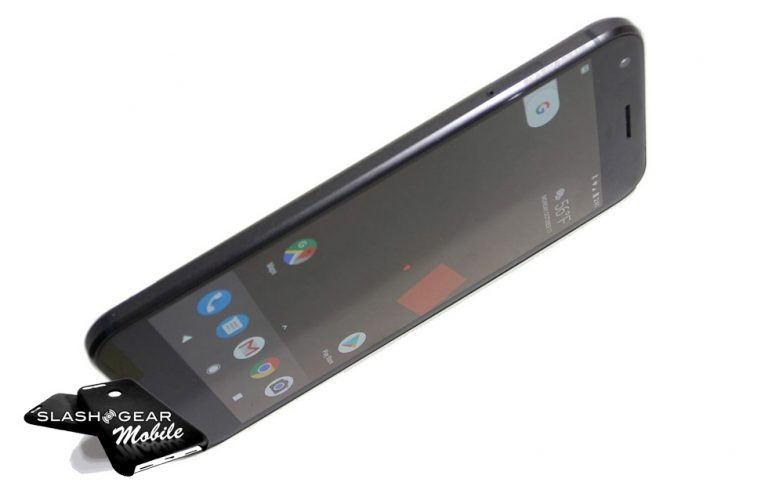 Today the FCC posted a smartphone from HTC with all the trappings of the second-generation Pixel smartphone. This is Google's second-wave "Pixel" brand device, one of two we're expecting to see released in coming weeks. This device's listing includes just a few key facts about the smartphone that point us in the direction of Google's new flagship.
If this is indeed the next Google Pixel smartphone, one HTC contribution will include their own branded Active Edge. That previously appeared in the HTC U11, a device which was quite a bit bigger than this smartphone appears here. With Active Edge, the Pixel 2 will launch the Google Assistant with a squeeze. You can see that bit in action in our review of the HTC U11.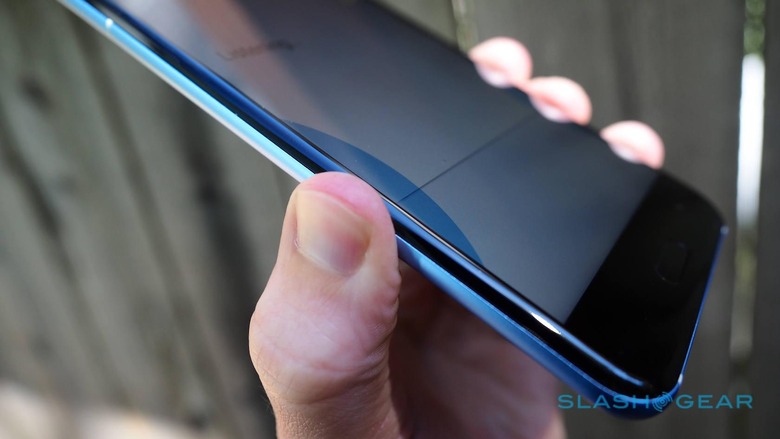 Another Pixel-related graphic you'll see in the image below – listed by the FCC – is the Pixel home buttons. These buttons CAN appear elsewhere, but there'd be no other good reason for HTC to have these buttons outside a Pixel (or Nexus) smartphone. HTC would have had to have gone through too many hoops to make something like that happen.
The graphics we're shown by the FCC here also blank out one key Settings button. Just above System on a Pixel phone (I'm checking the Pixel XL, in this case,) is the Settings item "Google Services and Preferences." That item does not appear in the FCC listing – and it's pretty obviously blocked out.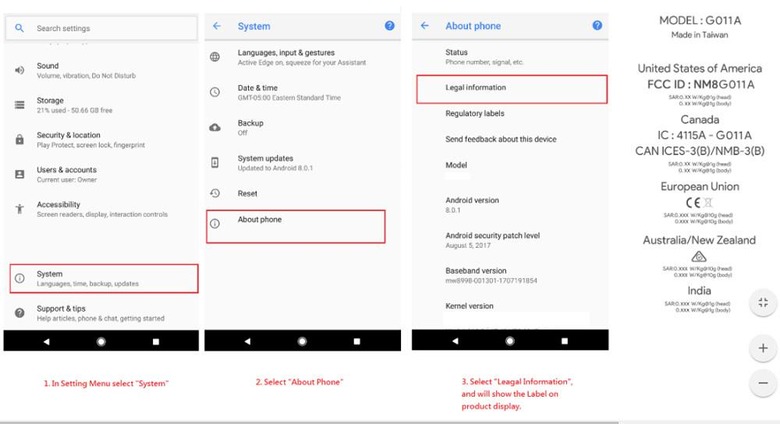 On the last element we see what HTC presented the FCC with for their Regulatory Labels*. Here we see another blank spot, just below "Made in Taiwan." On the Pixel XL, this space is filled with the following information: "Phone by Google" and "1600 Amphitheatre Parkway, Mountain View, CA 94043." In About Phone the Model area is blocked out as well (this is where it'd say "Pixel.")
SEE TOO: Google Pixel 2 vs Pixel 1 : renders and details
*Regulatory Labels – this is odd, too. The images HTC presents in the FCC listing instruct the FCC to tap System, About Phone, then Legal Information. In reality, the user will want to tap "Regulatory Labels" to get the last screen on the right.
This set of images from the FCC goes on to confirm several bits we'd suspected in the past. That is a release with Android 8.0.1 (Android O), storage size (50.66GB with 21% used – that's essentially 64GB when we consider all the normal details involved), and Active Edge.
This document also suggests that this smartphone will appear in a couple of new areas that it was not necessarily available before: India and Australia / New Zealand. The image above comes from the file e-label as listed by the FCC as early as yesterday – and it's been modified since to remove most of this info.