HTC U11 Review: You won't buy this, but you should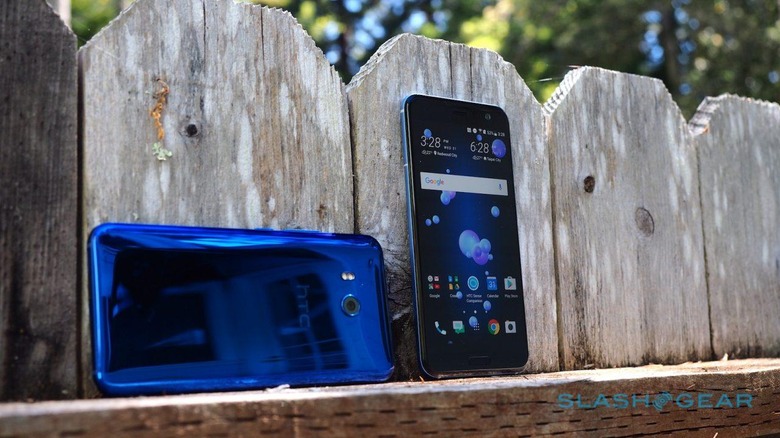 HTC learned the hard way that, in the cutthroat smartphone industry, you need to bring your A-game each and every time. Make a misstep and, though recovery isn't impossible, it'll cost you dearly – cash that HTC just doesn't have to splash around. The stakes are high for the HTC U11, then, and in a year packed with compelling flagships from deep-pocketed rivals it can't afford less than a surefire hit. Question is, does the U11 have what it takes?
Design
For a company that has always been a relative minnow in the smartphone pool, HTC has a track record of spending a bigger percentage than most on industrial design. The result of that is a legacy of handsome, well-designed devices that occasionally border on beautiful. Phones that, even if you can find flaws in other decisions HTC might have made, you can't question their aesthetics.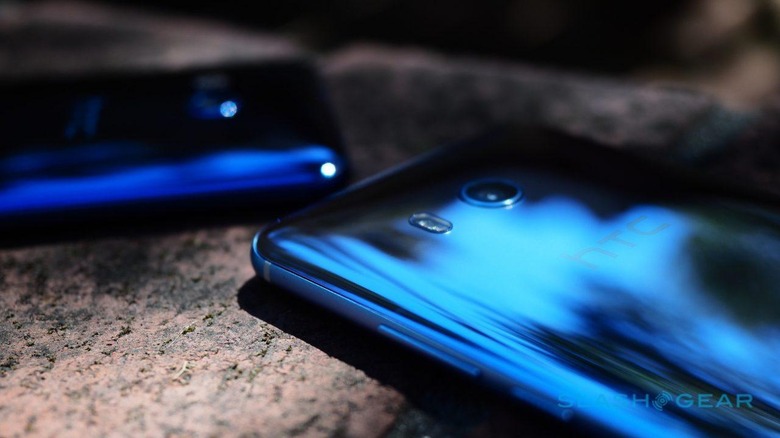 From those elevated expectations, then, HTC has outdone itself with the U11. If the HTC U Ultra previewed the company's new style earlier this year, then this is the phone that truly embodies it.
Gone is the all-metal unibody of the U10 and its predecessors, handsome but dated. In its place, HTC combines glass and metal, though this is no ordinary gadget sandwich. The toughened glass is subjected to multiple stages of heating, pressing, and shaping, all in the name of producing a series of sinuous curves that blend smoothly into the brushed aluminum frame.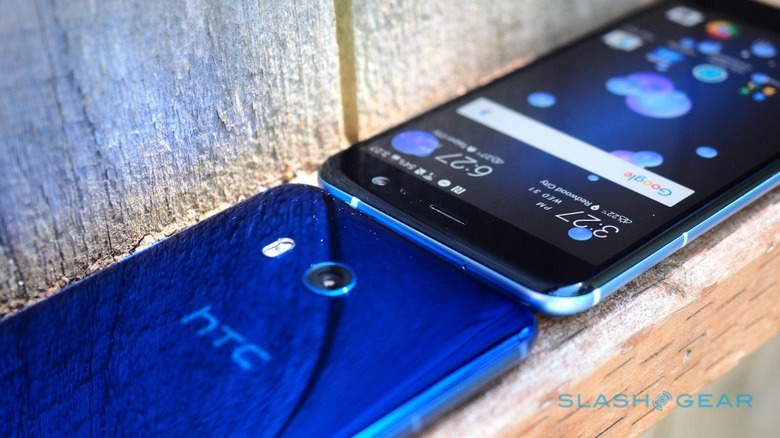 What really sets it apart is HTC's color treatment. Rather than just painting the glass, the colors – there are five, Amazing Silver (which has an unusually blue tint), Sapphire Blue, Brilliant Black, Ice White, and Solar Red – run through the second surface of the glass. On a practical level, it means that if you scratch the back of your U11 it won't mar the hue.
However it also turns the phone into a beautiful kaleidoscope, the colors shimmering and evolving as the light plays across it from different angles. When I visited HTC's design studio in Taipei, Taiwan a few weeks ago, the team responsible for the U11's finish had plenty to say about what each of the shifting colors represented. Even if design-speak leaves you cold, there's no denying that no other smartphone manufacturer is producing anything quite so beguiling to the eye as HTC is. It's just a shame that arguably the best color, Solar Red, won't officially be offered in the US.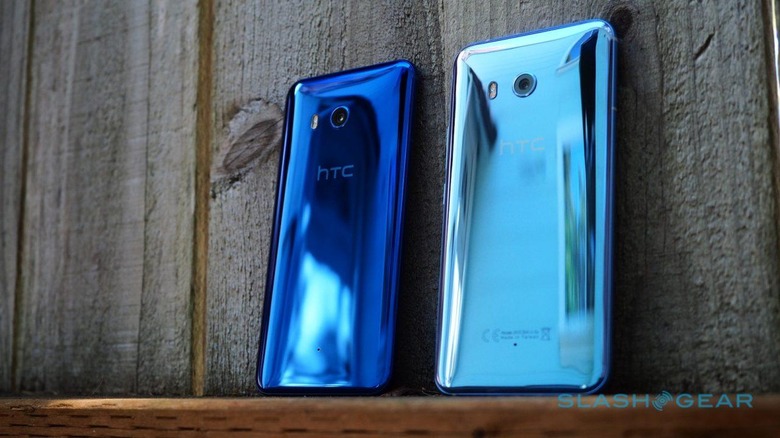 Hardware and Performance
In a year where tall, skinny displays are increasingly commonplace, the U11 looks a little... wide. With the Galaxy S8 and LG G6 both adopting narrower touchscreens, and the iPhone 8 expected to do the same later in 2017, HTC's decision to stick with a 16:9 aspect panel does leave it behind the curve. The company's argument is that the value-add for a completely new aspect ratio still hasn't been demonstrated, though it concedes that its stance might change over time if app design embraces taller, thinner phones.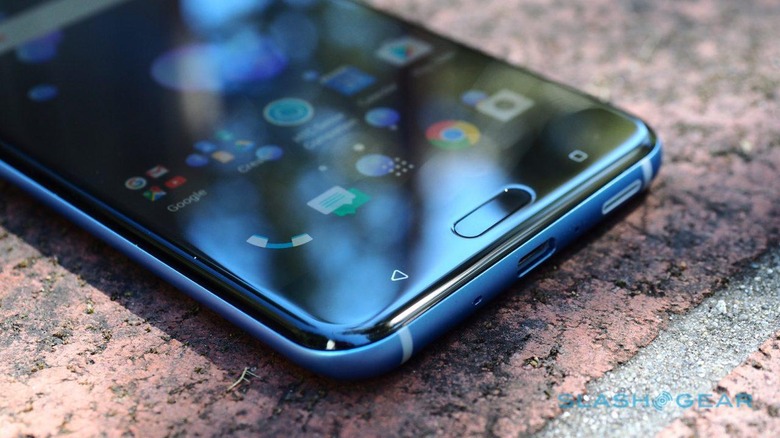 Nonetheless, the 5.5-inch QHD display HTC selected gets no complaints. Colors are bright, though short of the punchy saturation you either love or hate AMOLED for. Brightness levels are sufficient for outdoor use. Underneath it there's a slightly recessed, touch-sensitive home button that doubles as a fingerprint sensor, and is flagged by Android's back and task-switcher buttons. Would they be better served by on-screen replacements? Maybe, though then HTC would've had to move the fingerprint sensor and, having seen the ergonomic mess Samsung made of that on the S8, I'm somewhat reassured the U11 didn't have the opportunity to make the same mistake.
The U Ultra charged flagship money for a mid-tier processor; the U11 doesn't make the same mistake. Inside the glass and metal chassis is Qualcomm's Snapdragon 835, paired with 4GB of RAM and 64GB of storage; there's a microSD slot for augmenting the latter. Honestly, I've sworn off mobile benchmarks because they're too readily gamed and rarely give any useful insight into how a device performs bar bragging rights on a Top Ten chart. What's more important to me is how a phone feels day-to-day.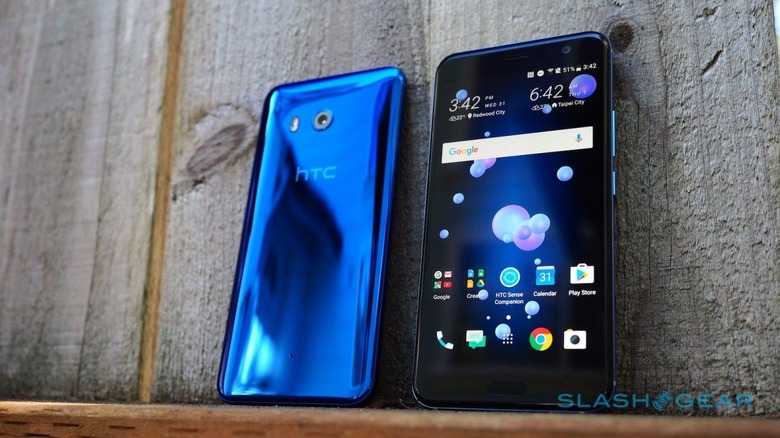 On that front, I can't complain about the U11. Apps load quickly, switching between them is lag-free, and the whole phone generally feels snappy and responsive. For sure, that's what you'd expect – what you should demand, no less – from a modern flagship running the latest silicon, but it'll come as no surprise to Android users to hear that it's not always the case.
I'm also pleased to see HTC embracing water-resistance, though the U11 doesn't quite live up to the Galaxy S8 and G6 there. With an IP67 rating, it'll handle splashes, dust, and brief dunkings in shallow water: up to 30 minutes, in up to 3.3 feet of water. No, this isn't the phone to take into the pool with you, but it's a valuable reassurance to have nonetheless when you realize you just dropped your expensive smartphone in the sink (or, worse still, in the toilet). [Ed: updated to clarify water resistance levels at IP67]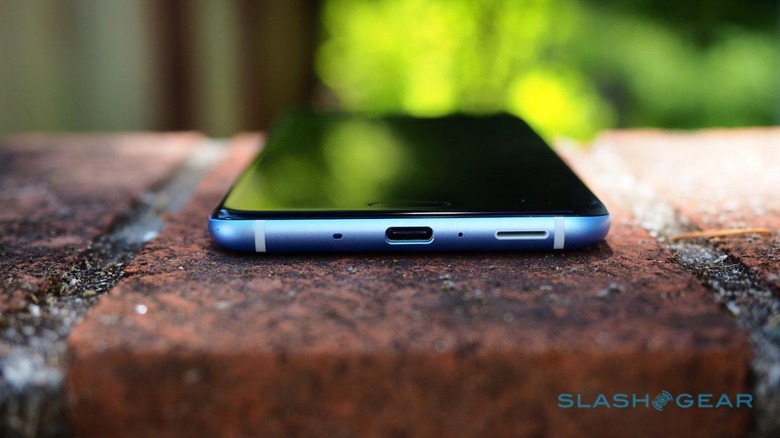 HTC BoomSound makes another evolution. If you were hoping for the return of the twin front-facing speakers then I'm afraid you'll continue to be frustrated, but I'd say it's worth giving this new iteration a chance. As with the HTC 10 it combines the earpiece and a bottom-mounted speaker, but the latter has a far larger reverberation chamber on the U11. The result is frankly astonishing levels of both volume and clarity from a phone audio system, quite possibly the best on the market today.
USound but no headphone jack
For some, the absence of a 3.5mm headphone jack is an instant deal-breaker. Sorry, the U11 isn't for you. Happily, HTC does a better job at explaining the thought processes behind its port decisions this time around, and I'm more convinced than I was with the iPhone 7 or other recent examples of 3.5mm omission.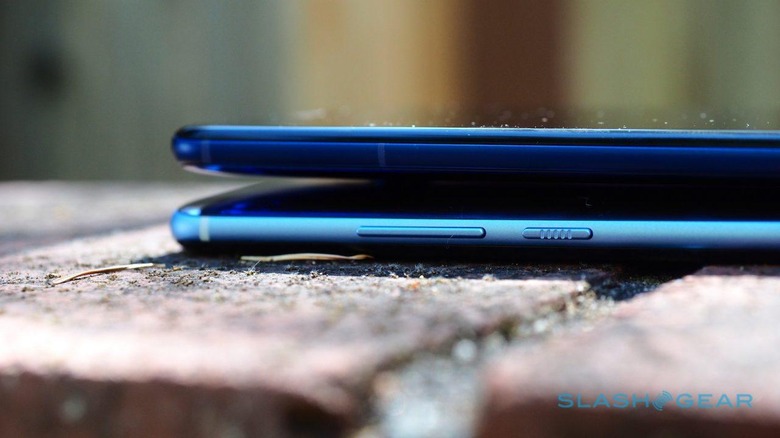 As HTC tells it, the USB-C port offers far more flexibility than the legacy jack ever could. With the HTC USound headphones bundled in the box, for example, you not only get music and hands-free calls but noise cancellation too. Cleverly, these aren't some $300 Bose rivals – in fact, HTC will sell you a replacement set for $39.99 – because they rely on the U11 to do all the heavy-lifting when it comes to processing. The headphones themselves just have the microphones required to pick up the background noise. In practice, they aren't up to Bose-levels of isolation, but it's certainly better than most in-box earbuds.
Indeed, HTC gets points for including both those headphones and a USB-C to 3.5mm jack dongle. It then promptly loses points for making its USB-C headphones so fussy in terms of what they'll connect to. The whole point of the new port is its ubiquity and multi-functionality, so it's fairly ridiculous that the USound headphones won't work if you plug them into a MacBook Pro or something else with a USB-C connector.
Squeeze me, won't you
In every generation there is a gimmick, and let's face it, HTC has a mixed track record. The U11's is Edge Sense and, though I was a little skeptical initially, having lived with the ability to launch shortcuts with a squeeze I'm actually a little impressed.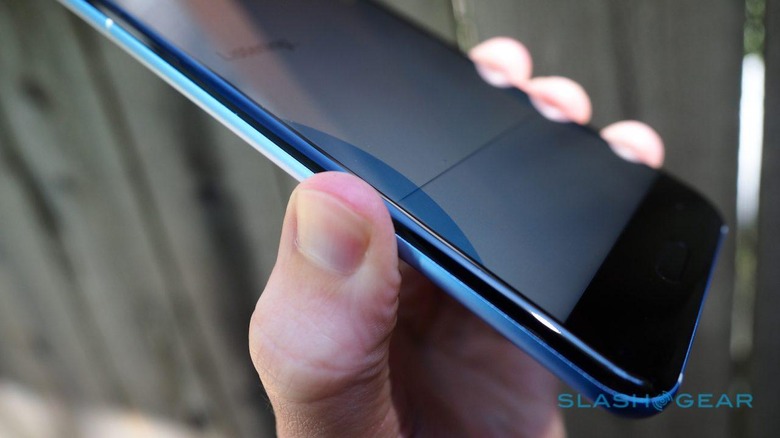 HTC has basically integrated pressure sensors into the sides of the U11. They run down roughly the lower half of each edge and, though the phone doesn't physically deform, they can differentiate between various levels of pressure. Since they're not capacitive sensors, it doesn't matter if you're wearing gloves, or if the U11 is wet, or even if it's in a (flexible) case.
Right now, HTC's software supports two Edge Sense shortcuts. By default, a short press opens up the camera; HTC leaves you to define a sustained press yourself. You can customize both, though, either to launch an app, or load the Google Assistant, or take a screenshot. During that process, you can set how firm you want the triggering press to be; I found that I tended to over-squeeze during that stage, and then had to come back later to turn it down a few notches. Subtle graphics on-screen show when your squeezing is being recognized.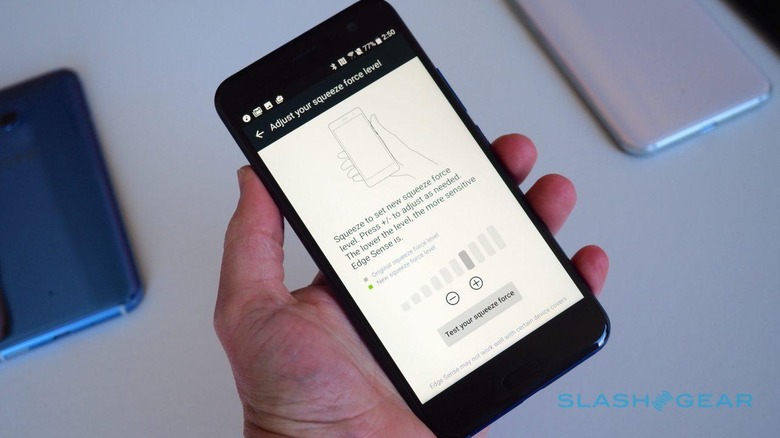 Shortcut buttons on a smartphone aren't new, of course, though they're certainly useful. In HTC's case, while a physical key might've been easier, there's plenty of potential for the Edge Sense hardware. Theoretically, future updates could add recognition for more squeeze gestures, or the ability to control things in a more granular way through modulating the pressure you apply. Webpages could auto-scroll for one-handed reading, for instance, the speed controlled by how firmly you press.
Software
HTC has scaled back its once voracious modifications of Android, and the U11 is all the better for it. Out of the box you get Android 7.1.1, and the vast majority of it will be familiar to anybody who has used a "pure" Android device like a Pixel XL.
What changes have been made center on a handful of apps, HTC opting to ditch the native Android version in favor of its own variants. Happily, the U11 shows the company's relatively light-touch approach there, too. Where Google's apps are better – Google Photos, for instance, versus HTC's Gallery – HTC doesn't force its software on you. All the same, any modification of Android adds another layer of complexity when it comes to updates, and only time will tell how swiftly HTC pushes out new OS versions.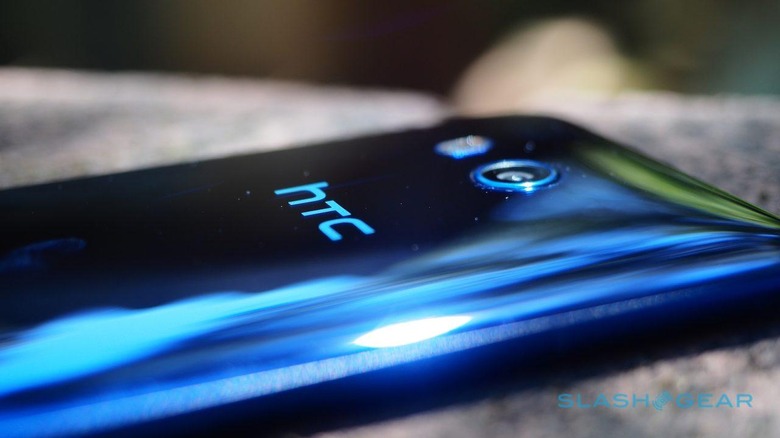 Where the U11 does try to set itself apart is voice agents. As you'd expect, you get the Google Assistant, and you can summon it hands-free with the "Ok Google" wakeword. Performance of that is great, too, as HTC has fitted a total of four microphones, using low-power always-listening technology to spot when you're asking for help, and then quickly figuring out which are the best microphones to use based on where you are in relation to the phone.
However HTC also includes its own Sense Companion, alongside the Google Assistant. When it debuted on the U Ultra, I confess I was fairly non-plussed: the promise of proactive reminders and suggestions seemed useful, but in practice you could go long stretches and never hear a peep. The official argument was that HTC's light tread was about not annoying users with too much chatter, but I'm still not sure it got the mix quite right.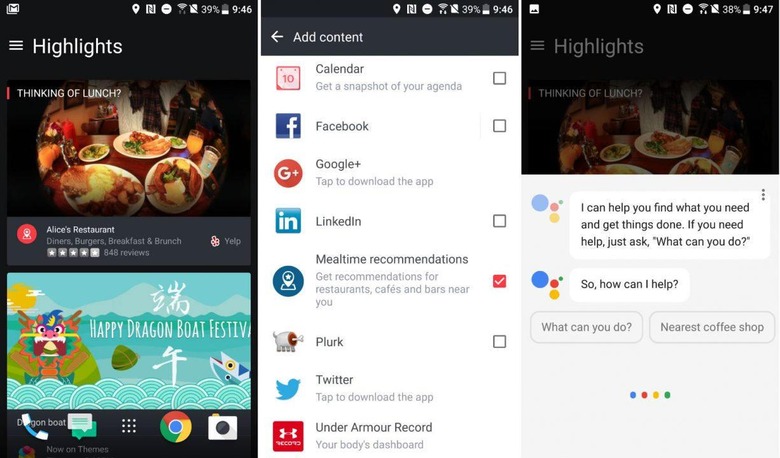 On the U11 it's still fairly reticent, but I've noticed it piping up a little more frequently than in earlier iterations. That's probably a good thing, as the new phone is going to get crowded pretty soon, too. In the pipeline is support for Amazon's Alexa.
When that arrives – which will come in the form of a software update – you'll not only be able to say "Ok Google" but "Alexa," and ask questions of Amazon's service instead. HTC hasn't said exactly which of Alexa's skills will be carried over to the phone – it won't be every one of them you get on, say, an Echo smart speaker – but the plan is to eventually build out the abilities so that they're phone-centric. That might include making calls or sending messages, perhaps, though details are in short supply right now.
Camera
I have to cut to the chase here: HTC lost its way in smartphone photography for a while, but the U11 sets it right back on track. No gimmicks, no silly megapixel counts, just a series of sensible hardware and software decisions that add up to consistently great shots.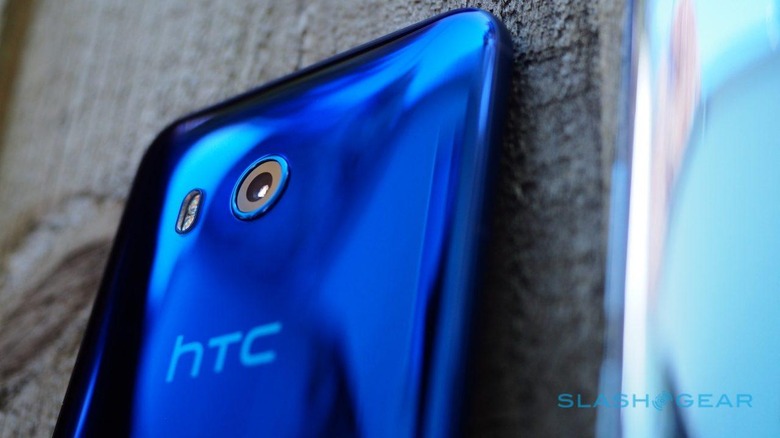 HTC is calling it UltraPixel 3, and you get 12-megapixel resolution – with each light-loving pixel measuring 1.4 microns – and an f/1.7 lens. No laser autofocus this time around, with dual-pixel phase detection in its stead. Optical image stabilization – 5-axis, no less – and a dual-LED flash rounds things out on the rear, while the front opts for a 16-megapixel sensor and a 150-degree wide-angle lens.
The result is bright, colorful, but natural-looking shots. The autofocus locks on fast, and the Auto HDR mode does a good job of lifting the darker areas without unduly post-processing them. Indeed, HTC's algorithms have a fairly light touch, the camera relying on the fundamentals of OIS enabling lower shutter speeds rather than aggressive sharpening after the fact. The same holds true in low-light, meanwhile, with those sizable pixels showing their worth. Believe me, the U11 is up there with the best of 2017's smartphone cameras.
As for video, there's up to 4K recording, and the quartet of microphones can be used in different ways. On the one hand there's digital microphone zooming: as you zoom into the scene, the U11 does a good impression of a shotgun microphone, narrowing in and ignoring surrounding noise. Alternatively, you can capture 360-degree surround audio, or even switch into Hi-Res 24-bit mode. That might be overkill for most people, but it sounds great.
Battery
If you needed proof that battery life comes down to more than just how big your li-ion pack is in mAh, HTC's last two phones illustrate it perfectly. On the U Ultra, the 3,000 mAh battery proved terrible: insufficient to get the oversized phablet through a full day of use. Inside the U11, however, the same 3,000 mAh turns out to be more than sufficient.
In what's presumably some combination of smaller screen size, smarter power management from the Snapdragon 835, and a variety of other tweaks and enhancements, you can easily get through a full day on a single charge. When it comes to plugging in, the USB Type-C port works with the bundled 5V/2.5A charger to deliver Qualcomm's Quick Charge 3.0.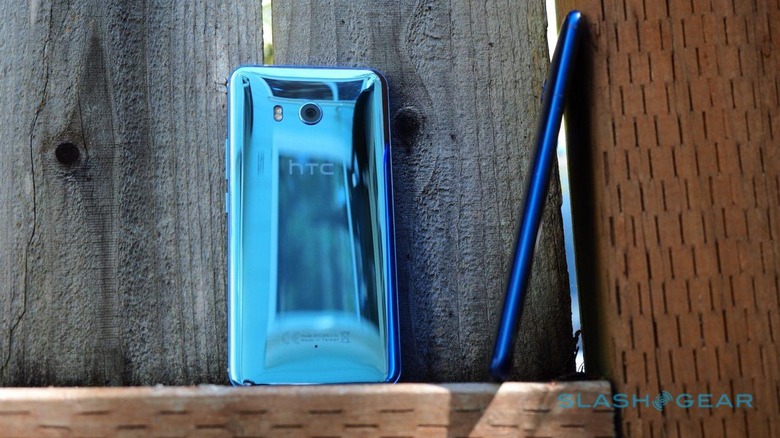 HTC doesn't score full marks here from me, mind. The absence of wireless charging is, the company tells me, a conscious decision because the wired Quick Charge experience is so much swifter, and more convenient. I don't buy it.
After years of being told that it was HTC's unibody metal design that was making the inclusion of Qi a non-starter, this switch to glass really should've ushered the technology in at the same time. Maybe Fast Charge does have advantages, but it's a flagship phone in 2017 and if I want to juice it up on one of the numerous wireless charging pads around my house, I should be able to.
Wrap-Up
The HTC U11 is a seriously good phone. HTC has combined beautiful design, superlative build quality, thoughtful features, and a restrained customization of Android. Problem is, I suspect few will ever actually see one.
It's fair to say that HTC is lacking in mindshare right now, certainly in the US. The U11 needs to be in front of as many potential customers as possible – more than that, it deserves to be – but instead it's a Sprint exclusive. Not just at launch, I'm told, but a Sprint exclusive, period.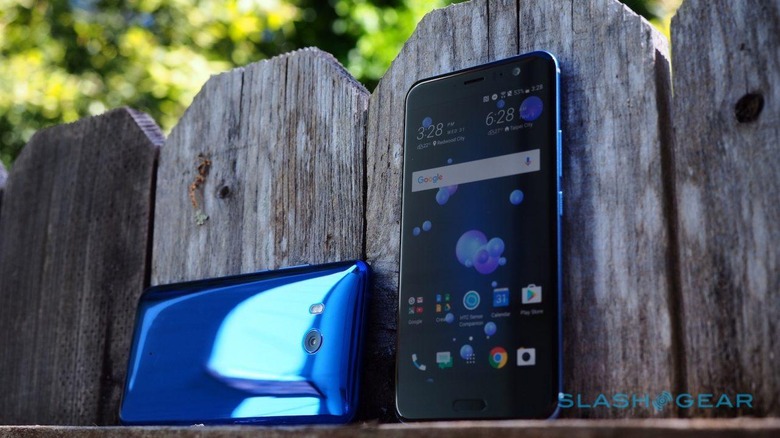 Yes, HTC will offer an unlocked, SIM-free U11 through its own store and via Amazon, and at $649 it's certainly more competitive than the HTC U Ultra ever hoped to be. This isn't really about price, though. It's about would-be owners coming into their local carrier store, maybe with the intent of buying a Galaxy S8 or an iPhone, but having their attention swayed by all the shiny that HTC has brought to the party instead. Certainly that might happen to a small extent in a Sprint store, but for the U11 to reach critical mass it needed to be on the shelves of Verizon and AT&T, too.
I might be wrong. Heck, I'd love to be wrong. It's a crying shame that HTC has made its best smartphone in, quite literally, years, and most people won't ever see it. Sure, I have no doubt that the HTC faithful will flock to it, and be rightly ecstatic, but for the mass market – the audience HTC desperately needs in order to increase its market share – I fear it won't make a ripple.