HTC U Ultra Review: Flawed Beauty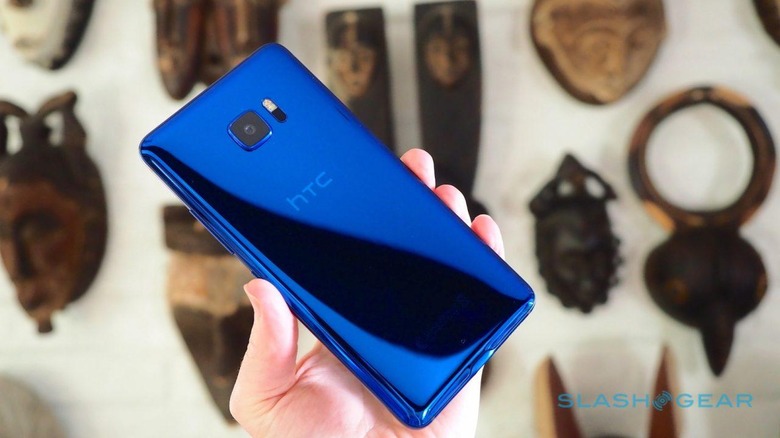 EDITORS' RATING: 6/10
The fans won't want to hear it, but HTC has made a misstep with the HTC U Ultra. Flagship follow-up to last year's HTC 10, it promises high-style and plenty of functionality to go with its premium $749 price tag, and there's no denying that its high-gloss glass body caught my magpie-like eye. All the same, some questionable hardware decisions have left me frustrated.
You can't argue with the U Ultra's style, particularly in this beautiful blue finish. HTC offers white and black versions, but really it's the deep blue you want: it shows off how the engineers ran color through the molded glass, rather than just underneath it, most effectively. They call it "liquid surface" and it's stunning.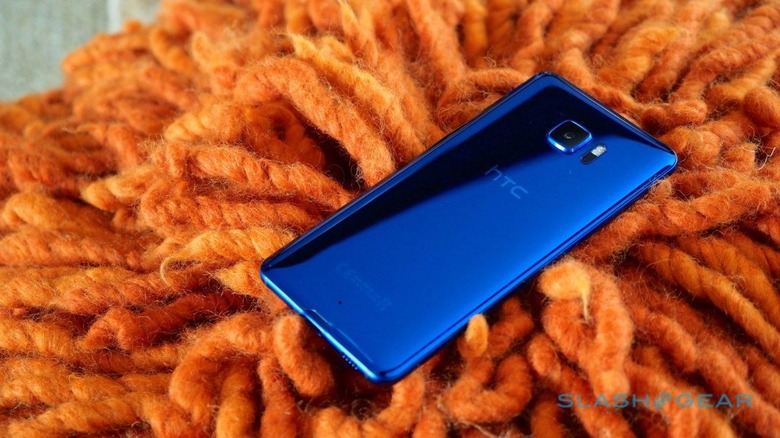 It's also more eager for your fingerprints than USCIS at an airport, and if it's not picking up greasy smudges then it's breaking your heart with a growing number of tiny scratches. HTC claims you can drop the U Ultra from more than three feet and not have it smash, but it still includes a – not especially premium-feeling – clear plastic case in the box. The front is Gorilla Glass 5.
Dropping it is a reasonable fear to have, too, since the U Ultra is noticeably slippery. It's a big device as well, and the tapering sides join at a similarly untextured metal frame; neither is especially conducive to a firm grip. Unlike many phones in the price bracket, it's not waterproof.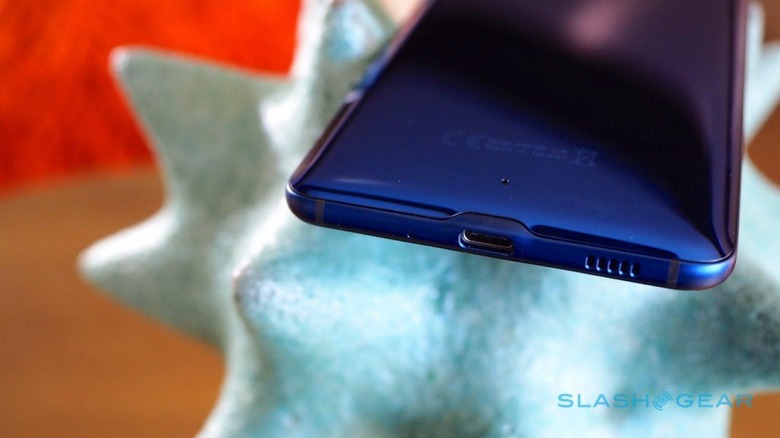 HTC has clearly had a shot of whatever strong beverage gave Apple the "courage" to drop the 3.5mm headphone jack, too. Despite the size of the handset, the U Ultra only bears a USB Type-C port, doubling for power and audio. Annoyingly, where you at least get an adapter for regular headphones in the box with the iPhone 7, HTC wants to sell you that separately.
Bizarrely, the bundled USB-C "USonic" headphones – though admittedly sounding pretty decent, particularly if you take the time to tune them to your ears in the settings – only work with HTC's phone. It's a baffling and, frankly, ridiculous situation: the whole point of USB-C is that it cuts down what cables we have to carry. At least the built-in audio, which uses the earpiece speaker and a second speaker on the bottom, sounds loud and balanced, even if it's not quite as punchy a set-up as the original HTC BoomSound.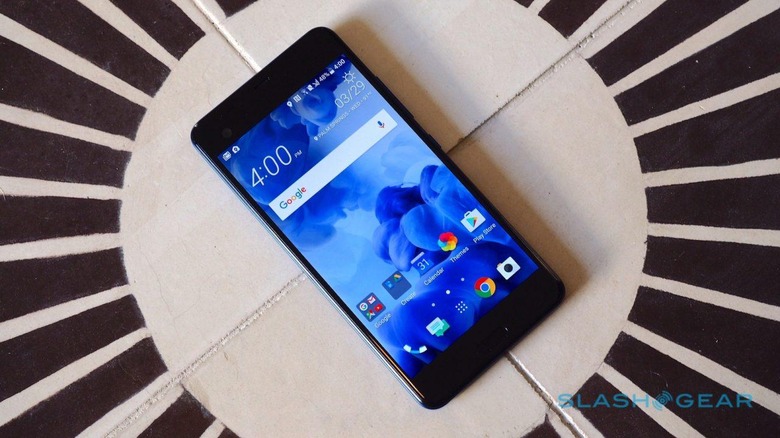 Behind the Gorilla Glass 5 – or, if you're super-swish and step up to the $1k, version, sapphire – you find a 5.7-inch Super LCD5 screen. Viewing angles are broad, colors punchy and accurate – if on the cool side, compared to what many are now used to from Super AMOLED; HTC offers options to tweak up the warmth if it's annoying you – and the 1440p resolution is crisp, and it's only the vast bezels top and bottom that detract from the whole affair. It seems a little unfair to compare the U Ultra to Samsung's new Galaxy S8 and S8+ but, honestly, they're priced in the same bracket, and what Samsung has done with the super-skinny frame around its "Infinity Display" makes HTC's engineering look archaic.
HTC does try to even the score somehow with how those bezels are used. At the bottom, there's a fingerprint sensor built into a capacitive home button, flanked by back and app-switcher buttons. I do prefer a fingerprint sensor on the front of a phone rather than the back, since it's easier to unlock it while it's sat on a desk or nightstand.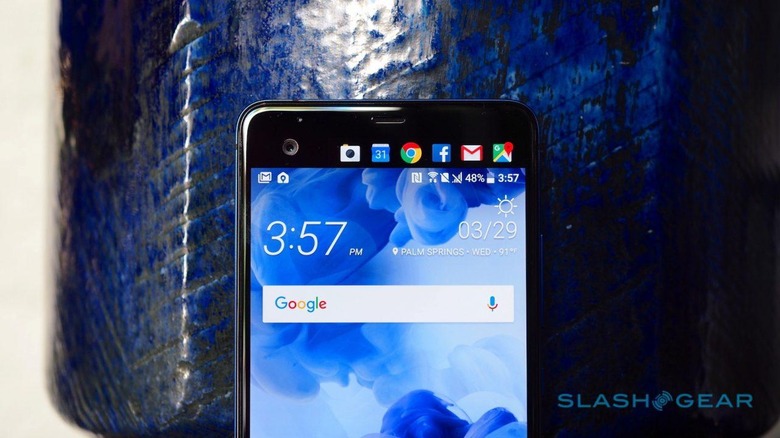 At the top, meanwhile, is the U Ultra's secondary display. Just as on the LG V20, it runs nearly the full width of the phone – on paper it's 2-inches, though it's a wide and shallow rectangle that stops short of the full width of the phone so as to accommodate the front-facing camera – and can be powered on separately from the main panel in the name of frugality. It's designed to work as a launcher, notification ticker, calendar preview, and media control.
That it does, though there are limits to how useful it actually is. Unlike with Super AMOLED phones, the U Ultra's secondary display isn't constantly on: you need to double-tap, lift, or wait for a notification to arrive in order for it to light up. You can swipe left and right to access the different screens.
Here things get tricky. The music controls are great if you use Google Play Music or Spotify, but other services don't get them. The appointment reminder will pick whatever entry is next, but you can't specify which of your calendars that comes from. You can select from multiple numbers for any one contact to add to the speed dial, but only for calls: you can't have, say, a shortcut to send a message to someone.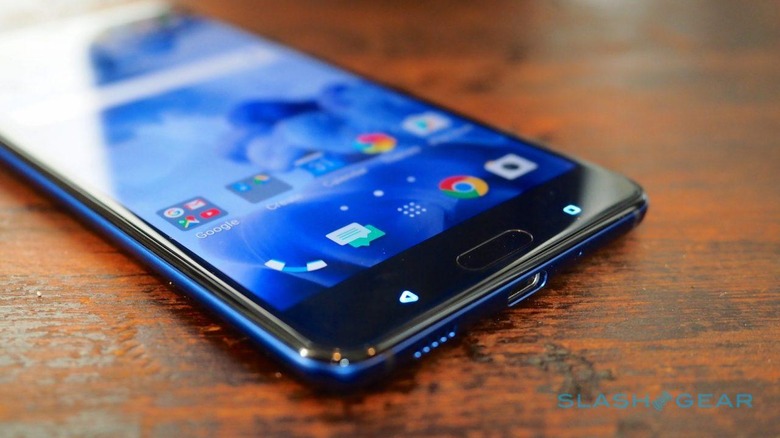 In HTC's defense, many of those frustrations could be addressed with a software update. Indeed, for the most part, the software side of the U Ultra is solid. As we've seen on other recent HTC devices, the company has taken a surprisingly rational approach to apps, defaulting to Android's own for the most part. So, you get the Google Photos app rather than HTC's Gallery, and Chrome rather than the HTC Browser.
The question is whether HTC has the commitment to actually follow that up with regular Android updates, and there the future is a little less certain. The latest firmware available for the phone, for instance, is Android 7.0 with the January 1st 2017 security patch. HTC says Android 7.1 is on the cards, just as you'd hope, but there's no public timescale for its release.
Otherwise, the big change this time around is the arrival of HTC Sense Companion. It was billed as an artificial intelligence that promises to handle the minutiae of your day, whether that be tracking power management settings to make sure you have enough juice to get through the commute home, or suggesting somewhere nearby for lunch. Part AI, part bot, the idea is that it will add the useful charm to the U Ultra's clean design, and really give the secondary display something to shout about. In reality, suggestions are few and far between – which does at least mean you don't suffer an over-chatty assistant – and I suspect most will stick with Google's similar services.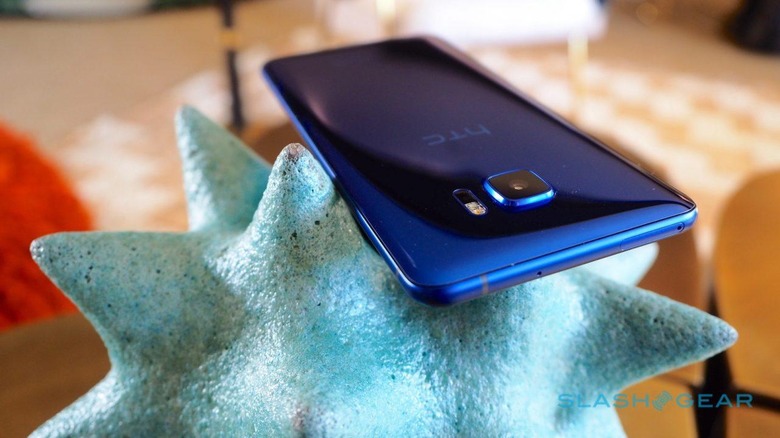 At least everything runs fast on the Snapdragon 821 chipset with 4GB of RAM and Adreno 530 graphics. Internal storage is a healthy 64GB – the more expensive U Ultra doubles that to 128GB – and there's a microSD slot for up to 256GB cards. No, it might not be the Snapdragon 835 that the Galaxy S8 is rocking, but it's plenty swift enough.
Just when I was starting to think I couldn't fault HTC's spec decisions, however, you get to the battery. That it's non-removable isn't a surprise, but that it's only 3,000 mAh in size seems bizarre given the scale of the handset overall. You get Fast Charging 3.0 with the supplied charger, which is a plus, but no wireless charging, which is a minus.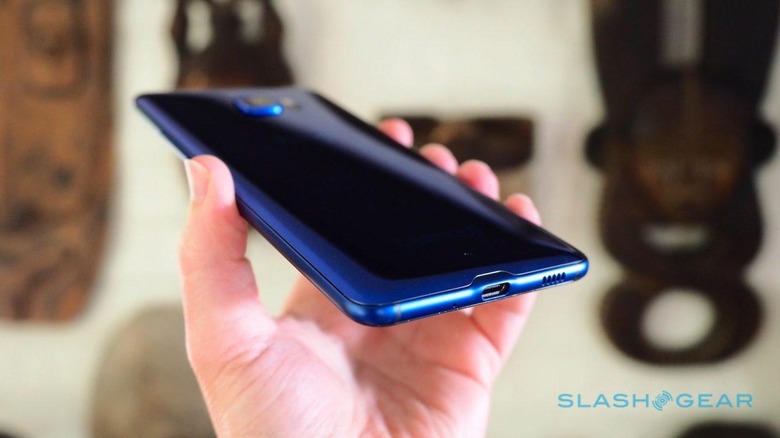 The result is a phablet-size device that can last a whole day, but not always. Use that big display for too much video, gaming, or even just browsing the web at reasonable brightness, and you might find you need a top-up come the evening. If you're not as wedded to your phone as I am – and I admit, I'm a heavy user – you could probably get a day and a half, but it's still enough to make you wish for at least the 3,500 mAh that Samsung fits in the Galaxy S8+.
As for the camera, it falls somewhere along the same lines: solid, but lacking sparkle. HTC's strategy of using sensors with big pixels, not to mention its welcome return to optical image stabilization, and the inclusion of both phase-detection and laser autofocus, should make for a top-tier shooter. That's doubly so when you consider the that the 12-megapixel camera protrudes not-inconsiderably from the back of the phone.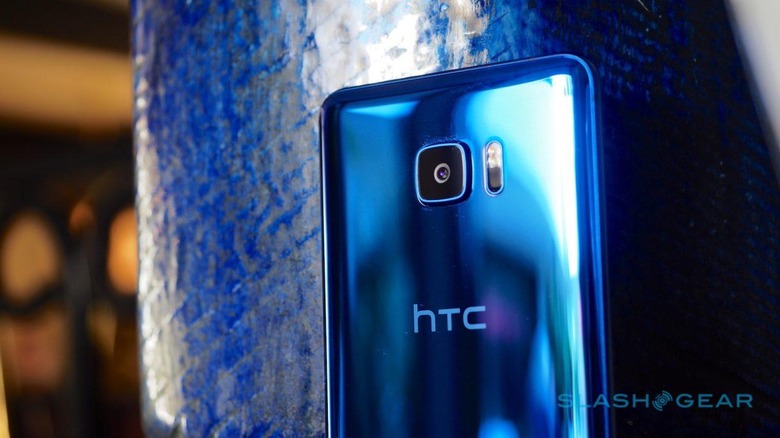 With the right lighting and the right scene, the U Ultra captures great images. These days, of course, that's table-stakes. Where things begin to stumble is when you throw in occasionally confused exposure settings – which can leave some areas of the frame blown out, despite the HDR mode – or more blur than you'd expect, from it forcing slower shutter speeds in low-light conditions. That's a bonus if you can supply it with the steadiness of a tripod; unfortunately, the OIS isn't a miracle worker for handheld shots.
To get the best results you need to switch into Pro mode and adjust things manually, but while I'm glad that's offered – along with RAW image capture – I wish it wasn't so necessary. When you can point-and-shoot with an iPhone 7, Galaxy S7, or LG G6 and expect great results in full-auto mode, I don't see why the U Ultra can't do the same. It's good, but it's not going to stand out of the pack.
Oddly, the front camera is higher resolution than the rear. HTC opted for a 16-megapixel sensor with a fairly wide-angle lens, and you can certainly fit plenty into your selfies. Though there's no LED flash, the U Ultra can co-opt the display's backlight for impromptu illumination.
Wrap-up
It may not sound like it right now, I concede, but I do consider myself an HTC fan. Like many who have been following the smartphone space as we currently know it since pretty much its inception, HTC earned itself a special place with clever, well-designed, and generally innovative devices at the cutting edge, particularly as it wholeheartedly embraced Android. It may not have the scale or marketing budget of Samsung, or the parts supply chain of LG, but it was the plucky underdog which produced devices that were more than the sum of their parts.
Somewhere along the line, that spark of genius has faded. Not completely, no, but in enough places that the HTC U Ultra doesn't quite live up to the promise of its sleek styling. While some of that is down to software, and thus could be addressed over the lifetime of the phone, hardware choices around things like waterproofing and battery size are more likely to be deal-breakers.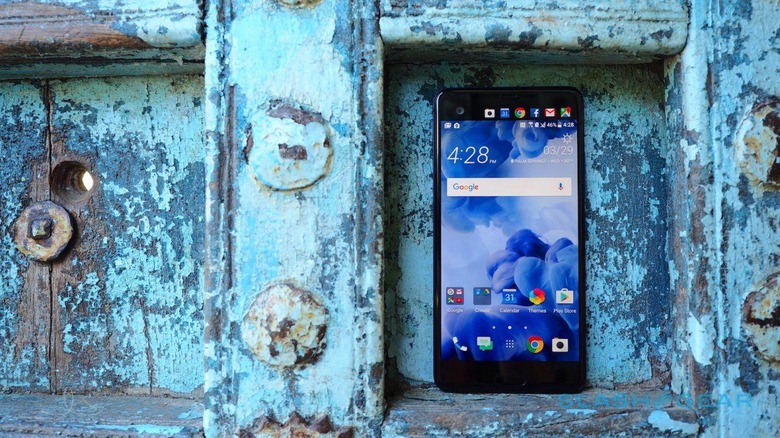 HTC seems to have decided preemptively that the U Ultra won't be such a hit in the US. None of the carriers are ranging it, with HTC instead opting to sell it unlocked and SIM-free. Generally I'm a fan of that, though the absence of Verizon support will undoubtedly cost it sales.
Yes, HTC's fanbase will likely find something here to their tastes. What the phone-maker really needs, though, is conquest sales from Galaxy and iPhone users, and the U Ultra isn't the smartphone to do that. It may be beautiful, but when you can get an impressively-compact LG G6 for about the same price, or a far more capable Galaxy S8 for that matter, it's hard to make the argument for the HTC U Ultra.