Samsung Galaxy S8 hands-on with Galaxy S8+ - To Infinity & beyond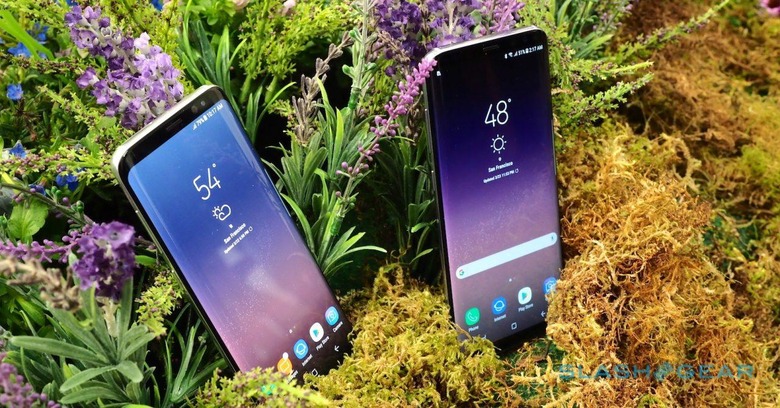 There's a whole lot riding on the Samsung Galaxy S8 and Galaxy S8+ in 2017. Samsung's new flagship Android smartphones – clocking in at 5.8-inches and 6.2-inches respectively – debut a new "Infinity Display" with razor-thin bezels, a promising voice agent called Bixby, and make the case for why a Galaxy phone should be at the center of the Internet of Things. In short, not only do they have to mount a pre-emptive attack on the iPhone 8, but the S8 and S8+ need to give their creator some much-needed good news.
It's fair to say that Samsung has had a rough twelve months since the Galaxy S7's launch. On the one hand it saw positive press galore and glowing reviews for the Note 7 turn sharply into crisis, after not one but two recalls following battery explosions. At the same time, executives in South Korea found themselves caught up in corruption scandals that have led to numerous high-profile arrests.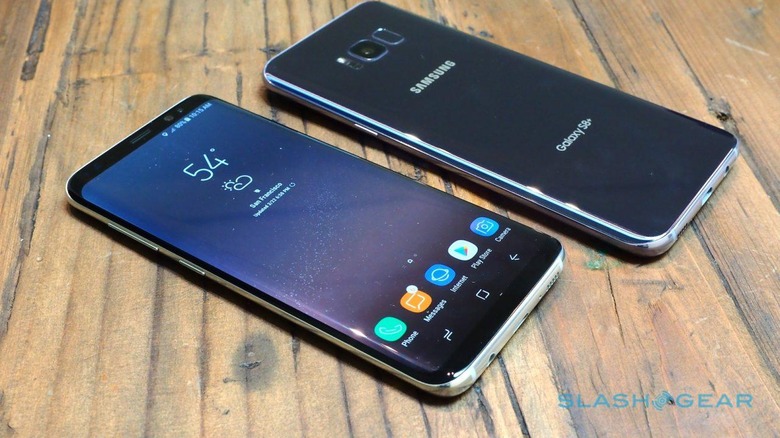 Nonetheless, enthusiasm for the Galaxy S8 has abounded. It's too soon to say whether Samsung's promises for renewed testing and safety will counter any lingering reticence around its battery safety. Judged by the scale of the pre-announcement leaks in the run-up to today, and the fact that they only seem to have fueled anticipation rather than douse it, it's no exaggeration to say that the S8 is still the most anticipated Android phone of 2017.
The good news is that it lives up to those expectations, at least as far as I can tell from some time with the Galaxy S8 ahead of today's big reveal. It's easy to suggest that the smartphone space has become over-saturated and, as a result, uninspiring. Even so, Samsung has still found ways to impress.
As expected, there are two versions of the phone. The Samsung Galaxy S8 has a 5.8-inch 2960 x 1440 Super AMOLED display, measures 148.9 x 68.1 x 8.0 mm, and weighs 155 grams. Its larger Samsung Galaxy S8+ sibling has a 6.2-inch display of the same type and resolution, measures 159.5 x 73.4 x 8.1 mm, and weighs 173 grams.
The focus for 2017, Samsung explained to me, was threefold. First, balancing consumer desire for a large display with the fact that not everybody wants a huge handset, too. Second, to tame the complexity and feature-overload as phones get more capable. Finally, to make the ways in which a phone integrates within the broader ecosystem – including specific accessories and the smart home at large – more streamlined and less of a headache.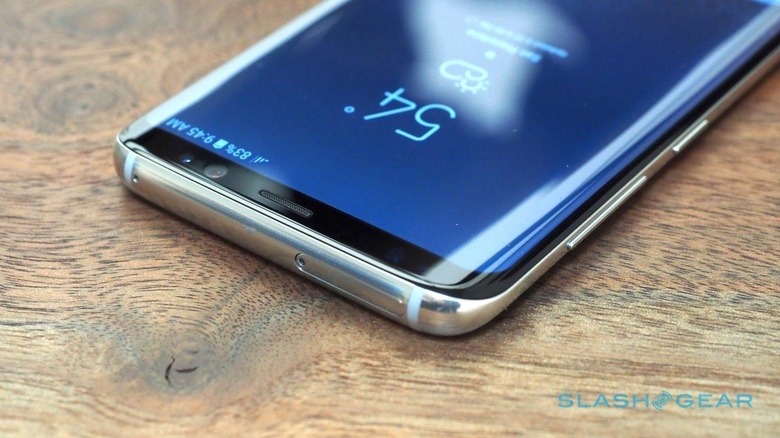 The fix for the first challenge resulted in what Samsung is calling its "Infinity Display", effectively a huge screen that dominates the front of the Galaxy S8. It's curved around both edges – there's no specific "edge" variant this time around – and Samsung has consciously opted for a black bezel so as to blur the transition between Super AMOLED and frame. A full 83-percent of the front of the Galaxy S8 is taken up by display.
To achieve that, Samsung needed to ditch one of its mainstays: the front panel controls. By replacing the physical home button – as well as the back and task-switcher controls – from their previous spot under the display, the Galaxy S8's screen can stretch even closer to the edges. The fingerprint sensor has been moved to the back, alongside the camera; I suspect it'll be the most frustrating part of the design evolution, as users update their muscle-memory so as to avoid accidentally getting fingertip smudges on the lens alongside.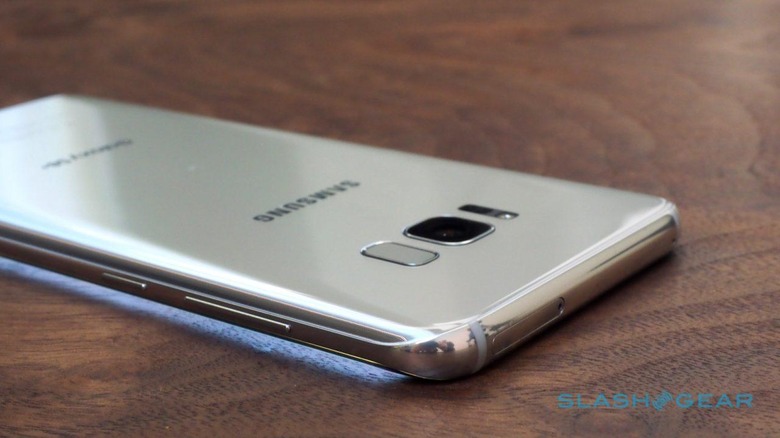 Instead of physical controls, Samsung has used a pressure-sensitive strip along the bottom portion of the display. Press a little firmer – as you would to trigger Force Touch on an iPhone 7 – and a virtual trio of home, back, and task-switcher buttons appear. In my experience, though, most of the time the buttons are visible anyway: it's only really when you're watching full-screen content, like video, that they fully disappear.
Still, that's a significant boon when you consider how much effort Samsung has gone into with display quality. The Galaxy S8 is UHDA Mobile HDR Premium certified, a new standard announced at MWC 2017 in February that covers resolution, dynamic range, color space, and bit-depth on portable devices. Sure enough, video playback on the S8 is superb, even if you really need to see it side-by-side with a non-certified device to spot the key improvements in color and contrast.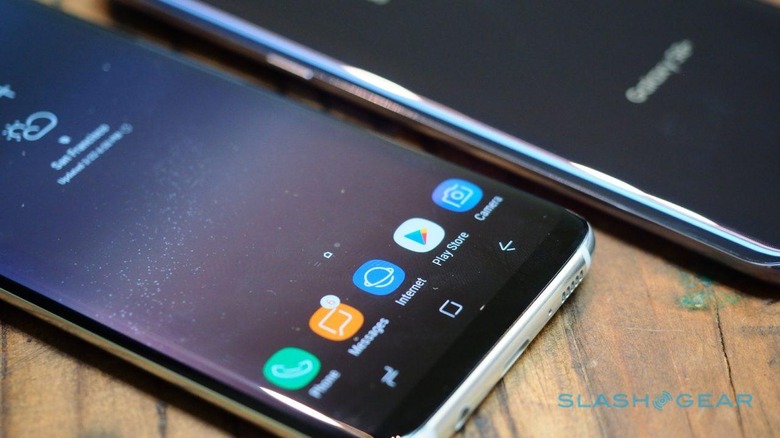 The great display is wrapped in a similarly premium-feeling body. An evolution of the old S7 edge design, it puts toughened glass onto the front and back of a metal frame; the latter narrows to a slender bar around the longer sides, punctuated with slim buttons and now mirror-finished rather than brushed, then flares at the top and bottom where you'll find the USB-C charging port, speaker grill, microSD slot, and – ignoring Apple's lead – a 3.5mm headphone jack. It's a mite thicker than the Galaxy S7, but more importantly it's 1.5mm narrower, which makes for an easier device to hold and to reach across with your thumb.
Samsung has sensibly stuck with IP68 water and dust resistance, and of course there are no fiddly flaps or ports to close before you go for a dip. Inside, there'll either be its own Exynos processor or Qualcomm's Snapdragon 835: North America, for instance, gets the 835. Both are octa-cores built on 10nm processes, and Samsung gets to say it manufactures both too, since Qualcomm is using its fab lines. There's 4GB of LPDDR4 memory and 64GB of storage; you can expand that with 256GB microSD cards, though the S8 and S8+ will happily handle larger as they hit the market.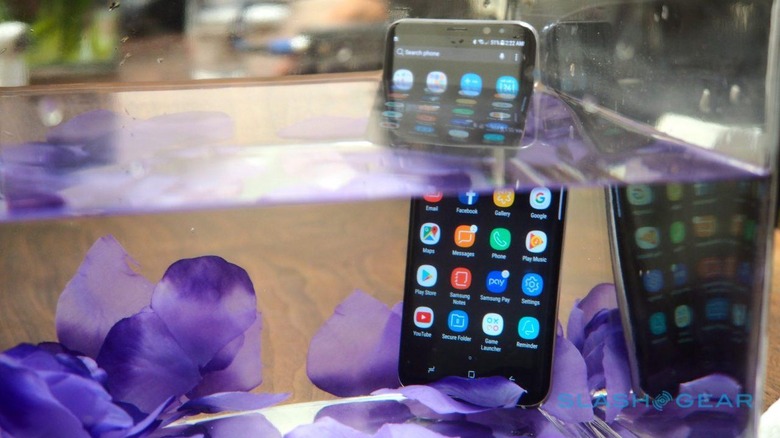 As for the battery, that's a 3,000 mAh pack in the Galaxy S8 and a 3,500 mAh in the Galaxy S8+. You still get wireless charging and fast charging, though not Qualcomm's very latest Quick Charge 3.0. Most important, there's the 8-point battery safety testing process post-Note 7, which Samsung hopes will assuage any lingering concerns.
Also inside is LTE Cat 16, WiFi a/b/g/n/ac (2.5/5GHz) with MU-MIMO, Bluetooth 5.0 LE, ANT+, NFC, and GPS/Galileo/Glonass/BeiDou. Samsung isn't talking about specific runtimes for the phone at this stage. We'll have to wait for review devices to arrive to see how it holds up.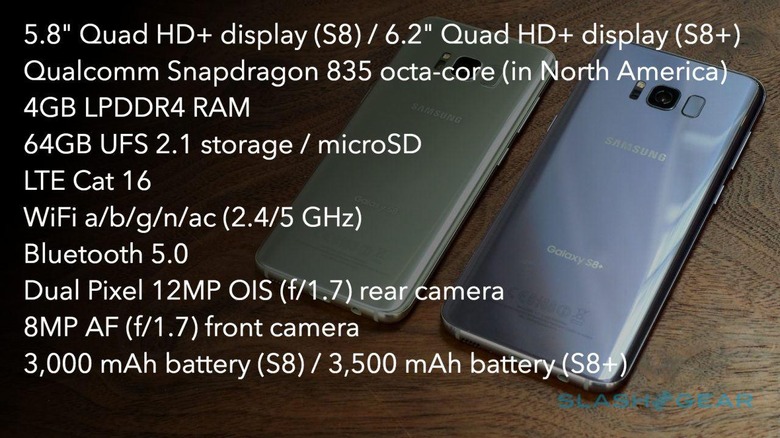 One of the high-points of the Note 7 and the Galaxy S7 were their cameras, and so Samsung has sensibly looked to those for the Galaxy S8 and S8+. It's a Dual Pixel f/1.7 12-megapixel sensor with optical image stabilization and 4K video recording, effectively the same hardware specifications but with new software for better image enhancement and blur reduction. At a time when many smartphone-makers are looking to dual-lens cleverness, Samsung's single sensor might seem a touch old-fashioned. Still, as the Note 7 capably demonstrated, a simple approach can still end up blowing rivals out of the water when it comes to the final frame.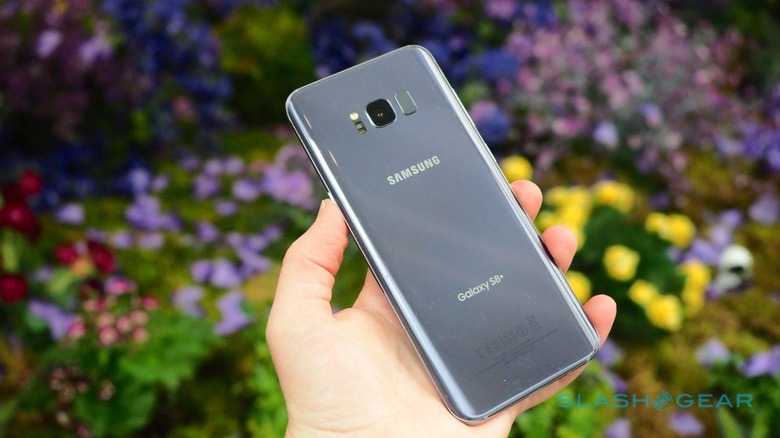 The front camera, meanwhile, has been upgraded from a 5-megapixel sensor to 8-megapixels; it also gets f/1.7 optics and autofocus. It sits alongside a fairly busy row of sensors and such, since the Galaxy S8 has had a security upgrade, too. Like the Note 7 there's an iris scanner in addition to the fingerprint biometrics, using the unique pattern of your eyes to unlock the phones. However, there's also Face Unlock, which much like Windows Hello can spot a known face and grant entry accordingly. Samsung says the total security resilience varies by method, balanced with the speed and convenience at which they work. You also get KNOX support, its hardware- and software-level encryption and trusted-platform system.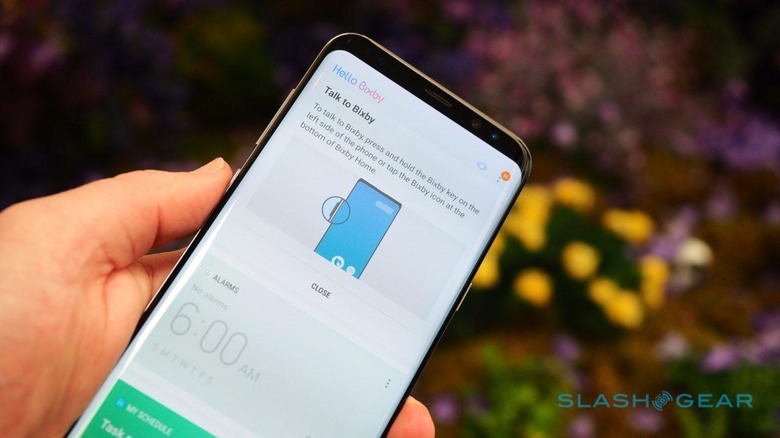 Convenience is a big part of Samsung's push with the Galaxy S8 and S8+ this year, and Bixby makes a significant contribution to that. When Samsung acquired Viv Labs last year – a company that had been created by the original developers of Siri – it seemed inevitable that the result would be a voice agent to take on Apple's and the Google Assistant. Sure enough, the newly-named Bixby makes its debut on today's flagship phones.
It's not Samsung's first flirtation with such technology – you might remember the little-loved S Voice on earlier Galaxy phones – but it's definitely promising. According to the company, existing voice agents typically disappoint because they fall conspicuously short of what you can do with your phone manually. Yes, you can dictate a text message, or add a calendar entry, but anything more complex like photo editing is beyond what Siri or the Google Assistant can manage.
Bixby, in contrast, promises that anything you can do with touch, you can now do by voice. To take photo manipulation as an example, you can use any of the Gallery app's features – like rotate and zoom – simply by pressing the new, dedicated Bixby button on the left side of the phone and asking for it. Samsung is promising context awareness, too, meaning that Bixby can intuit what you might be asking for based on what you're currently doing or where you are. More complex tasks can span different interaction types: you could tell Bixby you want to crop a picture, adjust that crop with your fingers, ask it to add text, and then dictate or type the words.
Importantly, there's cognitive tolerance, too. If you give an instruction that's potentially ambiguous, Bixby won't just throw its virtual hands up in despair. Instead, it'll do what it can and then ask for clarification to complete the task. Samsung's example was of asking "Send the last photo I took to my wife": Bixby could figure out the last photo and the relevant contact itself, but would ask by which method you would want to send it.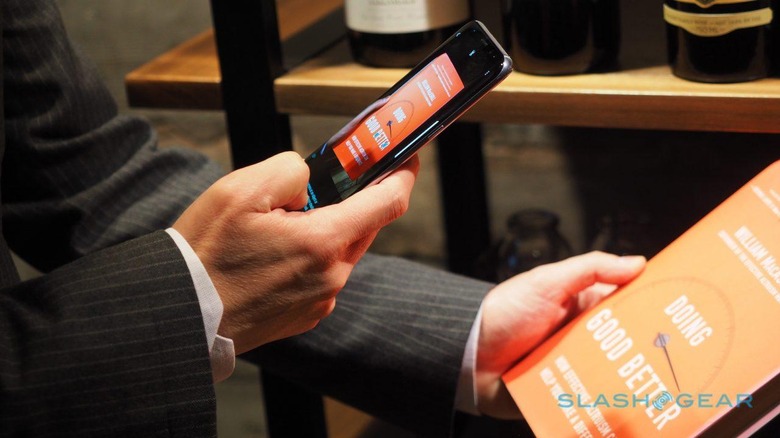 There's a new Bixby Home card which you can see by swiping across from the Android 7.0 home screen or by tapping the Bixby button rather than holding it. There, Samsung promises information that's relevant right now: tasks that need to be completed while you're in a certain area, perhaps, or a shortcut to a contact if you usually call them at that time from that location. Bixby Vision, meanwhile, can translate between 52 languages if you show the camera foreign text, in addition to scanning QR codes, recognizing business cards, spotting landmarks and offering point-of-interest information, search for restaurants, and even product search and shopping through retailers like Amazon.
Now, it's worth noting that Samsung wasn't allowing anybody to try Bixby on their own. The software is still being polished server-side: when I had time with the Galaxy S8 and S8+ myself, they timed-out every time I tried to access Bixby. So, while I can say that it certainly looks like being able to ask video on the phone to be played back on a nearby smart TV, or scan a book's cover and get online reviews and shopping options, are useful, exactly how much that pans out to real-world use remains to be seen.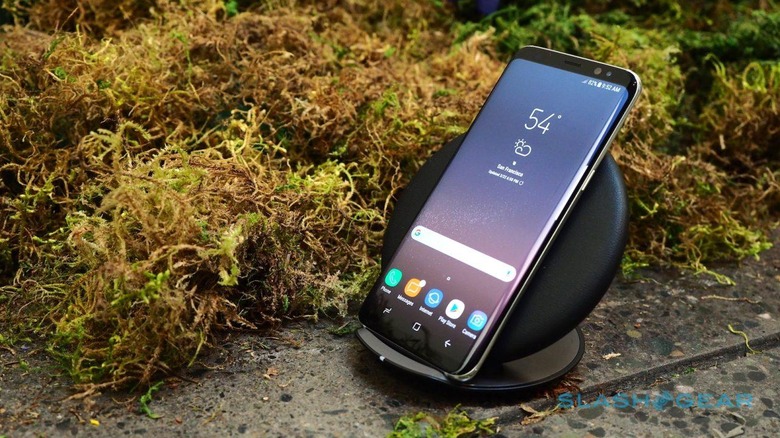 Samsung is motivated to get it right, though, since one of the Galaxy S8 and S8+'s key goals is to become the center of not only a mobile device ecosystem, but the Samsung ecosystem as a whole – not to mention further afield. It's been paving the way for this for some time: all of Samsung's 2017 TVs are connected, for instance, and each of its home appliance categories have at least one connected device in the range. For the broader Internet of Things (IoT), Samsung's acquisition of SmartThings weighs in, and indeed there's a new Samsung Connect Home WiFi Router being announced today that, not only will it offer Google Wifi and Eero-style mesh networking, but has an integrated SmartThings hub for connecting to your hue lights, home security sensors, and more.
To Android 7.0, then, the Galaxy S8 and S8+ adds Samsung Connect. Intended to bring together control of all of your IoT and smart home devices into a single place, it's accessible through the notification panel, much in the way that Apple puts HomeKit devices in the iOS control center. From there, you can see the status of, and control, any compatible connected device, as well as set up activity macros. That could be a view from the camera inside your smart refrigerator, perhaps, or hitting the "Away" shortcut and having all the lights turn off, the doors lock, and your robot vacuum cleaner venture out from its charging dock. You needn't even tap into Samsung Connect to do it, either, since you can just ask Bixby to give the command.
At the same time, Samsung is looking to eclipse your laptop. With the new Samsung DeX Station, the Galaxy S8 promises a "Desktop Experience" much in the vein of Continuum on Windows 10 phones. Drop your S8 or S8+ into the circular dock – it has a pop-up stand built in, making it more portable for your bag – and you can hook up an HDMI display and either USB or Bluetooth peripherals like a keyboard and mouse.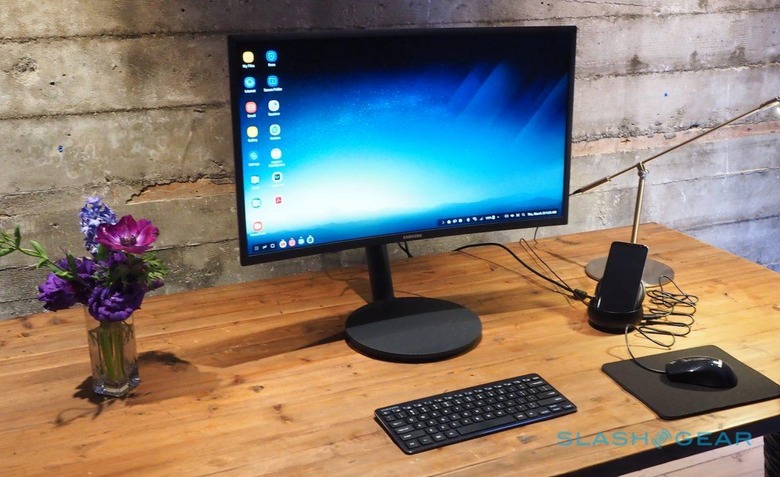 After a few seconds, you get an Android-based home screen on your monitor. Importantly, it doesn't just enlarge what your S8 is showing: in fact, it's more akin to a Windows desktop, with a bar running along the bottom for switching between apps, and icons on the desktop. Any Android app can open in DeX, but some have been customized to run full-screen to suit the real-estate. Right now that includes Microsoft's Office apps and Adobe's photo editing apps, along with a virtualization app compatible with Citrix, EMware, Amazon, and others for when you really, really need a full Windows 10 machine.
It's a testament to just how capable mobile processors are that this doesn't all feel like a half-measure. Those with very specific software needs probably won't find DeX fits into their routine, but for emails, browsing, working on documents, and even straightforward photo and video editing, Samsung's system shows real promise.
Indeed, the Galaxy S8 and Galaxy S8+ as a whole are impressively compelling phones. Refreshingly gimmick-free, Samsung's decision to focus on usability and the broader ecosystem – and resist the urge to tinker more than is necessary with what already works, like the camera – not to to mention some deeply handsome industrial design pays clear dividends. That Samsung is setting out its stall ahead of the new iPhone is nothing new; that it raises the hardware, software, and services bar so high gives Apple possibly its greatest challenge yet.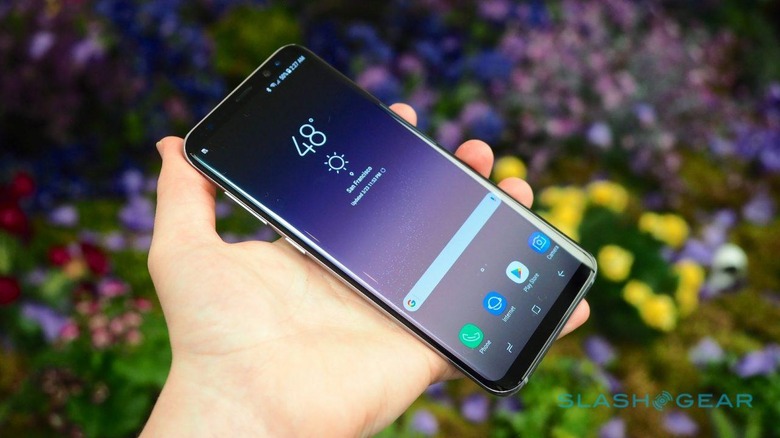 NOW READ: Samsung's new Gear 360 shoots 4K in 360-degrees
Samsung – and Android fans in general – will have several months to enjoy that advantage before the iPhone 8 arrives. The Galaxy S8 and Galaxy S8+ will go up for preorder from tomorrow, March 30, and begin shipping from April 21. The US will get Midnight Black, Orchid Grey, and Arctic Silver to choose between; internationally, there'll also be Maple Gold and Coral Blue.
Preorder buyers will get a free, updated Samsung Gear VR with Controller. In the box with the S8 and S8+, meanwhile, will be a set of AKG premium earbuds, usually priced at $99. Device pricing itself will depend on carriers; we can expect to hear all of those details very soon.