PCs aren't dead. They've just taken a different form. From PC sticks to mini PCs to 2-in-1 PCs, personal computing is becoming even more diverse as we move away from the traditional tower form factor. One of the oldest "alternative" PC forms is the all-in-one or AIO that brings display and processing unit together under one roof. The AIO market has received no small interest this year, and is about to get even more interesting thanks to Microsoft's recent reveal. If you're in the market for one, especially with holiday sales coming up, you might want to take a peek at some of the choicest picks of all-in-one computers this year.
Apple iMac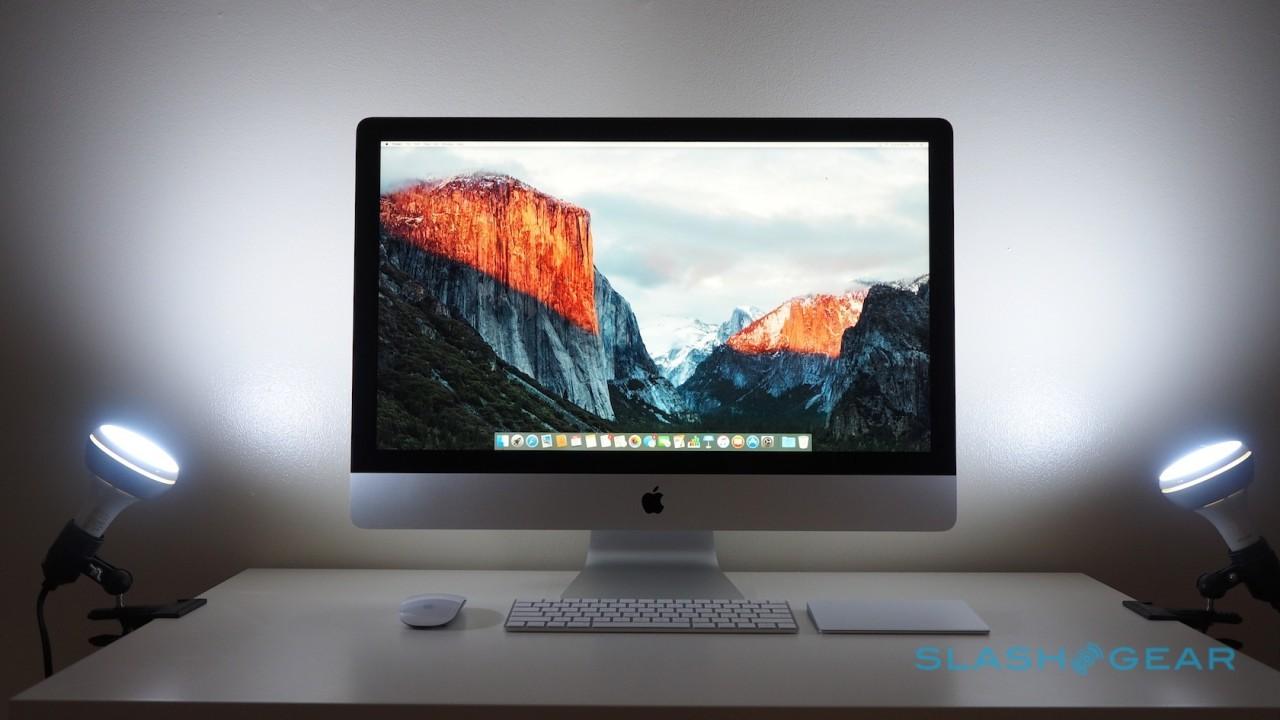 This is the granddaddy of AIOs, even before AIOs became a thing. Evolving from the candy-colored boxes to clean and sleek slabs, the iMac has always been the poster boy of all-in-one-computers. Sadly, Apple has yet to refresh the line, though the 2015 models are by no means so outdated that they don't matter anymore.
The highest end iMac gets you a 27-inch 5120×2880 Retina 5K display, powered by either a Core i5 or i7 processor, 6th gen Intel Skylake. RAM starts at 8 GB but can go all the way up to 32 GB, with a 1 or 2 TB "Fusion Drive" that combines SSD and HDD. That configuration also includes an AMD Radeon R9 M395 with 2 GB of video memory. An overall solid performer, even for some light gaming. At least if you are a devoted macOS, formerly OS X, user.
AOC Mars (Android-based Remix OS)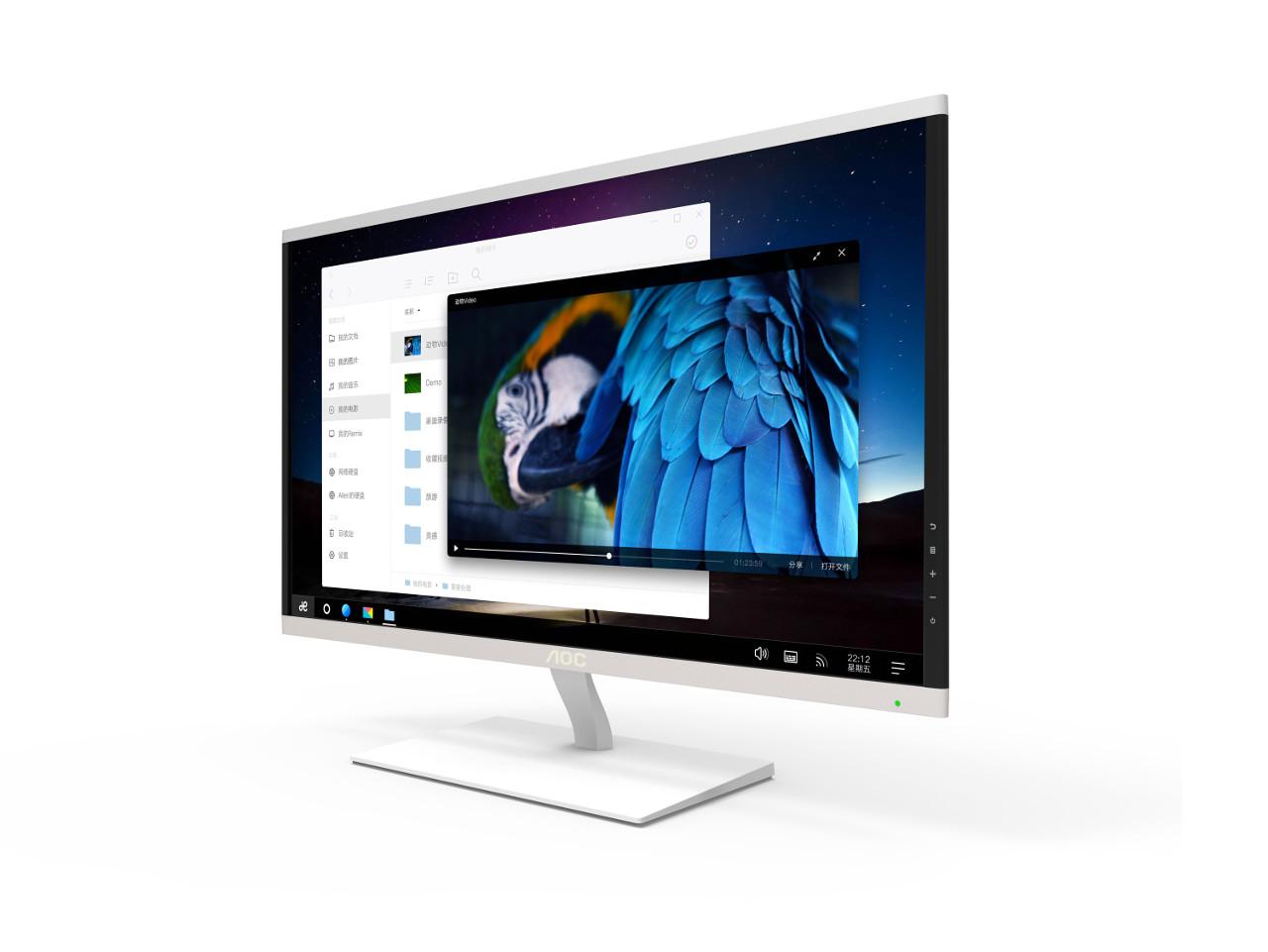 AIOs started out as a "Windows or Mac" affair, but these days any OS can have their own AIO. Android is no stranger to getting ported to this or that device, whether it make sense or not, but that doesn't mean it's optimized for the experience.
Enter Jide's Remix OS, a spin of Android that turns the mobile OS into a desktop OS. While Jide has its own hardware, it has recently broken out to partner with other hardware makers to bring its Android flavor to a wider audience. One such partner is AOC, whose "Mars" Remix OS AIO aims to compete in that market. Somewhat.
Compared to the iMac and other Windows AIOs, the AOC Remix AIO is going to be embarrassing in terms of specs. But considering this is Android, which is optimized for hardware with constraints, that won't be a problem, at least not too much. It has a 23.8-inch 1080p screen, a 2 GHz Cortex-A53 Amlogic S905 CPU, 2 GB of RAM and 16 to 64 GB of storage. Remix OS has run on similar or even weaker hardware, so it'll be just fine on this AOC AIO.
Acer Chromebase 24 (Chrome OS)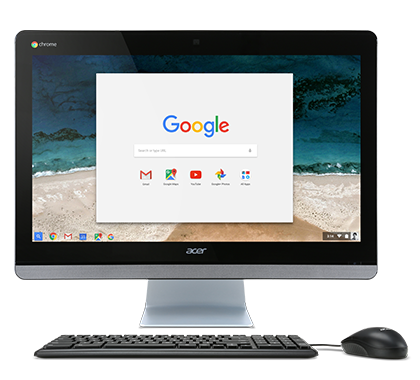 Even Chrome OS has an all-in-one computer! And this time more supported by Google, naturally. The Chromebase line is geared more towards the work place, especially for meetings, but, just like Chromebooks, that doesn't mean it can't be used for everyday computing as well.
Admittedly, the Acer Chromebase 24 is more gifted than the AOC Remix OS AIO that it almost seems unfair, but to each manufacturer its own. At its best, the Acer Chromebase 24, model CA24I-7T, boasts of a 23.8-inch Full HD screen and an Intel Core i7, though of the older Haswell generation. There 8 GB of RAM and 32 GB of storage. Curiously, its screen has 10-point touch support, though Chrome OS itself isn't as touch-oriented compared to Android.
Lenovo Yoga Home 900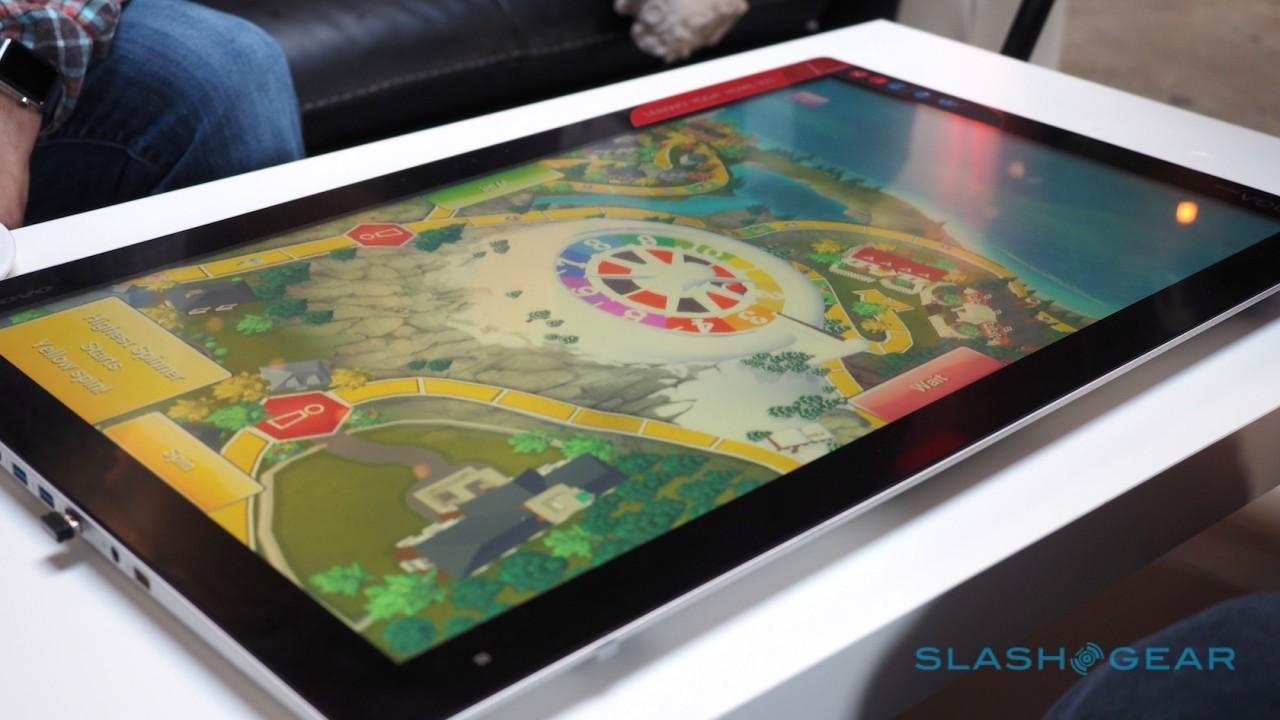 We now dive head on to the world of Windows AIOs, but not without taking a side trip to the realm of oddity. It's hard to describe the Lenovo Yoga Home 900 as an All-in-One when it looks all too much like an oversized tablet. And in truth, it is exactly that. Unlike all other AIOs, Lenovo's strange contraption can actually run for about 3 hours when not connected to a power source. Also unlike most AIOs, it isn't affixed to a stand and can lay flat on a table. So it's a tablet-tabletop-desktop-in-one.
The 27-inch 1080p screen supports 10-point multi-touch as well (remember, giant tablet). It runs on a more recent Intel Core i7 Skylake gen and is paired with an NVIDIA GeForce GT940 for graphics. For memory, it has 8 GB of RAM and 256 GB of SSD storage.
ASUS Zen AiO Pro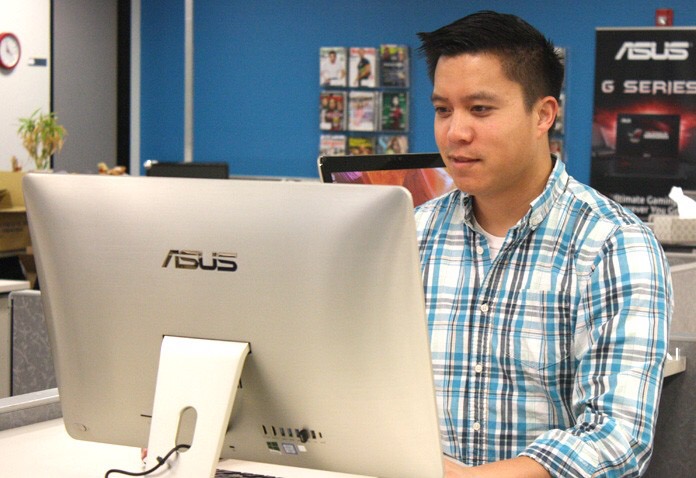 In complete contrast, the ASUS Zen AiO Pro is as "plain" as it gets. And that is actually its strength. No gimmicks, no eccentric features. Just straight out productivity and serious business. It also offers all around good specs for any purpose and computing need.
The 23.8-inch screen boasts of 4K resolution, the first hi-res display in our list, aside from the iMac. It is driven by a 6th gen Intel Core i7 with 16 GB of RAM. There's also an NVIDIA GeForce GTX 960M inside, for more intensive graphics work. And gaming on the sides, of course. At around $1,500, it is also the middle ground when it comes to price and features.
MSI Gaming 27T 6QE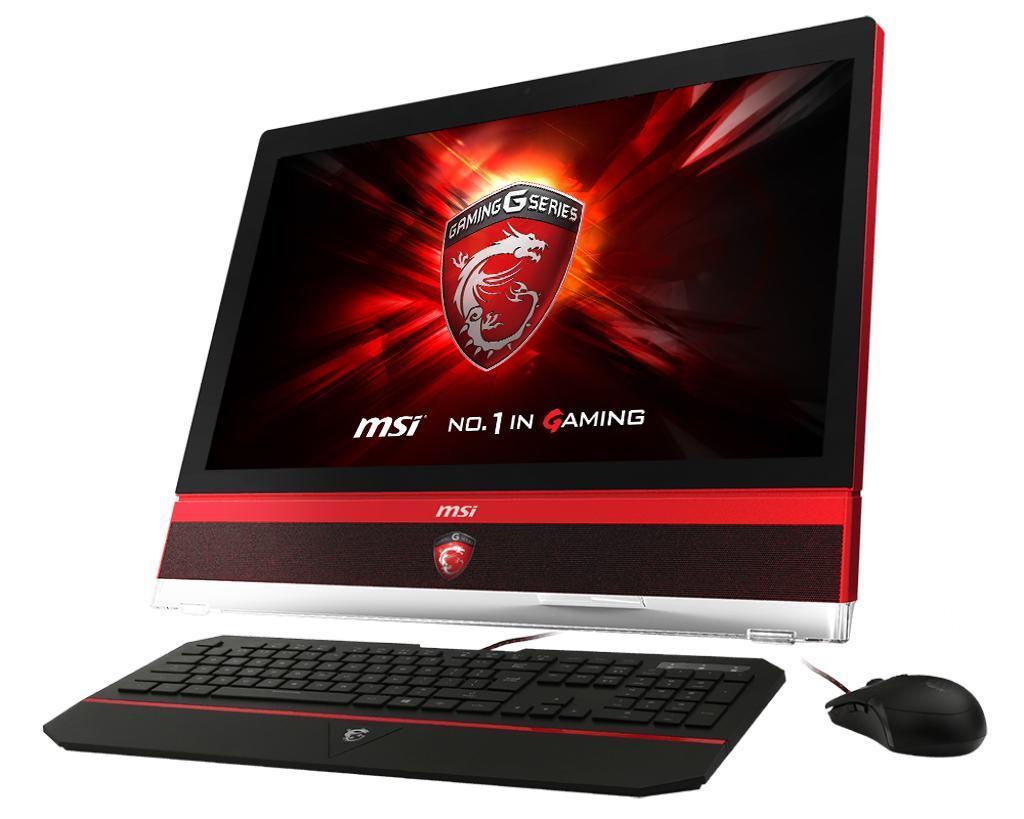 Most all-in-ones aren't exactly geared towards process-heavy tasks, especially those involving number crunching and pixel pushing. Space constraints and physics mean they're not exactly a gamer's first choice of PC. MSI, however, begs to differ and proves it with its Gaming AIO series. Equipped with as much muscle as you can squeeze in such a tight space, the MSI Gaming all-in-one PCs offer a decent, though not perfect, gaming experience without taking up much space.
The MSI Gaming 27T 6QE is the crowning glory of that line, boasting of a 6th gen Skylake Intel Core i7 CPU and an NVIDIA GTX 980M with 8 GB of GDDR5 video memory. The latter is particularly known for offering desktop-class graphics in a mobile form factor. There's also 16 GB of DDR4 RAM and a 256 GB SSD driver for fast file processing. And while it might seem that the 27-inch 1080p screen is a downer, that also means that the processors are less taxed when it comes to rendering graphics.
HP Envy 34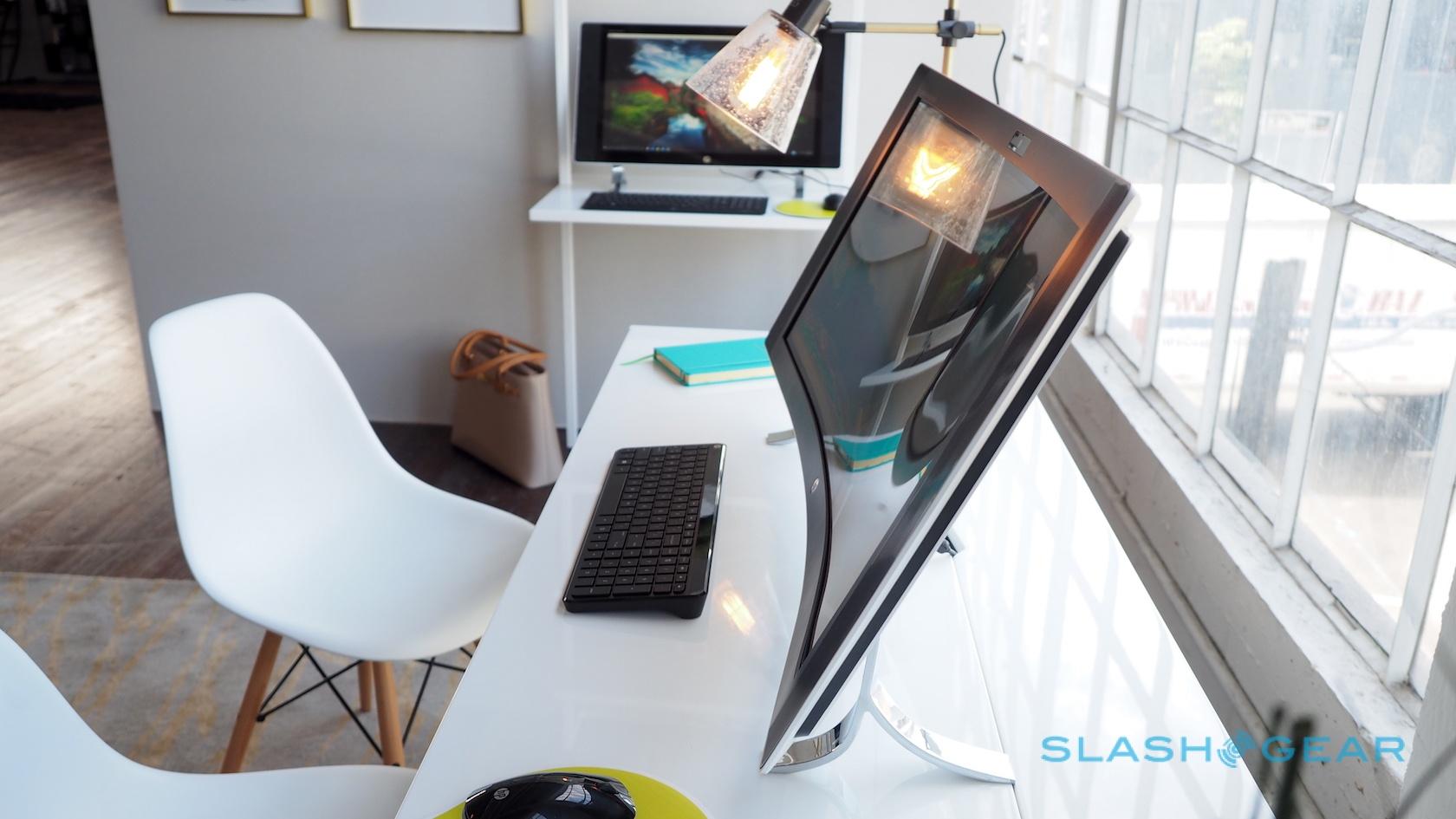 The HP Envy 34, on the other hand, has no issues about pushing graphics, as long as they've already been rendered before hand. This AIO was made for non-gaming entertainment in mind, and its obnoxiously wide curved screen is testament to that. Although not exactly the newest of the group (although just as well aged as the iMac), the Envy 34 is still unmatched when it comes to that very wide curved display.
That's 34-inches of curved WQHD+, yes there's a "plus", goodness, curved to a 2,000 mm radius. This will probably not be conducive for creating multimedia, but it's perfect for consuming them afterwards. The specs aren't middling either, with an Intel Skylake Core i5 or i7, 8 or 16 GB of memory and 2 TB of storage for all your movies.
Microsoft Surface Studio
And, of course, we can't talk about "AIO" and "2016" without mentioning the Microsoft Surface Studio, which is sure to be the subject of discussions, ridicule, and criticism, in the coming days, weeks, and even months. It has everything you've heard above and then some. In terms of specs, it matches the MSI Gaming 27T in terms of raw computing power. In terms of oddity and touch, it outclasses the Lenovo Yoga Home 900. And in terms of price, it puts all of them to shame. That is, if they were competing for who has the highest figures.
Admittedly, what makes the Surface Studio special isn't the AIO itself but the accessories that come with it, one that has to be purchased separately. Sure, the ability to pull down and tilt the touch screen is great and all, but it doesn't make much sense if it were not for the Surface Pen support. And that stylus, while useful by itself, becomes all the more useful with the Surface Dial. The Surface Studio is clearly marketed towards professional content creators, and its exorbitant price tag speaks to that.
Wrap-up: To AIO or not to AIO
Despite how much all-in-one computers have come, they're still not as widely chosen compared to traditional desktops and laptops. They stand in a slightly niche market in between. On the one hand, you have the space savings of a laptop but none of its portability. On the other hand, you have close to the specs, and especially the screen size, of a desktop but stops short of really becoming one. So should you buy an all-in-one computer or not? As always, the answer is "it depends".
An AIO's smaller footprint and sleeker look comes at a price, both figuratively and literally. In terms of capabilities and future-proofing, AIOs are closer to a laptop than a desktop. Both have most of their hardware fixed and can't be upgraded. And while something like the MSI Gaming 27T and even the Microsoft Surface Studio comes close to decent gaming, it's still a far cry from a regular desktop PC specifically assembled for gaming.
But just like with laptops, not all computer users need that much power nor do they feel the urge to upgrade components every time a new one comes out. PCs have a slower turnover than mobile devices, and a good, well-rounded desktop can last for years. In average cases, an all-in-one computer pretty much addresses most computing needs and usually looks stylish to boot.