Acer Chromebase 24 all-in-one gets relaunched for Meetings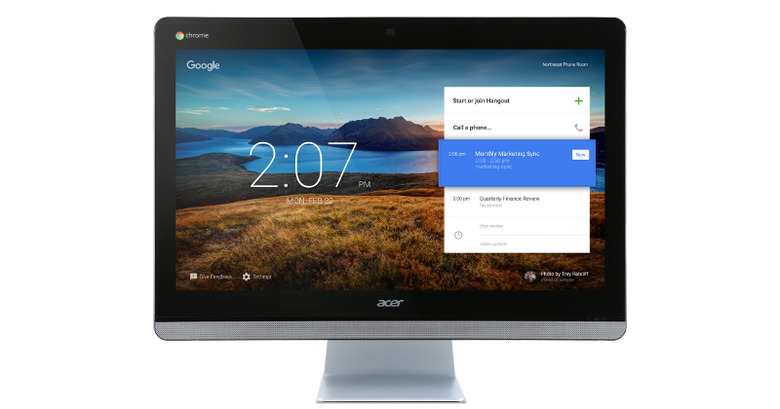 In early 2014, Google announced its new Chromebox for Meetings initiative that put Chrome OS almost literally at the heart of the enterprise, providing both computing power and software for making easy and secure video conferences. At that time, Chromeboxes themselves, even with the Meetings part, were fresh off the grill. Along with ASUS and HP, Acer was one of the earliest to adopt Google's business-friendly solutions. Now it's at it again, not with a Chromebox, but with its Chromebase 24, delivering what is the first ever Chromebase for Meetings.
The "for Meetings" line of devices is part of Chrome for Work, Google's attempt to wrest the education and enterprise market away from Apple and Microsoft. Compared to Android, even with today's Android for Work initiative, Chrome OS is relatively easier to deploy and manage in bulk. Starting with the Chromebox for Meetings, Google has put the focus specifically on meetings, particularly video conferences, where users, even without Google accounts, can jump in on a meeting by simply clicking an invitation link.
Unlike a Chromebox which requires plugging into a monitor, the Acer Chromebase 24 carries its own. That 24-inch touchscreen display sports a resolution of 1920x1080 pixels and viewing angles of up to 178 degrees. The monitor itself can be tilted from 5 to 30 degrees for the best video call angles. Given those features, there is perhaps little doubt that this is the same Chromebase 24 that Acer showed off at CES early this year, which means it is that same Chromebase boasting to be first to run on an Intel Core chip.
The Acer Chromebase for Meetings is available in the UK, Canada, Ireland, Australia, and the US, where it will cost $799. While that price might seem high, it already includes the first year of management and support fees, which amount to $250.