Google Chromebox For Meetings Aims To Usurp Enterprise With Chrome OS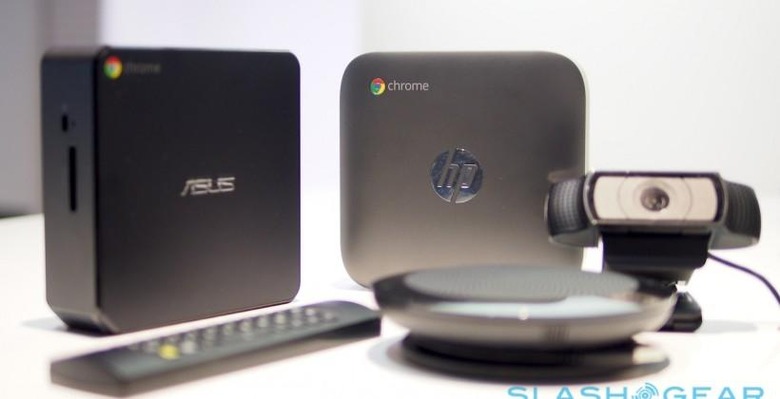 Google has revealed Chromebox for Meetings, it's attempt to further push Chrome OS into the enterprise by offering a simpler way for multiple people to collaborate. Offered as a $999 kit including a Core i7 Chromebox – such as the ASUS Chromebox announced this month, though models from Dell and HP are also in the works – a noise-canceling microphone, 1080p autofocus HD camera, and double-sided remote with a QWERTY keyboard, Chromebox for Meetings plugs into an existing display or projector and can, Google claims, be up and running in minutes. We caught up with Google to find out more.
"Most of us spend a large part of our workday in meetings and meeting rooms" Google's Caesar Sengupta, VP of product management pointed out, but the experience is particularly awful. For a start there's knowing whether the room itself is available, then which cables – and how to set up your laptop – to use so that they work with the projector or digital whiteboard.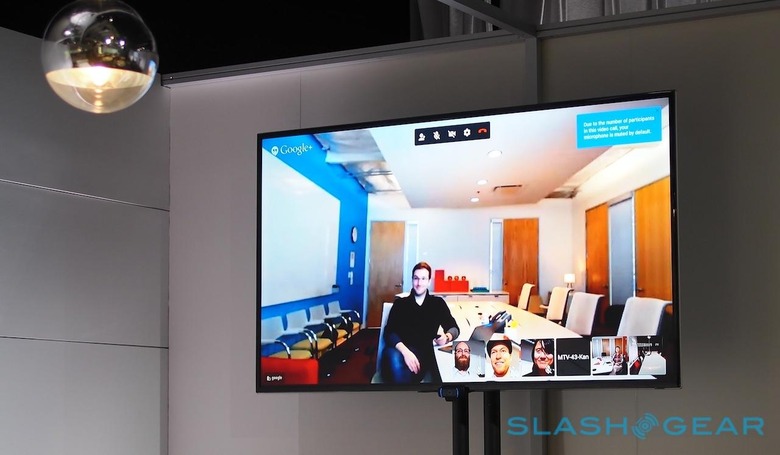 The biggest issue though, Sengupta argues, is conferencing in people who aren't physically present. "With audio conferences it's very difficult to know whether someone is actually playing attention, or playing a game, or just browsing," the VP said, whereas video conferencing tech is generally very expensive and limited only to the top tier of executives.
Google couldn't find an off-the-shelf system to address the headache, and so it "built its way out" of the problem. "Many people have asked us if they can get this, it's just that we've never had the right platform to bring this to market now" Sengupta told us.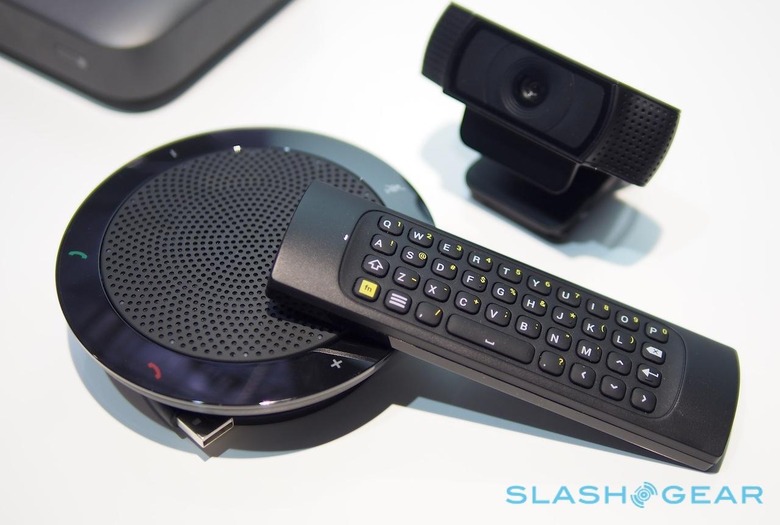 That changed with Chromeboxes, the desk-bound version of Chromebooks like the Acer touchscreen model we reviewed earlier today. Google took a powerful Chromebox – to keep up with the multiple video streams – and customized an enterprise-centric meeting room interface that can hook into Exchange calendars with a line of code.
Normally, that UI shows a set of cycling wallpapers (Google said it was to give meeting rooms a virtual window) and the schedule for the room, though impromptu meetings can be added by using the QWERTY keyboard. Google uses Google+ Hangouts for the backend, and just like consumer Hangouts calls the video auto-shifts to whoever is talking; new additions to the meeting join with their microphones automatically muted, so as not to disturb, with an on-screen warning if they subsequently start speaking with the mic still off.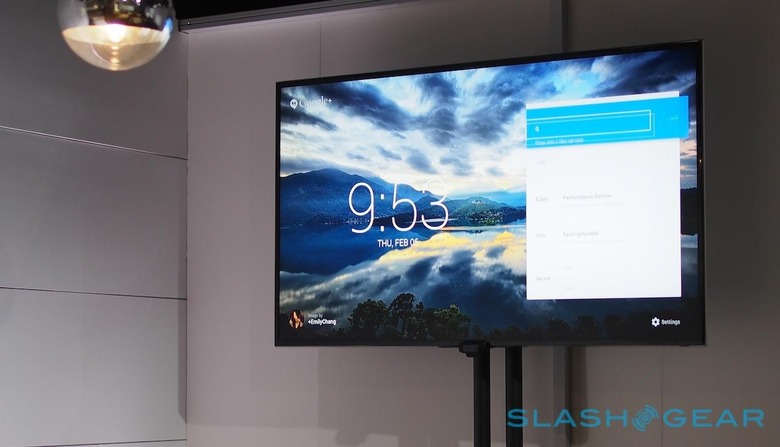 Since it's Hangouts-based, it means that anybody with a device – such as a Nexus 5 or Nexus 7 – running the Hangouts app can sign into a meeting, wherever they are. Google also makes it easy to join together multiple meetings across multiple locations, including remotely, and there's audio dial-in support for Vidyo and UberConference. When the next meeting in the room is about to start, there's a warning to start wrapping things up.
If you want to share your desktop, meanwhile, you need only go to g.co/present on your laptop and the screen will be visible to all participants. Google isn't actually storing any of the documents in the cloud, though of course you can use Google Drive for that.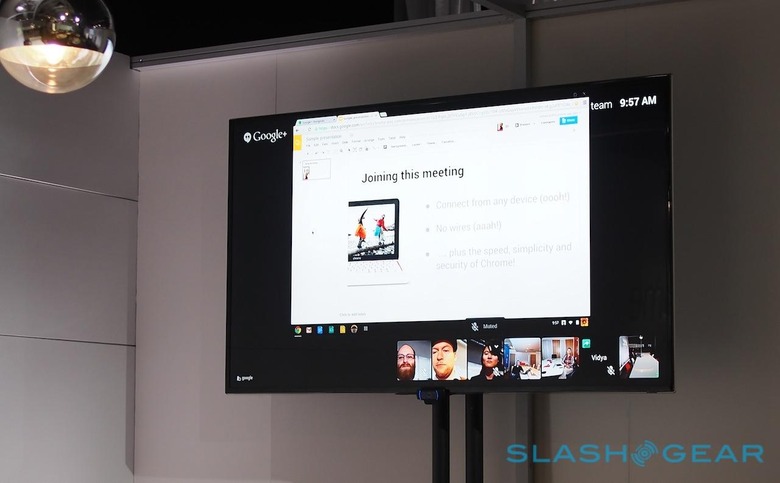 Google has been trialling the system with several third-party businesses over the past few months, including Lytro, Costco, Eventbrite, Yelp, SoftBank, and more, with the company saying that feedback has generally been highly positive.
Google's hardware of choice is a Core i7 Haswell Chromebox with HDMI and DisplayPort, four USB 3.0 ports, and both ethernet and WiFi a/b/g/n dual-band. The webcam has autofocus and automatic low-light correction, automatically switching resolution depending on bandwidth, while the speaker has DSP for noise reduction, wideband "HD voice" support, mute/end/volume keys, and an omni-directional microphone. The microphone uses RF to connect, so doesn't need line-of-sight.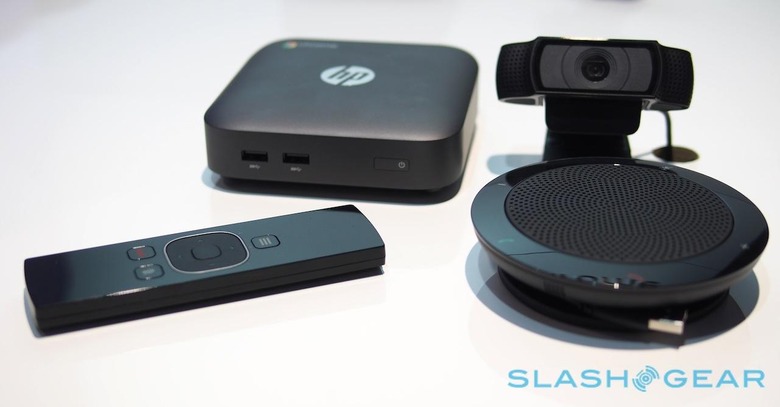 The Chromebox for Meetings kit – including everything but the display – is priced at $999, including the first year's management and support fee. That'll cost $250 per year after that, and includes 24/7 support and remote monitoring, as well as any other features Google adds over time.
That could include video recording, though right now there's no copy saved of each meeting. Instead, each gets enterprise-level encryption to keep out corporate spies. The kit will launch in the US today, with Australia, Canada, France, Japan, New Zealand, Spain, and the UK in the coming months. What there won't be is an easy way to bake your own Chromebox for Meetings, with Sengupta arguing that while it would be possible once general Core i7 Chromeboxes hit the market, enterprise users generally wanted the plug-and-play convenience it was offering.